So simple and only two ingredients, these Bacon Wrapped Dates are parcels of deliciousness. They make a great canapé or nibble and are perfect with a glass of something bubbly!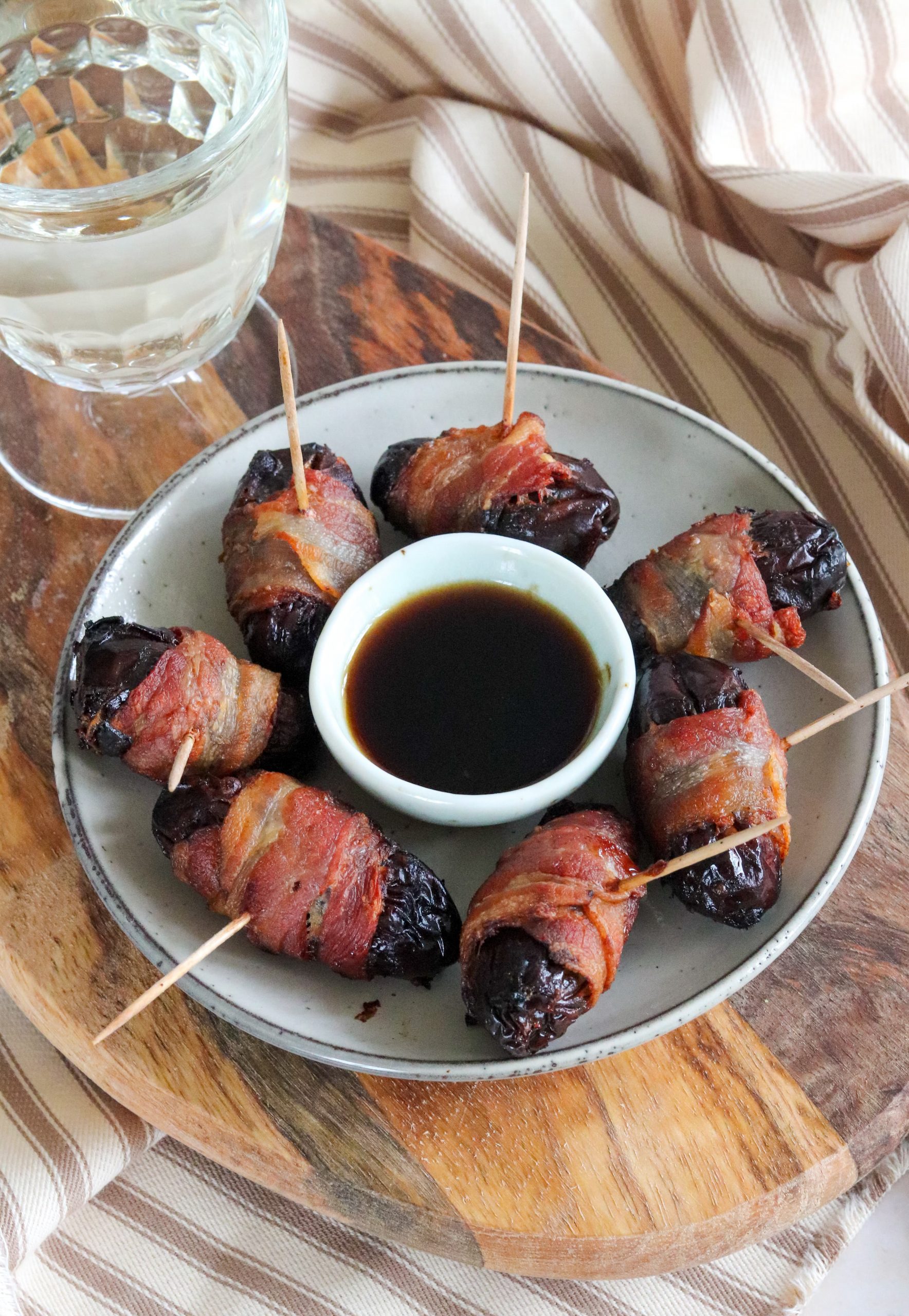 Have you tried Bacon Wrapped Dates before?
If you haven't tried a bacon wrapped date before you are missing out! I first had them when I was on holiday in Fuerteventura.
Bacon wrapped dates are a popular tapas dish and each restaurant does them slightly differently. Some serve them drizzled with a balsamic vinegar reduction and others come with a balsamic based sauce.
I've even had them deep fried which was a bit different, but not my favourite.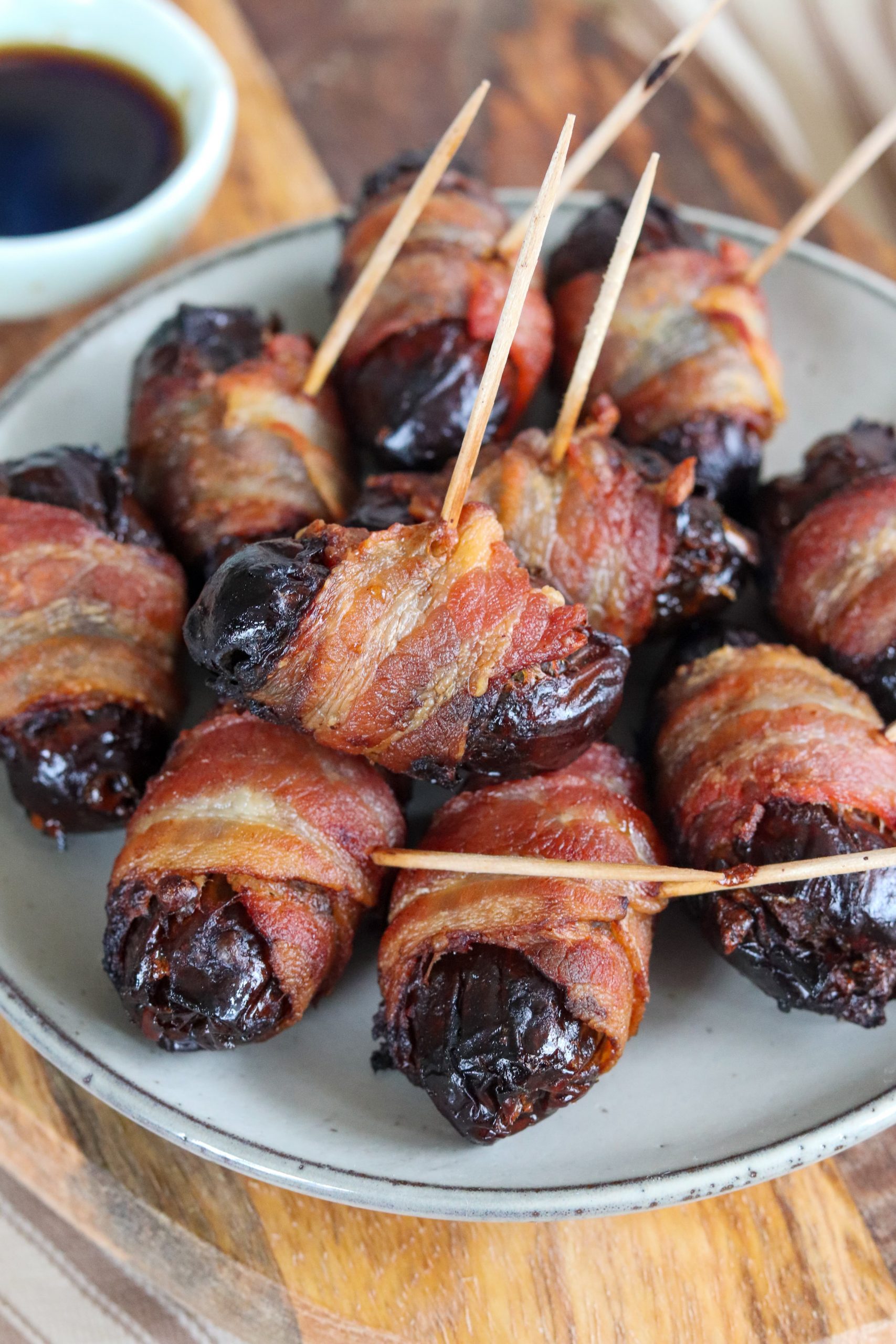 What are bacon wrapped dates?
My recipe is really as as simple as it sounds. They are medjool dates wrapped in bacon. And what doesn't get better when you wrap it in bacon?!
Other recipes for bacon wrapped dates I have seen stuff the date with different types of cheese, or nuts amongst other things. I have kept this recipe simple in the style of the Spanish dates I have eaten.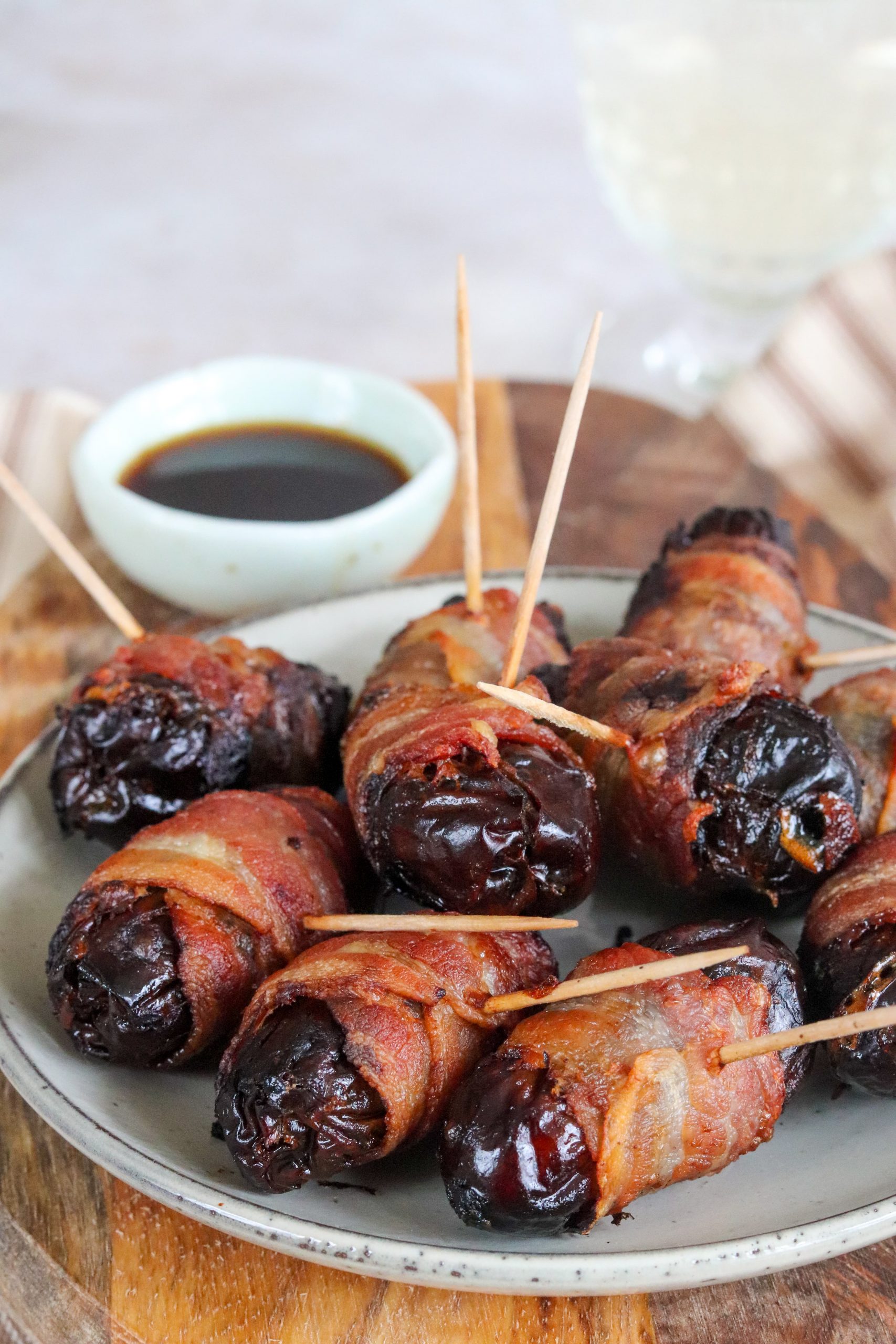 Not all dates were created equal!
If you think you don't like dates, you may not have tried a medjool date. Medjool dates are bigger and soften than regular dates and have a rich almost caramel like flavour.
They are definitely not those small hard dates you may be thinking of. Plus doesn't wrapping anything in bacon make it instantly better?!
Give these a try and see if you change your mind about dates.
I would recommend using standard sized medjool dates for this recipe. If you use the king sized medjool dates you might feel like you have too much date and not enough bacon!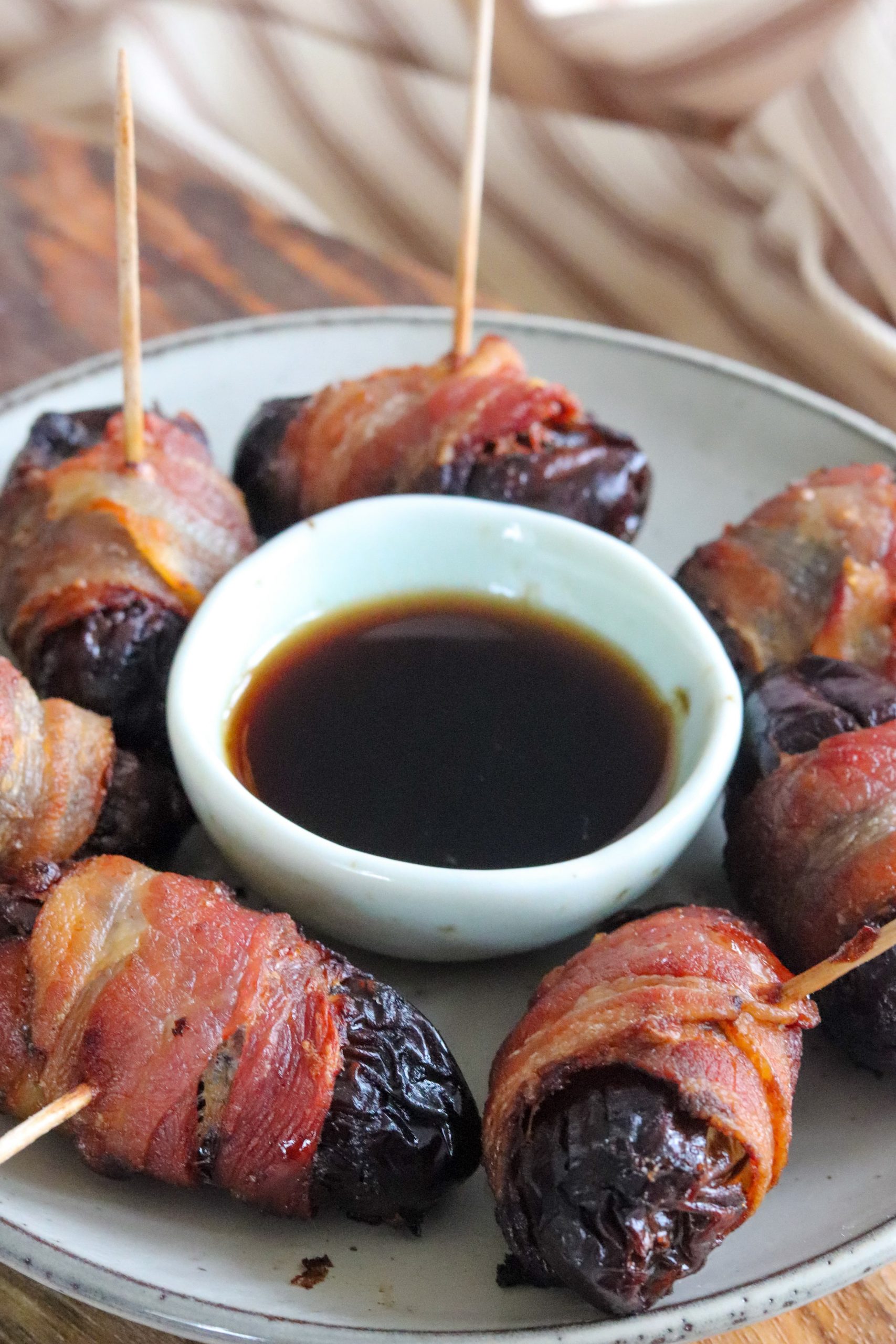 Which bacon should you use?
Anytime in life, I would always recommend smoked bacon. Unsmoked bacon just isn't for me, but feel free to use it if you would prefer.
For my bacon wrapping activities, I always prefer to use streaky bacon. If you are from the US or some other countries, this is just your standard bacon.
Streaky bacon is a lot easier to use because it is the perfect width to wrap the dates. Depending on how much bacon you like, you can cut each piece of streaky bacon in half.
I have also made these using a whole slice of bacon per date for extra bacon deliciousness.
If you don't eat pork, you can of course use turkey, beef or meat free bacon.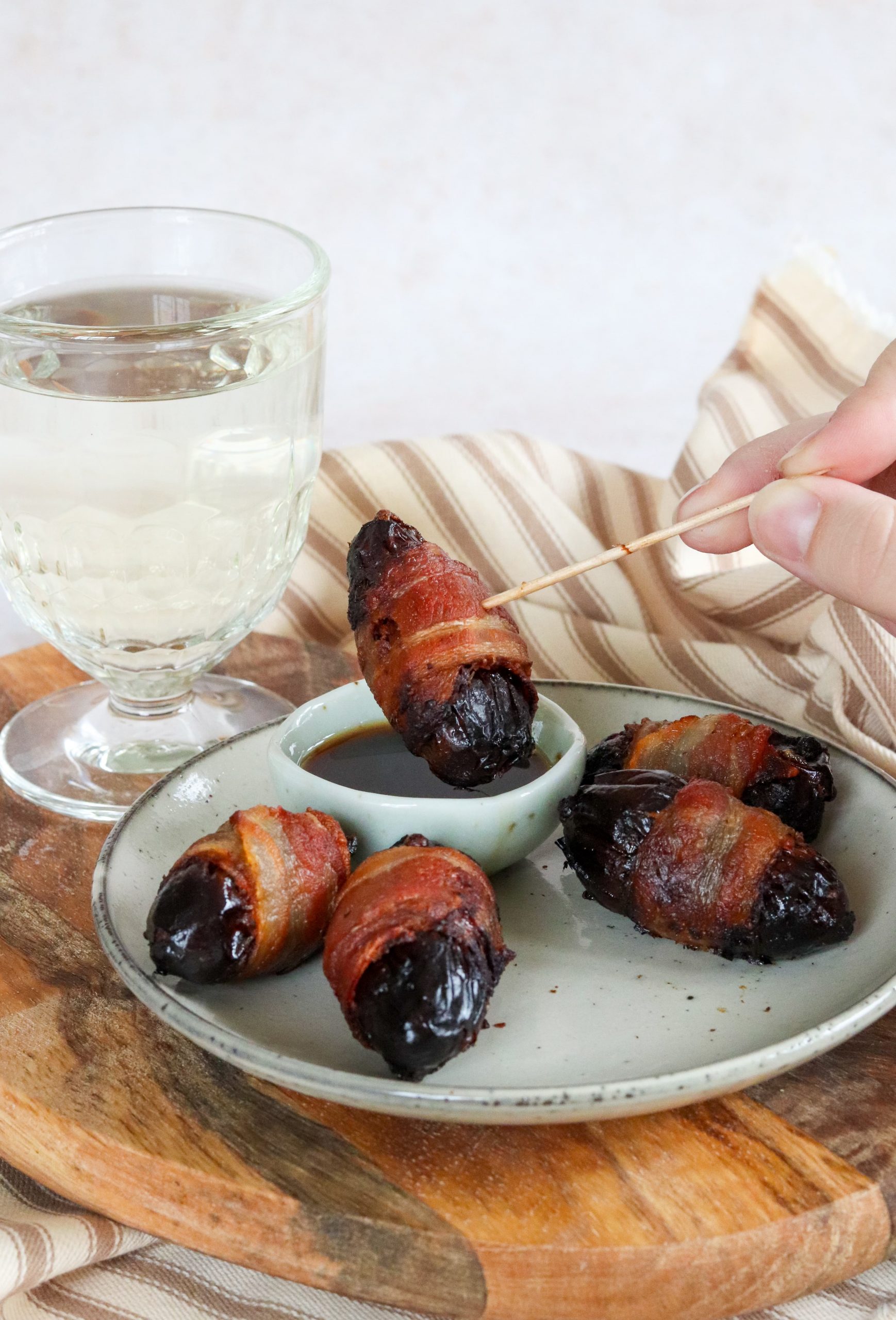 Is the dip essential?
No it isn't essential but it really is delicious. It is so simple to make and the perfect mix of sweet and savoury which works really well with the saltiness of the bacon.
It is as simple as mixing three ingredients together; balsamic vinegar, honey and light soy sauce. That really is as easy as it gets.
If you want to make the dip vegan, I would recommend using maple syrup instead of honey. And to make it gluten free, use Tamari instead.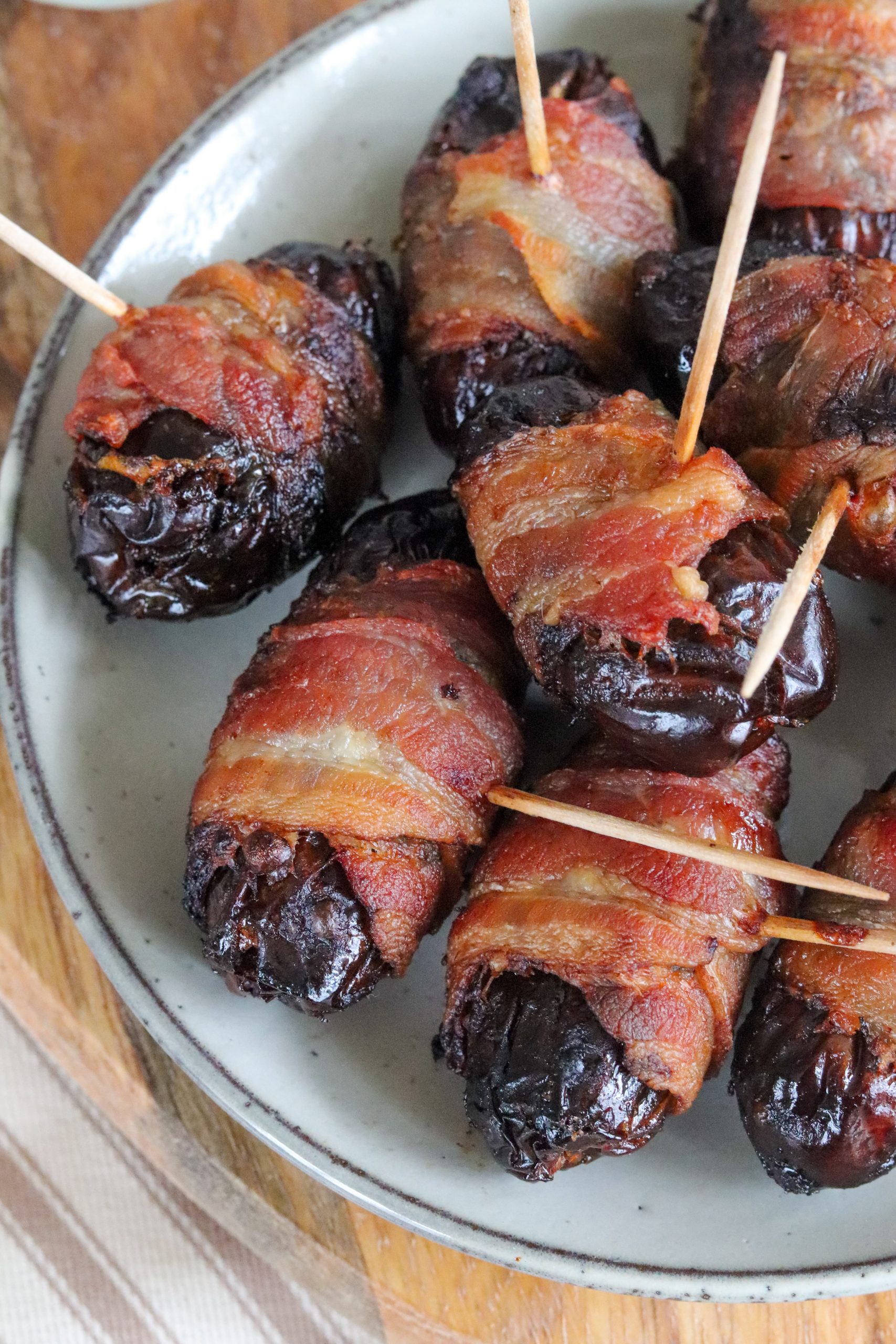 When do you serve bacon wrapped dates?
Anytime you like is the simple answer! I think these dates are particularly good as a starter or canapé.
You wouldn't want to sit there and eat all twelve yourself because too much soft fruit is never ideal. A couple of these with a glass of something bubbly would be absolutely perfect.
I would make a couple of delicious recipes to serve alongside these dates such as my Sticky Korean Cocktail Sausages, Cheese Straws and Turkey & Cranberry Sausage Rolls.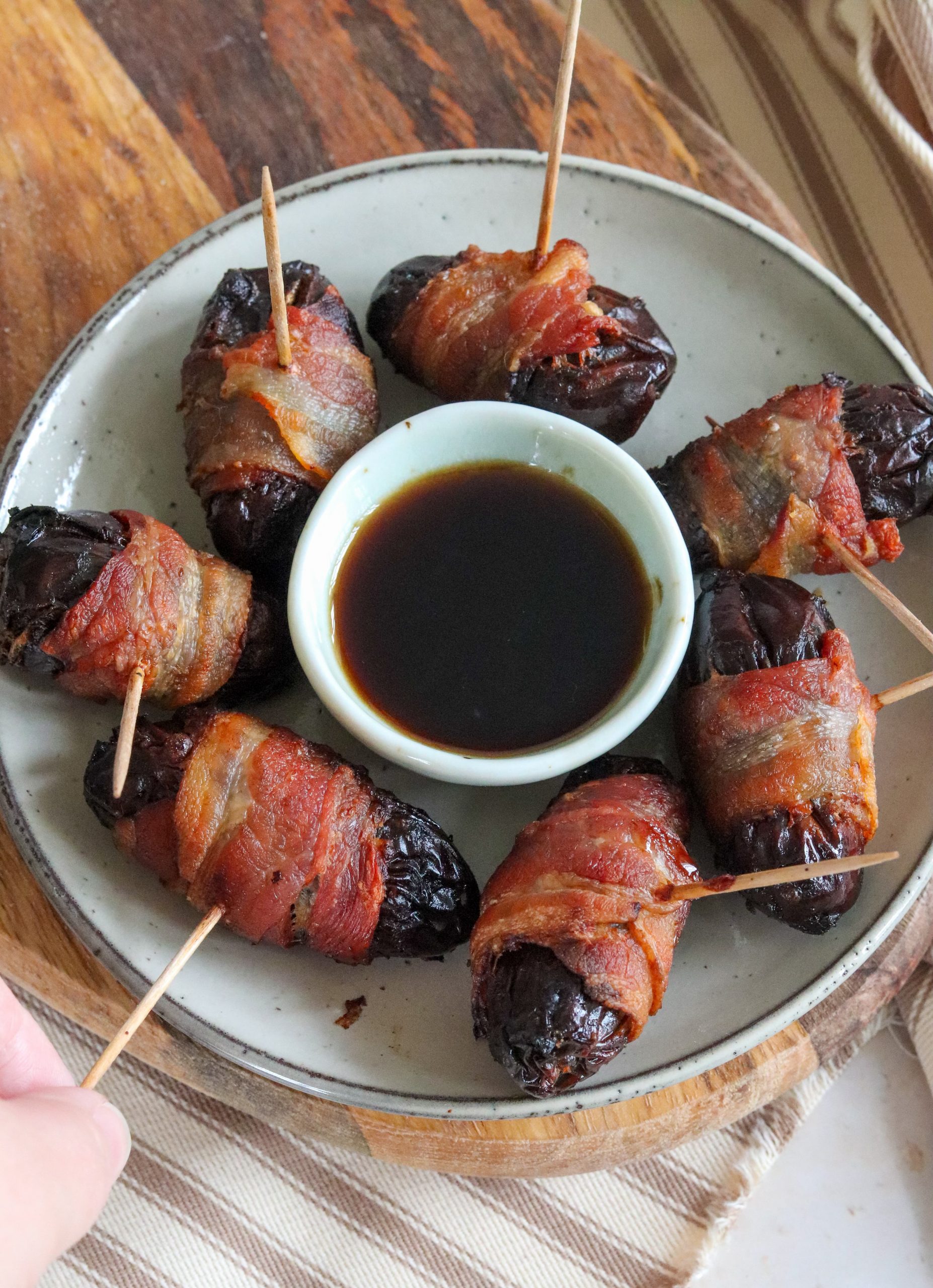 How is best to cook these dates?
These Bacon Wrapped Dates are best eaten warm so I would recommend putting them in the oven just before you need them.
You can cook them in the oven or in an air fryer. The cooking times are really just a guide as the dates don't need cooking, you're just getting the bacon to your preferred level of crispness.
If you want to get ahead, you can prepare the dates earlier in the day and keep them in the fridge until you are ready to cook them.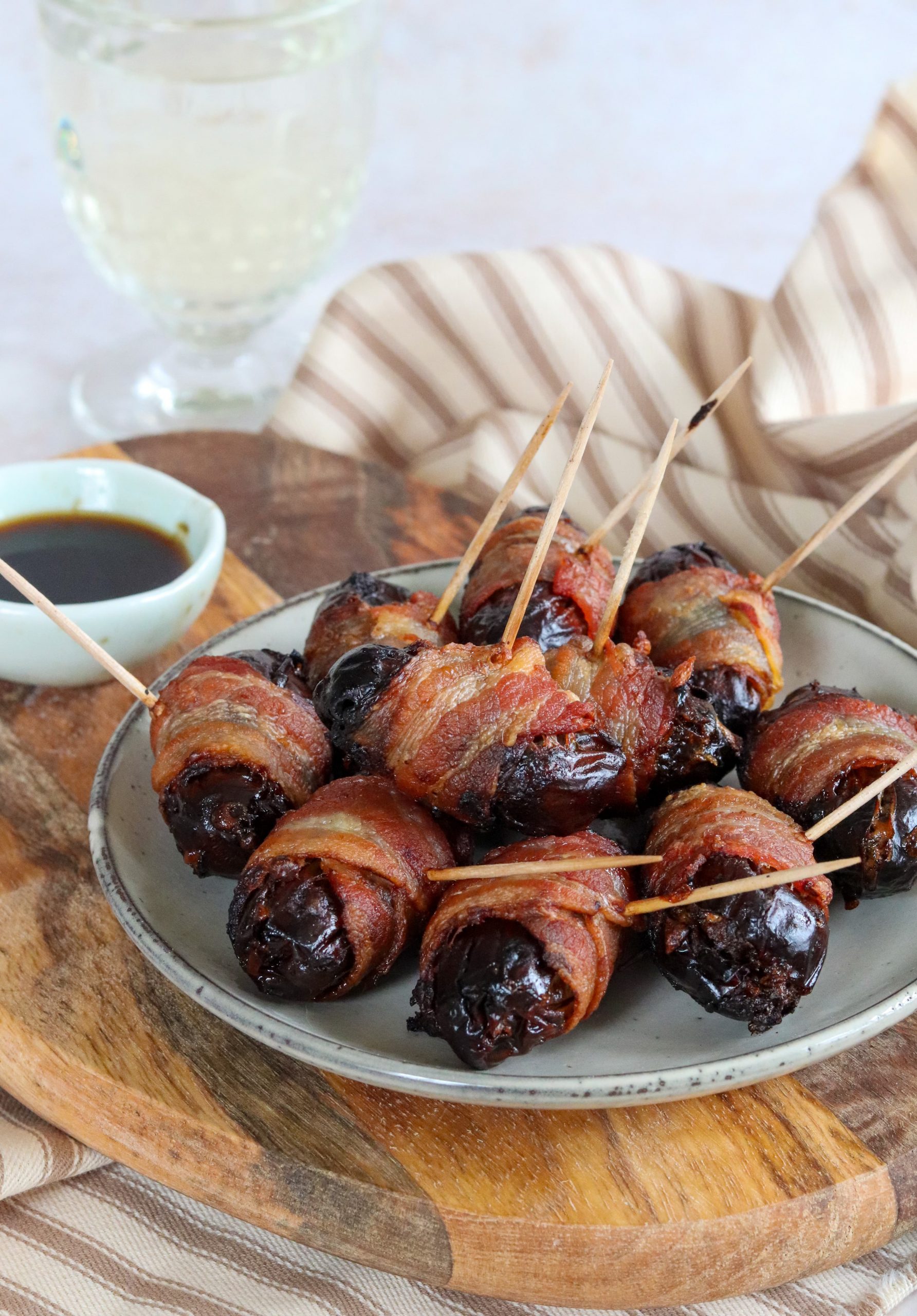 Do you need to use cocktail sticks?
The cocktail sticks are simply there to keep the bacon wrapped around the dates as they cook. They so also act as a handy way for people to pick them up if you are serving these as a canape or as part of a buffet.
Make sure you soak the cocktail sticks before you use them. There is always the risk that if you don't soak them that they might catch alight while cooking.
It is your choice whether you keep the cocktail sticks in when you serve the Bacon Wrapped Dates. You remove them if you prefer.
If you would rather not use cocktail sticks that is fine, but be prepared for the bacon to potentially unravel!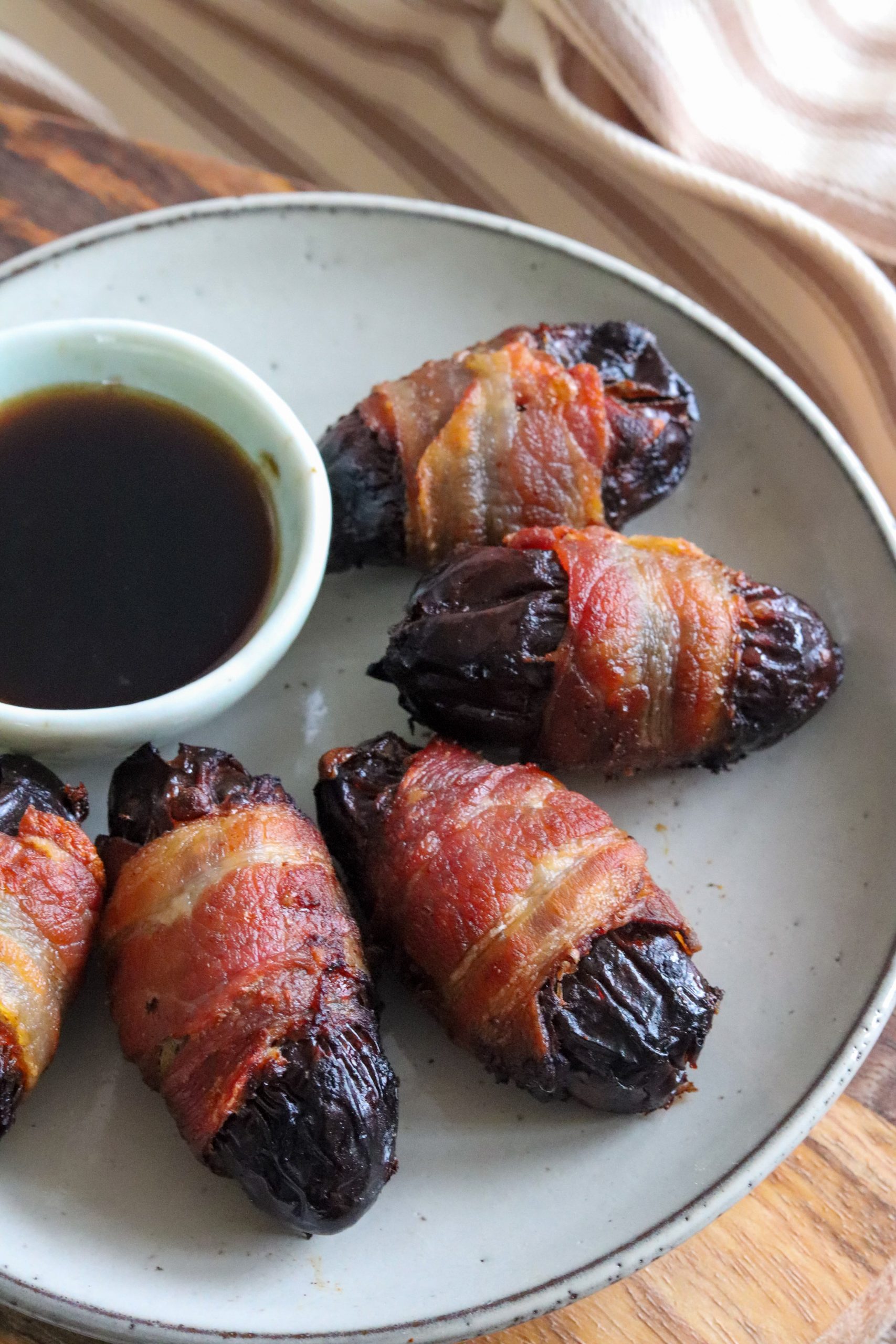 How long will these Bacon Wrapped Dates keep for?
Although I really do recommend eating them as they have just been cooked, there is no reason you can't eat them cold.
You can reheat them if you would like. I would recommend 5 minutes in the oven or air fryer just to heat them through. You need to watch them because you don't want them to get too crisp.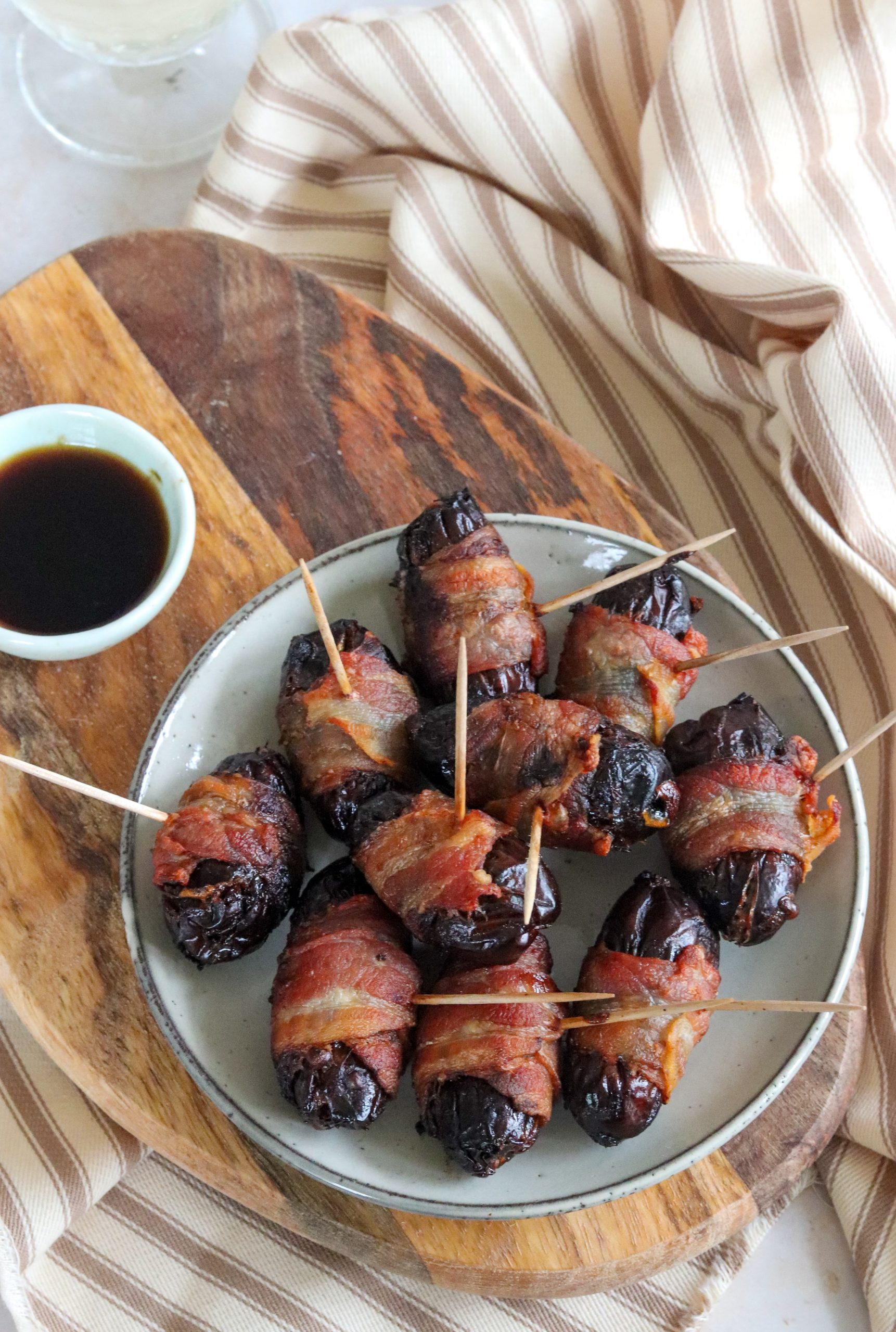 How to make these vegan or vegetarian
These Bacon Wrapped Dates are naturally gluten free, but you will need to change the bacon to make them suitable for vegans and vegetarians.
You will just need to choose your favourite meat free alternative to use instead.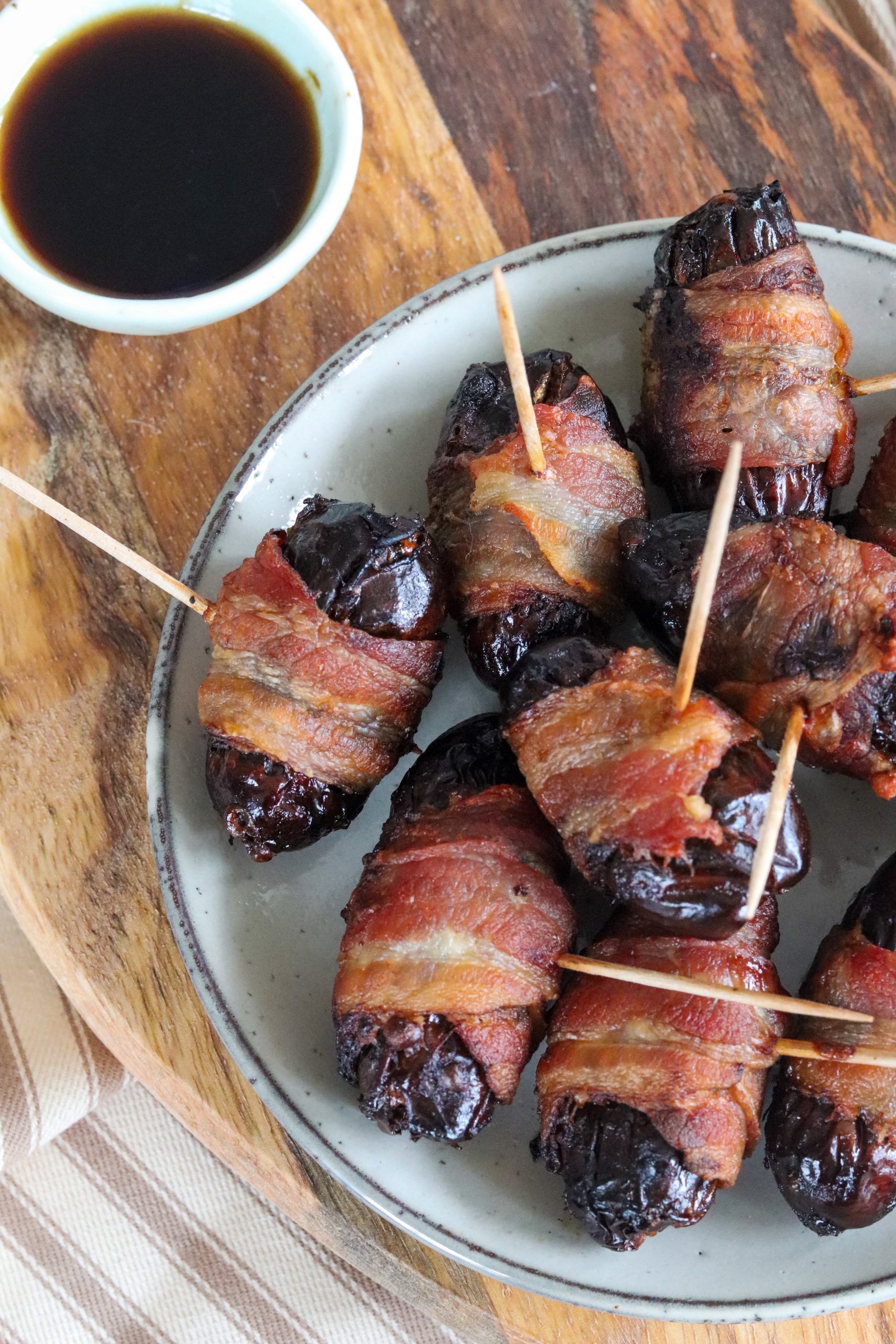 Other recipes you might like
Pin for later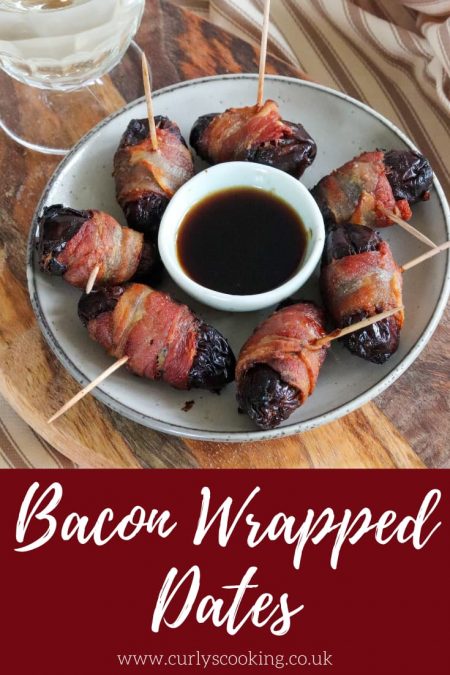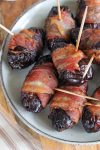 Bacon Wrapped Dates
So simple and only two ingredients, these Bacon Wrapped Dates are parcels of deliciousness. They make a great canapé or nibble and are perfect with a glass of something bubbly!


Ingredients
12

medjool dates

12

rashers

thick streaky bacon
For the dip
1

tbsp

balsamic vinegar

1

tbsp

runny honey

½

tsp

light soy sauce
Instructions
Start by soaking 12 cocktail sticks in water. Set aside

Preheat the oven to 180°C (fan assisted, 200°C non fan)

Remove the pits from 12 medjool dates by cutting a small slit into the side

Lay 12 slices of streaky bacon on a chopping board. Place a date at the end of the bacon and roll it around the date

Secure the bacon with one of the soaked cocktail sticks and place on a baking tray or air fryer. Continue with the rest of the bacon and dates

Cook in the oven for 20 minutes, turning the dates after 10 minutes, until the bacon is crisp. Alternatively cook in the air fryer for 12 – 14 minutes.

Mix together 1 tbsp balsamic vinegar, 1 tbsp runny honey and ½ tsp light soy sauce. Serve with the bacon wrapped dates
Recipe Notes
Nutritional information is given as a guide only and my vary.
Nutrition Facts
Bacon Wrapped Dates
Amount Per Serving
Calories 223
* Percent Daily Values are based on a 2000 calorie diet.