Delicious rice noodles coated in an irresistible sauce. This Chicken Chow Fun will stop you reaching for the takeaway menu and will quickly become one of your favourite recipes.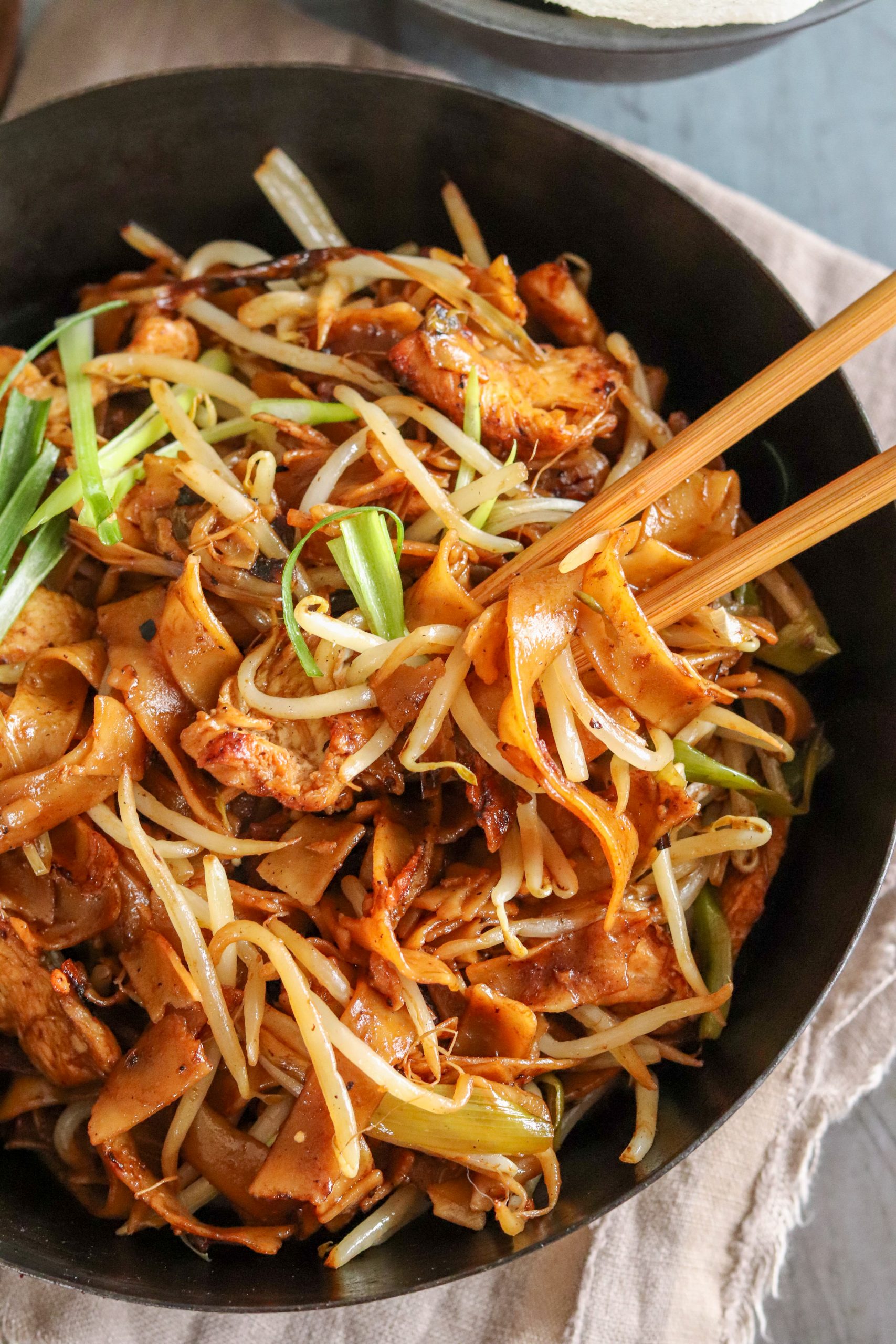 what is the difference between chicken chow fun and chow mein?
Chow mein and chow fun are two delicious and popular Chinese noodle dishes. Although they have similarities their main differences are the noodles used and how they are cooked.
Chow fun is a Cantonese noodle dish which uses wide rice noodles, beansprouts and typically beef. Whereas chow mein uses egg noodles which are fried before adding the meat, sauce and beansprouts.
Chow mein is more widely known out of the two as it is featured in the majority of Chinese restaurants and takeaways. Chow fun is usually served in dim sum restaurants.
Due to the differences in cooking, chow fun is healthier as it doesn't use as much oil as chow mein. Both are incredibly delicious recipes and you won't be disappointed whichever you pick!
When it comes to chow fun you there are two varieties – dry and wet/saucy. Dry chow fun is more widely made and that is what this recipe is.
acheiving wok hei
Wok hei or 'breath of the wok' refers to the unique umami flavour cooking in a wok over a high heat brings to a dish. It adds extra delicious flavour to so many Chinese recipes, including chow fun.
It is much harder to achieve wok hei on your hob at home rather than a professional wok burner. But I do think that even if I don't achieve true wok hei flavour, food I cook in my wok does taste more delicious than in a pan.
One of the reasons I have swapped the beef for chicken in my chow fun is that I don't think I can achieve the same flavour and tender beef I have eaten in restaurants. I haven't had this problem with chicken which is why I use it instead.
A sign of a good chow fun is to not break the rice noodles up or let them stick to the bottom of the wok. But I don't claim to be an accomplished wok chef so I don't mind a few broken noodles, and it should never put you off making this delicious dish.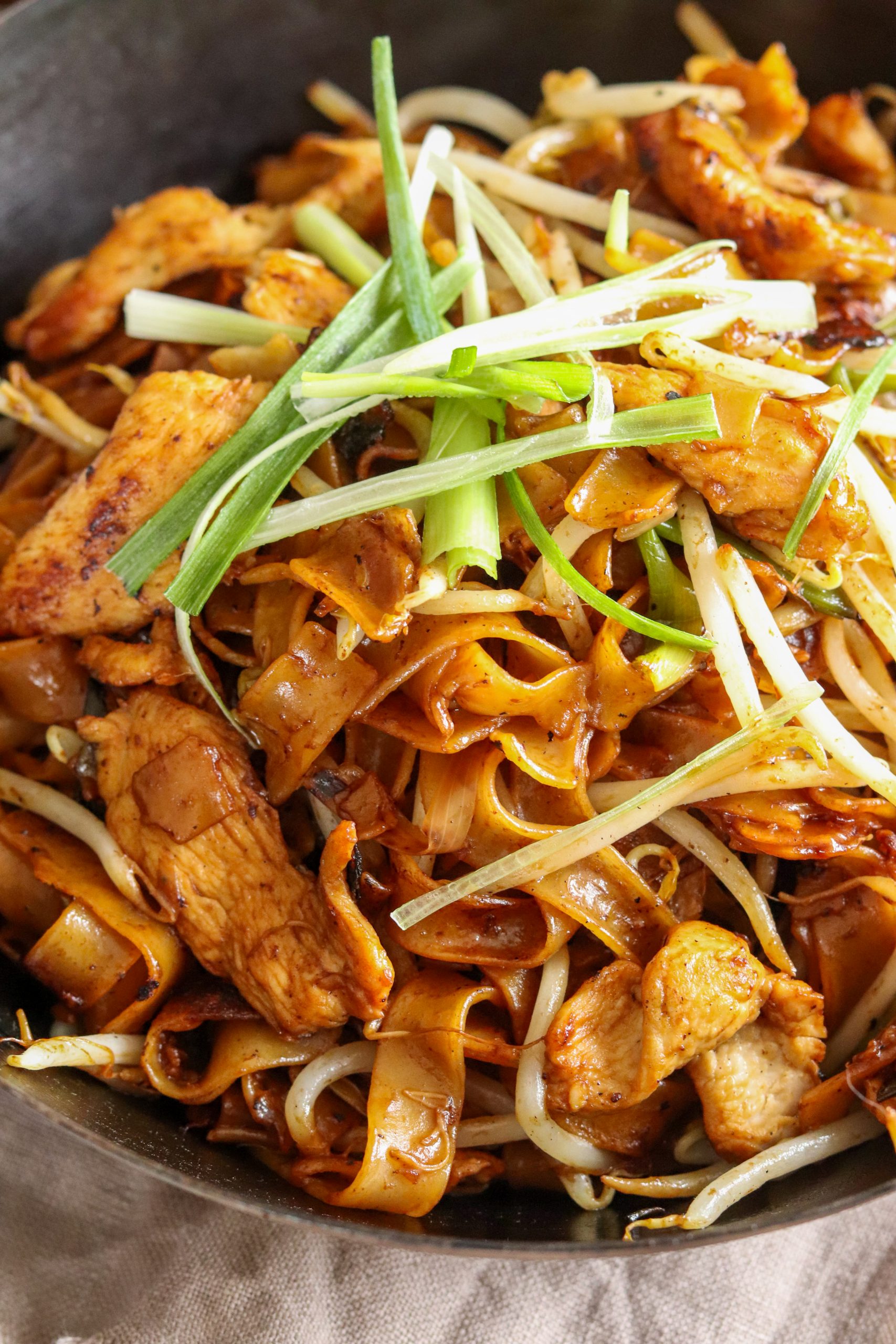 which noodles are best to use for chicken chow fun?
For Chow Fun you have to use rice noodles which are called hor fun. Although traditionally chow fun is made using fresh rice noodles, I have always used dried.
I have a very good Asian supermarket that does stock fresh and frozen fresh noodles, but I find it easier to have the dried noodles in the cupboard.
You should look for the widest rice noodles you can find. 1cm is a good width but if you can find even wider noodles that is great.
The most common width of rice noodles seems to be 5mm. If these are all you can find, you can definitely use them.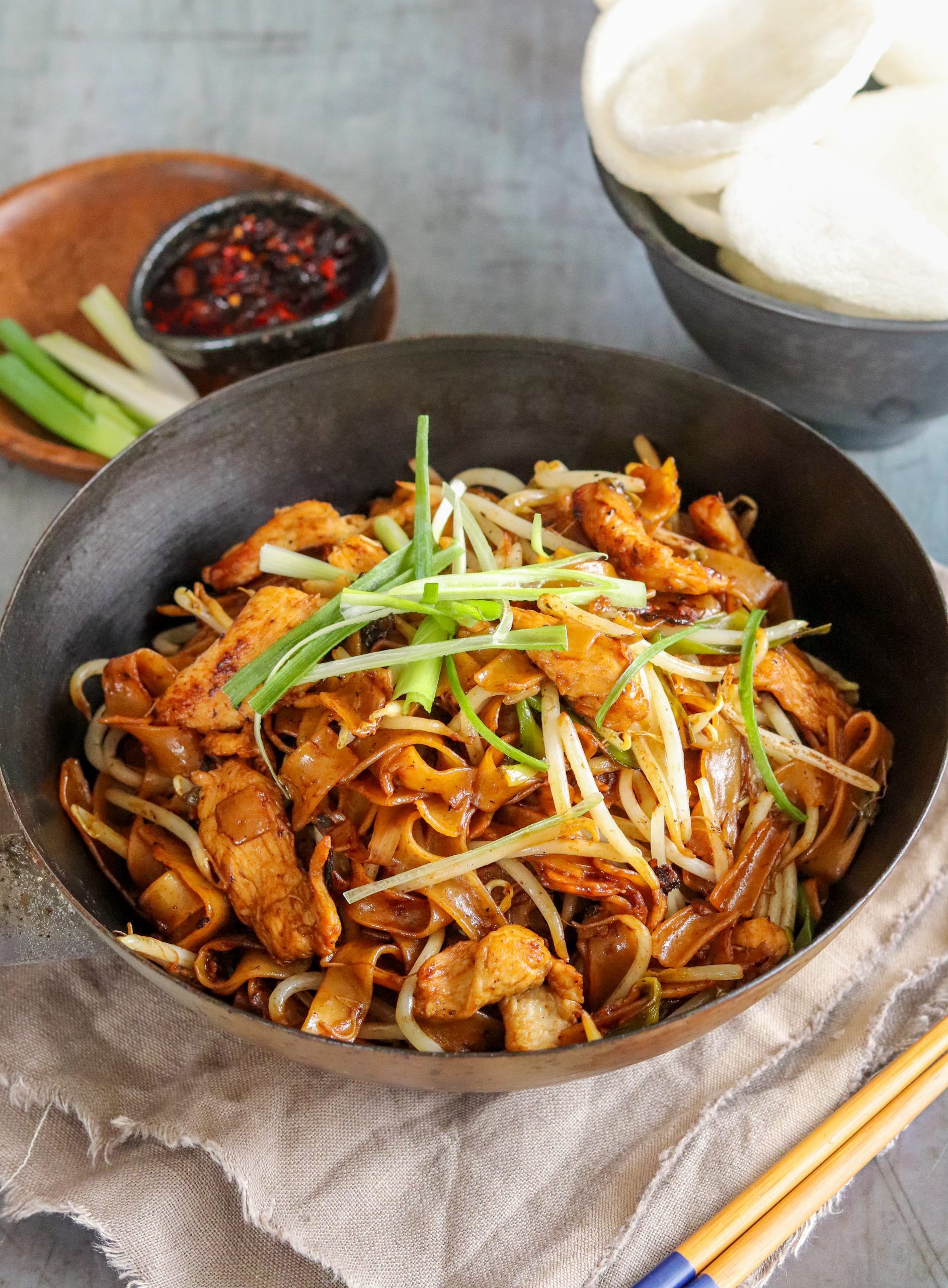 why mix the chicken with cornflour?
Mixing chicken with cornflour and sometimes other ingredients is a popular technique used in Chinese and other Asian cooking. It is called velveting and helps to tenderise the chicken before cooking so it stays juicy.
Instead of cornflour, some recipes use bicarbonate of soda or egg whites. All achieve the same goal but I prefer to use cornflour.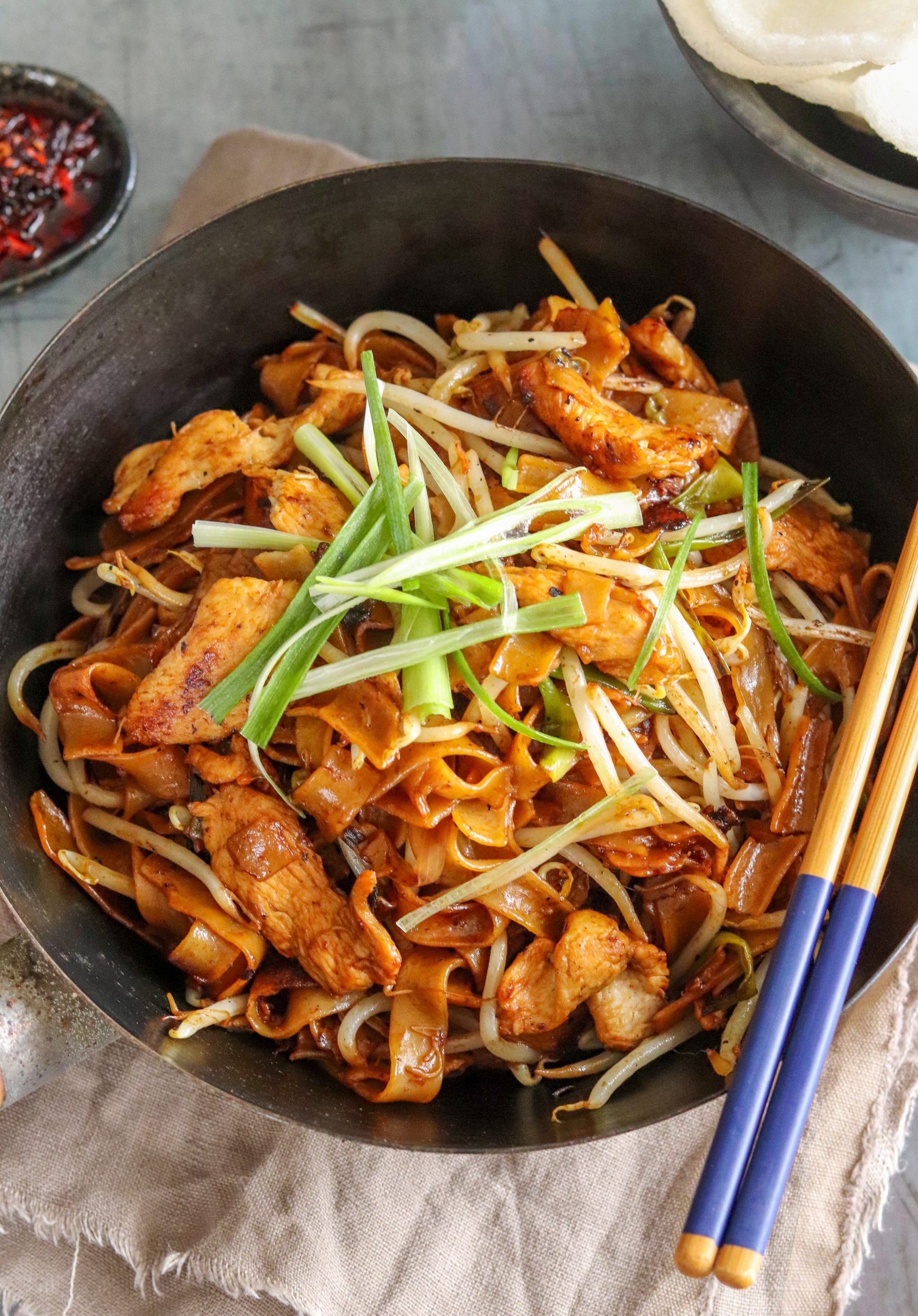 where to buy the sauce ingredients
I am a huge fan of Asian supermarkets and I would always recommend buying ingredients from there if you can. Asian supermarkets have a larger selection of options.
They also typically have better prices for these ingredients too so I really would recommend paying one a visit if you have one close.
If you aren't lucky enough to live near an Asian supermarket, you will be able to get all of these ingredients in a standard supermarket. Most have an Asian section or a world food's aisle.
You will probably have to make do with 5mm wide rice noodles if you get them from a standard supermarket. The noodles might also be called rice sticks.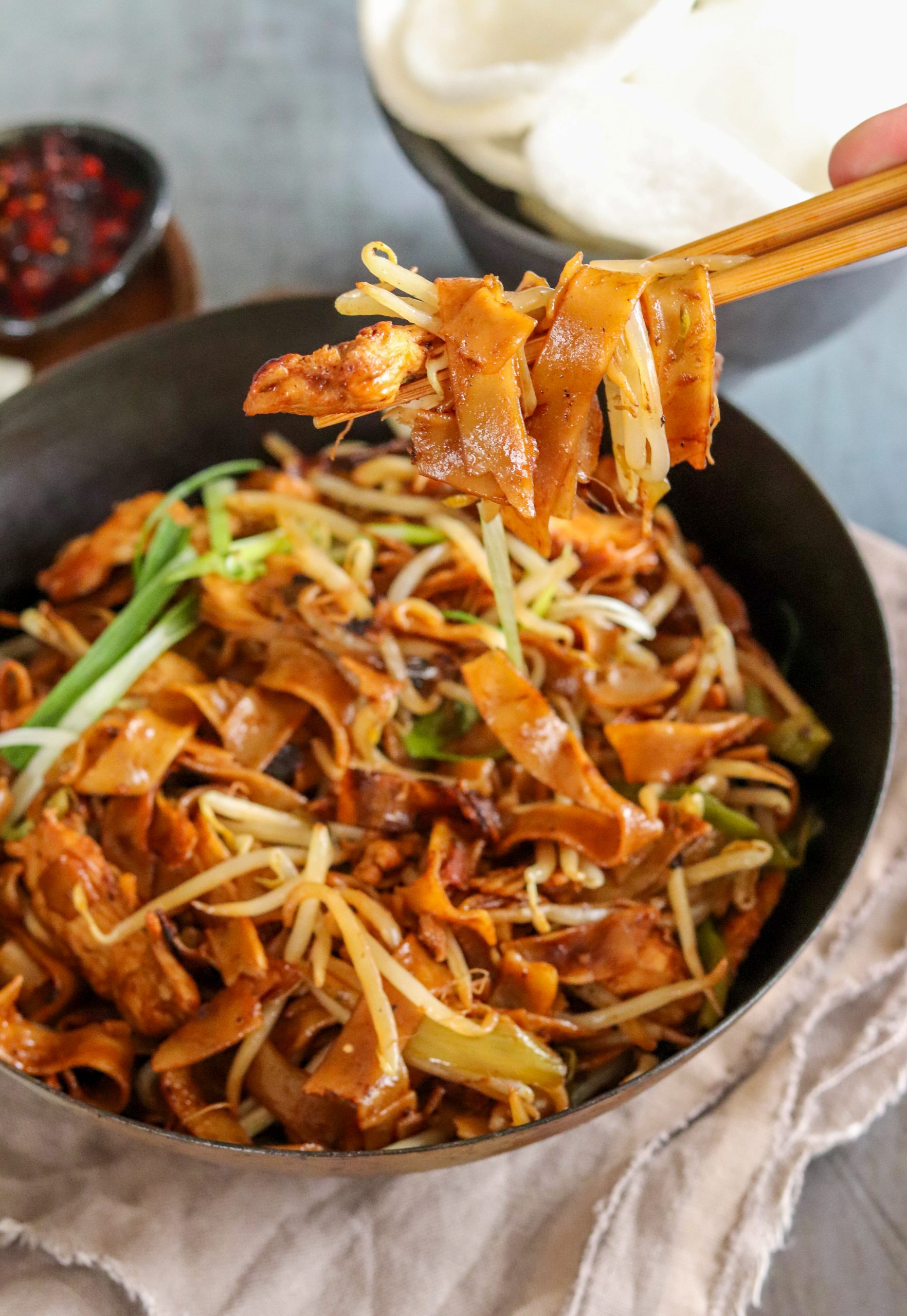 is there a substitute for shaoxing?
If you enjoy Chinese cooking, I really would recommend buying some Shaoxing rice wine. It isn't too expensive and a bottle should last a while.
However if you can't have Shaoxing there are a few alternatives. Although they won't provide exactly the same taste, it should be similar. Shaoxing isn't gluten free so instead you could use dry sherry.
However if you don't drink alcohol then a non alcoholic alternative would be to use a little chicken stock.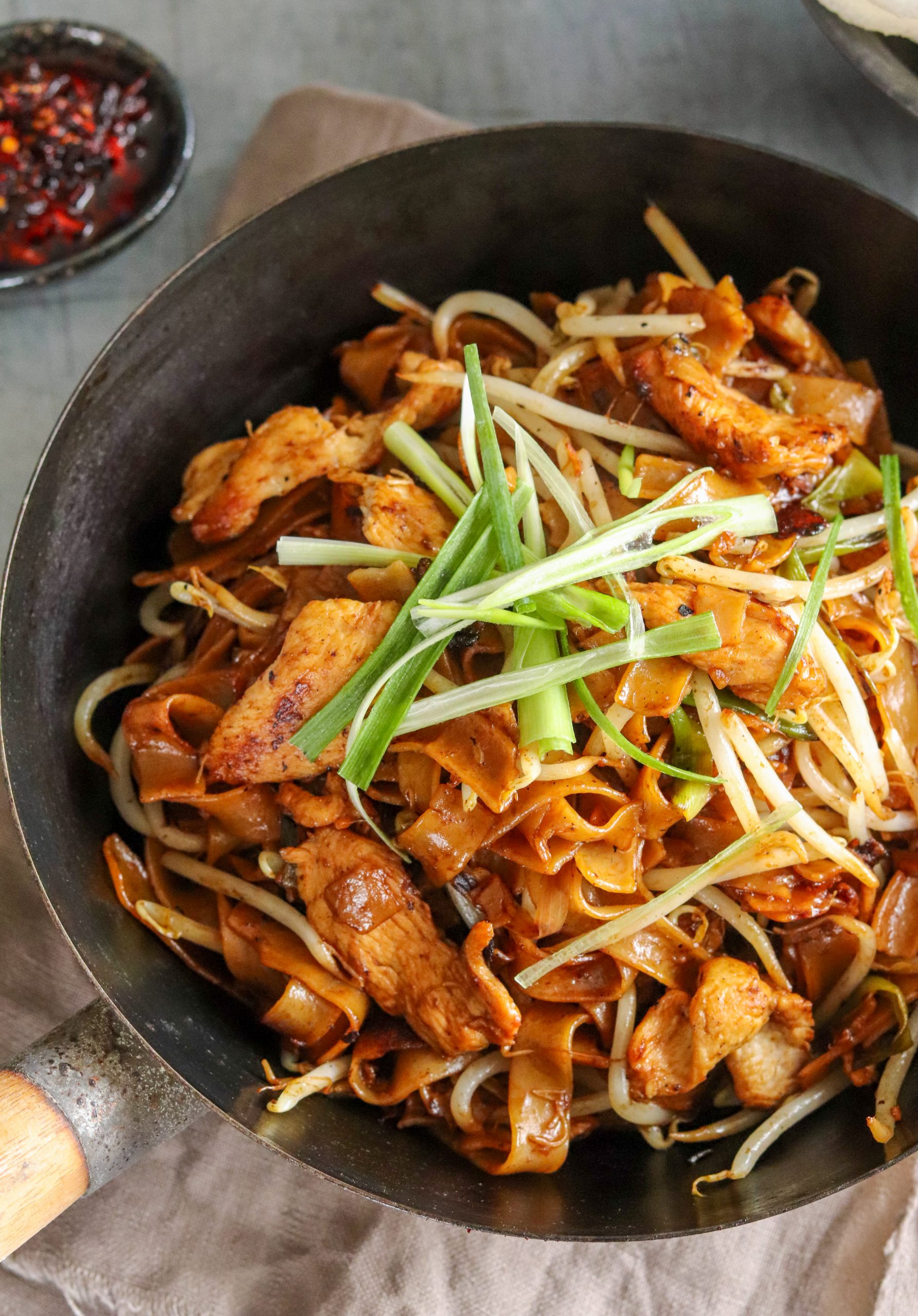 how to make this gluten free, vegetarian or vegan
Rice noodles are naturally gluten free so no changes need to be made there. You will need to swap the soy sauce tamari which is the gluten free version. Shaoxing rice wine is also not gluten free so I would recommend using dry sherry instead.
It is very easy to make this chow fun vegetarian or vegan. Instead of chicken you could use tofu or mushrooms would work well.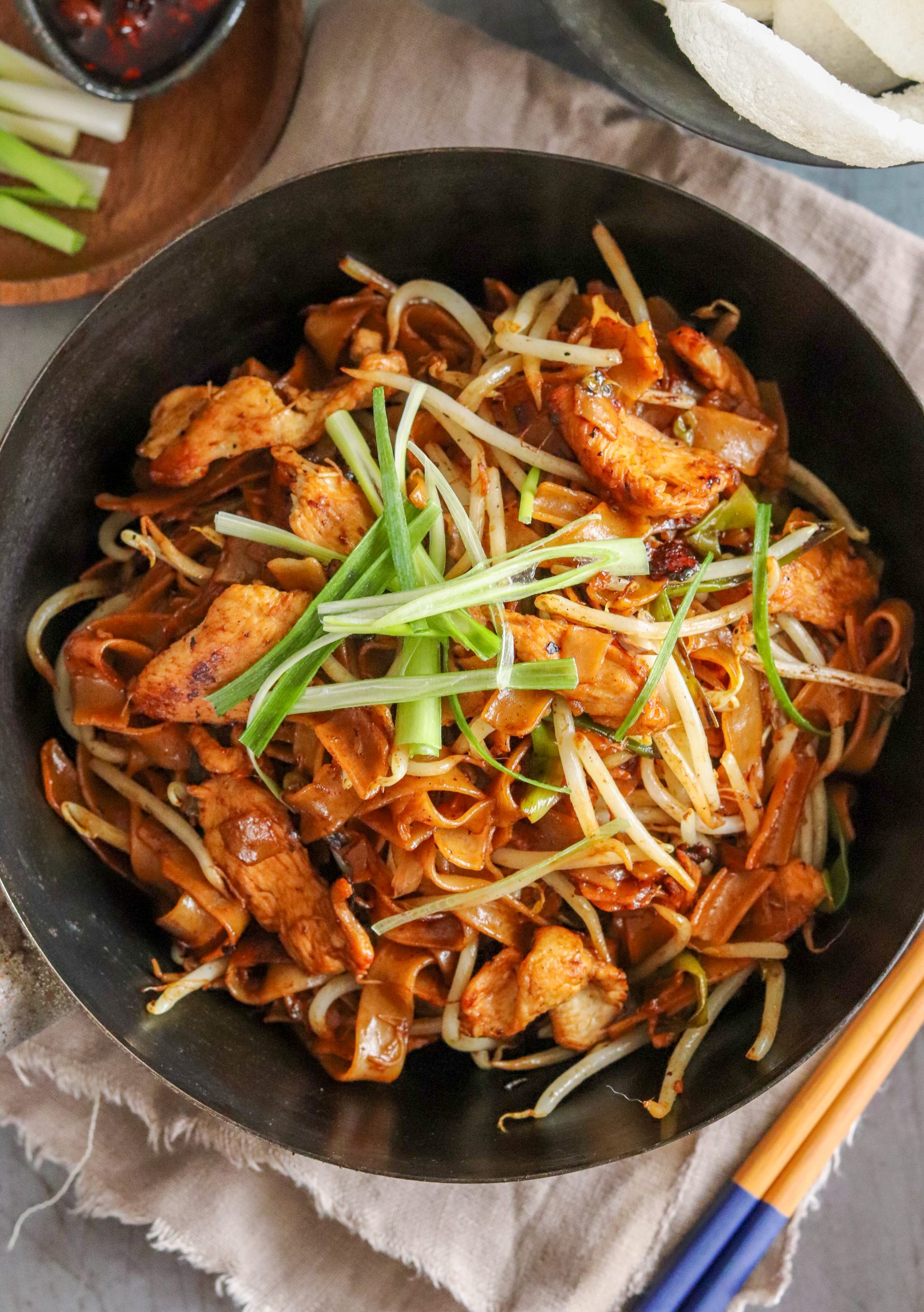 what to serve with chicken chow fun
More often than not I serve this Chicken Chow Fun as it is for a delicious dinner. However it would be great as part of a Chinese feast!
Whip up some of my Vegetable Fried Rice and Tenderstem Broccoli with Oyster Sauce & Garlic. Then pick either my Chicken & Pineapple or Baked Sweet & Sour Chicken and everyone will be happy.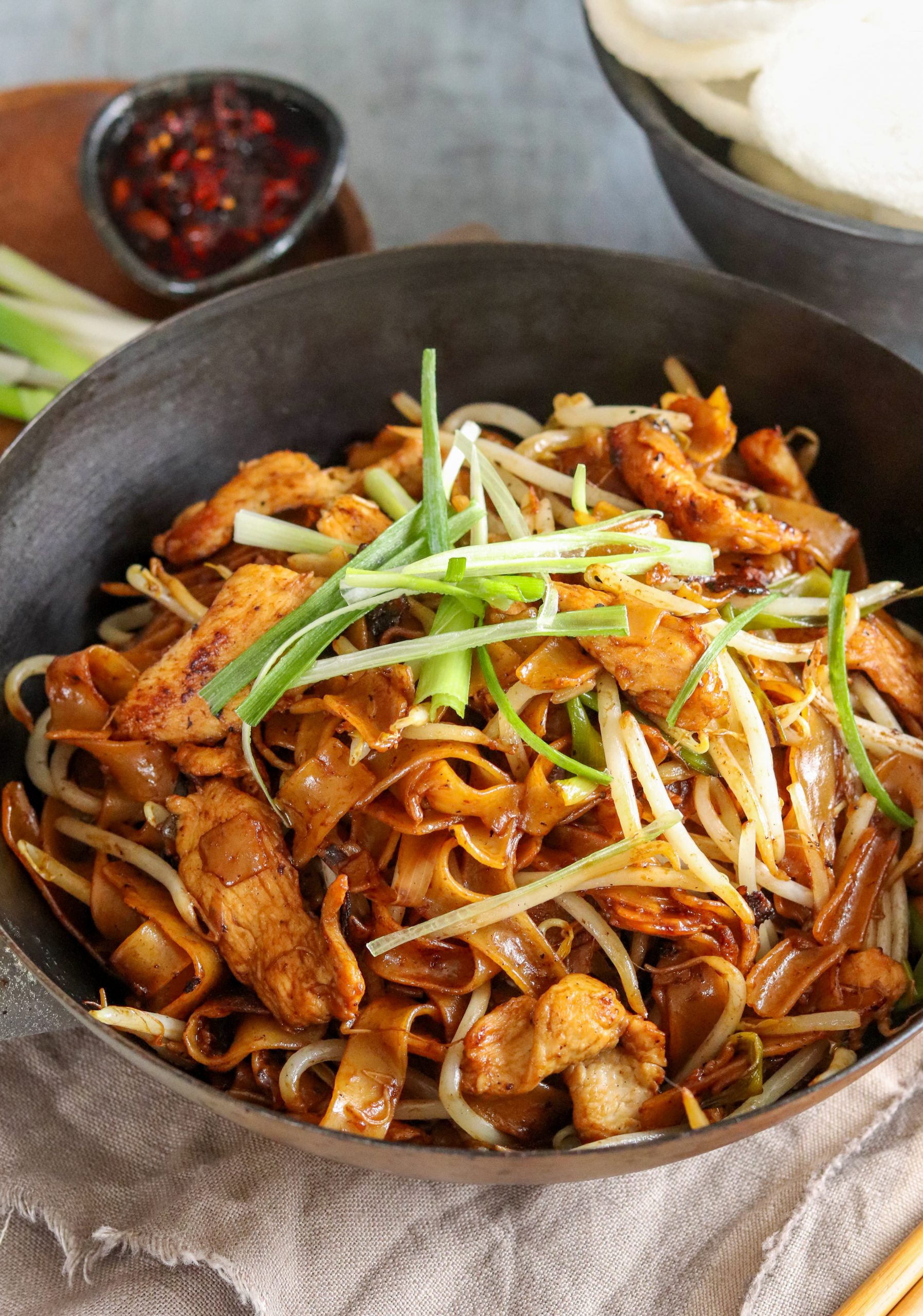 other recipes you might like
Pin for later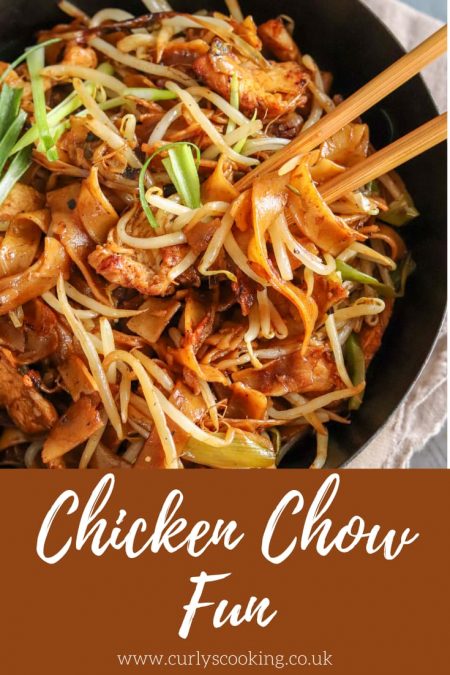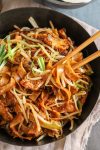 Chicken Chow Fun
Delicious rice noodles coated in an irresistible sauce. This Chicken Chow Fun will stop you reaching for the takeaway menu and will quickly become one of your favourite recipes.
Ingredients
for the chicken
200

g

chicken breast

thinly sliced

1

tsp

cornflour

1

tsp

vegetable oil

1

tsp

light soy sauce
for the sauce
½

tsp

sesame oil

3

tsp

dark soy sauce

4

tbsp

light soy sauce

pinch

white pepper

⅛

tsp

caster sugar
240

g

rice noodles

1cm thick

3

tbsp

vegetable oil

4

spring onions

sliced

1

tbsp

ginger puree

4

tbsp

Shaoxing rice wine

250

g

beansprouts
Instructions
Add 200g sliced chicken breast to a bowl along with 1 tsp cornflour, 1 tsp vegetable oil and 1 tsp light soy sauce. Mix and set to one side

Mix together ½ tsp sesame oil, 3 tsp dark soy sauce, 4 tbsp light soy sauce, pinch white pepper and ⅛ tsp caster sugar in a jug. Set aside

Cook 240g rice noodles in a pan or wok of boiling water for 2-3 minutes until soft. Drain and set to one side

In a wok or large pan heat 1½ tbsp vegetable oil over a high heat. When the wok is smoking, add the chicken.

Stir the chicken continuously until it is opaque and nearly cooked through. Remove from the wok

Heat 1½ tbsp sunflower oil over a high heat until it is smoking. Add 1 tbsp ginger puree and 4 spring onions

Stir fry for a few seconds before adding the cooked noodles to the wok, spreading them out

Pour 4 tbsp Shaoxing rice wine around the edge of the wok

Add the chicken back to the wok along with the sauce ingredients. Make sure you coat all of the noodles in the sauce and scrape the bottom of the wok to prevent anything sticking

Add 250g beansprouts to the wok and stir fry for 2-3 minutes until they have softened
Recipe Notes
Nutritional information is given as a guide only and may vary.
Nutrition Facts
Chicken Chow Fun
Amount Per Serving
Calories 595
Calories from Fat 36
% Daily Value*
Fat 4g6%
Cholesterol 64mg21%
Sodium 2517mg109%
Potassium 555mg16%
Carbohydrates 105g35%
Protein 30g60%
Vitamin A 269IU5%
Vitamin C 6mg7%
Calcium 52mg5%
Iron 2mg11%
* Percent Daily Values are based on a 2000 calorie diet.