Crumble Topped Mince Pies are a new twist on an essential Christmas bake! These mince pies are my favourite and even easier than traditional recipes. Once you've made them, you'll make them year after year.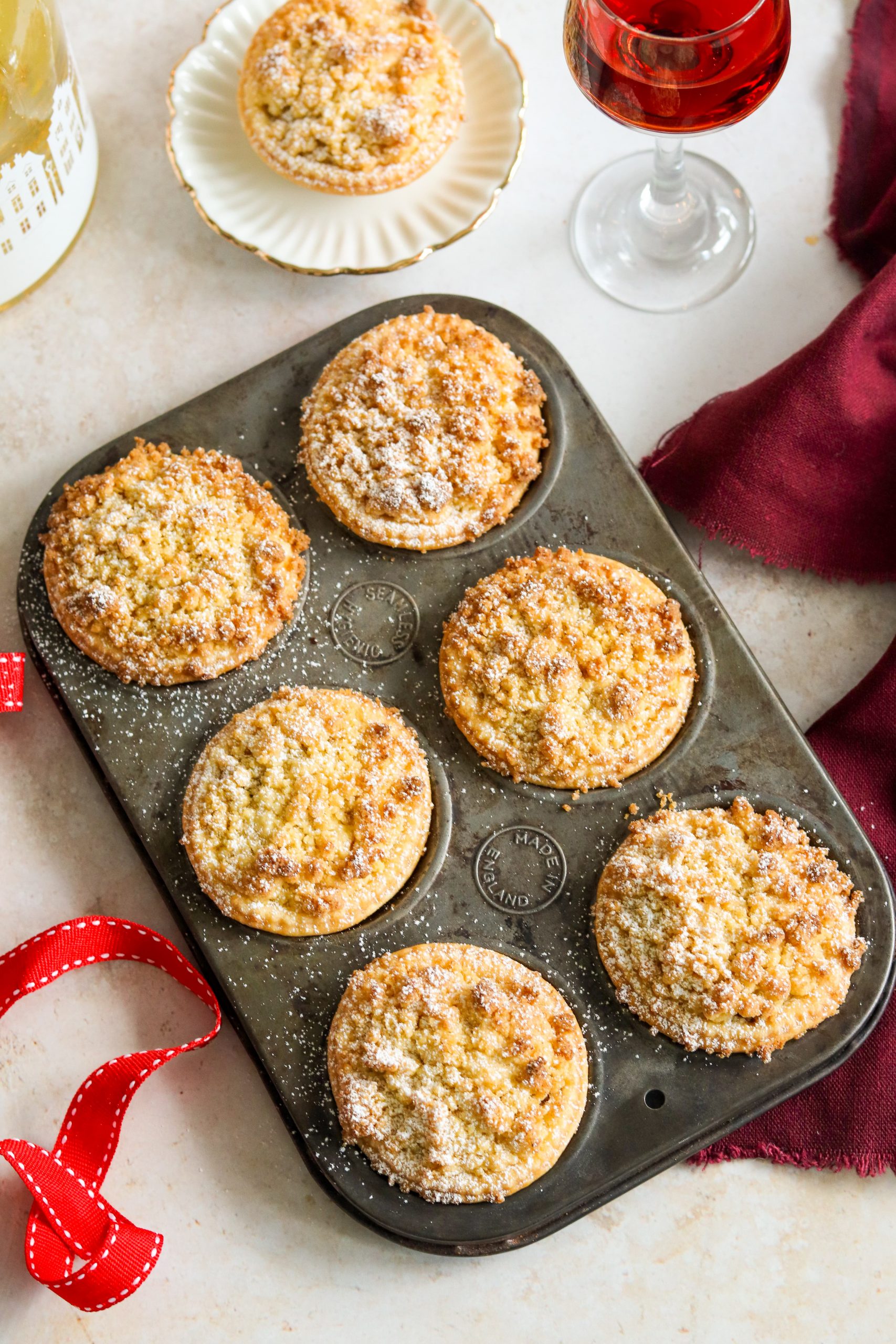 what is mincemeat?
If you're not from the UK, you might not have heard of mincemeat. It is a sweet mixture of dried fruits, spices and spirits.
So where does the name come from? Well back in the 12th century mincemeat was made using meat as a way of preserving it. Over the years the meat has been swapped for the fruit.
So don't panic, despite the name there is no meat in mincemeat anymore and it is really tasty!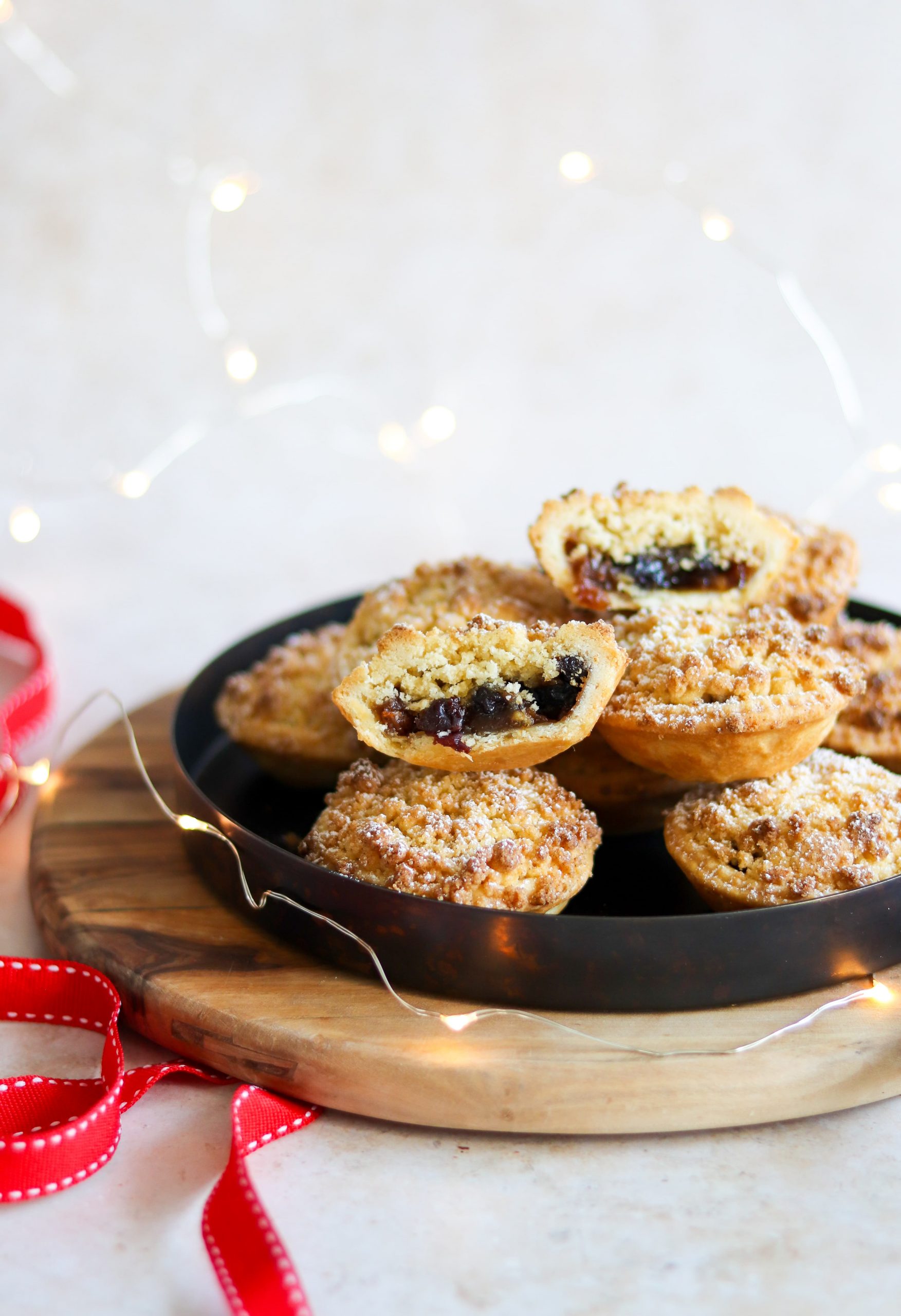 WHAT are crumble topped MINCE PIEs?
Again, if you're not from the UK you might not be familiar with mince pies. They are little sweet pastry cases filled with mincemeat.
Traditional mince pies have a shortcrust pastry case and are topped with a pastry lid. These Crumble Topped Mince Pies don't have the pastry lid and instead have a crumble topping like you would expect on a rhubarb crumble.
Although I love a mince pie, mincemeat does divide people and it's not everyone's thing! For me it isn't Christmas until the mince pies have been made.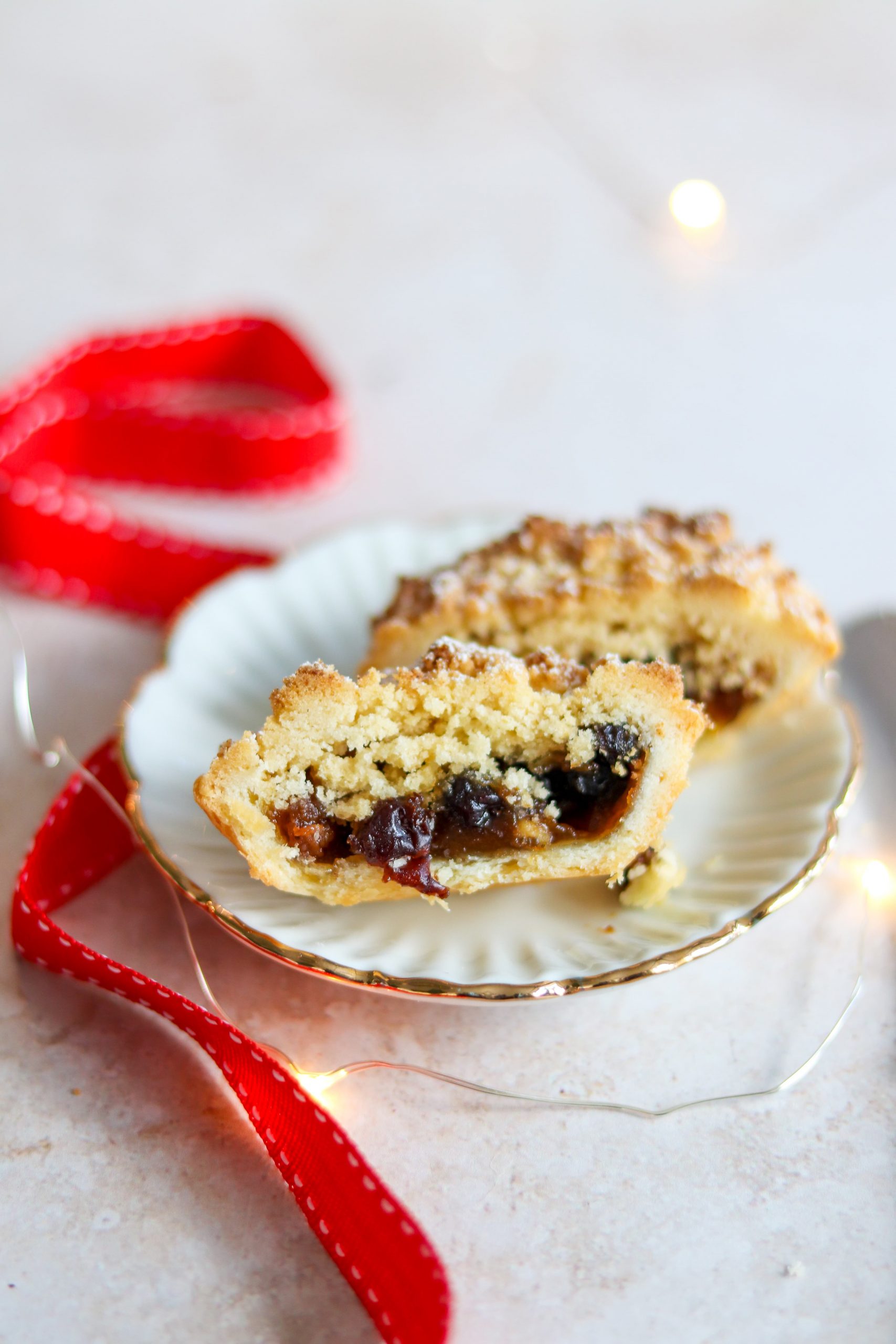 why are crumble topped mince pies easier to make?
For years I have disliked making mince pies which is why I have come up with so many other recipes celebrating mincemeat My Mincemeat & Almond Cake, Mincemeat Pinwheels, Mincemeat Christmas Flapjacks and Mincemeat Thumbprint Cookies have become family favourites.
But then I remembered my Mum used to make these mince pies and they are an absolute game changer!
I really don't like making standard mince pies because there is a lot of cutting out involved. I then can't help but overfill them so the mincemeat seeps out and sticks the mince pies to the tin.
This usually results in me having to chisel out the mince pies from the tin which then look like they could have been run over!
With this crumble topped version there is far less cutting out which makes them quicker to make. Also if you overfill them, the crumble absorbs the excess mincemeat so it doesn't stick to the tin. Perfect!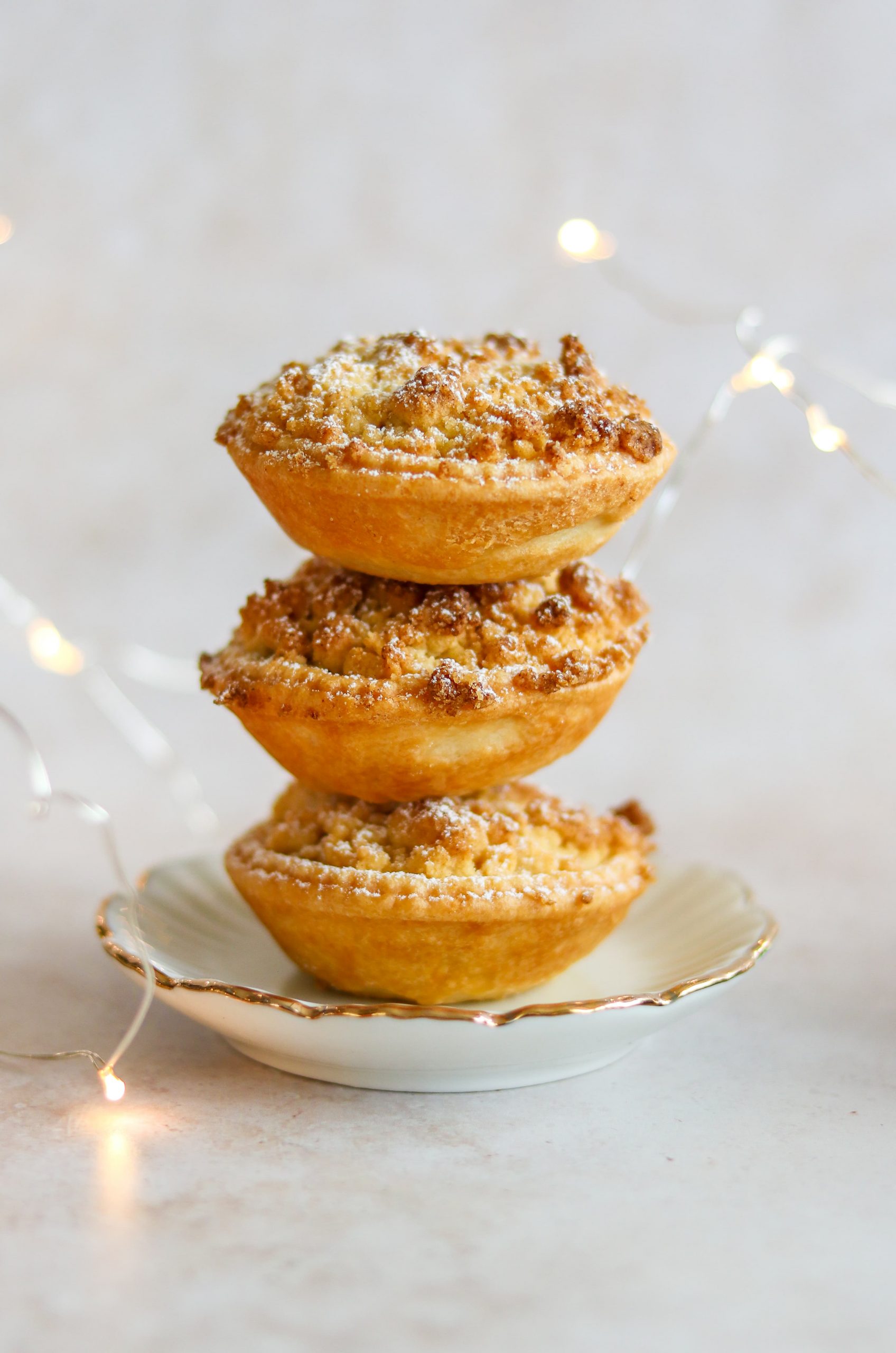 which mincemeat is best to use?
The best option would be to make your own Mincemeat. That way you can pick exactly what is in it to make your perfect flavour combination.
Also it is simple to make, doesn't take very long and keeps for ages! If you haven't made it yourself before, I really recommend giving it a try.
I don't think there is anything wrong with using shop bought mincemeat. This is what most people tend to do and it is convenient.
I would recommend trying to choose a good quality mincemeat. There are quite a few choices; the fruits and spirits used vary and some may even include nuts. Pick one that appeals to you.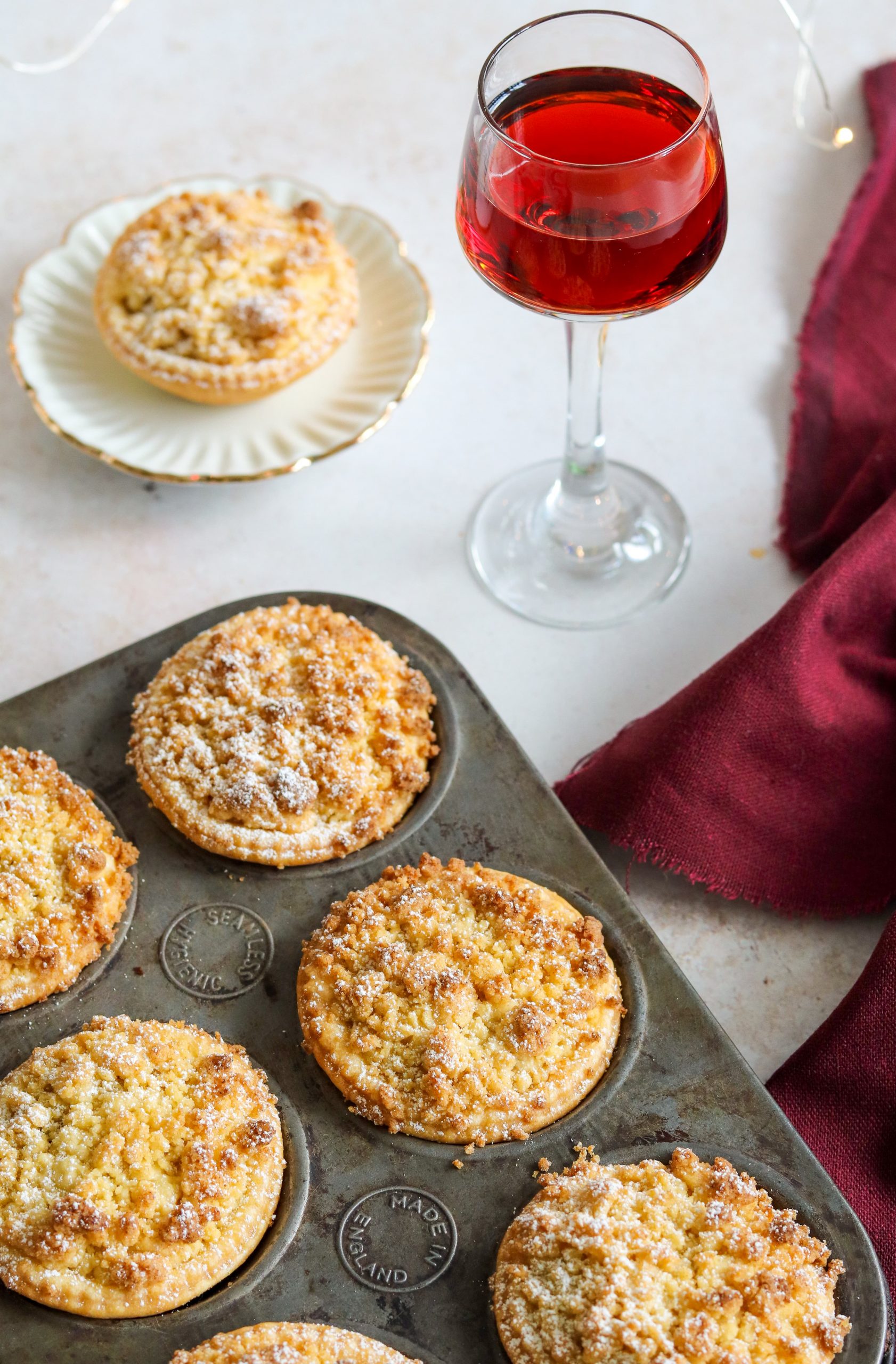 How to make the crumble topping
The crumble topping couldn't be easier to make. All you need is a large bowl and your fingers; no fancy equipment here!
You just need to rub the ingredients together with your finger tips until you get a crumble texture which takes a matter of minutes. It could definitely be something to get children involved with.
I would recommend using softened butter because this will be easier to rub into the flour and sugar. I do also use margarine because it is soft straight from the fridge which is handy when you don't want to wait for your butter to soften.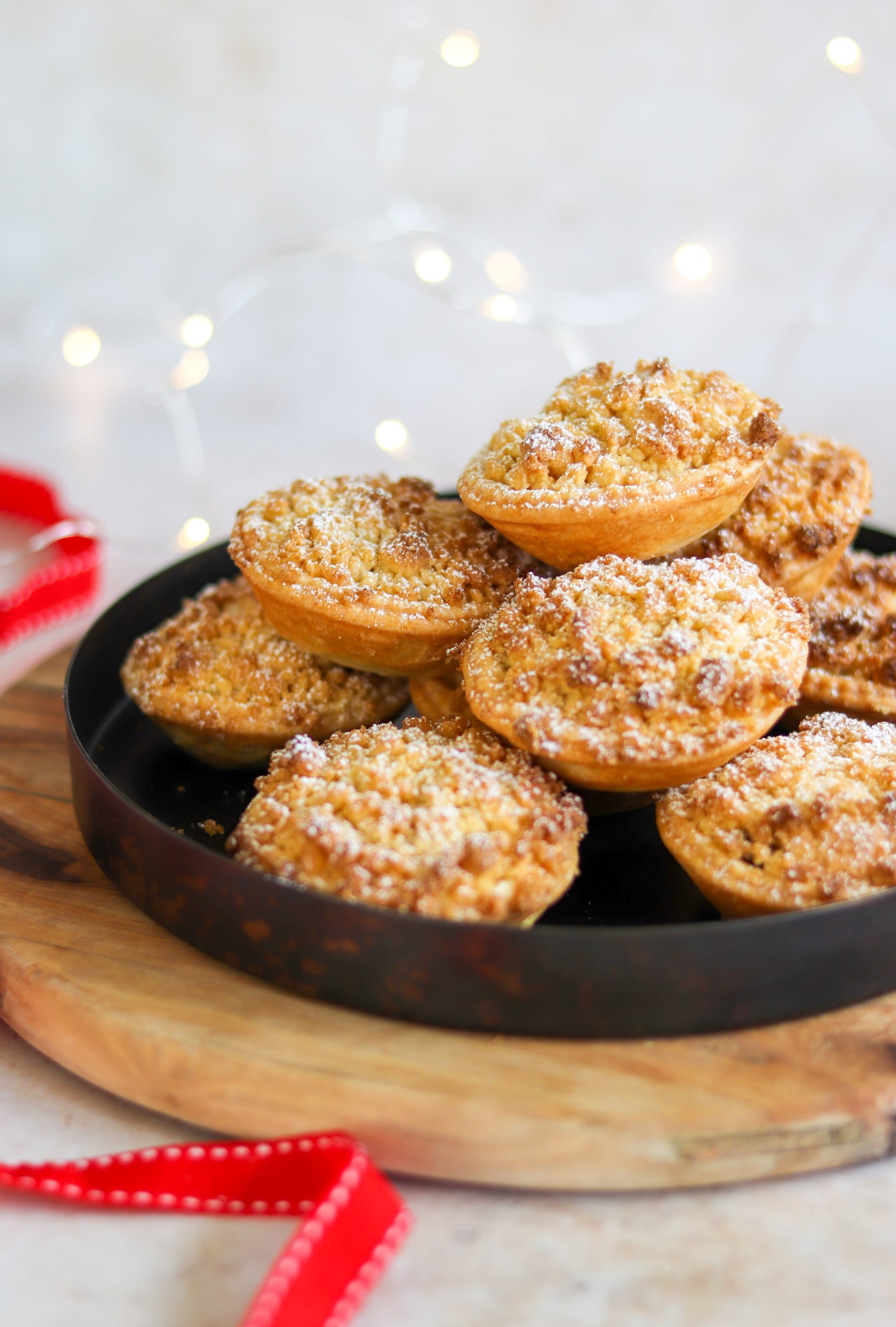 is it cheating to use shop bought pastry?
Although shortcrust pastry is easier to make than other types of pastry, I think there is absolutely nothing wrong with buying it ready made.
I like to buy the ready rolled pastry because this makes these mince pies even quicker and easier to make. This timesaving tip is especially useful for these Christmas treats. It is the time of year when people tend to be very busy and don't have a lot of extra time.
You can of course make your own shortcrust pastry if you would prefer. I do make my own pastry when I make my Frangipane Mince Pie Slices.
When rolling the pastry out, you are looking for it to be approximately 4mm thick. This also applies when you are rerolling the pastry scraps to cut out more cases.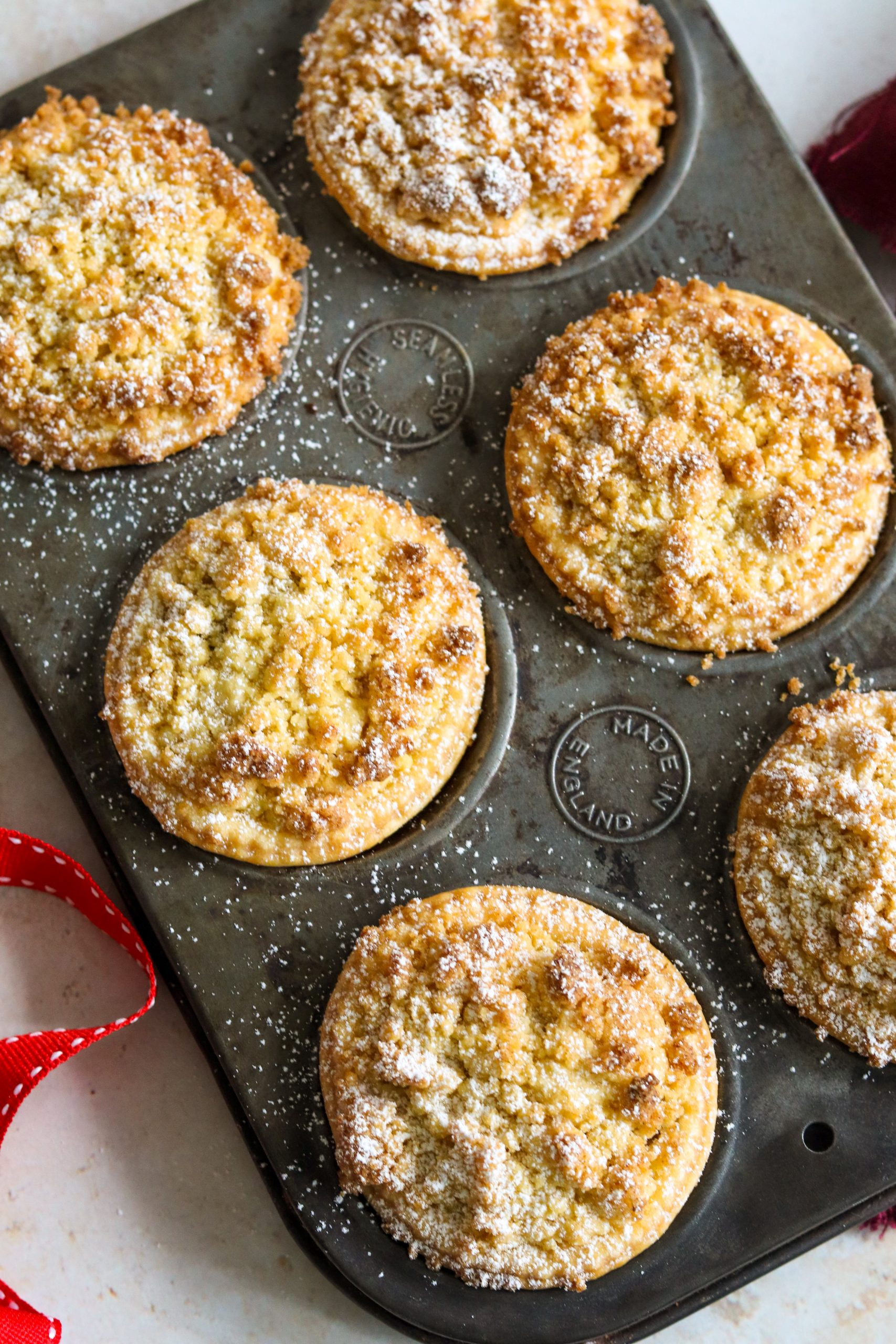 which equipment is needed to make mince pies?
For these mince pies you do need a shallow bun tin. I grew up referring to them as mince pie tins, but apparently they are commonly known as shallow bun tins.
These are basically, a shallow version of tins you would use for making cupcakes or muffins. The shallow tins provide a good ratio of pastry to filling to crumble topping.
If you were to use standard cupcake tins, you would need much larger circles of pastry and a lot more mincemeat. I would imagine this would affect the baking time because they would be deep filled mince pies; and this isn't something I have tested.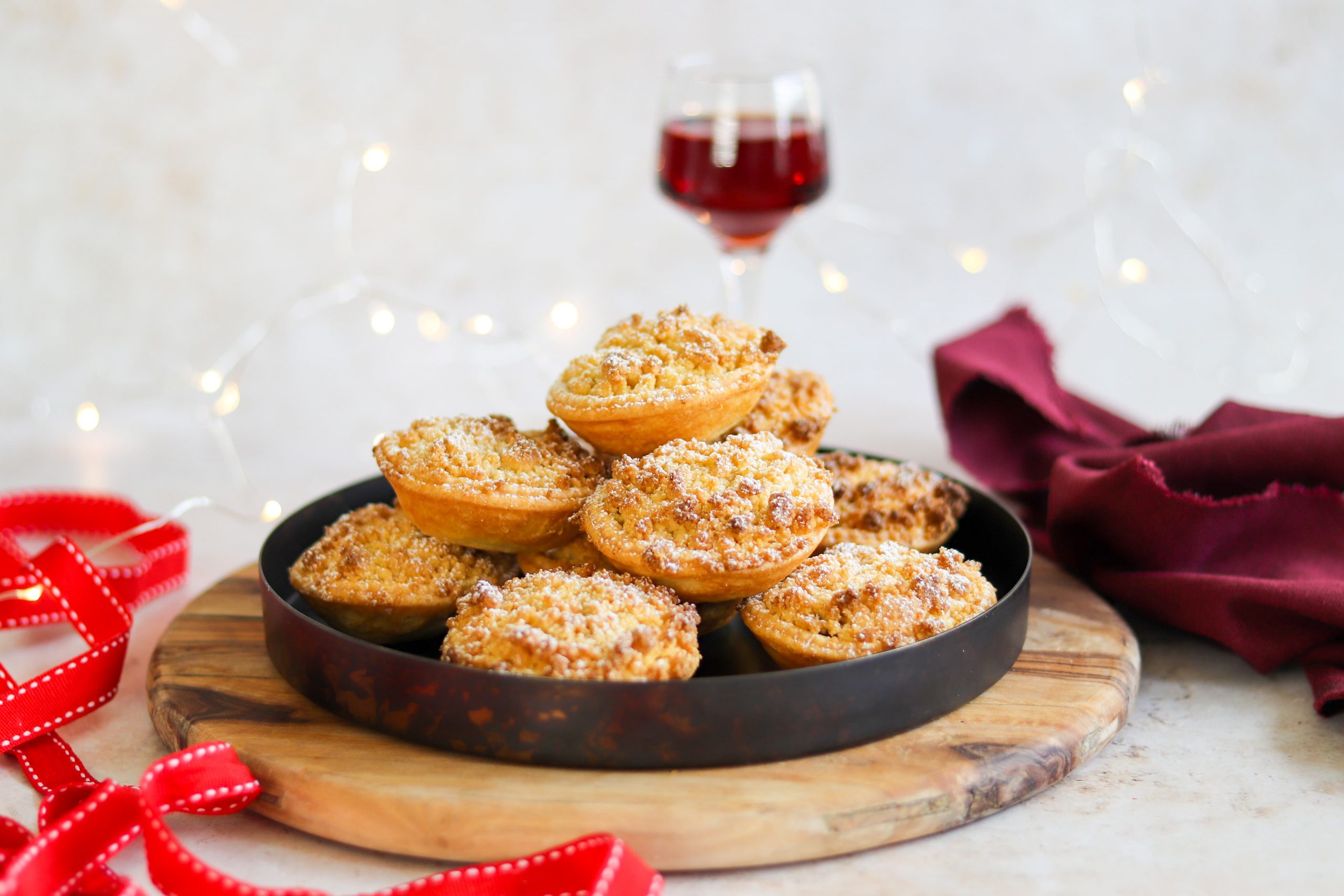 You also need a circular cutter to make these Crumble Topped Mince Pies. The size I use is 3 inches or 7.5cm which is the perfect size for the shallow bun tin.
I use a fluted cutter but you can just as easily use a straight cutter. Usually the benefit of using the fluted cutter is to make the edges more decorative. But for these pies you are covering them with crumble so you can't really see the edges anyway.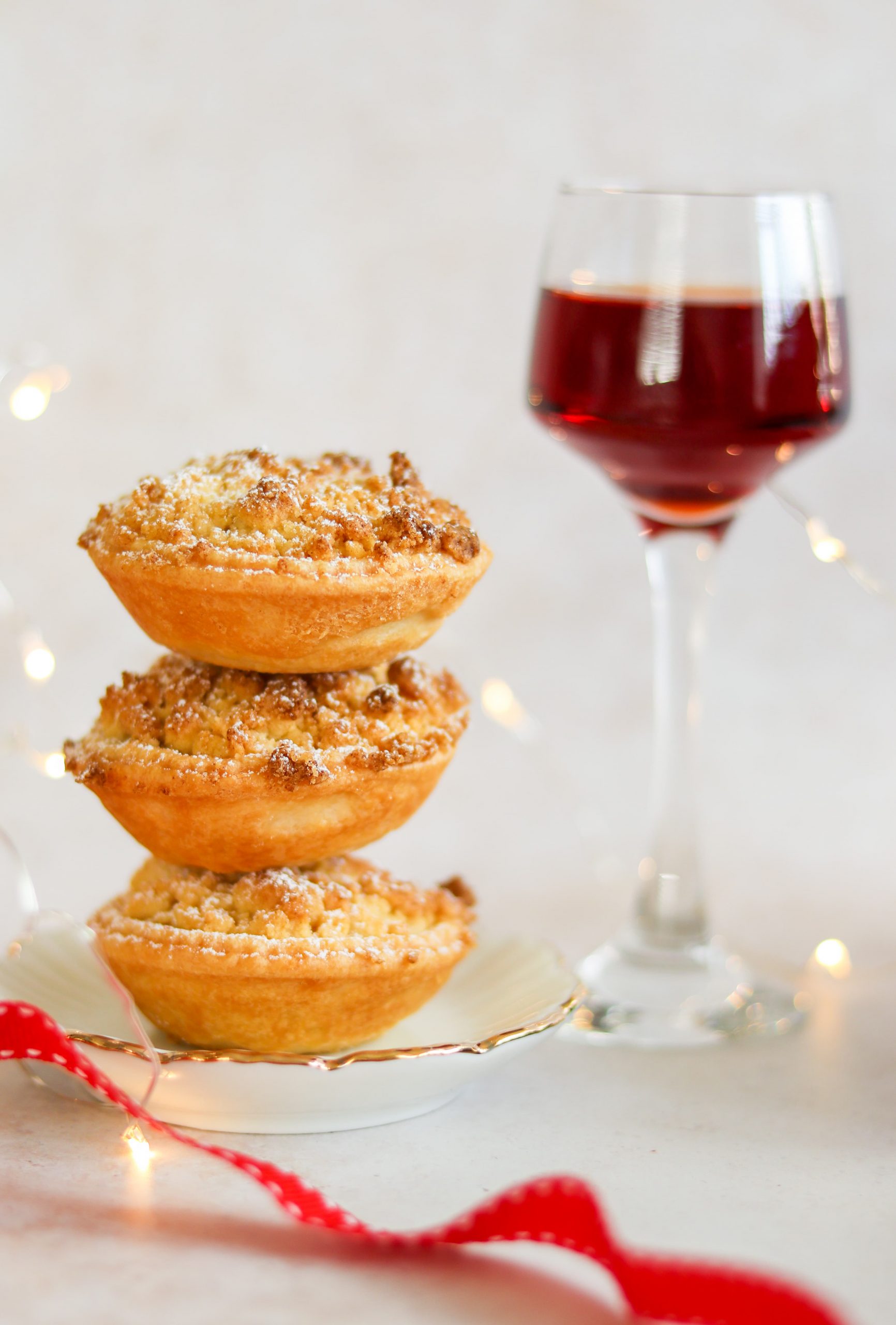 can you freeze these crumble topped mince pies?
Absolutely, they freeze really well. Each year I make these mince pies a couple of months before Christmas and freeze them.
This way when it gets a bit more hectic in December your mince pies are already made and waiting to be defrosted and eaten.
I bake them as per the recipe below and allow them to cool completely. You can then put them into a container or bag and freeze for up to three months.
Then when you want to eat them, let them defrost completely at room temperature. You can defrost however many you want at a time whether that is one for yourself or twelve because guests have popped round.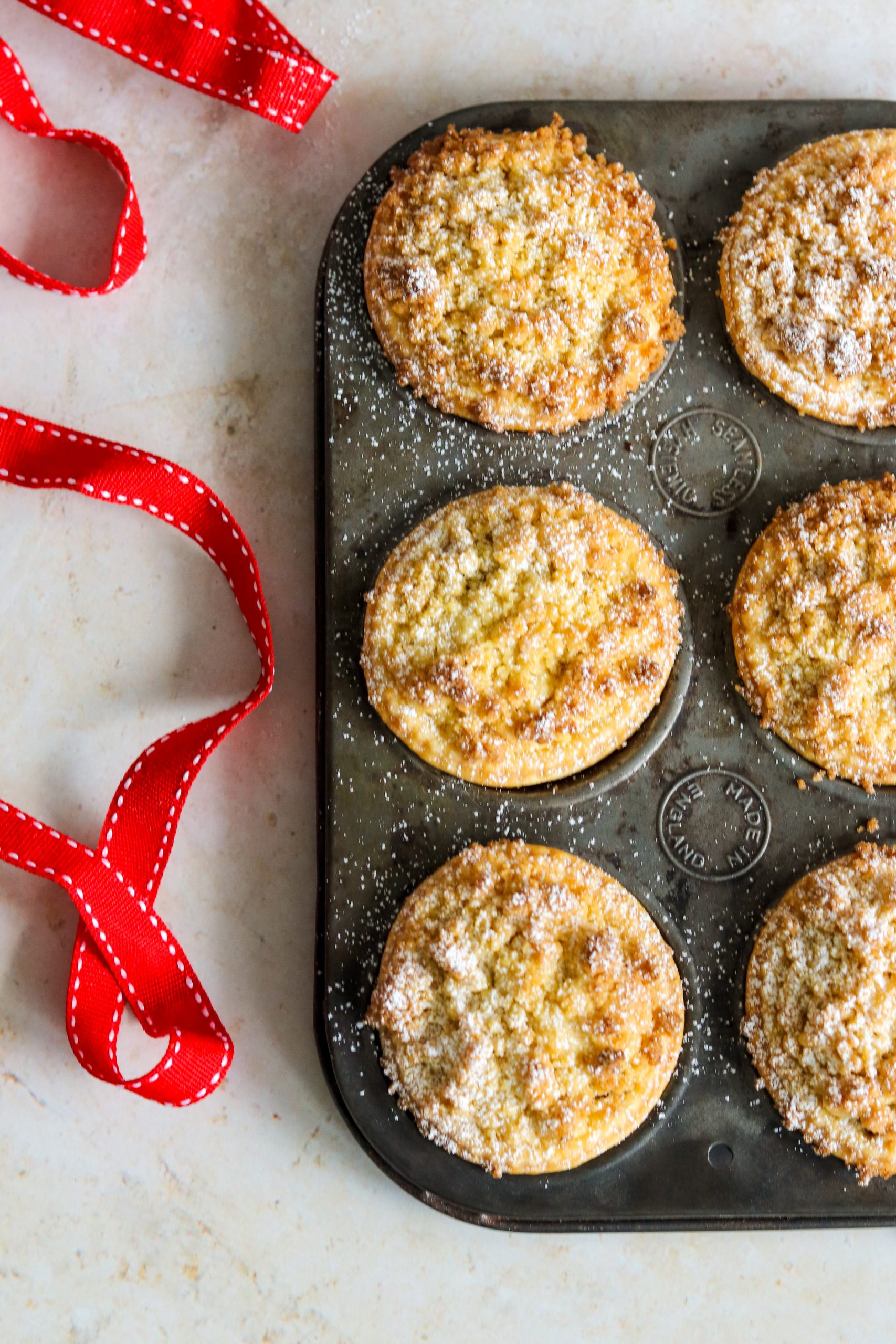 how to make these mince pies gluten free, vegetarian and vegan
These Crumble Topped Mince Pies are easily adapted to different dietary requirements.
To make them gluten free, you will need to use gluten free shortcrust pastry. You should be able to find this in most large supermarkets, possibly more likely in the freezer section.
The crumble topping is easily made gluten free by using gluten free flour instead of standard flour. It is always best to check if mincemeat is gluten free as some suet is rolled in flour.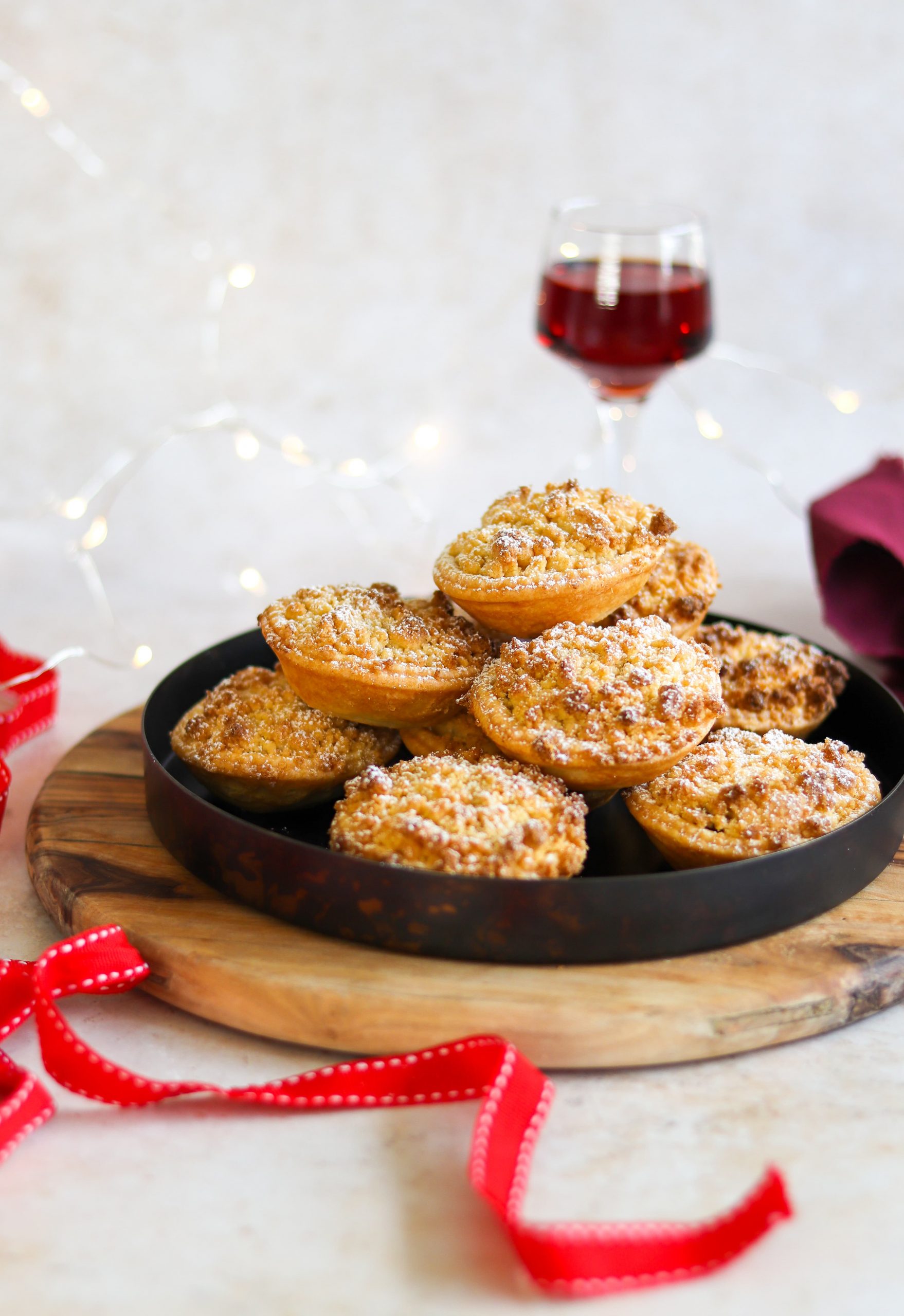 To make these mince pies vegetarian and vegan you need to make sure the mincemeat you are using is suitable. A lot of recipes nowadays use vegetarian suet which also makes them vegan friendly.
But is definitely worth checking because some mincemeat recipes use beef suet instead.
The majority of ready made pastry is naturally vegan. The other swap you will need to make is to use vegan margarine for the crumble. I have used dairy free margarine before and it works just as well.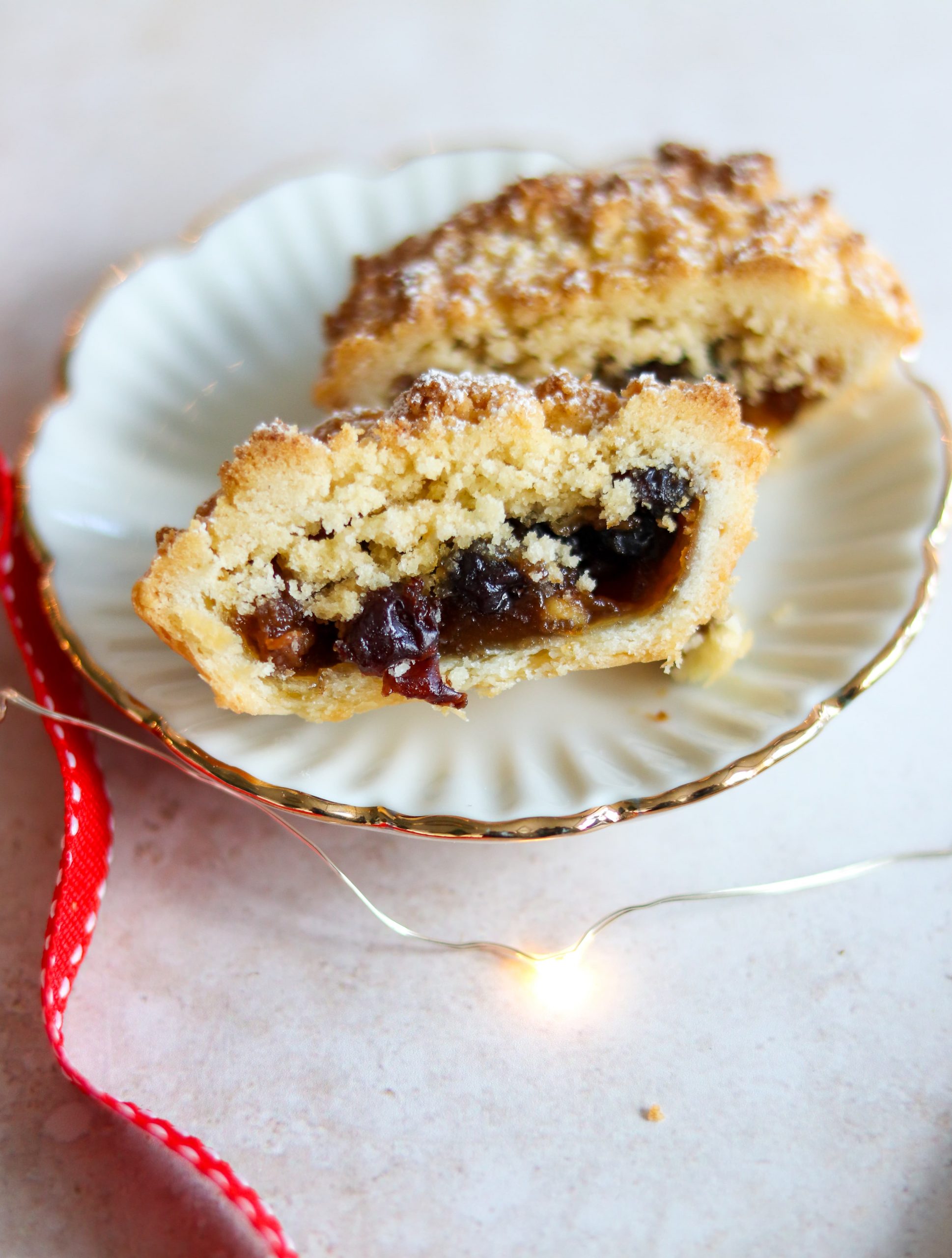 Other recipes you might like
Pin for later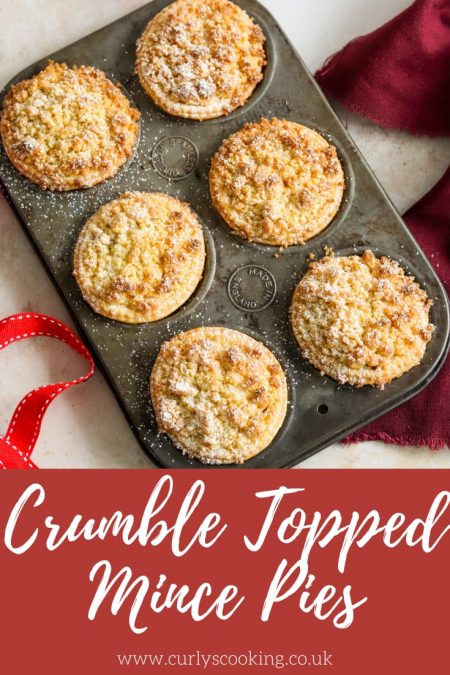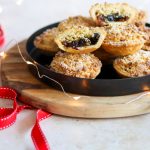 Crumble Topped Mince Pies
Crumble Topped Mince Pies are a new twist on an essential Christmas bake! These mince pies are my favourite and even easier than traditional recipes. Once you've made them, you'll make them year after year.
Ingredients
375

g

ready rolled shortcrust pastry

1 pack

350

g

mincemeat

spray oil
For the crumble topping
175

g

self raising flour

110

g

unsalted butter

65

g

caster sugar

1

orange zested
Instructions
Add 175g self raising flour, 110g unsalted butter and 65g caster sugar to a large bowl. Rub the butter into the flour and sugar with your finger tips until you get a breadcrumb like consistency

Add in the zest of 1 orange and mix through gently and set aside

Preheat the oven to 170°C (fan assisted, 190°C non fan) and spray two 12 hole shallow bun tins with oil

Unroll the 375g ready rolled shortcrust pastry. Using a 3"/7.5cm fluted cutter, cut as many circles into the pastry as you can

Gently lift the circles from the pastry and place them into the oiled tin

Gather up the remaining pastry and sprinkle with a small amount of plain flour before rolling out the pastry again. Try to get it as close to the thickness of the original pastry. Cut out more circles of pastry. Repeat until all of the pastry has been used

Once all of the pastry circles are in the tins, spoon small amounts of 350g mincemeat into each pastry case

Finish by sprinkling the crumble topping over each pie making sure to cover the mincemeat

Bake in the oven for 17-20 minutes until golden brown

Remove from the tins and leave to cool completely on a wire rack
Recipe Notes
Keep the pies in an airtight container for up to 4 days. Mince pies can be frozen for up to three months.
This recipe makes 23-24 mince pies depending on how the pastry is rolled.
Nutritional information is given as a guide only and may vary.
Nutrition Facts
Crumble Topped Mince Pies
Amount Per Serving
Calories 176
Calories from Fat 36
% Daily Value*
Fat 4g6%
Cholesterol 10mg3%
Sodium 82mg4%
Potassium 8mg0%
Carbohydrates 19g6%
Protein 1g2%
Vitamin A 115IU2%
Calcium 2mg0%
Iron 1mg6%
* Percent Daily Values are based on a 2000 calorie diet.