Air Fryer Corn on the Cob is the easiest and most delicious way to cook corn. Fresh or frozen corn cooks to perfection in just a few minutes.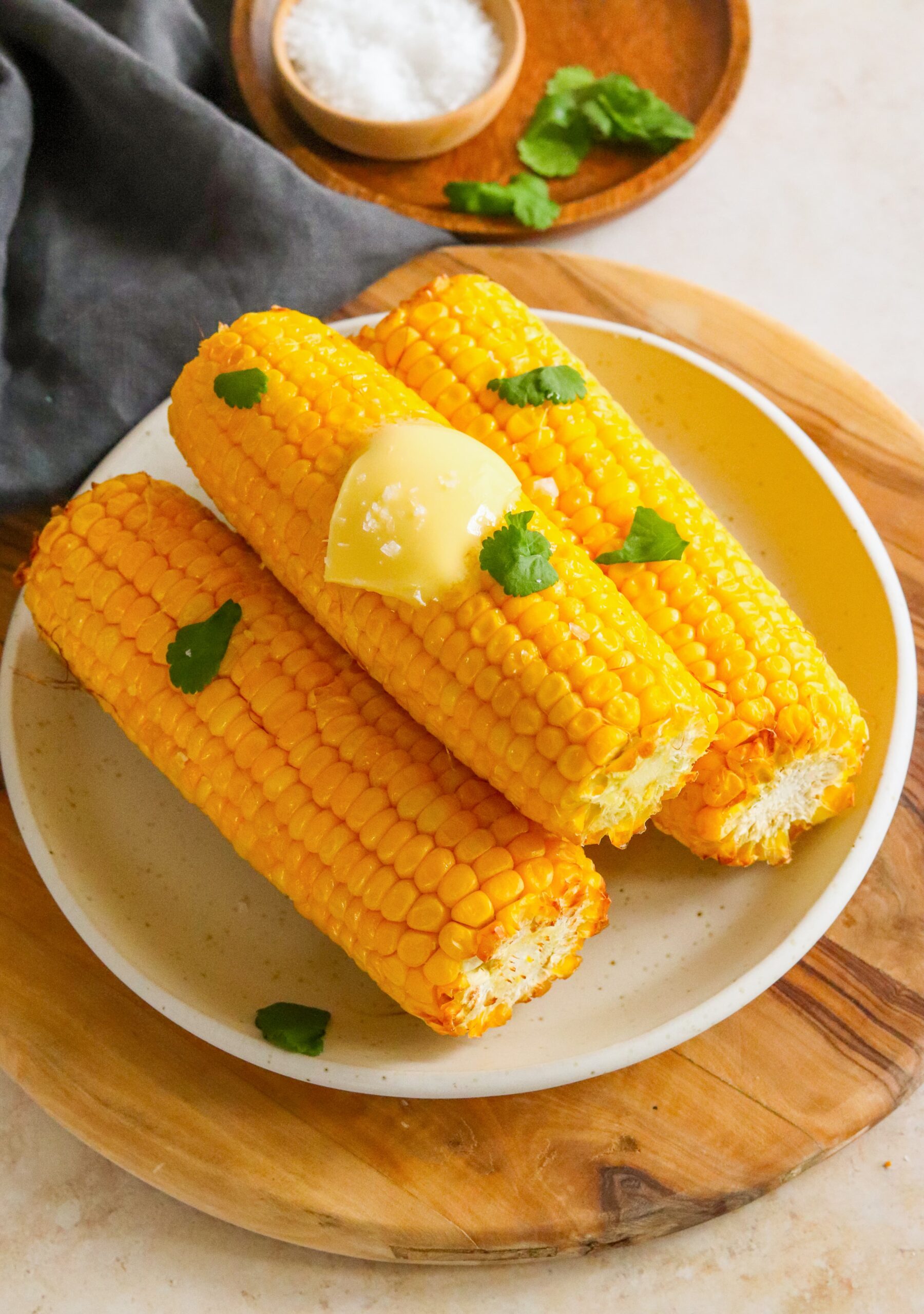 Why use an air fryer to cook corn on the cob?
The most common way to cook corn on the cob is boiling it. Although this is straightforward, I also like to char it slightly in a pan afterwards to get even more delicious flavour.
By using an air fryer, you are able to achieve that all in one step. You don't have to wait for your water to boil or use multiple pans.
Air Fryer Corn on the Cob is quick, super easy and my favourite way to cook corn at home.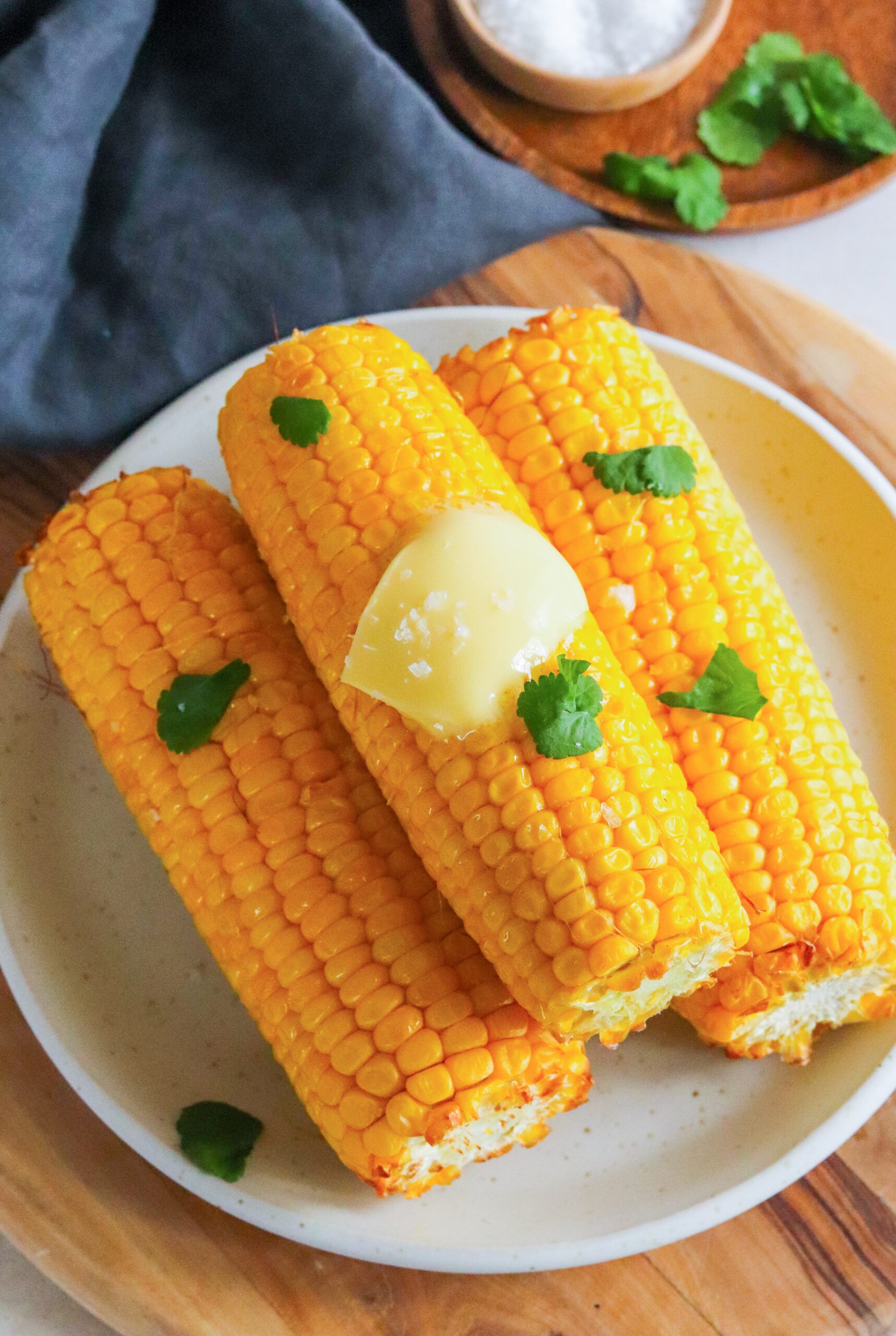 which corn is best to use?
For this recipe you need to use corn on the cob. This may be obvious, but if you try to cook corn kernels in your air fryer most of them are likely to fall through the basket.
It is completely up to you whether you decide to buy cobs that are already prepared so that their husks have been removed or you do this yourself.
If you buy corn with the husks intact, you just need to remove these before adding to your air fryer. It is a simple job, but I tend to buy the cobs with the husks already removed.
You can also use frozen corn on the cob.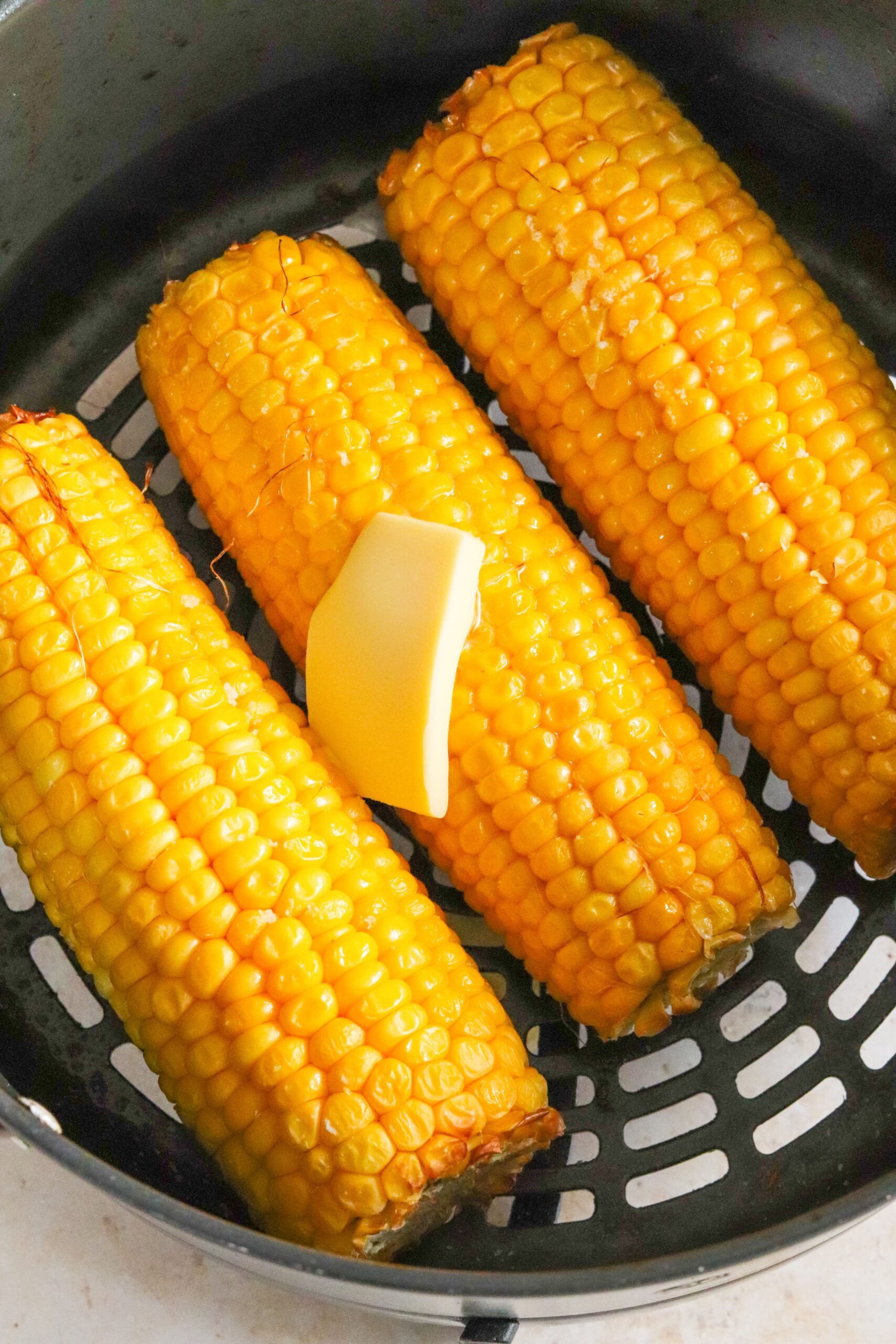 Can you air fry frozen corn on the cob?
Frozen corn on the cob cooks really well in the air fryer. Frozen corn is usually more cost effective than the fresh version so is a great option.
It is also usually sold in cobettes which is just the full cob cut in half. This is definitely an advantage if you are serving the corn to children or at a party.
The corn cobs are quite difficult to cut even with a good knife, so if you do want them cut smaller, I recommend buying cobettes. You can buy these fresh as well as frozen.
Cooking the corn from frozen only takes a couple more minutes in the air fryer so really is a great and convenient option.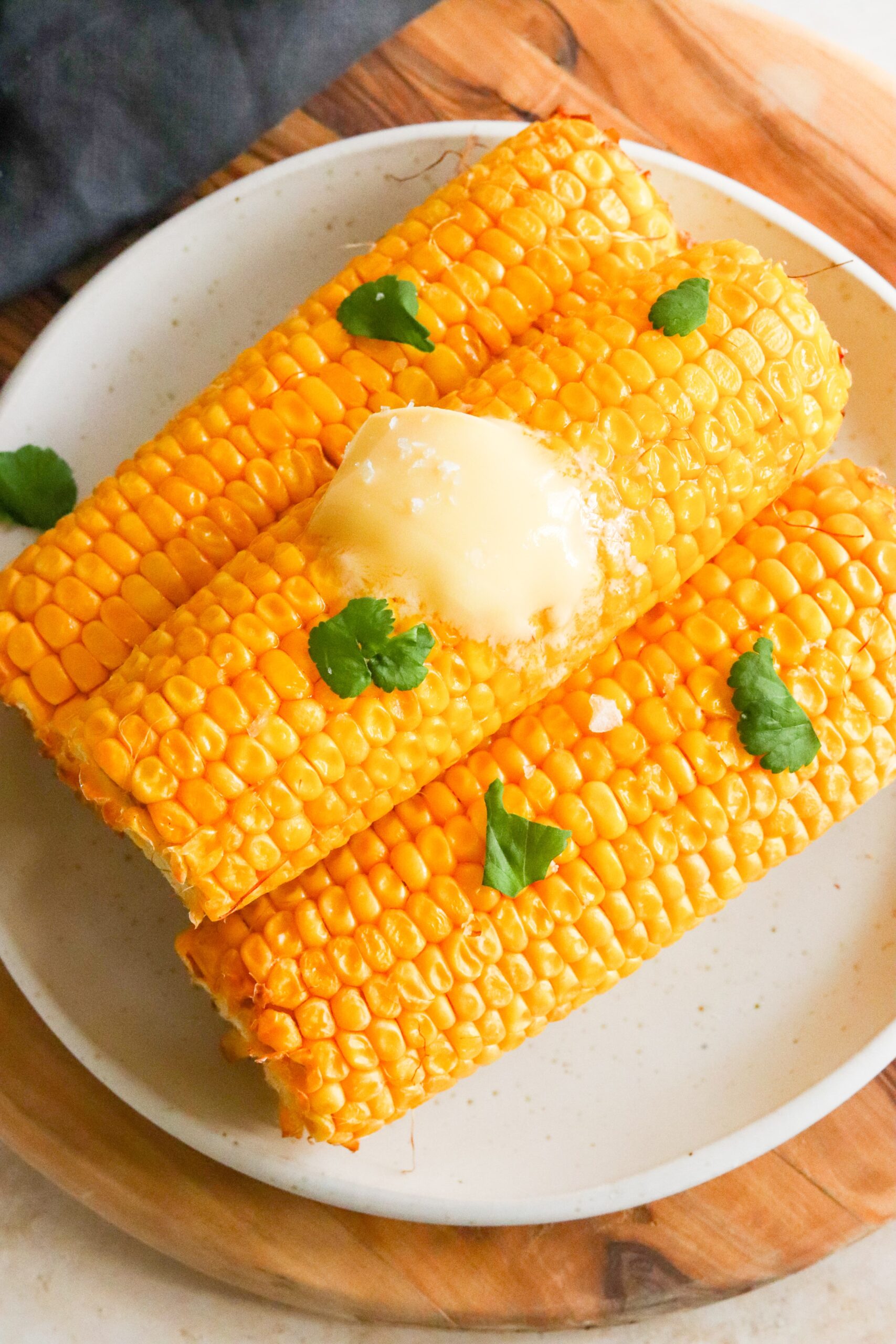 adding different flavours to your corn
I keep the flavours of this corn really simple so it goes with so many different meals.
I use spray oil to spritz the corn (not Frylite), before adding some sea salt. I do think corn benefits from salt so would recommend not skipping this step. You could add a twist of pepper at this stage too.
Then when the corn is cooked, I like to add a small knob of butter and let this melt over the kernels. You could add a sprinkle of chilli flakes for some added heat too.
You could easily turn the corn into elotes which is a Mexican street corn dish. Use the mayonnaise mix from my Mexican Street Corn Salad to spread over the corn once they are air fried and omit the butter.
do you need to preheat an air fryer?
That depends on your air fryer, some require preheating whilst others don't. I have a Ninja 7-in-1 multicooker and I have never preheated mine.
If your air fryer does require preheating, check the corn a few minutes sooner than the recipe states. If your air fryer is warm, food is likely to cook a few minutes faster.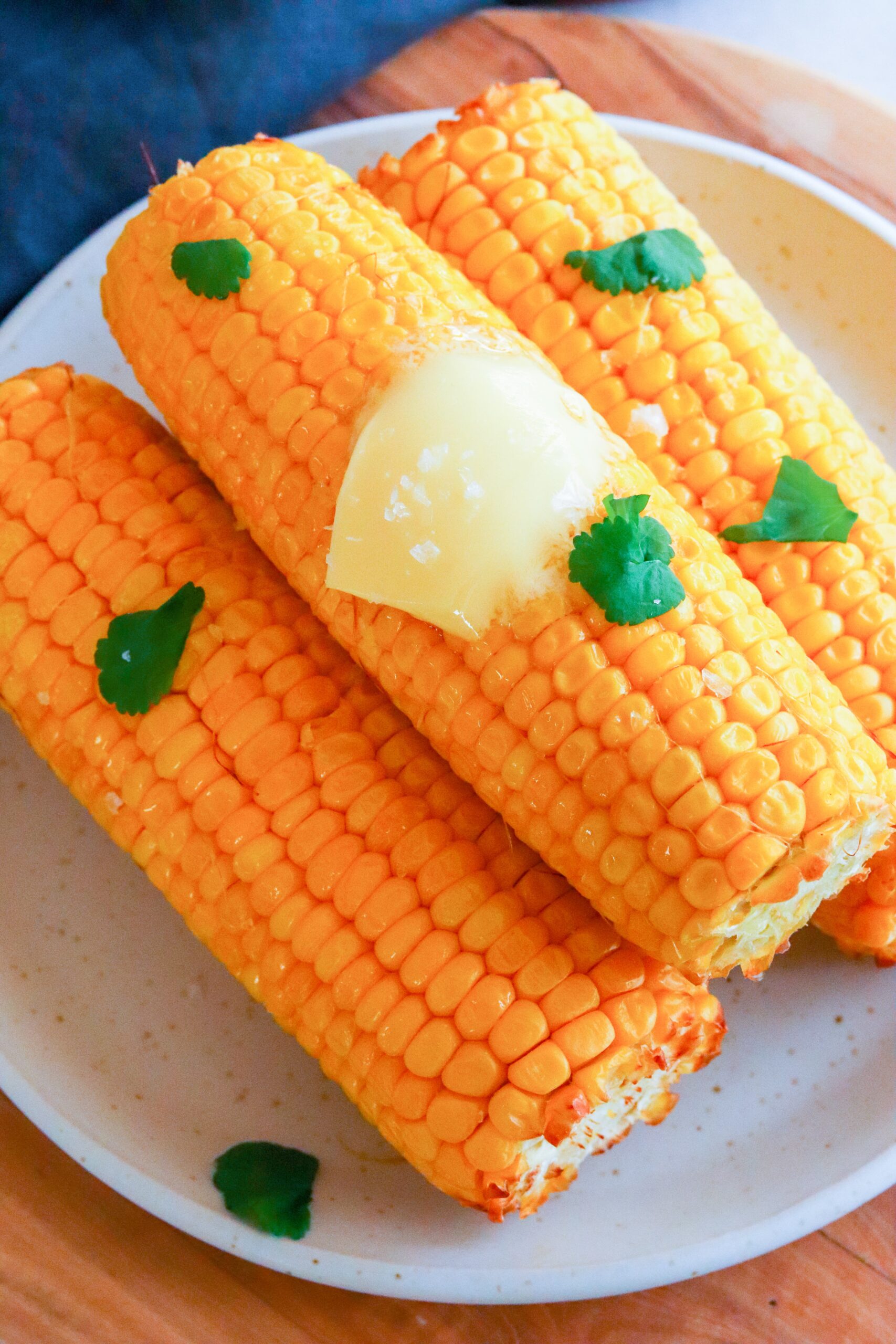 can you use an air fryer liner?
Air fryer liners are a great time saving addition because they are usually easier to wash than the basket of your air fryer.
Most reusable air fryer liners are silicone and although they are handy to have, I wouldn't recommend using them for all recipes.
I really wouldn't bother using an air fryer liner for corn on the cob because it makes such little mess a liner would probably be more of a hinderance than a help.
I've written a whole post on whether you should use an air fryer liner, check it out for more information.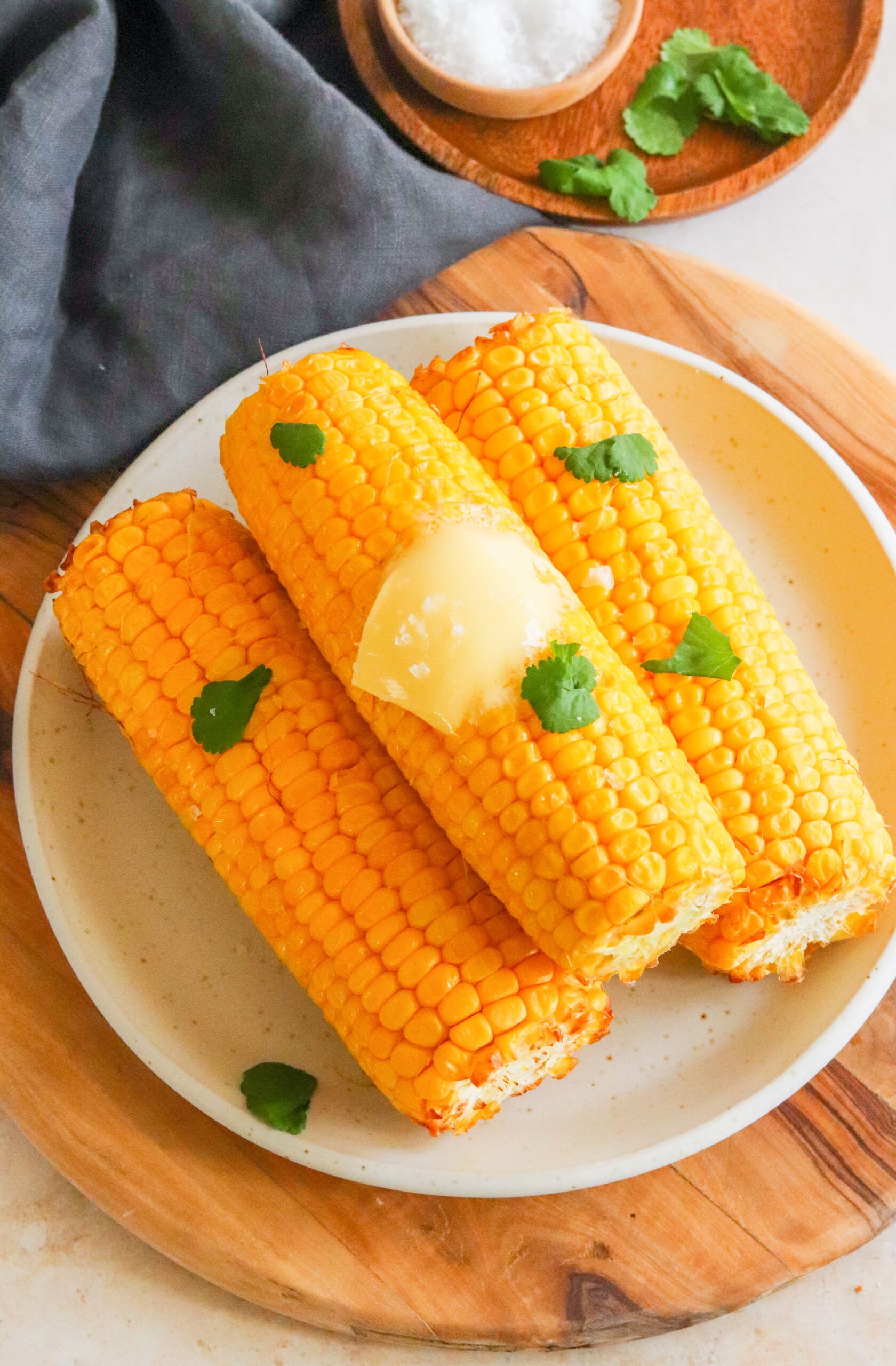 How to serve air fryer corn on the cob
This corn is the perfect accompaniment to so many different dishes. A classic way to serve it would be alongside a turkey, halloumi or bacon cheese burger or pulled pork.
It would also be a great addition to a barbeque spread. The simple favours would go well with garlic & lime chicken thighs and ancho chilli chicken. Serve with some coleslaw and potato salad and you have a real feast.
Whenever you would usually serve corn on the cob, you can now serve this air fryer version!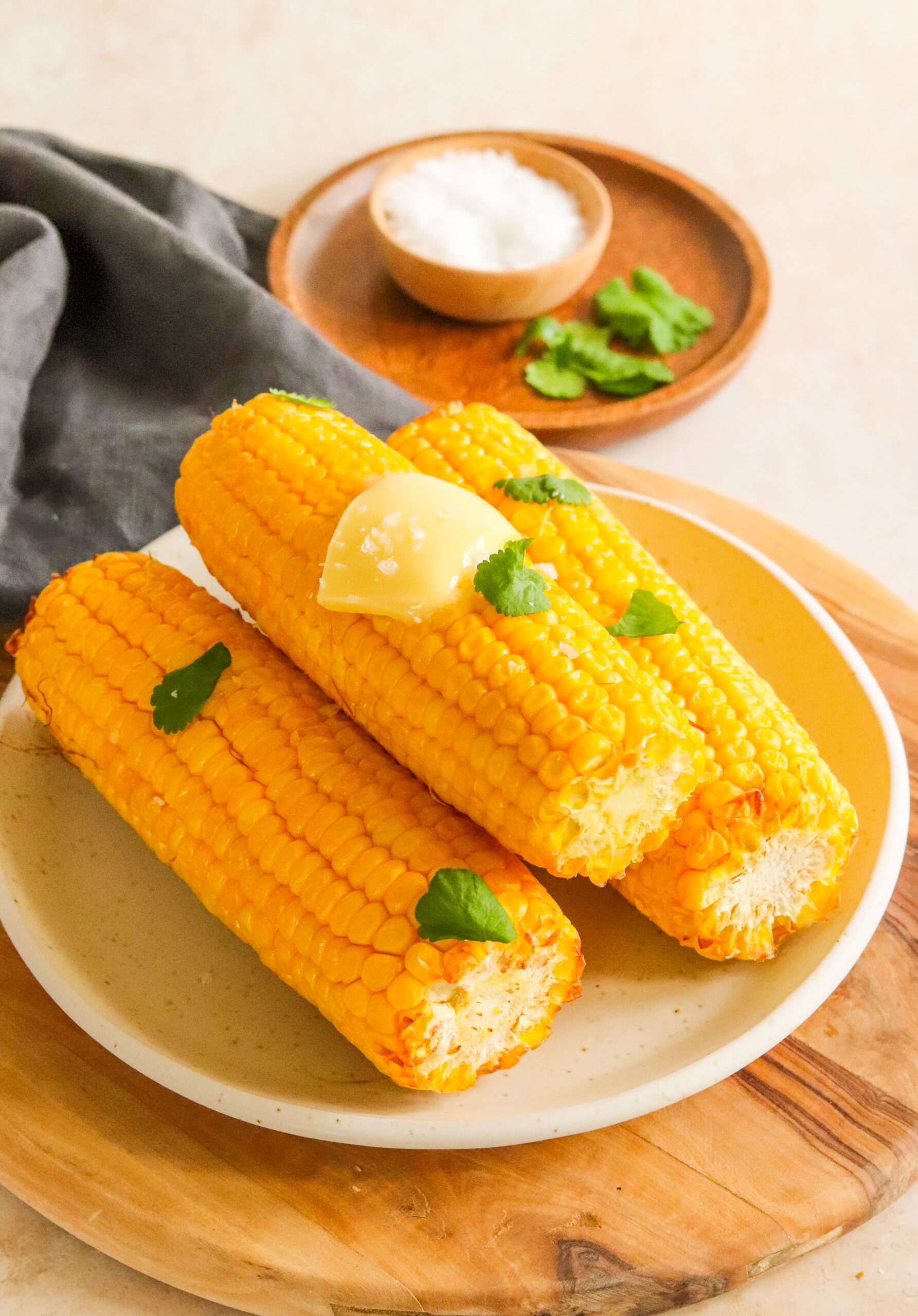 Other recipes you might like
Pin for later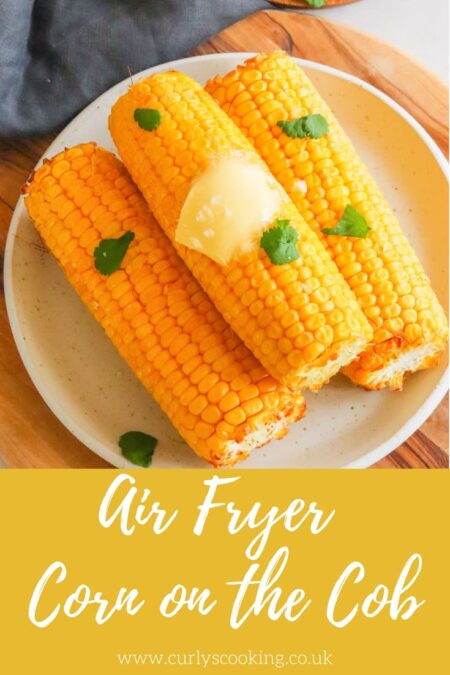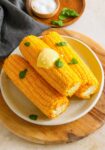 Air Fryer Corn on the Cob
Air Fryer Corn on the Cob is the easiest and most delicious way to cook corn. Fresh or frozen corn cooks to perfection in just a few minutes.
Ingredients
3

ears of corn

husks removed

spray oil

sea salt to taste

40

g

butter
Instructions
Preheat your air fryer if needed

Add three ears of corn to your air fryer basket. Spray with oil and sprinkle with sea salt

Cook for 8-10 minutes at 200°C. If using frozen corn cook for 10 minutes. Cook for a couple more minutes if you want more colour on your corn

Remove from the air fryer and divide 40g of butter between the ears of corn
Recipe Notes
If your air fryer requires preheating the corn might cook a few minutes quicker than in the recipe.
How many ears of corn you can cook at once will depend on the size of your air fryer basket.
If you prefer more of a char on your corn, cook for a couple of minutes more until it is the desired colour.
Nutritional information is given as a guide only and may vary.
Nutrition Facts
Air Fryer Corn on the Cob
Amount Per Serving
Calories 173
Calories from Fat 108
% Daily Value*
Fat 12g18%
Cholesterol 29mg10%
Sodium 99mg4%
Potassium 246mg7%
Carbohydrates 17g6%
Protein 3g6%
Vitamin A 502IU10%
Vitamin C 6mg7%
Calcium 5mg1%
Iron 0.5mg3%
* Percent Daily Values are based on a 2000 calorie diet.