This Honey Mustard Mayo is the perfect mix of sweet, tangy and creamy. An addictive sauce for dipping or spreading, you might want to make a double batch!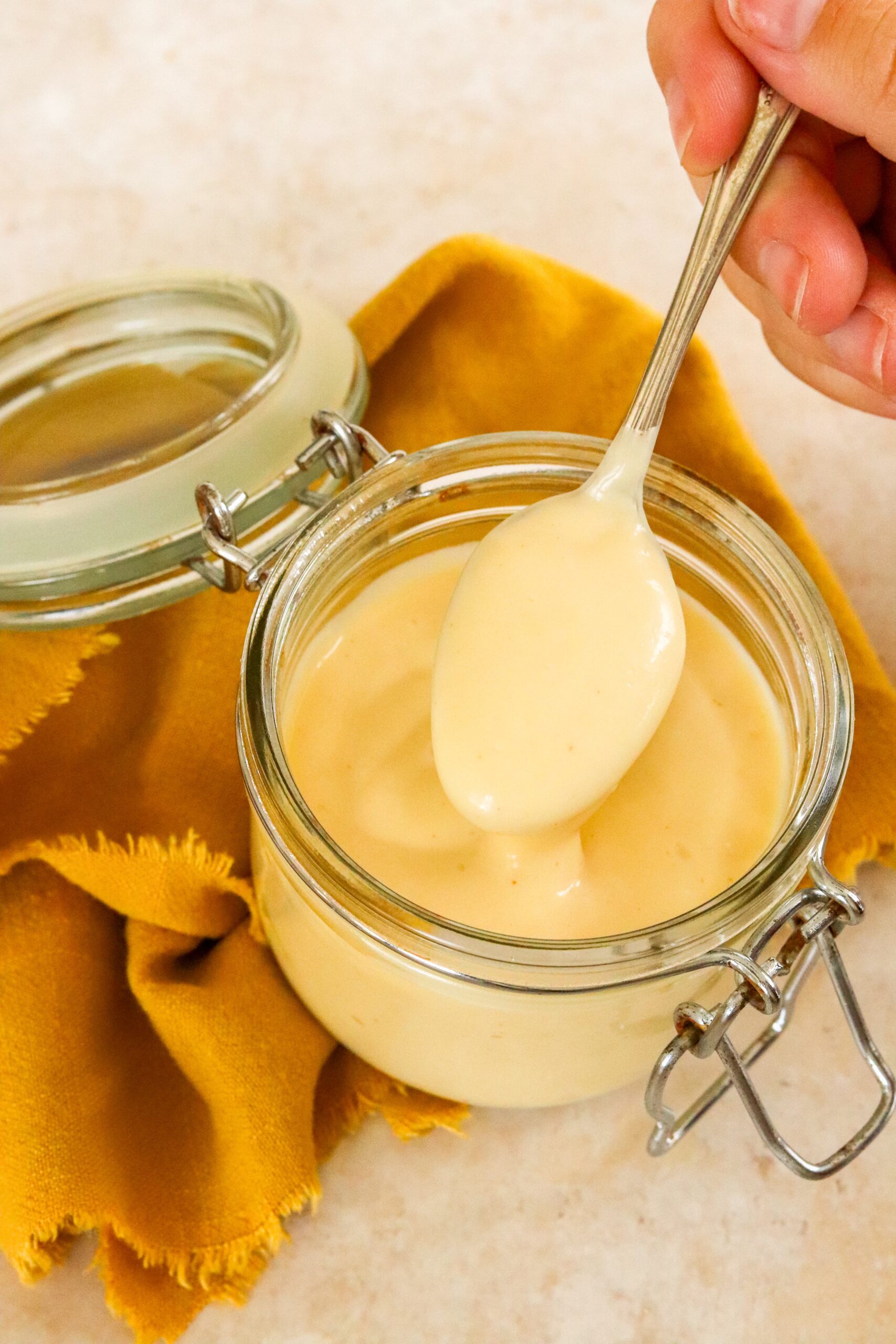 what is honey mustard mayo?
Honey mustard is a popular dipping sauce in America which can be found in the majority or supermarkets and restaurants. As the name suggests it combines honey with mustard to create a tangy and sweet dip.
You've probably already guessed it, but honey mustard mayo just adds mayonnaise into the mix too. Mayo adds creaminess to the sauce which helps cut through the tanginess for the mustard.
If you find the taste of mustard a little strong, this is the perfect dip for you. You still get the tasty flavour from the mustard but the honey and mayo balance it out perfectly.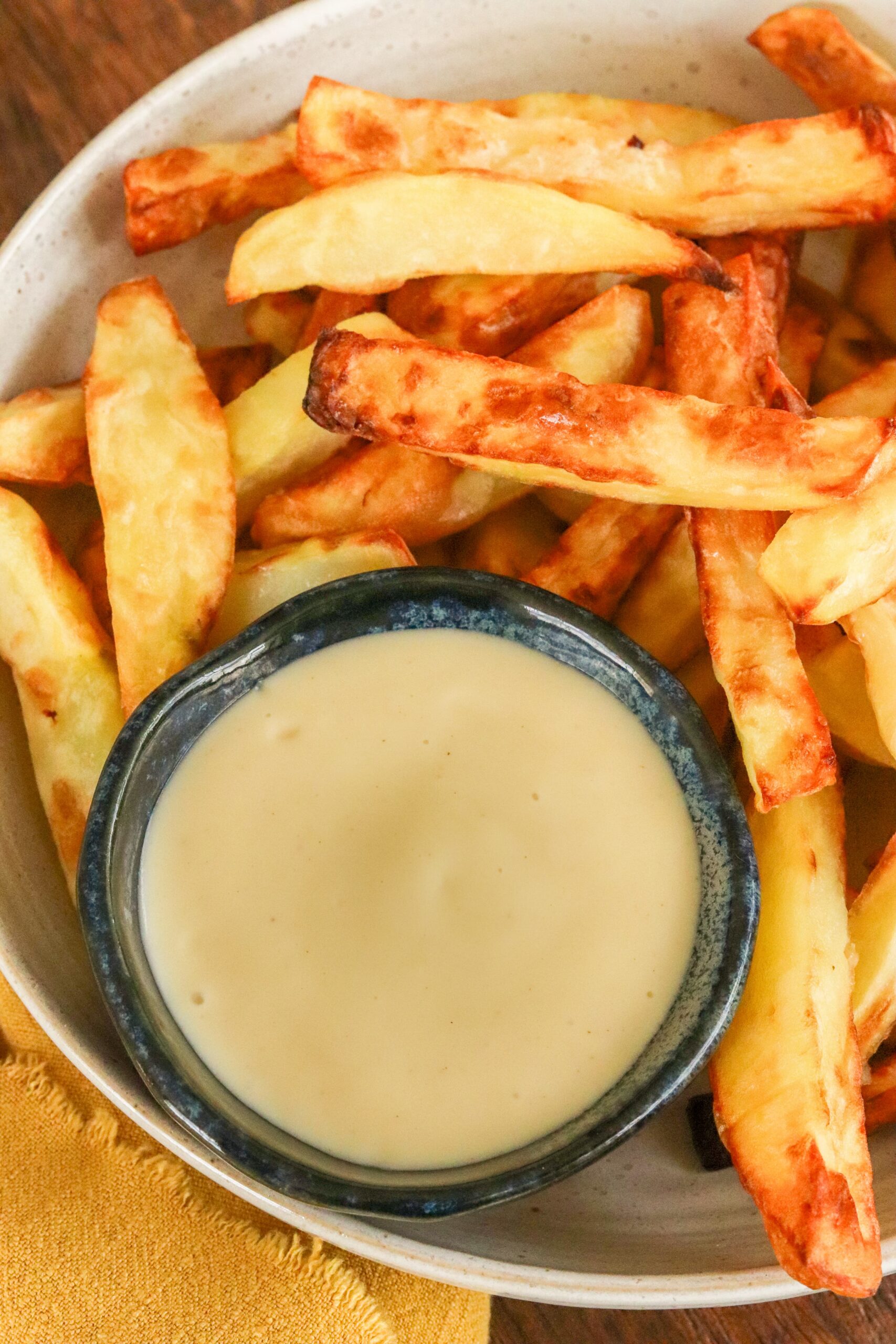 Ingredients needed for honey mustard mayo
This super easy dip only needs four simple ingredients that you will probably already have in your kitchen. Combine them to make an incredibly delicious dip!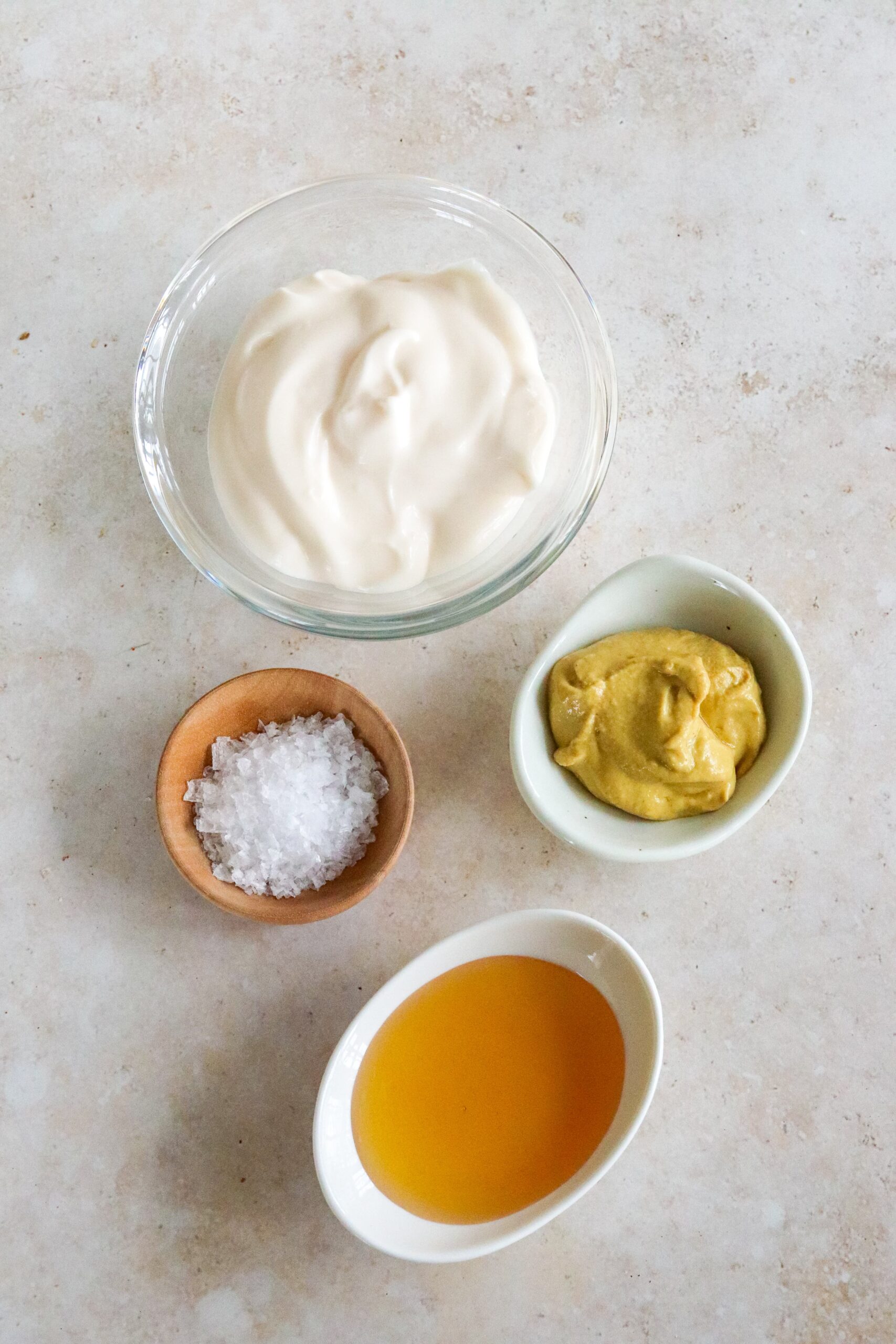 Mayonnaise
When I'm making dips where the individual flavours of the ingredients need to shine through, I opt to use full fat mayonnaise. I think it provides more flavour and results in an even tastier dip.
Obviously this is personal choice and you could easily use reduced fat mayonnaise too. I use reduced fat mayo quite often if it's what is open in the fridge.
Use whichever is your chosen mayonnaise that you would usually buy. Each mayo varies slightly in taste and everyone has their own preference.
You can step it up a notch and make your own mayonnaise too. This takes a little more time but will be delicious.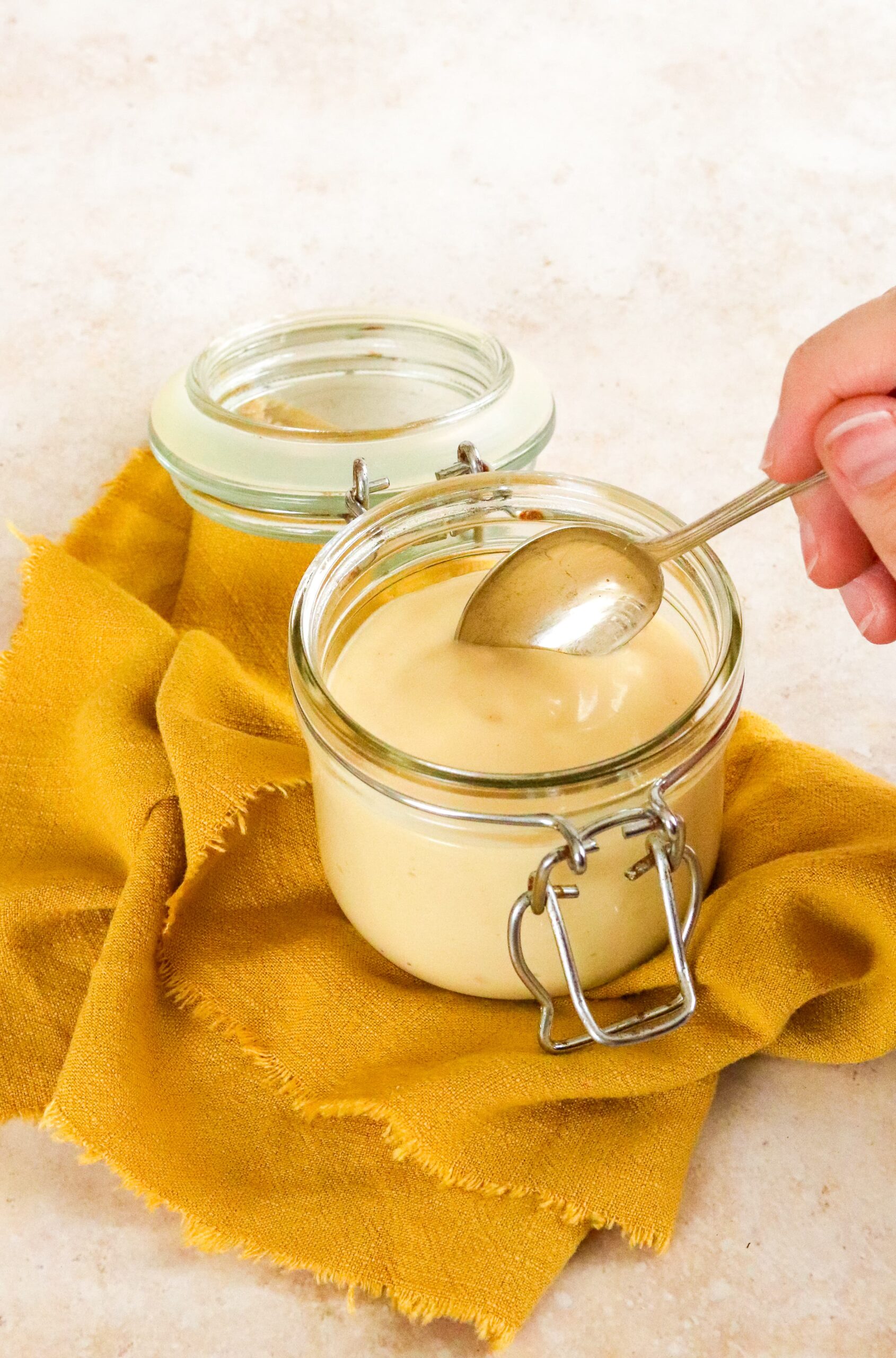 Mustard
I think it is more common to use American mustard when making this dip. Personally I prefer Dijon mustard, but you can use whichever you like best.
If you prefer a stronger mustard taste you can of course add a little more. I would recommend following the recipe below and tasting it and then adding more if you want.
Your honey mustard mayo will vary in colour depending on which mustard you use and how much you add. American mustard will make it a brighter yellow colour.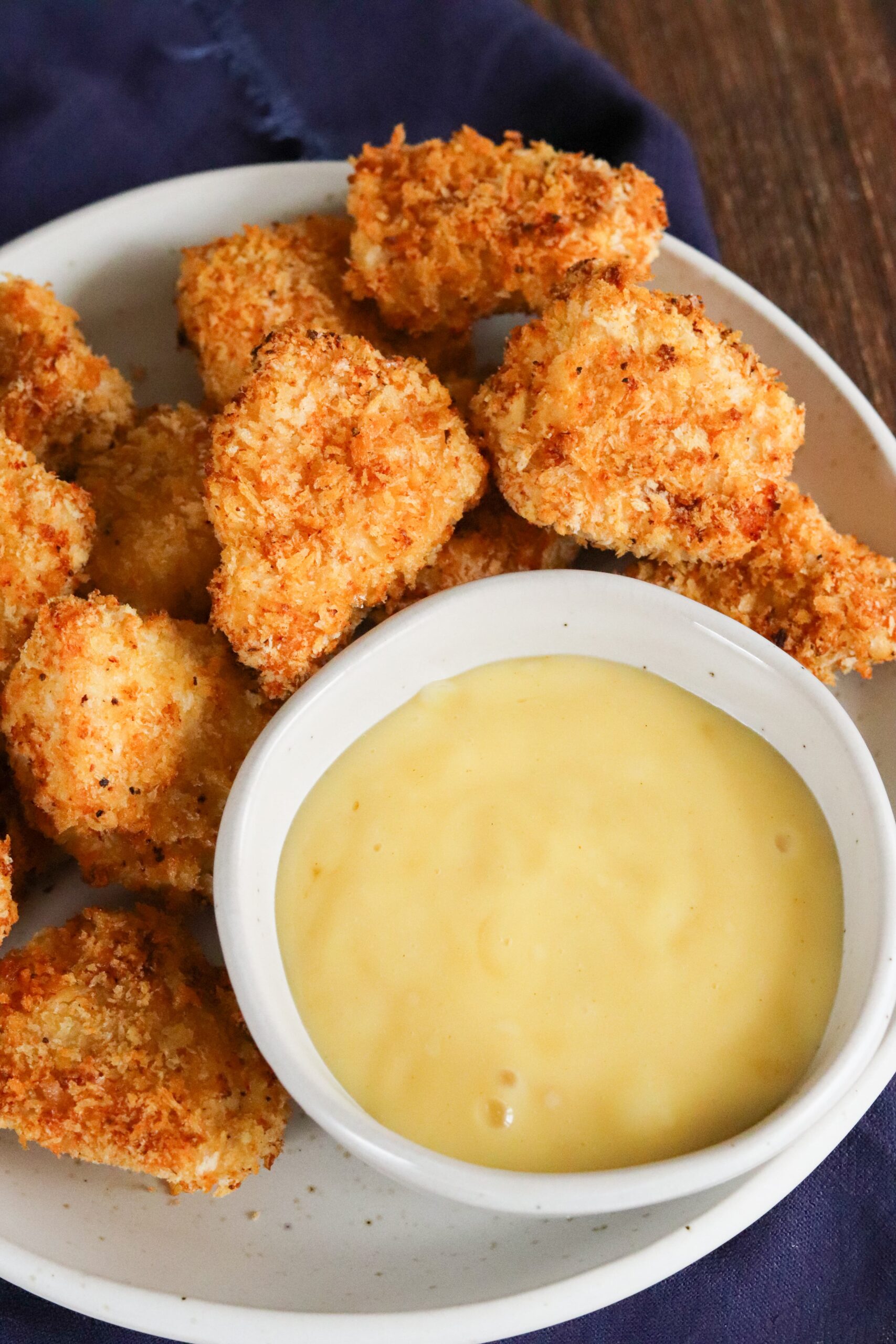 Honey
When it comes to honey, you need to use a runny honey. This is so it combines easily with the rest of the ingredients to make the dip. Set honey wouldn't really work for this recipe.
If you want to add a little bit of heat as well as sweetness you could add hot honey.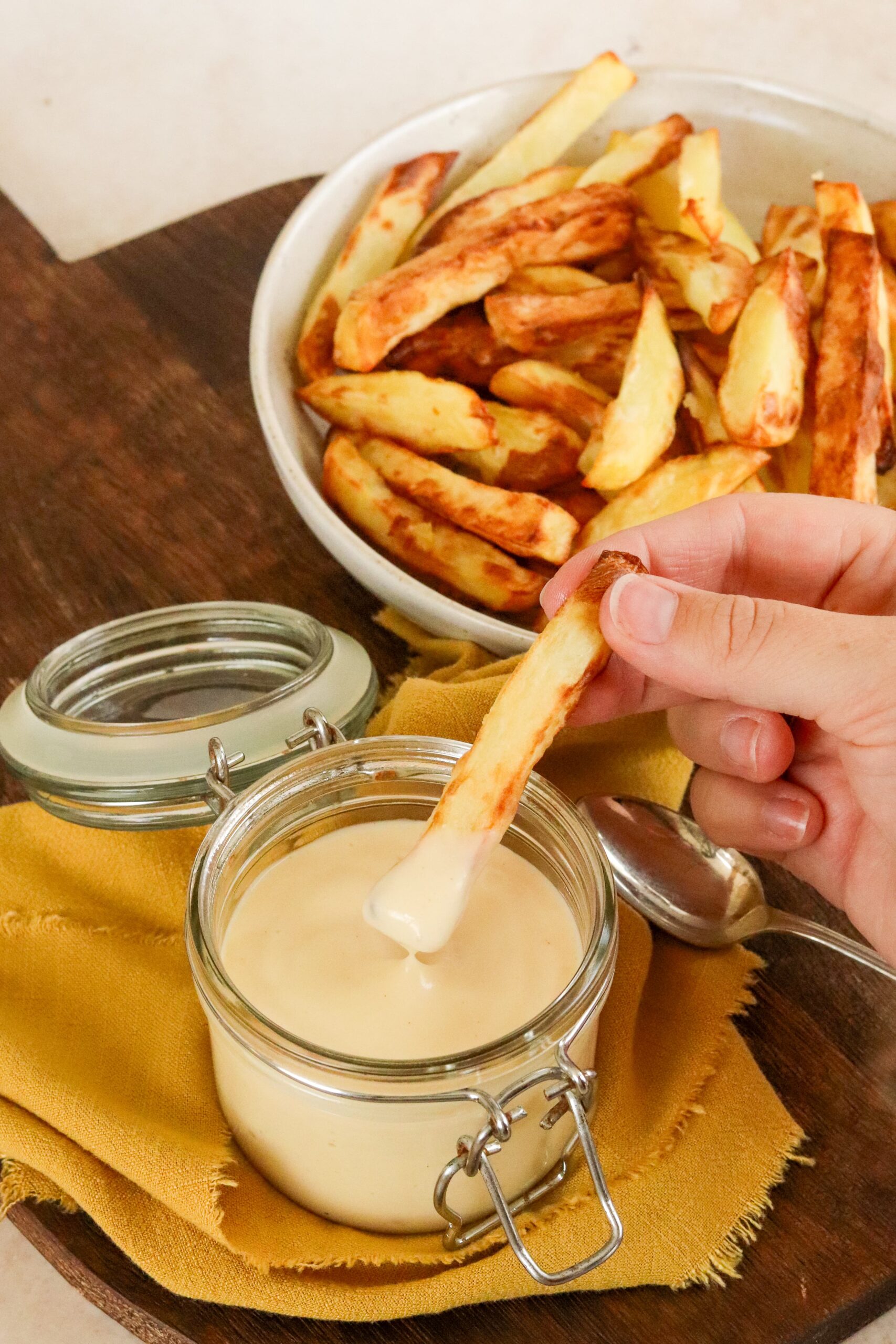 Salt
I like to add a little salt to help balance out the sweetness of the honey. I use sea salt but you can use table salt if that is what you have.
If you are using table salt you will need to add less than if you are using sea salt.
If you find the dip a bit rich, add a splash of lemon juice.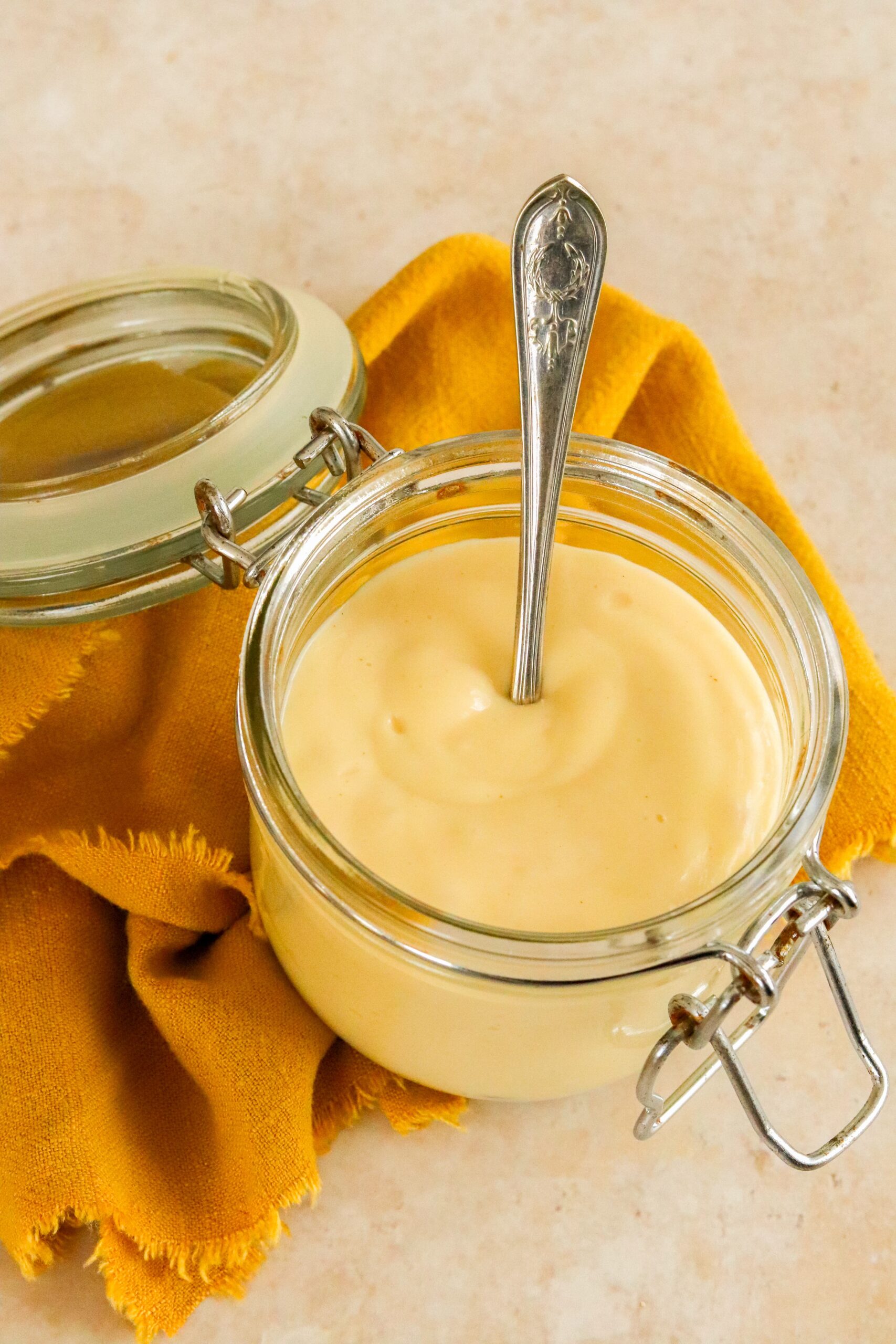 Can you make honey mustard mayo vegan?
You can easily switch standard mayo to a vegan alternative for the base of this recipe. When it comes to Dijon mustard, some are vegan and some aren't. So you would definitely need to check the label before you add it.
If you didn't want to, or can find a vegan Dijon, you can use American mustard instead.
Honey is not suitable for vegans so you will need to swap that too. A good alternative is agave which you can find in large supermarkets or health food stores.
Although it won't provide the same taste, you could also use maple syrup. It will offer the same sweetness as honey.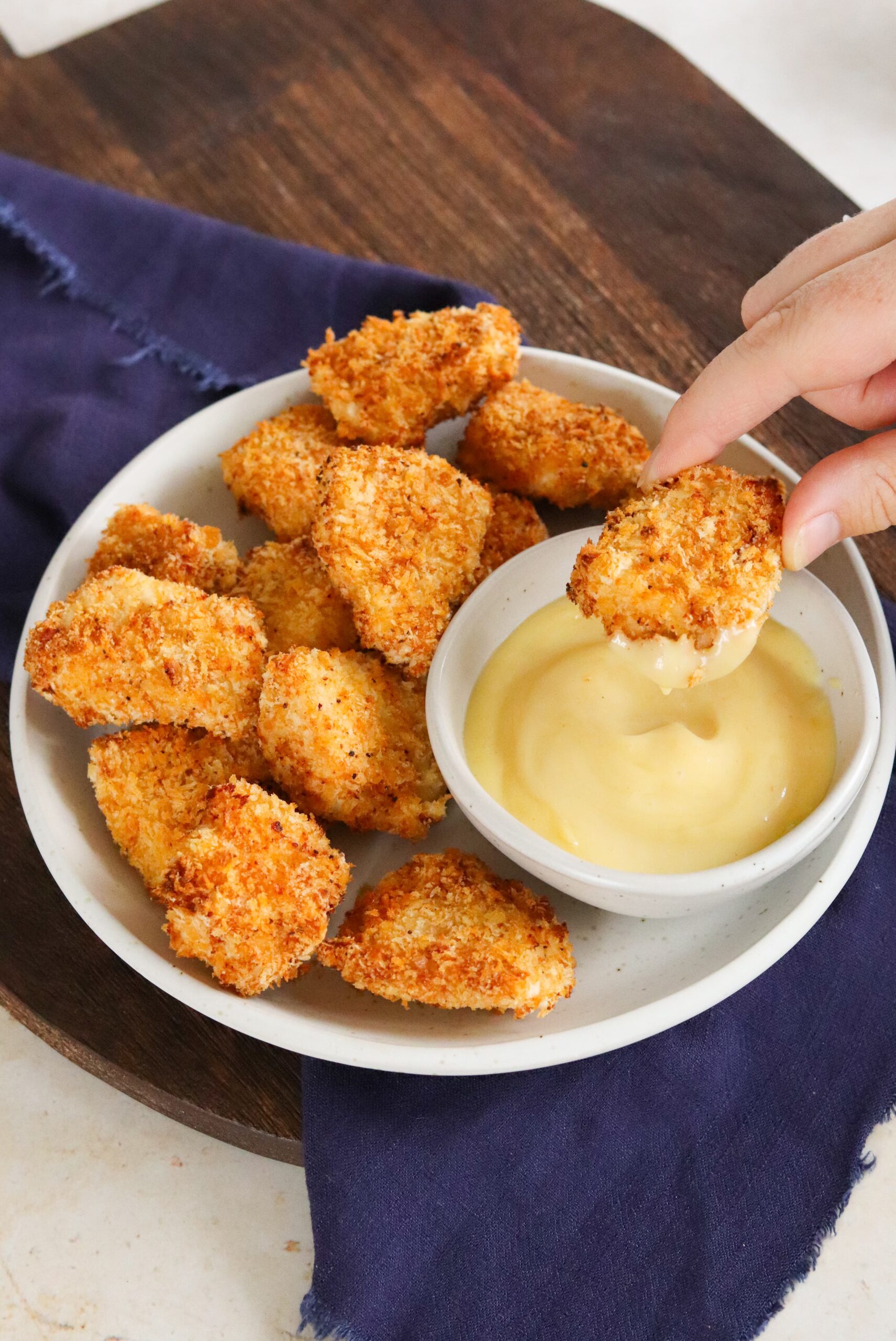 how long will honey mustard mayo keep for?
Honey mustard mayo will keep for at least a week in a sealed container in the fridge. I usually keep it in a Kilner jar that has a tight seal.
The recipe is very easy to scale up or down so I tend to prefer to make as much as I think I'm going to use in a day or two.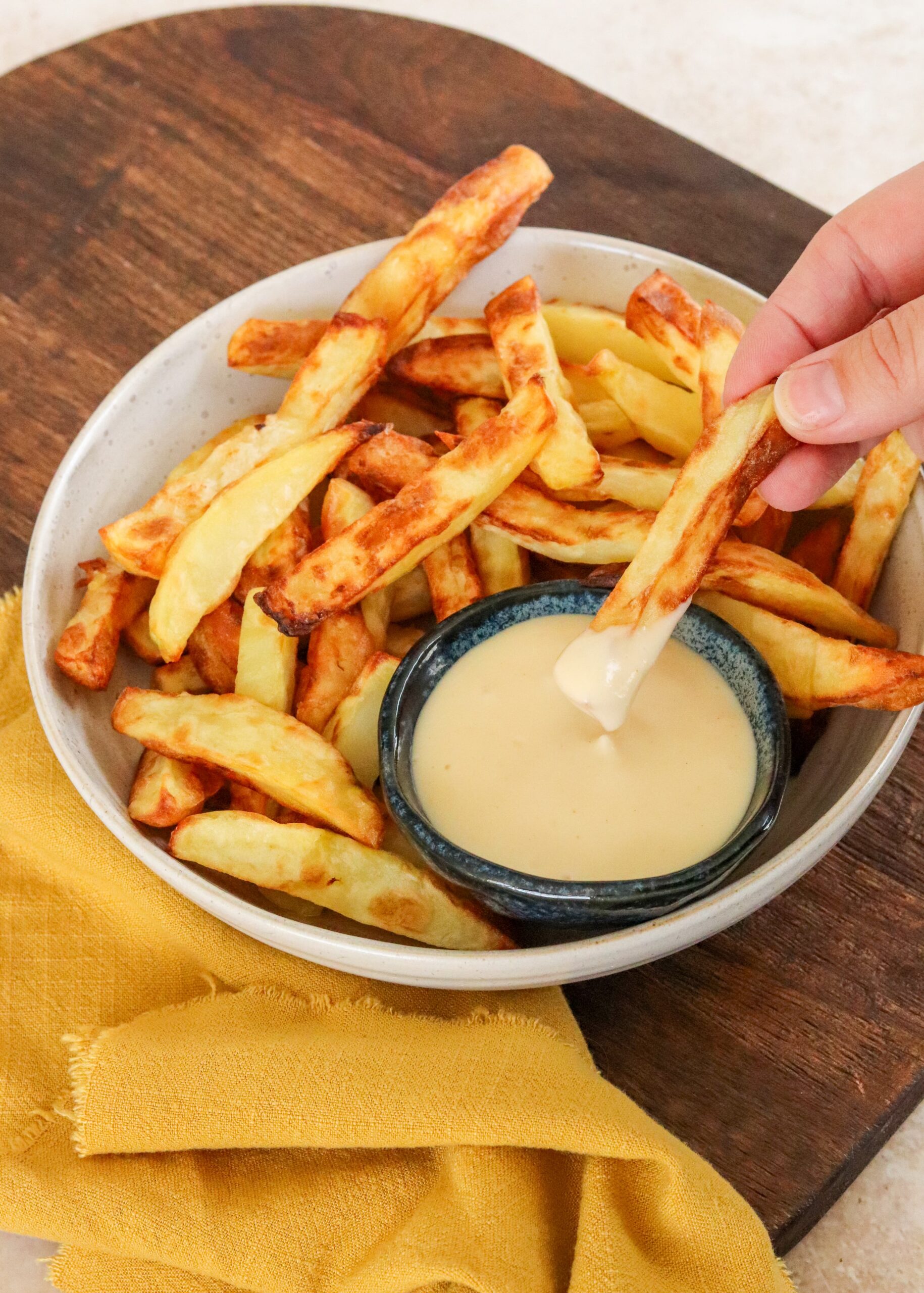 how to serve honey mustard mayo
You can serve this delicious sauce with so many different meals. I think it is essential to serve with chicken nuggets, the flavours are perfect together!
It is also delicious to dip chips into whether they are frozen, homemade or loaded. I also recommend spreading it on the bun of your beef burger or turkey burger for an instant flavour boost.
If you have leftover chicken from your roast dinner, make a sandwich with it and this delicious honey mustard mayo. Add some salad and you have an amazing flavour packed sandwich.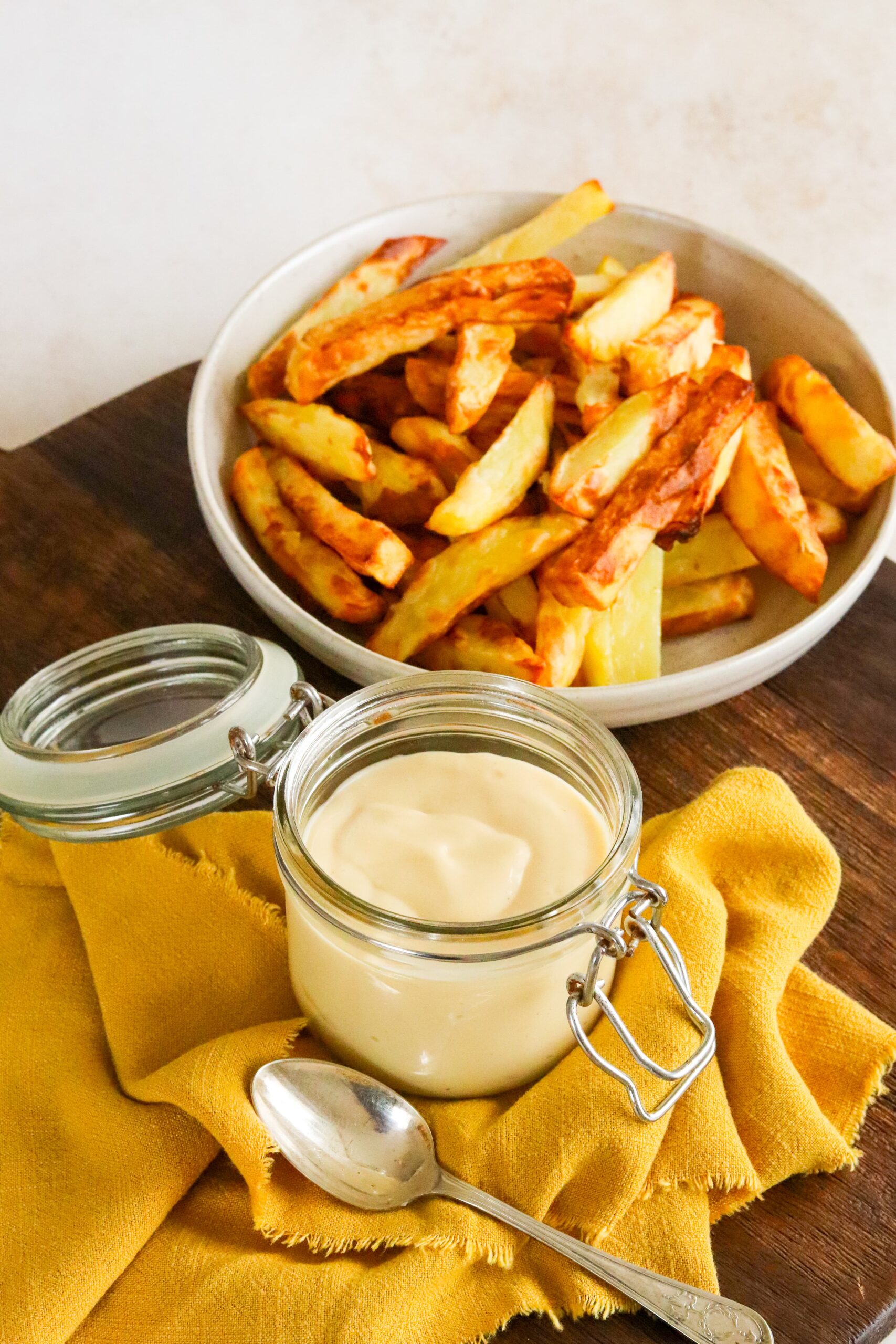 other recipes you might like
Pin for later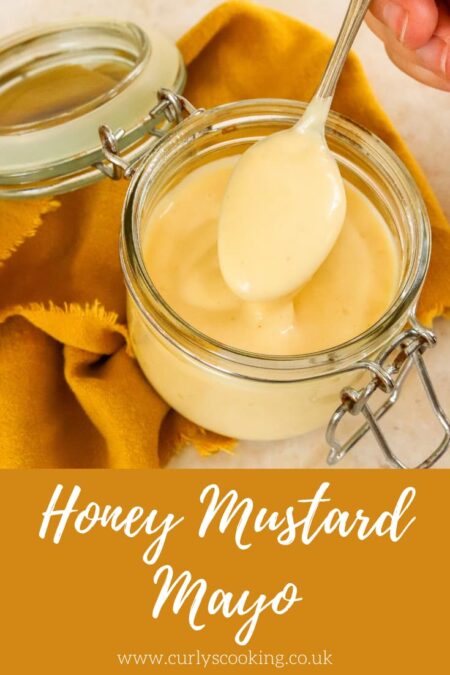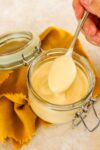 Honey Mustard Mayo
This Honey Mustard Mayo is the perfect mix of sweet, tangy and creamy. An addictive sauce for dipping or spreading, you might want to make a double batch!
Ingredients
120

g

full fat mayonnaise

2

tbsp

runny honey

2

tsp

Dijon mustard

¼

tsp

sea salt
Instructions
Add 120g full fat mayo, 2 tbsp runny honey, 2 tsp Dijon mustard and ¼ tsp sea salt to a bowl

Stir until the ingredients are thoroughly mixed
Recipe Notes
Keep in an airtight container in the fridge for up to two weeks.
You can easily increase or decrease the quantities in the recipe to meet your needs.
Nutritional information is given as a guide only and may vary.
Nutrition Facts
Honey Mustard Mayo
Amount Per Serving (1 tbsp)
Calories 125
% Daily Value*
Fat 0.04g0%
Polyunsaturated Fat 0.01g
Monounsaturated Fat 0.03g
Sodium 87mg4%
Potassium 5mg0%
Carbohydrates 4g1%
Protein 0.1g0%
Vitamin A 1IU0%
Vitamin C 0.03mg0%
Calcium 1mg0%
Iron 0.04mg0%
* Percent Daily Values are based on a 2000 calorie diet.