These Air Fryer Halloumi Fries are an incredibly simple and tasty one ingredient recipe. They are deliciously crisp and perfect for dipping into sweet chilli jam for a snack or easy appetiser.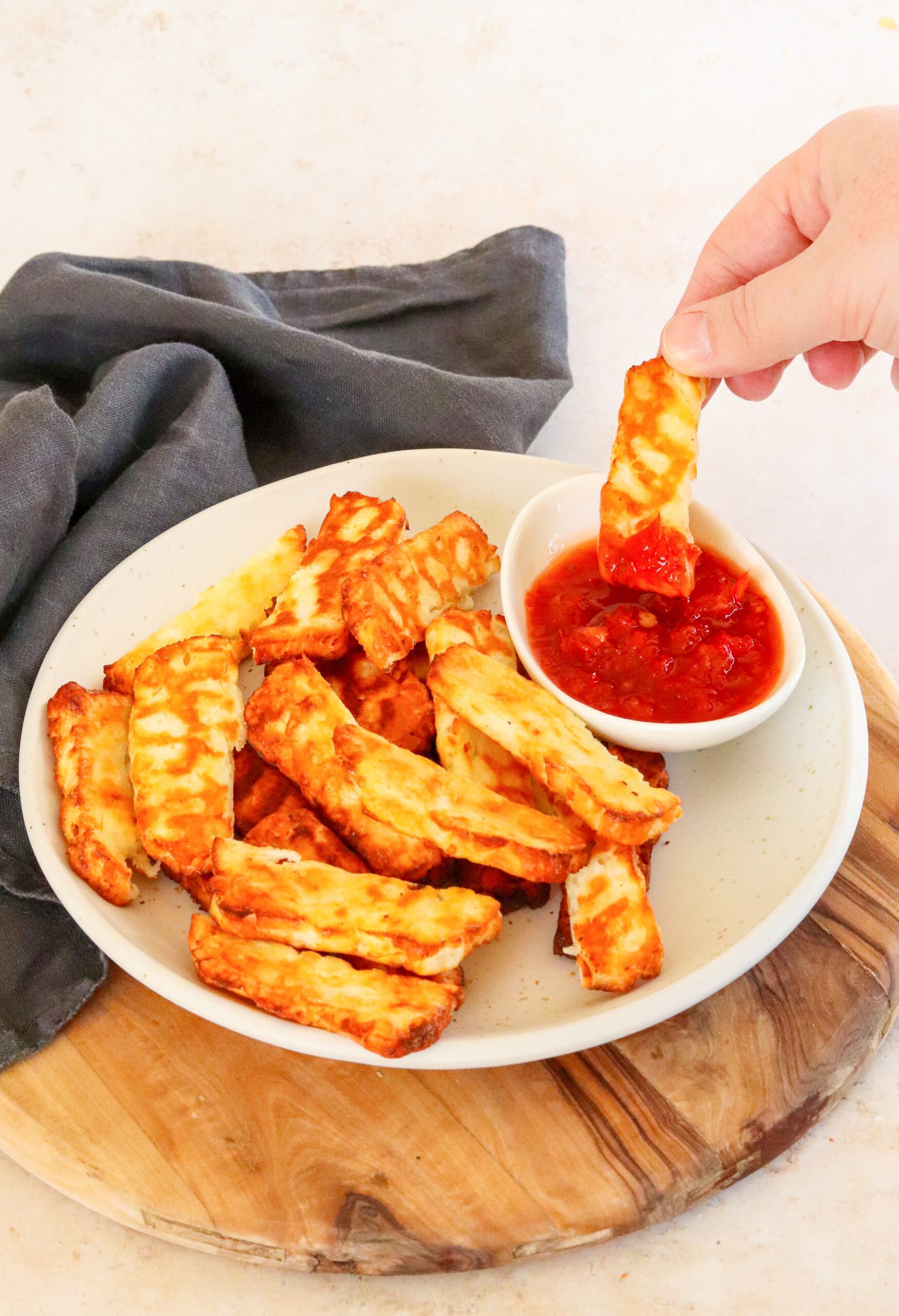 Why use an air fryer and not cook on the stove top?
Halloumi is the popular choice of cheese to grill or fry, but what about air frying it?
Using a pan on your stove top is a simple and easy way to cook your halloumi. But sometimes I do get distracted or have the heat turned up a little too high and you can get more colour on your halloumi than intended.
By air frying the halloumi you don't just get a more even cook, but you get a crispness that you don't get from grilling.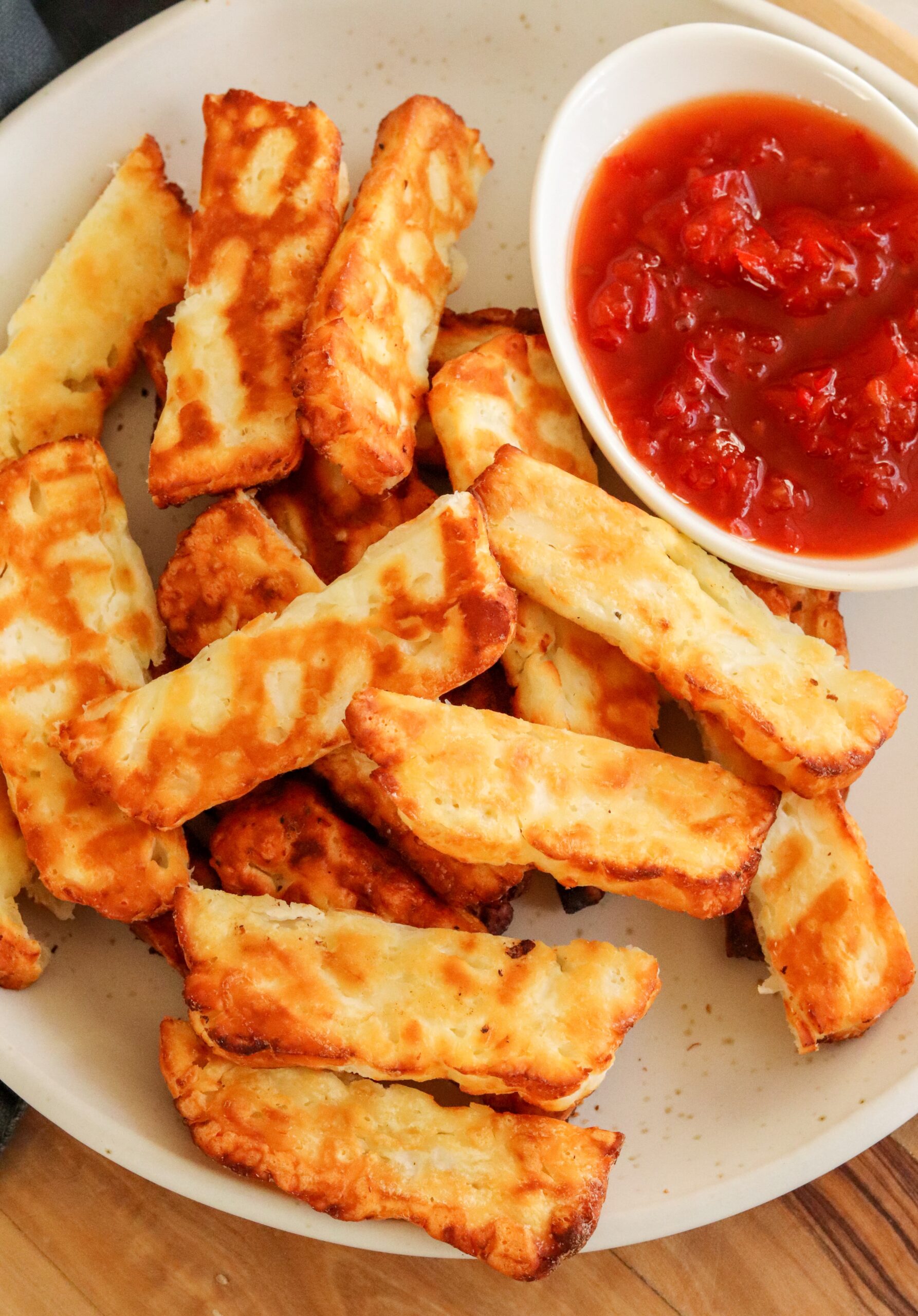 which halloumi is best for halloumi fries?
Halloumi is a cheese made from a combination of sheep, goat and sometimes cow's milk. It has a high melting point which has made it a popular cheese for frying and grilling – and now air frying!

Halloumi originated in Cyprus where both Greek and Turkish are spoken. In Greek it is known as halloumi whereas the Turkish name is Hellim.
Some supermarkets now simply sell 'grilling cheese'. I assume this is because it is made slightly differently and therefore cannot be marketed as halloumi. It is usually slightly cheaper and would still work just as well for these fries.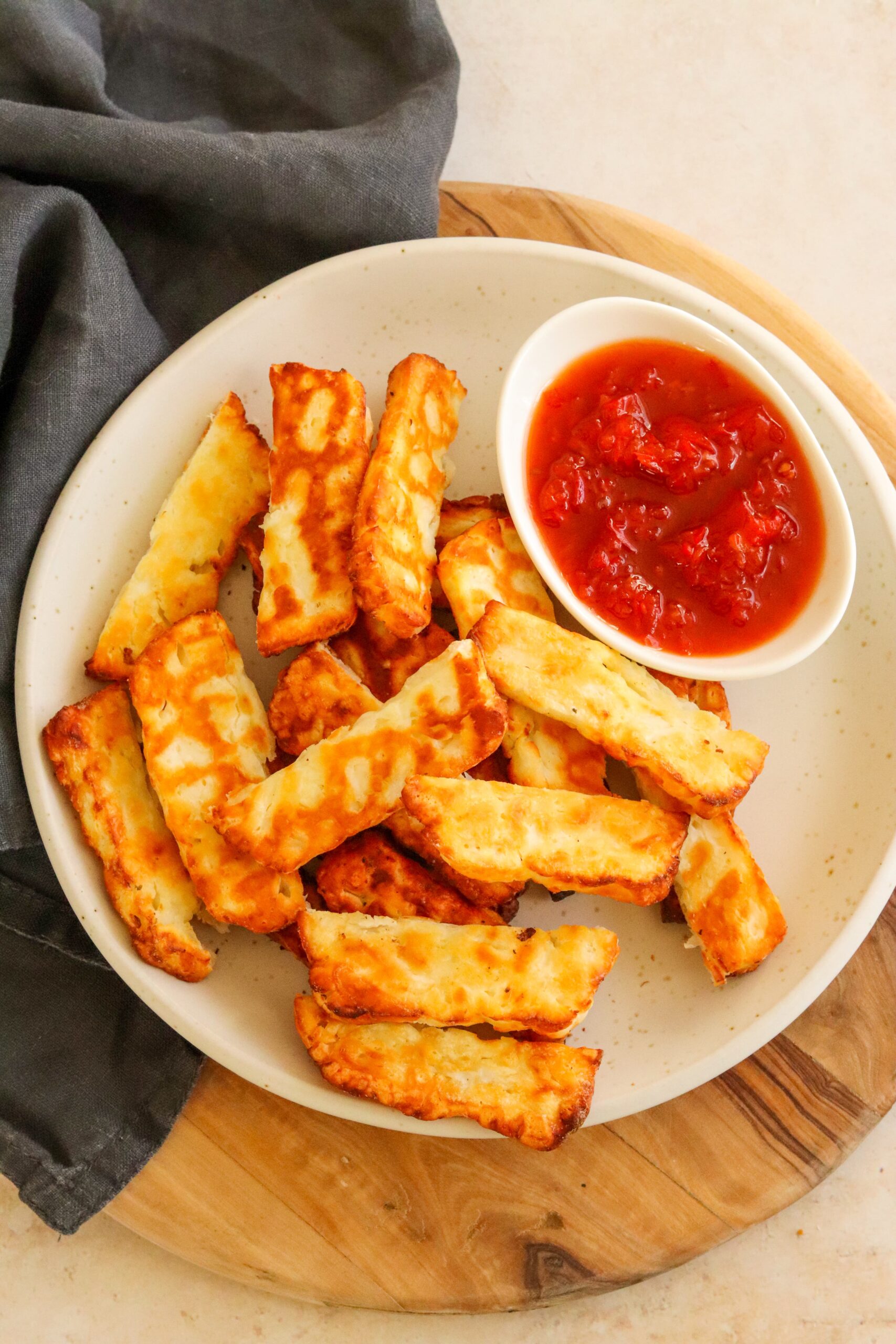 How to cut the halloumi
You can either cut the halloumi into slices and air fry it before cutting each slice in half to make fries. Or cut the halloumi into fries before air frying. Either way will give you the same results.
I cut my slices on the thinner side so they were crispier. You can cut your fries thicker so you have a crisp outside but the middle stays more bouncy in that way that only halloumi does if you prefer.
There is no reason why you couldn't just cut the halloumi into slices if you prefer.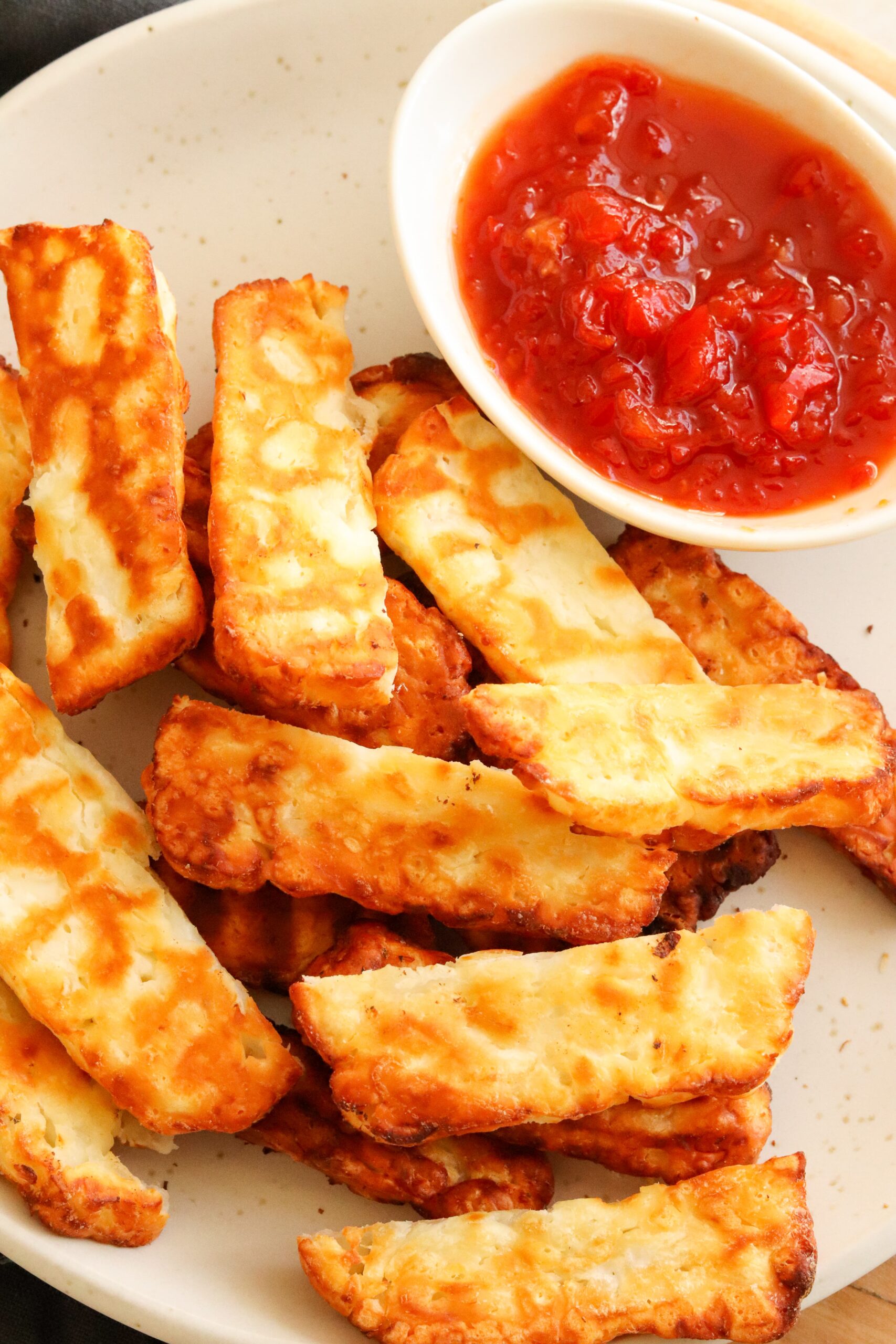 does using flour make the halloumi fries more crisp?
When I was working out how to get these halloumi fries deliciously crisp, I tried coating them in a light layer of cornflour before putting them in the air fryer.
The flour didn't make the halloumi fries any more crisp, but also made them stick to the air fryer basket more than they did without the flour.
Therefore I decided the flour wasn't needed and to keep these air fryer halloumi fries as a super simple, one ingredient recipe.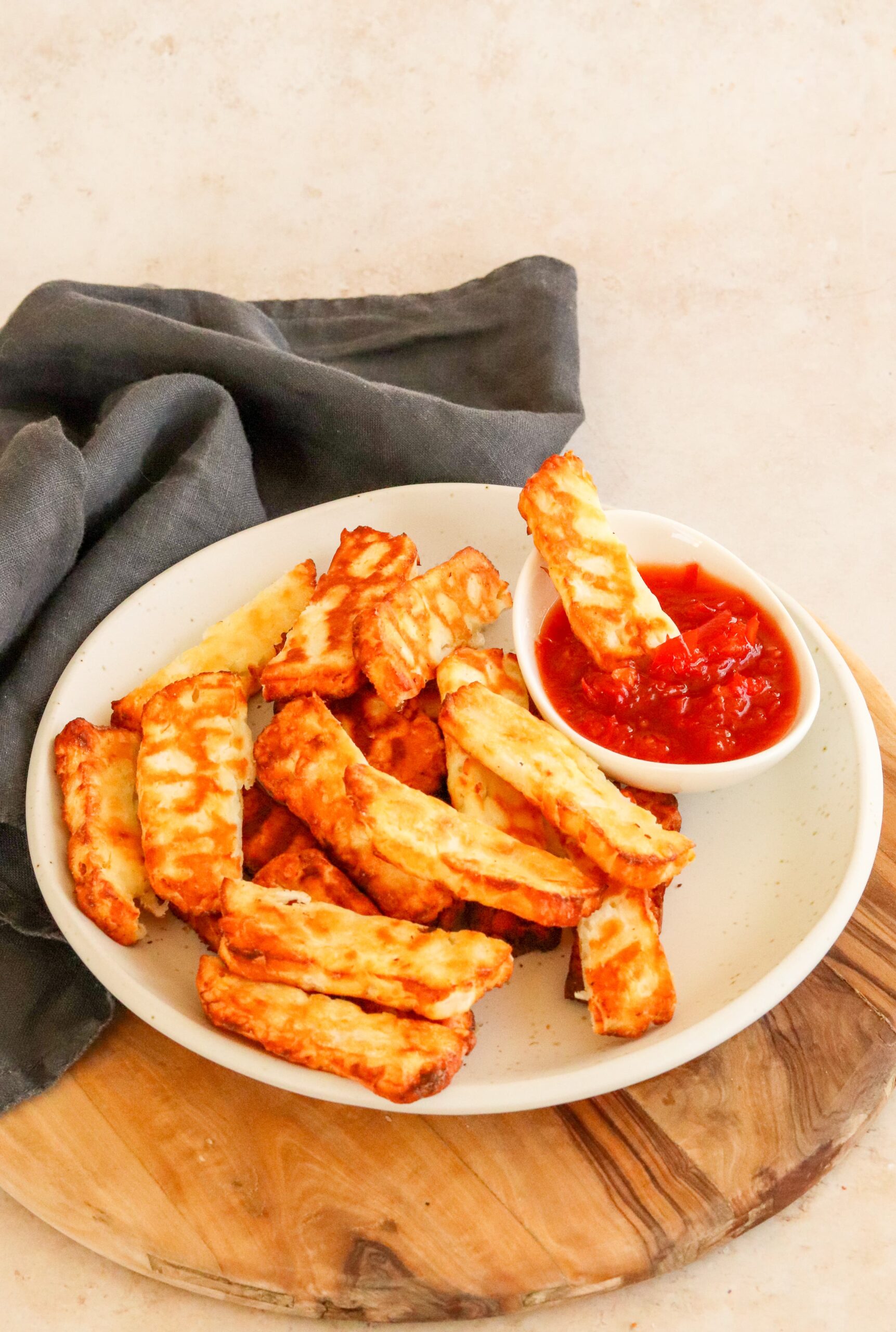 do you need to preheat an air fryer?
That depends on your air fryer, some require preheating whilst others don't. I have a Ninja 7-in-1 multicooker and I have never preheated mine.
If your air fryer does require preheating, check the halloumi fries a few minutes sooner than the recipe states. If your air fryer is warm, food is likely to cook a few minutes faster.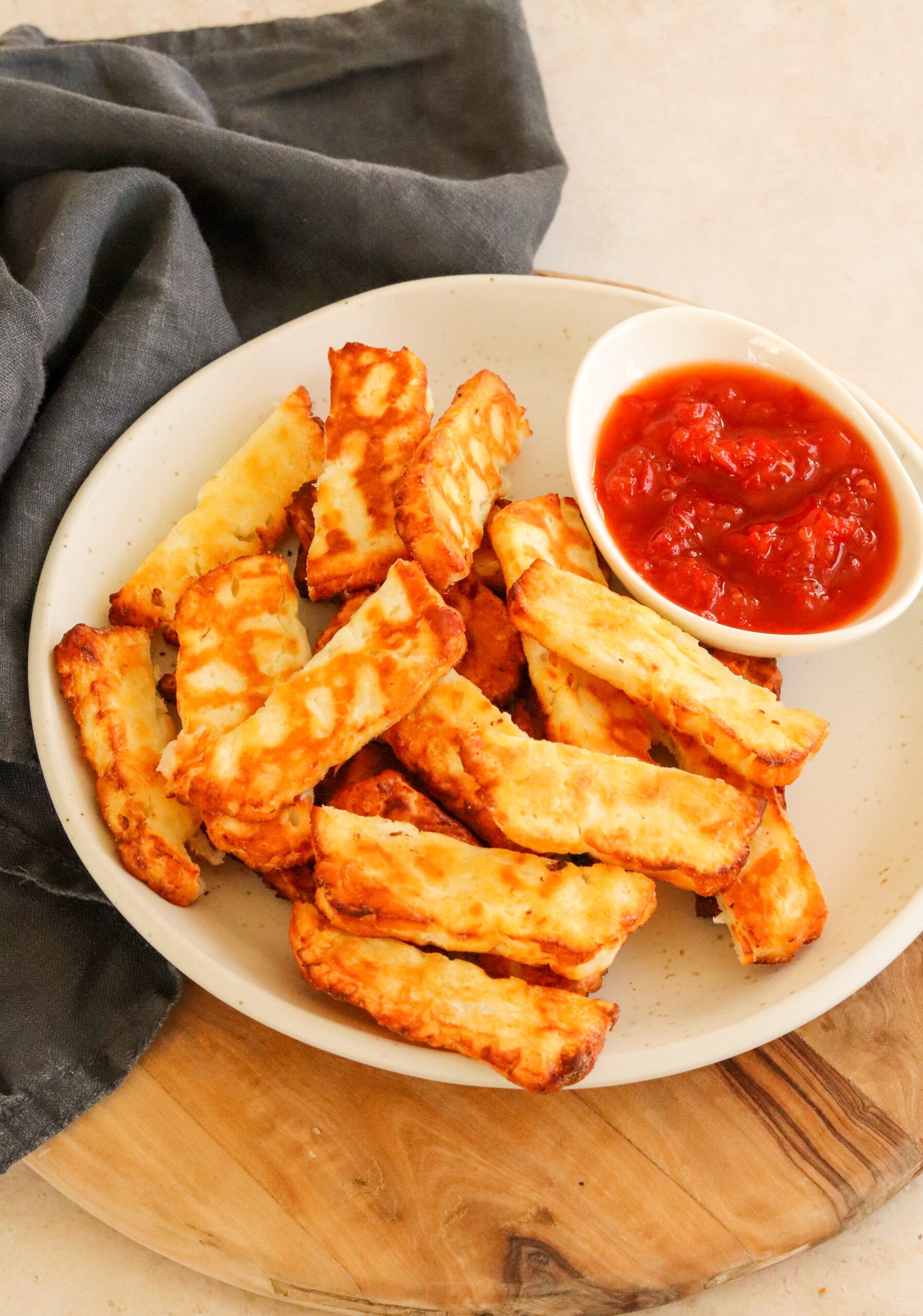 can you use an air fryer liner?
Air fryer liners are a great time saving addition because they are usually easier to wash than the basket of your air fryer.
Most reusable air fryer liners are silicone and although they are handy to have, I wouldn't recommend using them for all recipes.
The halloumi is more likely to sit in it's own moisture if you use a liner rather than draining away. This means it will take longer to get crisp and I therefore wouldn't bother using a liner for this recipe.
I've written a whole post on whether you should use an air fryer liner, check it out for more information.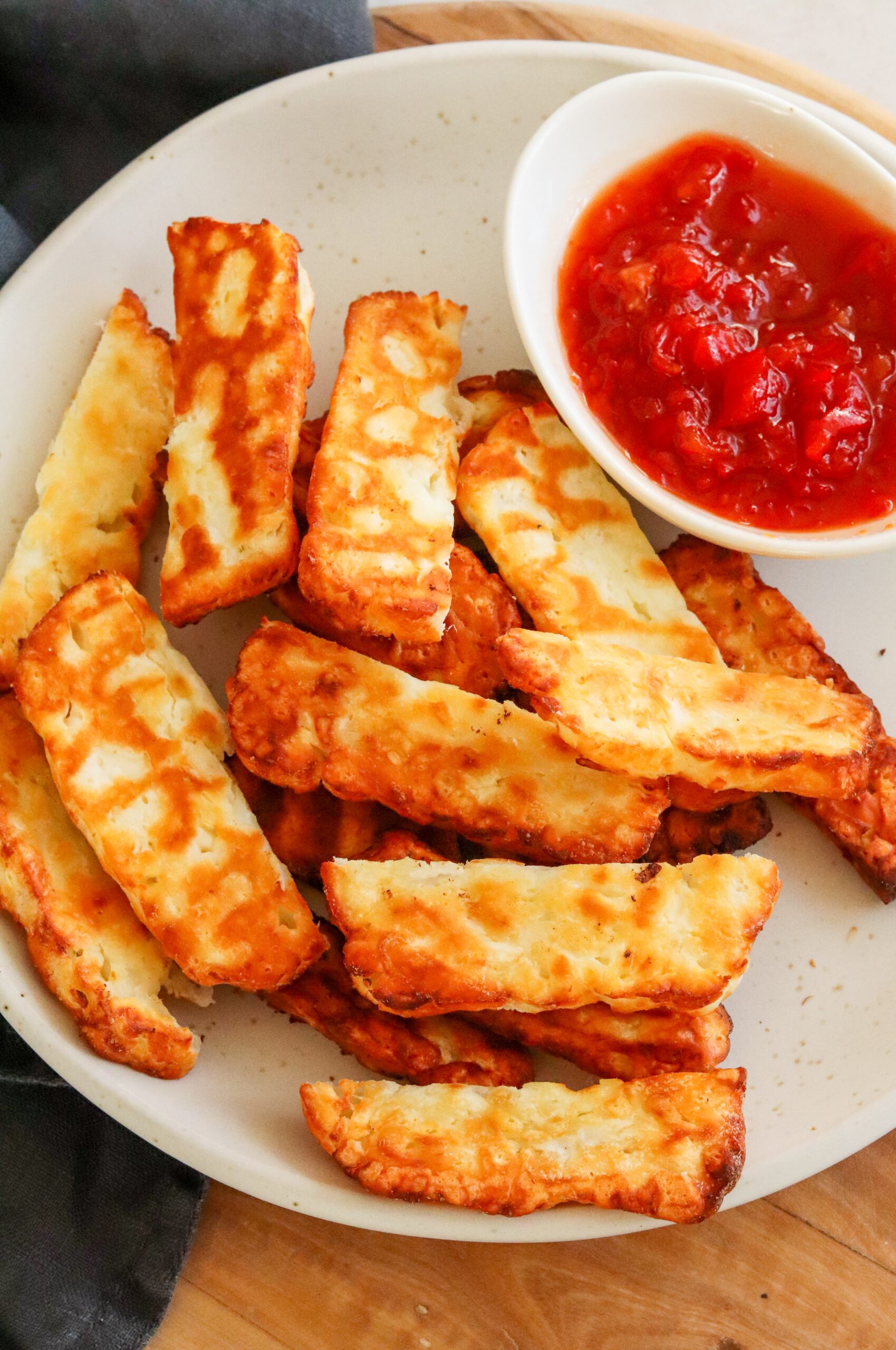 vegetarian and vegan halloumi fries
These air fryer halloumi fries are naturally gluten free, but be aware that not all halloumi is vegetarian friendly.
Some halloumi includes animal rennet so it is always worth checking the ingredients if you are unsure.
Halloumi style vegan cheese is readily available in most larger supermarkets so it is very easy to make these halloumi fries vegan.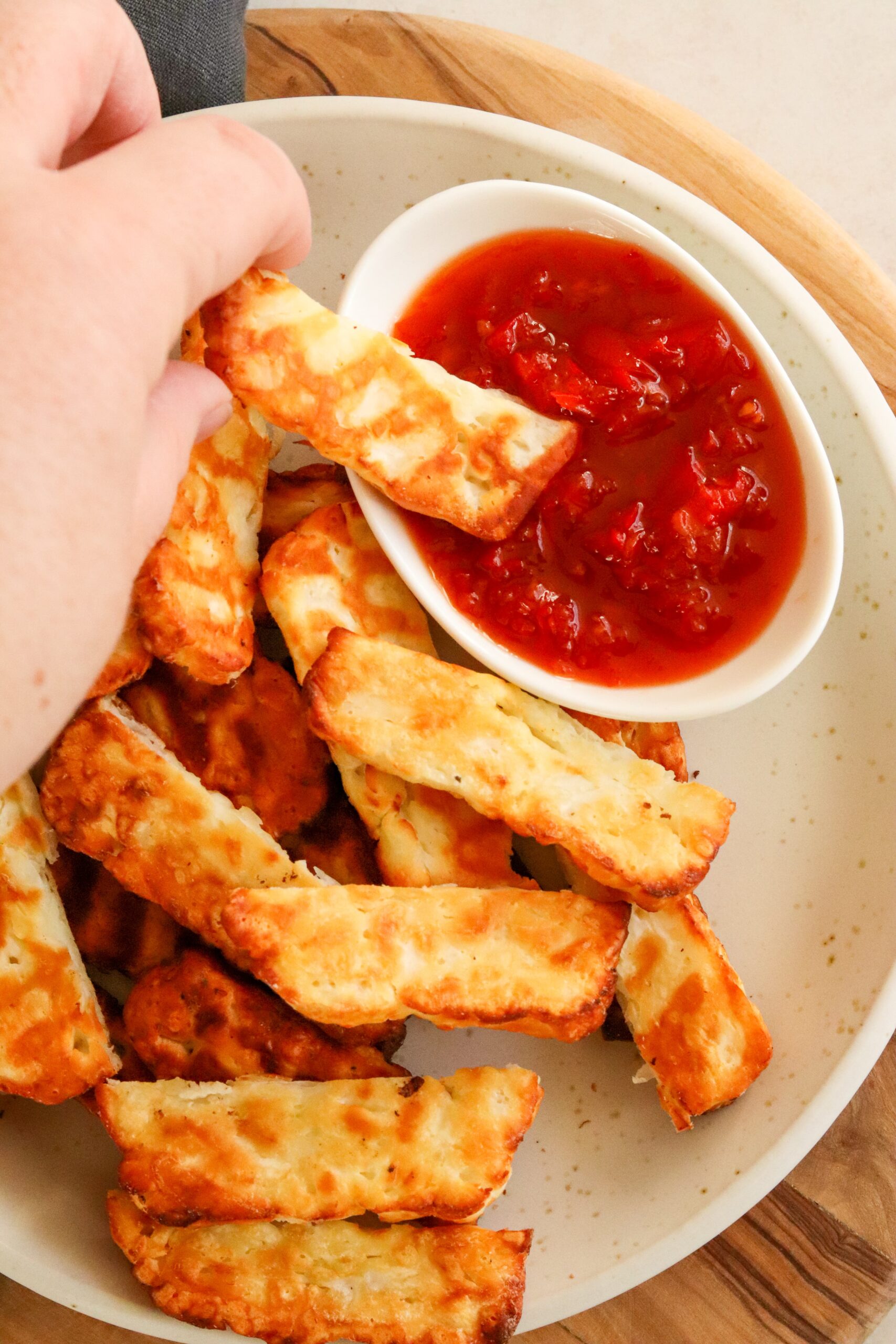 how to serve air fryer halloumi fries
These halloumi fries make a delicious snack or appetiser just as they are. To make them even better I like to serve them with my Sweet Chilli Jam which compliments them perfectly.
You could serve the halloumi fries with a salad to make a larger starter or light lunch. My Balsamic Tomato Salad or Stilton, Apple & Walnut Salad would both work well.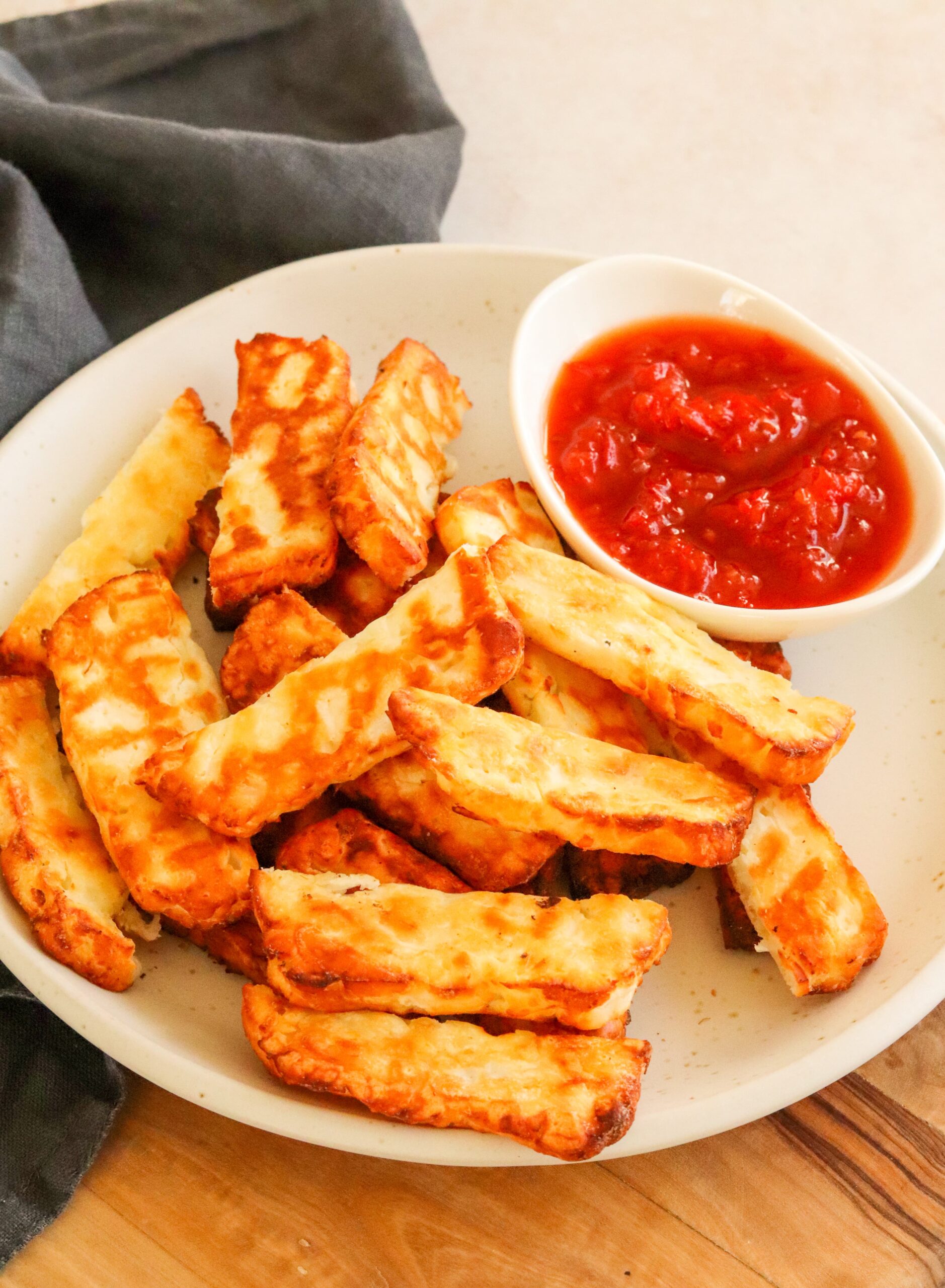 other recipes you might like
Pin for later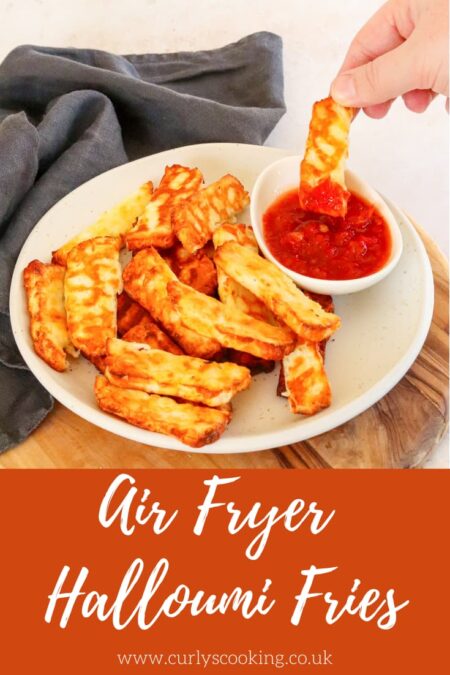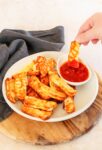 Air Fryer Halloumi Fries
These Air Fryer Halloumi Fries are an incredibly simple and tasty one ingredient recipe. They are deliciously crisp and perfect for dipping into sweet chilli jam for a snack or easy appetiser.
Instructions
Preheat your air fryer if needed

Cut a 225g block of halloumi into 12 slices

Place the slices into your air fryer, depending on the size of your basket you might have to cook in multiple batches

Cook for 4 minutes at 200°C before turning over and cooking for a further 4 minutes or until golden and crisp

Cut each slice into half so you have 24 fries
Recipe Notes
You can either cook the halloumi as slices and then cut into fries once they are cooked or cut them into fries before air frying.
Nutritional information is given as a guide only and may vary.
Nutrition Facts
Air Fryer Halloumi Fries
Amount Per Serving
Calories 177
Calories from Fat 126
% Daily Value*
Fat 14g22%
Sodium 675mg29%
Carbohydrates 0.5g0%
Protein 12g24%
Calcium 563mg56%
* Percent Daily Values are based on a 2000 calorie diet.