As air fryers have become increasingly popular, we all have the same question – Should I use an Air Fryer Liner? Here I will discuss the pros and cons so you can make the decision yourself and enjoy cooking in your air fryer.
Advertisement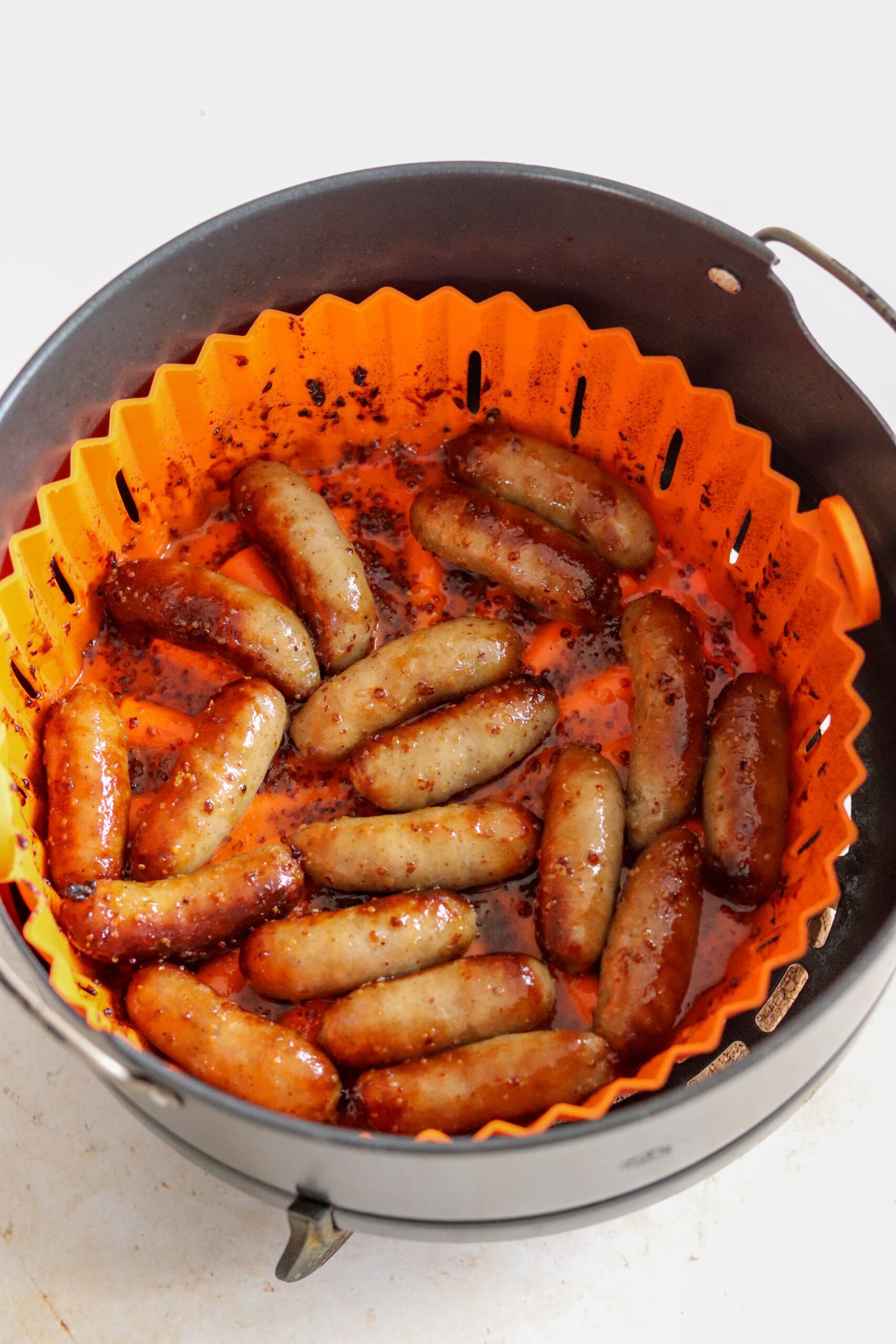 different types of air fryers
Before we look into air fryer liners, I think it makes sense to look at the different types of air fryers. This is because not all liners will fit in every air fryer.
Basket air friers
This type of air fryer seems to be one of, if not the most popular. They either have one or two drawers. They come in a range of sizes which allows people to purchase the size that best fits the requirements of their family.
The shape of the basket of the air fryers also varies. The dual drawer air fryers usually have rectangular baskets whereas the single drawer baskets are typically circular or more square in shape.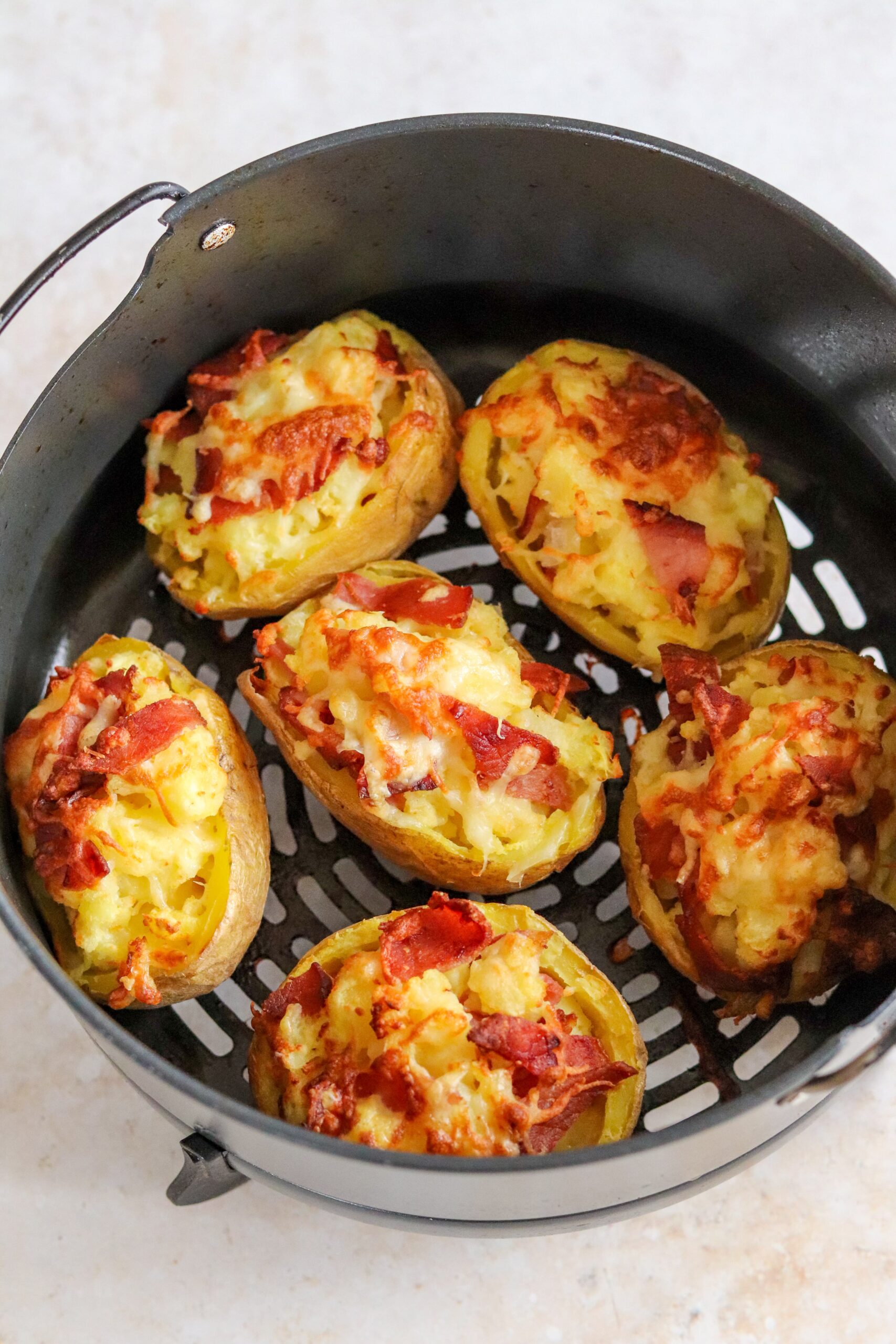 Oven style air fryers
These air fryers tend to look like mini counter top ovens. Instead of a basket, they usually have wire shelves and a clear window so you can see the food as it cooks.
Oven style air fryers also often come with various attachments and accessories such as a rotisserie or kebab spikes.
Multi Cookers with an air fryer function
This is the type of air fryer I have and therefore the one you will see in all of my recipes. I have a Ninja 7-in-1 multicooker which has a basket that you lift in and out of the machine. It works very similar to standard basket air fryers.
There are newer versions available since I got mine which offer even more cooking functions.
paddle type air fryers
To my knowledge these air fryers have been around for the longest time. The most well known brand I am aware of is a Tefal ActiFry. I had one for years before I got my current Ninja multi cooker.
As the name suggests, they have a paddle or arm that moves around the air fryer tray to circulate the food whilst it cooks. Unlike other types of air fryers, paddle air fryers don't have holes in the tray as the paddle circulates the food and air.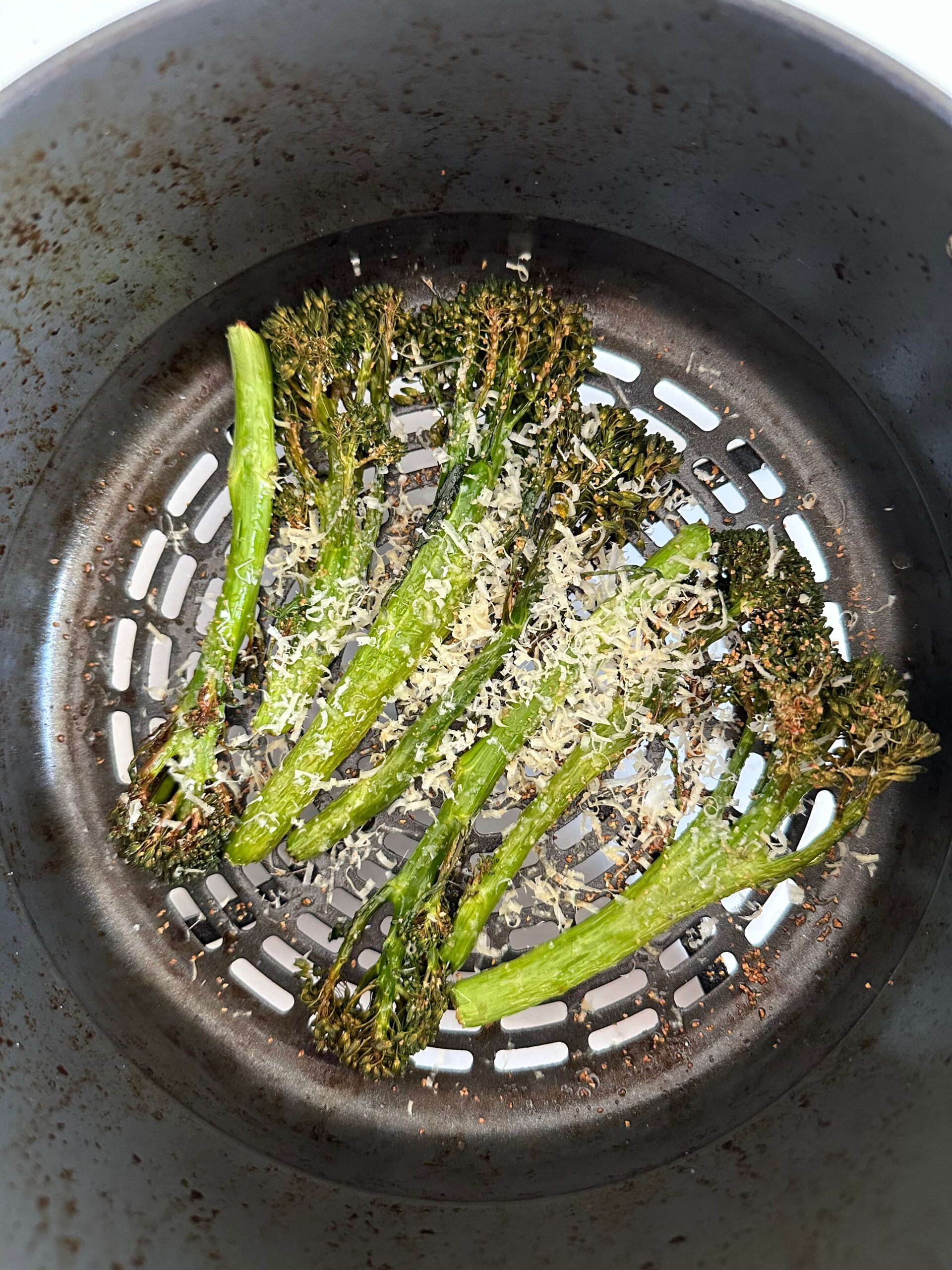 Different types of air fryer liners
As well as different types of air fryers, there are also a variety of different air fryer liners you can buy or use.
silicone liners
These air frier liners are the most widely available reusable option. They come in a number of different sizes and shapes so you should be able to find one that will fit you air fryer. That is unless it is a paddle type air fryer unfortunately.
Silicone liners are multi use and can be washed time and time again. The majority are dishwasher safe.
walled silicone liners
These are the most widely used silicone liners. As their name suggests, the silicone forms a wall which fits inside the basket. Some have holes in them, either on the walls or the base to allow for better air circulation while others don't.
I was kindly sent a walled silicone liner from Wafe. This is the air fryer liner you will see in any of my photos.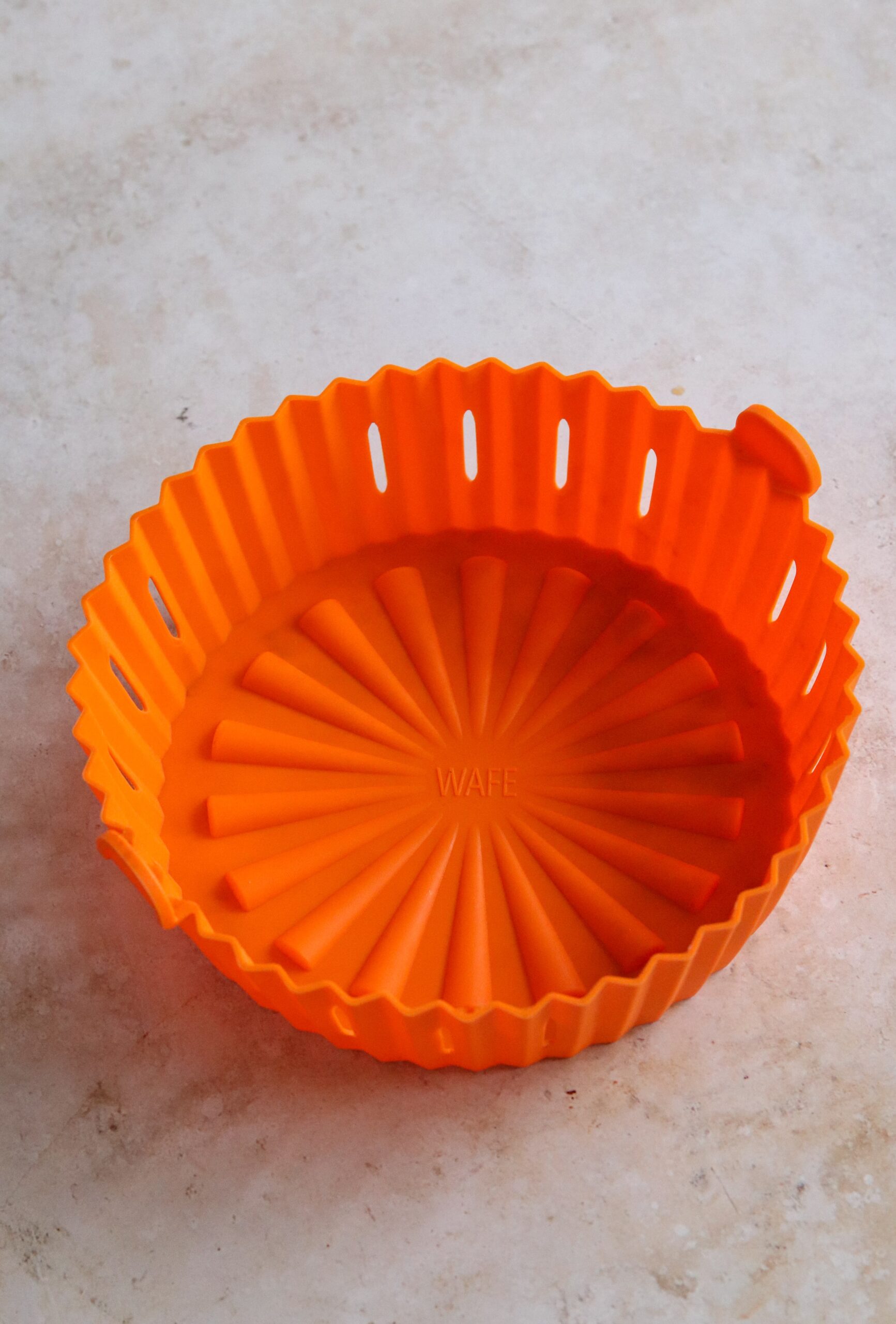 flat silicone
Flat silicone liners can be used in basket air fryers. However they tend to be more widely used in the oven style air fryers. They are just a flat silicone sheet that usually has holes in for ventilation.
Due to them not having 'walls' they won't prevent any food sticking to the sides of your air fryer.
disposable parchment liners
Disposable liners come in a range of shapes and sizes to fit most air fryers. The majority of them are walled, but you can get flat parchment liners too.
It also seems to be more common for the parchment liners to not have holes. But I have seen a few you can buy with holes.
As the name suggests these are for single use.
Tin foil
If you don't want to invest in any air fryer specific accessories, a lot of people use tin foil in their air fryers. You can fold and bend it to your desired shape so it will fit in any air fryer you have.
Obviously the tin foil will only have holes if you make them yourself.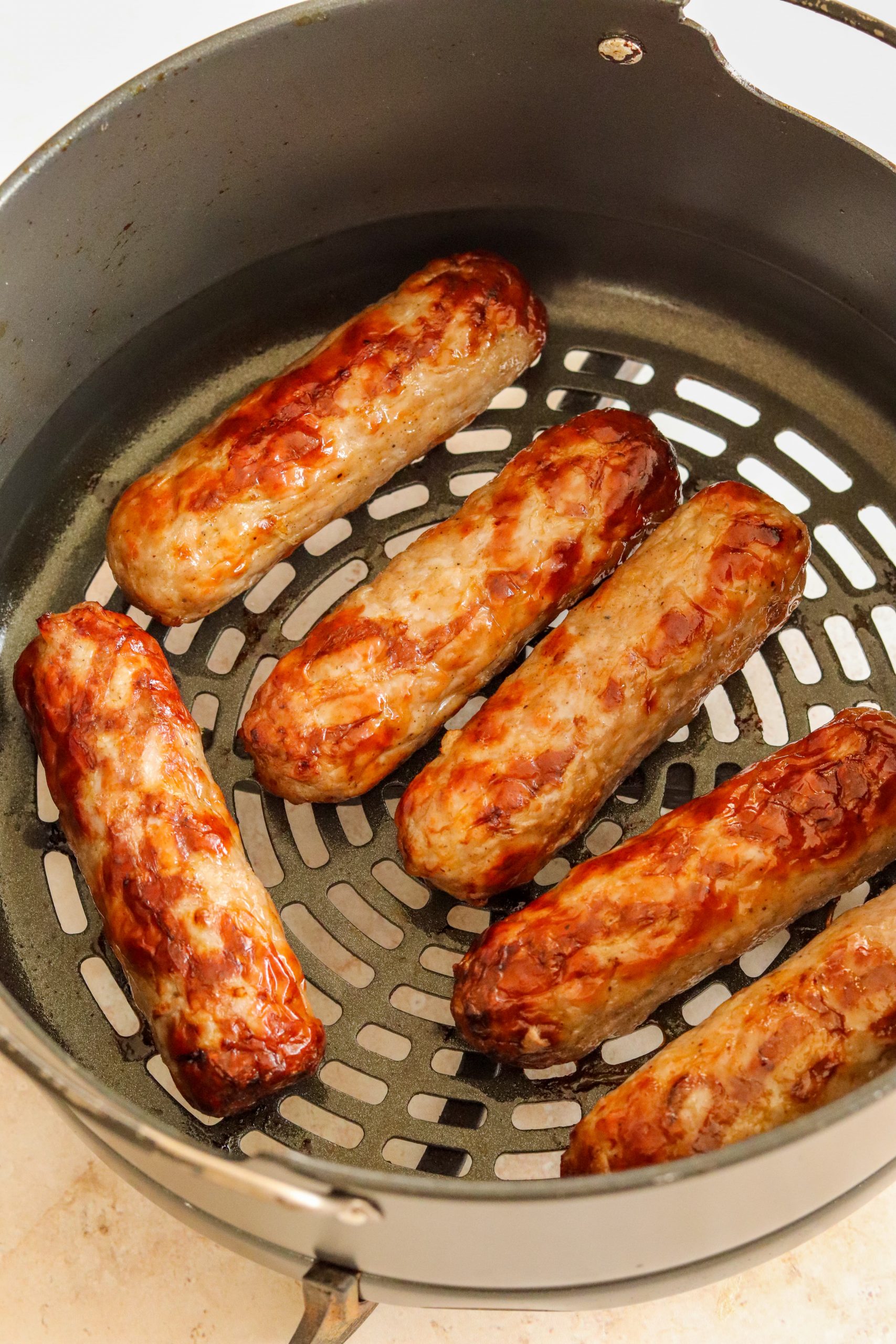 Advantages of using an air fryer liner
So now you know the different types of air fryer liners, what are the advantages of using one?
easier to clean
The main advantage and what I think is the biggest reason most people use an air fryer liner is they are much easier to clean than the air fryer basket itself.
Silicone liners can usually go straight in the dishwasher and disposable paper liners and foil can be disposed of. If your liner doesn't have holes in the bottom, it is likely that there will be no cooking juices in your actual air fryer.
Although a lot of air fryer baskets themselves can go in the dishwasher, they are quite bulky and can take up a lot of room. An air fryer liner is much smaller and therefore doesn't command so much space.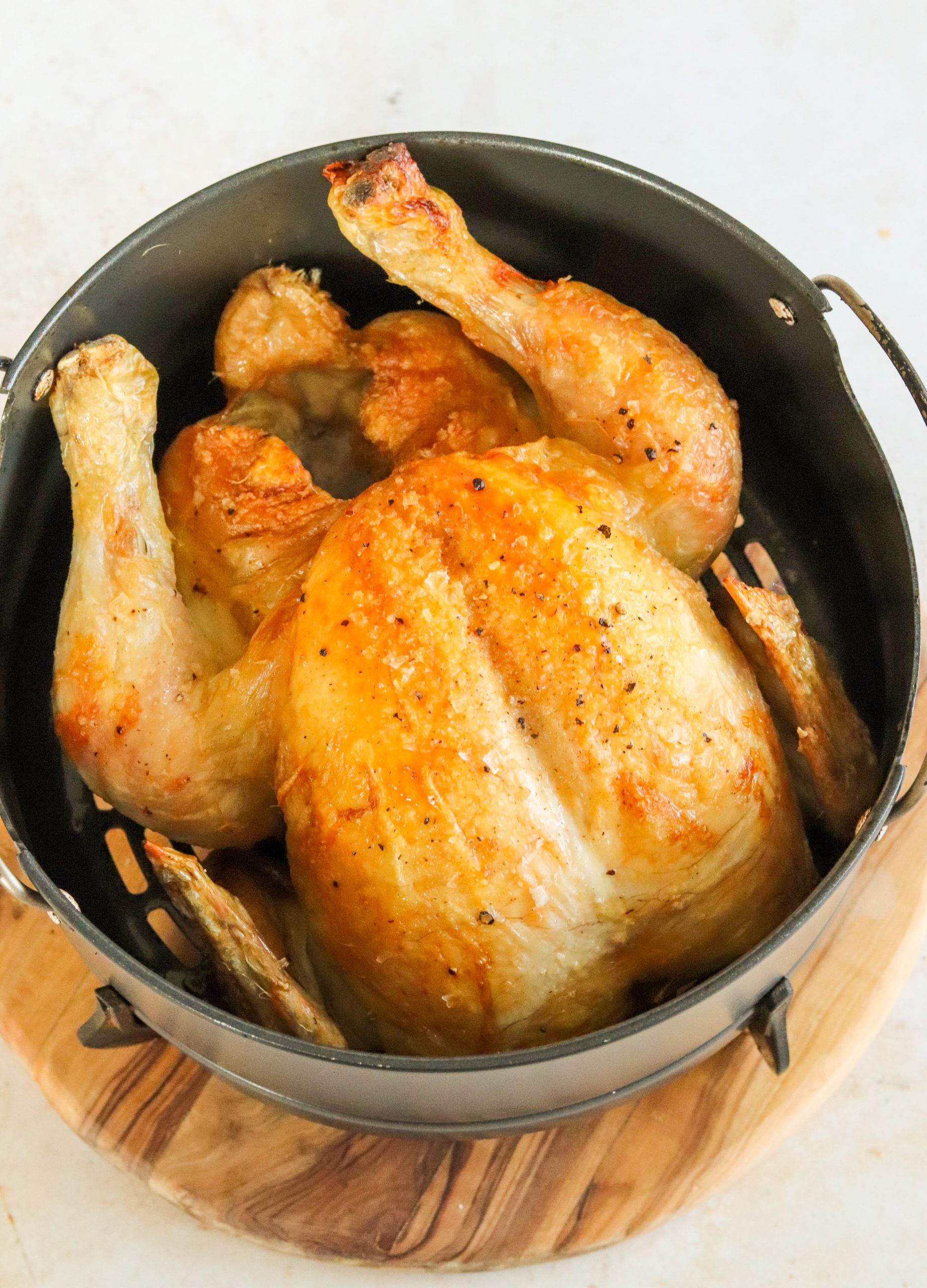 helps prevent food sticking
Whether your liner is silicone or parchment, they both help to prevent food from sticking to the air fryer basket.
Food sticking to the basket not only creates a slightly more involved clean up process, but it also affects the food. For example if you were cooking a chicken nugget, but the coating got stuck to your air fryer basket, it could rip some of the coating from the chicken.
Not the end of the world by any means, but is affects the appearance of the food.
Air fryer liners also help to prevent food from burning which is especially beneficial when cooking food in a marinade.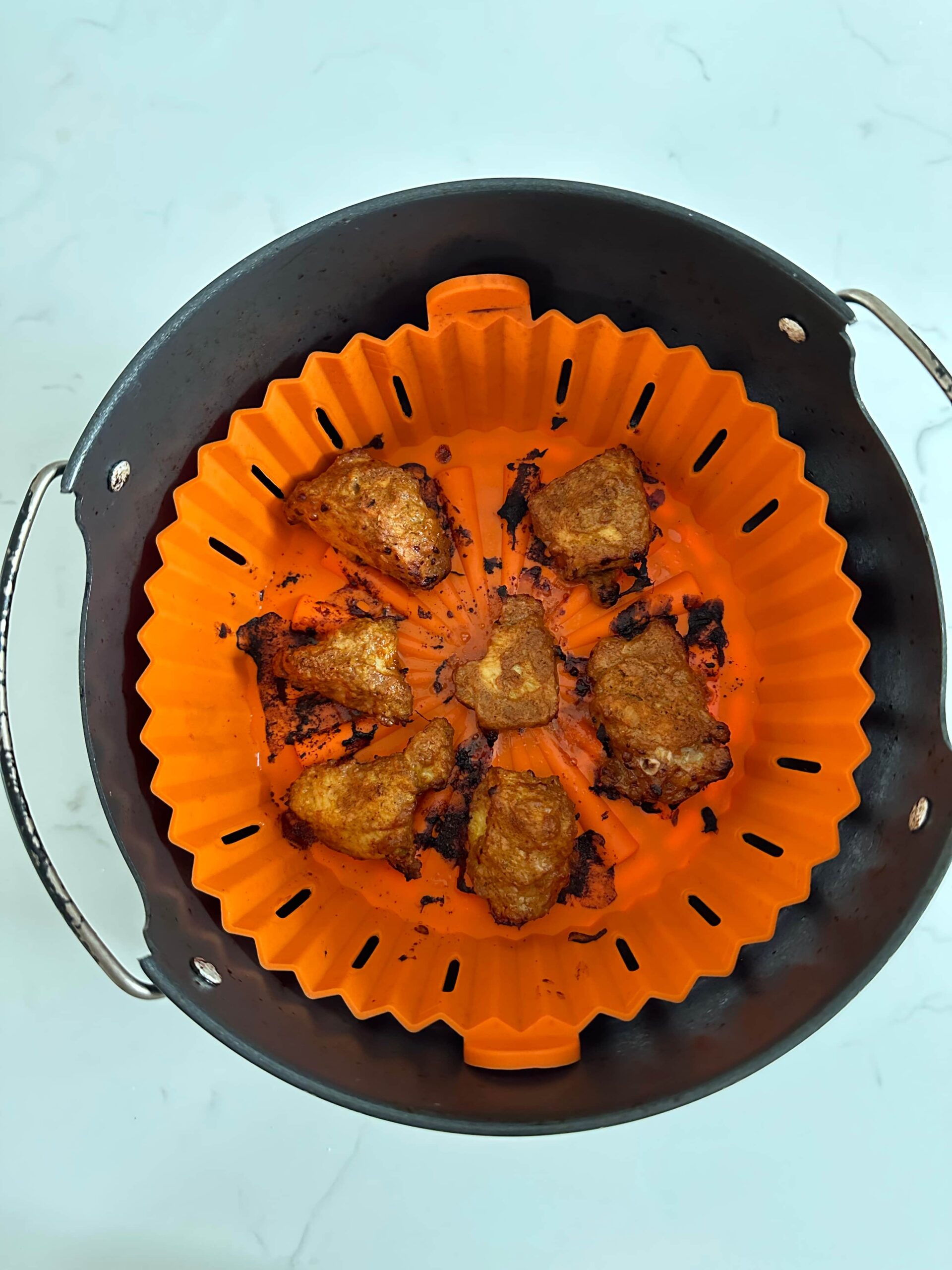 disadvantages of using an air fryer liner
Although liners have some great advantages, they do also come with some disadvantages. This doesn't mean that they shouldn't be used, but they are factors people should be aware of.
Food can take longer to cook
Using an air fryer liner adds another layer between the basket and the food that is being cooked. Silicone liners are a few millimetres thick and this will therefore affect the cooking time.
Parchment liners are usually quite thin but they do still impact the cooking time.
Food taking slightly longer to cook may not be a concern to some people. This is as the majority of the time food is still quicker to cook in an air fryer than an oven.
An Air Fryer is smaller than a convection oven and cooks food more quickly meaning they save time and energy.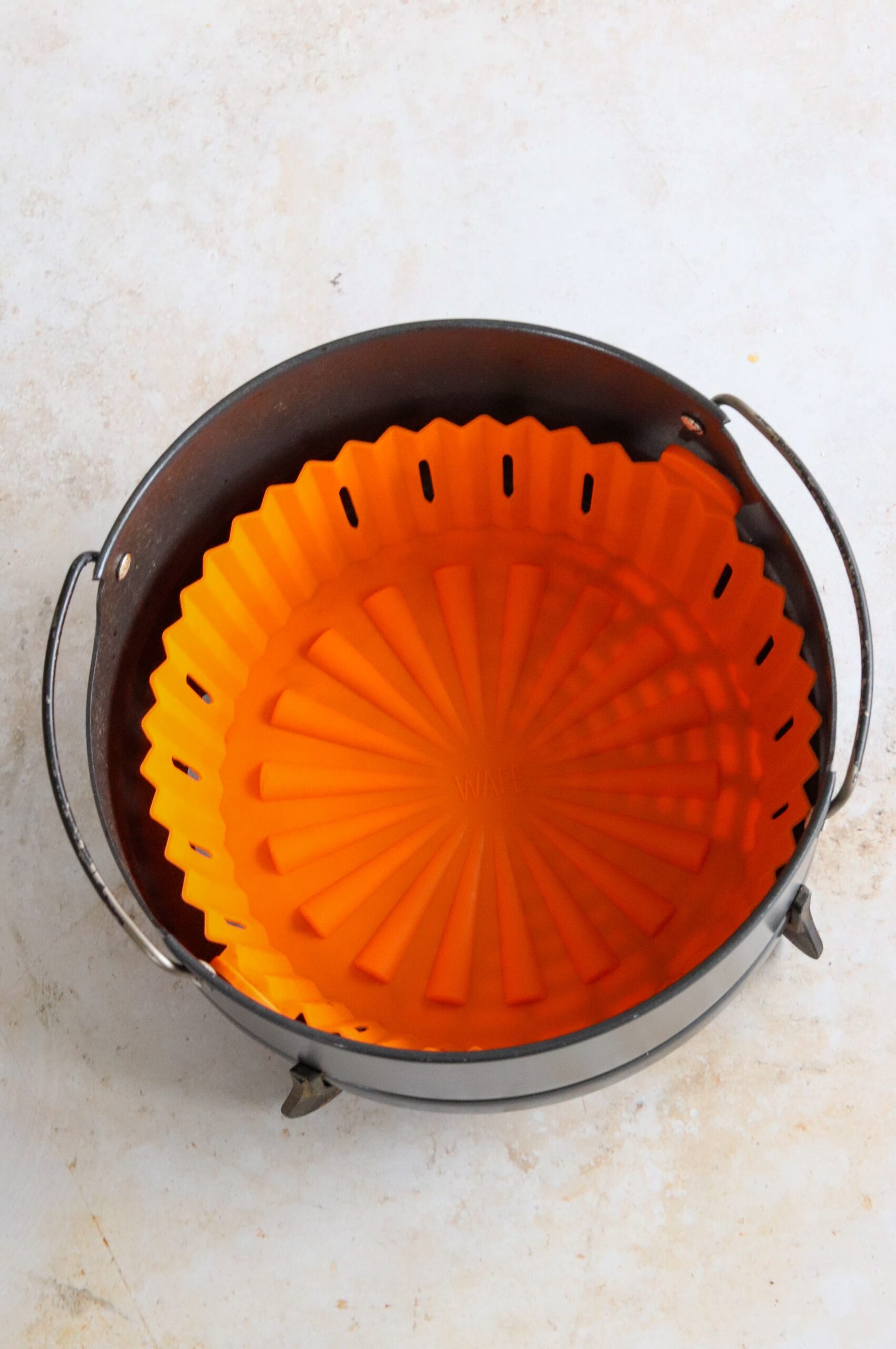 food might not get as crispy as you want
Air fryer liners put an additional layer between the food and the air that is circulating to cook it. This prevents food from getting as crisp as quickly as it would without the liner.
Usually if you cook the food for a few more minutes, you should be able to achieve the perfect level of crispness.
However some recipes such as Air Fryer Sausage Rolls might never get quite as crisp as they would if you didn't use a liner. The pastry isn't in direct contact with the heat so although it will cook through, it won't necessarily have the same crispness.
Parchment liners can blow around
If your air fryer requires preheating, make sure you do not add your parchment liner at this stage. Without the food to weigh the liner down, it is likely to blow around inside the basket of your air fryer.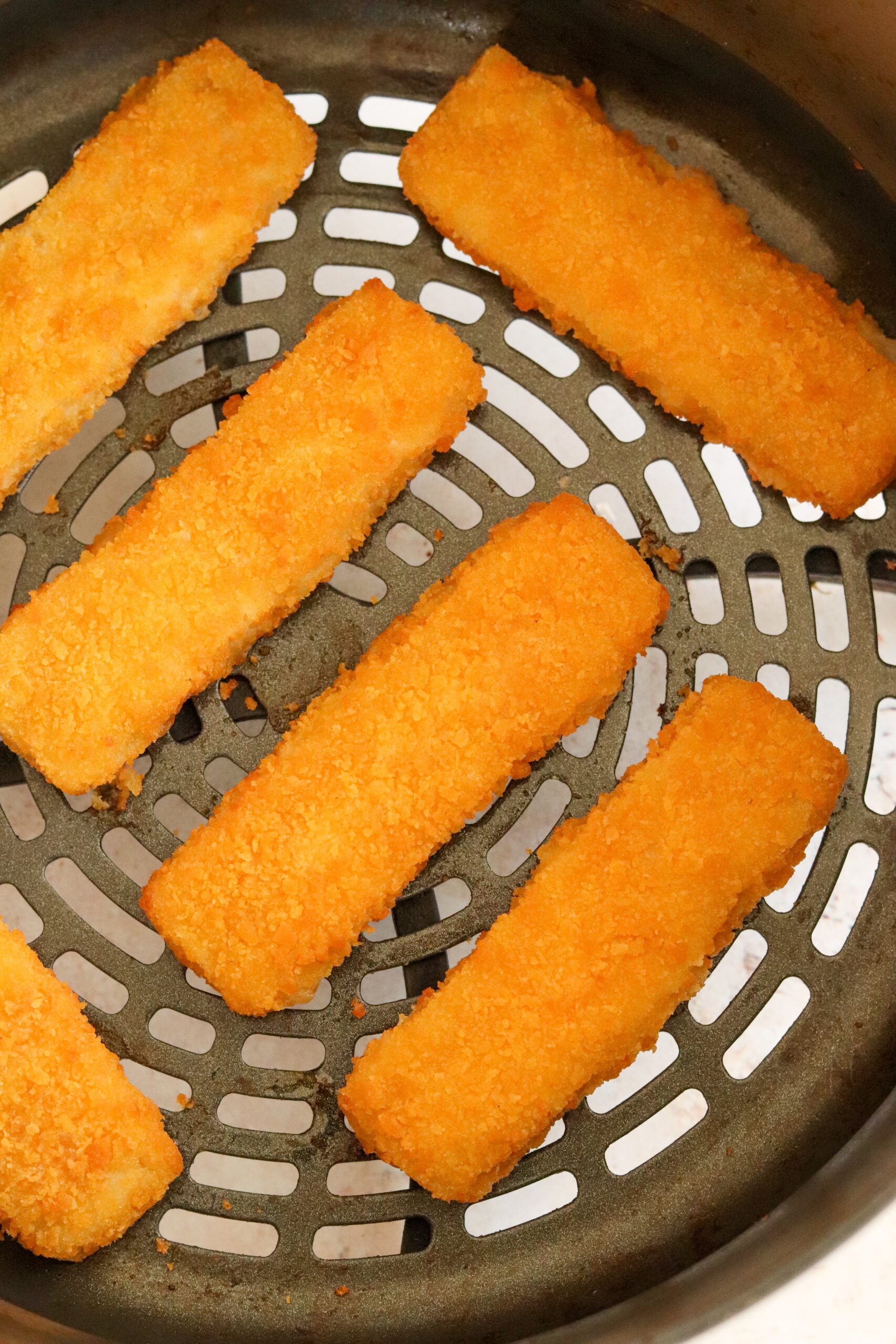 Disposable liners aren't the most eco friendly option
Disposable parchment liners are very convenient, but they aren't the most eco friendly option. Some of them are marketed as being recyclable, but depending on your country or region's recycling policies this might not be the case.
In some instances if paper is covered in food residue it is not able to be recycled. The same applies for tin foil. Also some countries, or people may not recycle.
Therefore a lot of the disposable liners tend to end up in general waste.
should you use an air fryer liner?
So after all that, you might still be wondering whether you should use an air fryer liner or not. The answer is, it is completely up to you!
There are great arguments for using a liner as well as instances when they're just not really needed. I think it really depends what you are cooking as to whether you should use one or not.
Personally if I am cooking for my blog or for guests where I want my food to look as aesthetically pleasing as possible, I make different choices to when I am just cooking for my husband and I.

Sometimes the fact that I can put the liner in the dishwasher is the biggest advantage and I don't mind it the food takes a little bit longer to crisp up. And other times a liner is inconvenient and unnecessary.
I think it is definitely worth having the option of an air fryer liner, even if you don't use it all the time.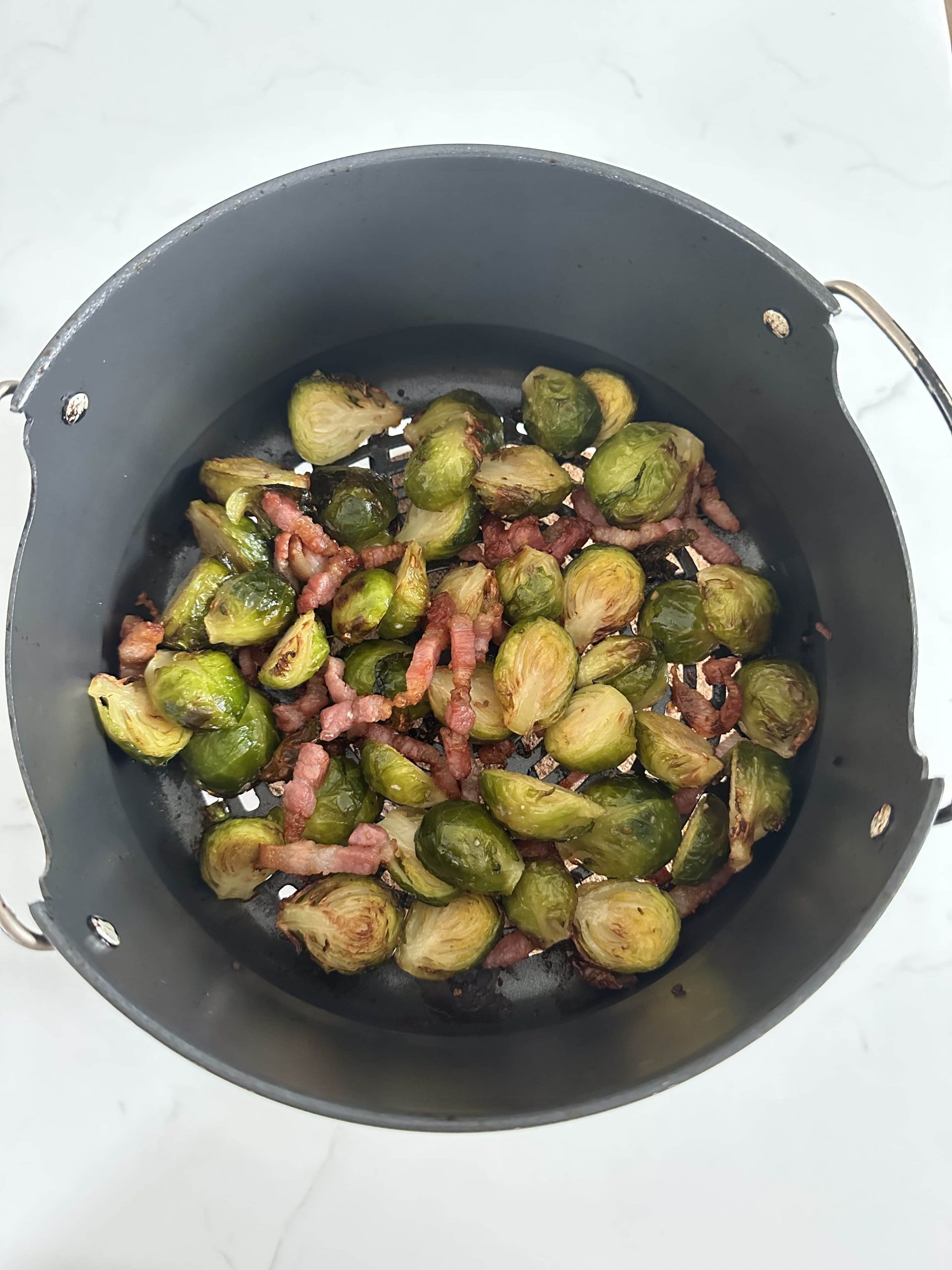 which food I would use an air fryer liner for
There are some recipes I would definitely recommend using a liner for. These are usually recipes that include a marinade or ingredients with a high sugar content and could burn more easily.
That's not to say you can't make these recipes if you don't have a liner. It is just the cleaning up afterwards will be a lot easier if you have a liner.
You could also use a liner for foods that might stick slightly to the air fryer basket, although I often cook these without a liner too.
For the recipes involving bacon, it may take a few more minutes to get to your preferred level of crispness as well as possibly turning the food more frequently.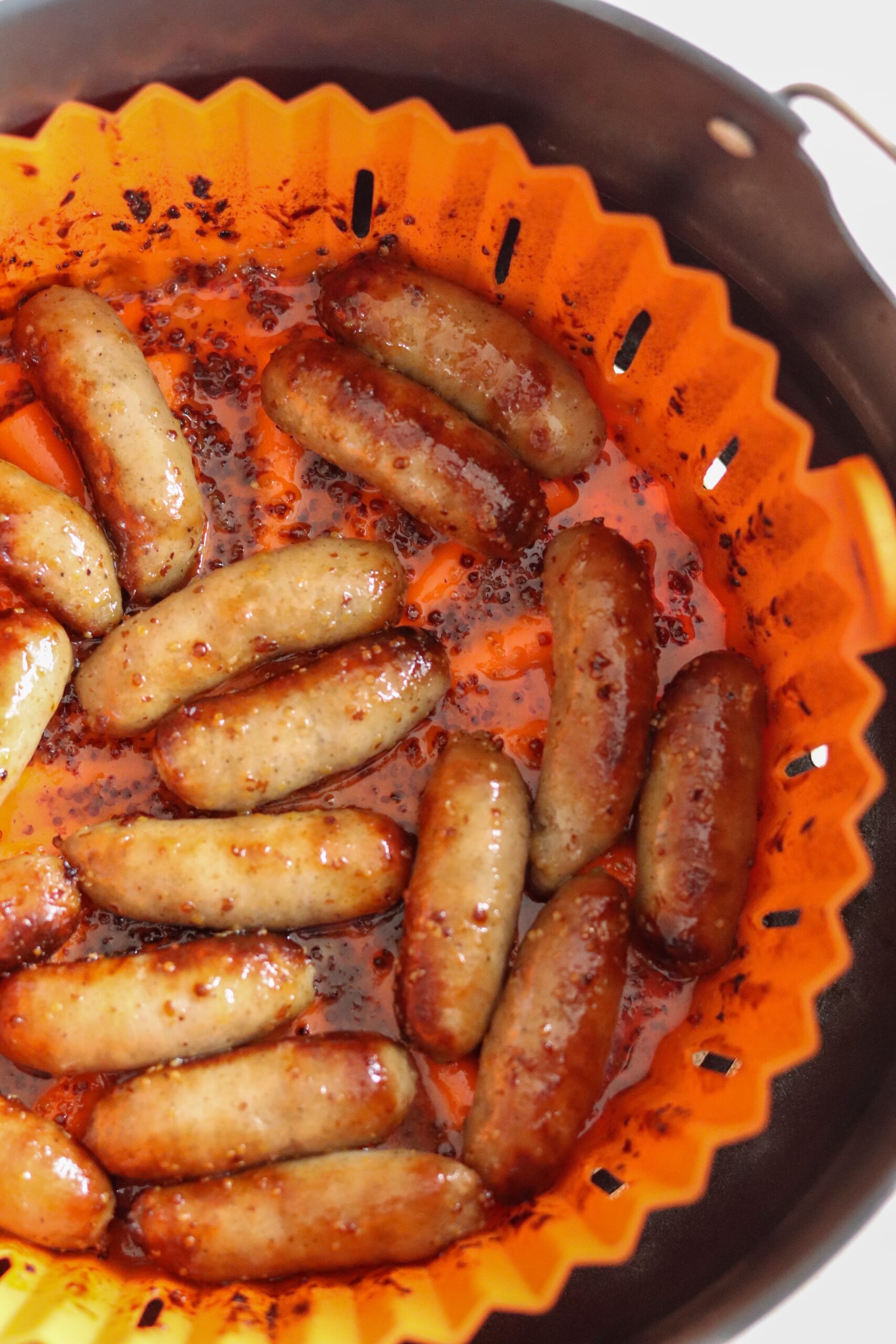 which food I wouldn't use an air fryer liner for
Personally, I wouldn't use a liner for anything that I want to get really crisp or foods that don't tend to make much mess. This is because the basket is usually very easy to clean.
There is definitely a theme of potatoes in the list. This is because in my experience you really do want them to be crisp. Also they are quite dry and therefore don't leave much mess in the basket.
When I make my Air Fryer Parmesan Tenderstem Broccoli, I don't use a liner. Even though the basket will have parmesan and garlic granules in it, these are so easy to clean I don't bother with a liner.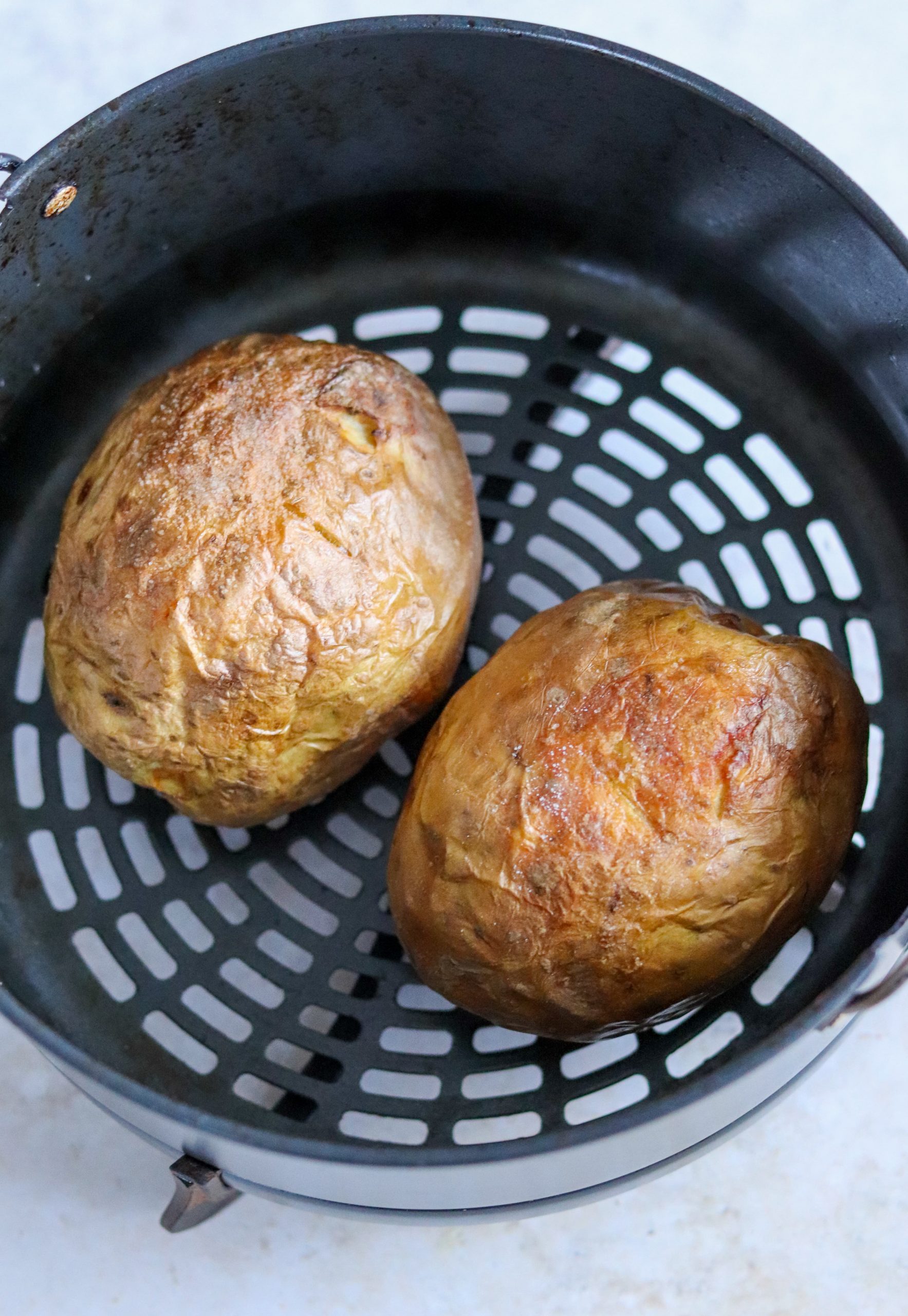 pin for later