Stuffed with potato, cheese and bacon – what's not to love about these Air Fryer Loaded Potato Skins?! Simple to make and super delicious, they make a great appetiser, addition to a buffet or game day snack.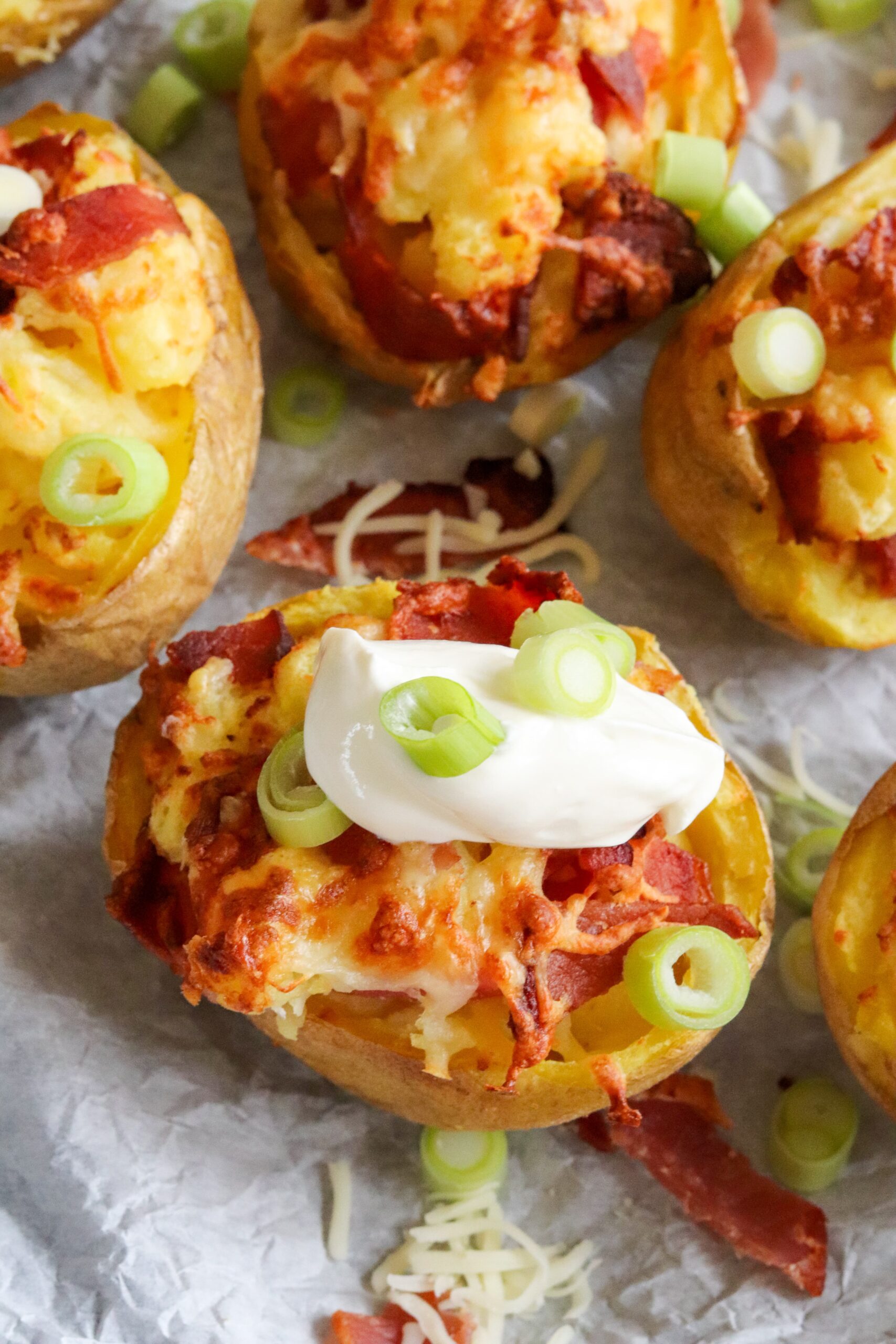 why use an air fryer instead of an oven?
Air fryers cook food quicker than a standard convection oven which is great for saving energy and pennies but also for busy families that want to be able to make food quickly.
Another advantage is that air fryers are smaller than ovens so you're not heating up a full-sized oven but instead a smaller air fryer. This means you're using less energy because you're heating up a smaller appliance as well as the food cooking quicker.
Using a microwave to cook the potatoes in the first instance is the quickest and most cost effective way of cooking them. So you can make delicious loaded potato skins without turning your oven on at all.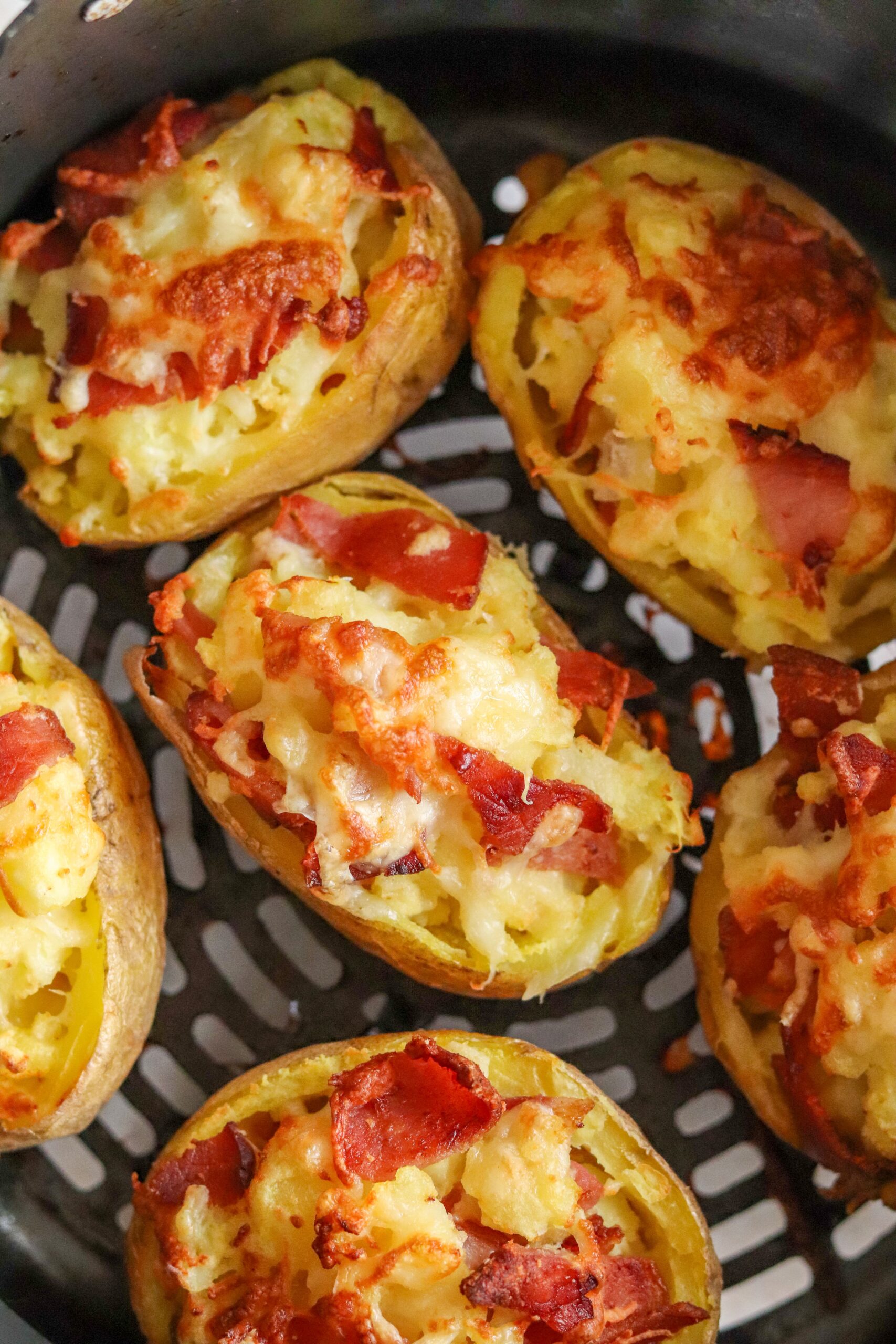 Which potatoes are best to use for loaded potato skins?
I do tend to buy potatoes sold as baking potatoes for making loaded potato skins. This is because you are essentially making baked potatoes before you scoop out the filling and then reassemble and air fry.
If you are looking for specific varieties I would opt for Maris Piper or King Edward potatoes. These varieties are known for their fluffy interior which is ideal for these potato skins.
If you are in the US, I would recommend looking for russet potatoes.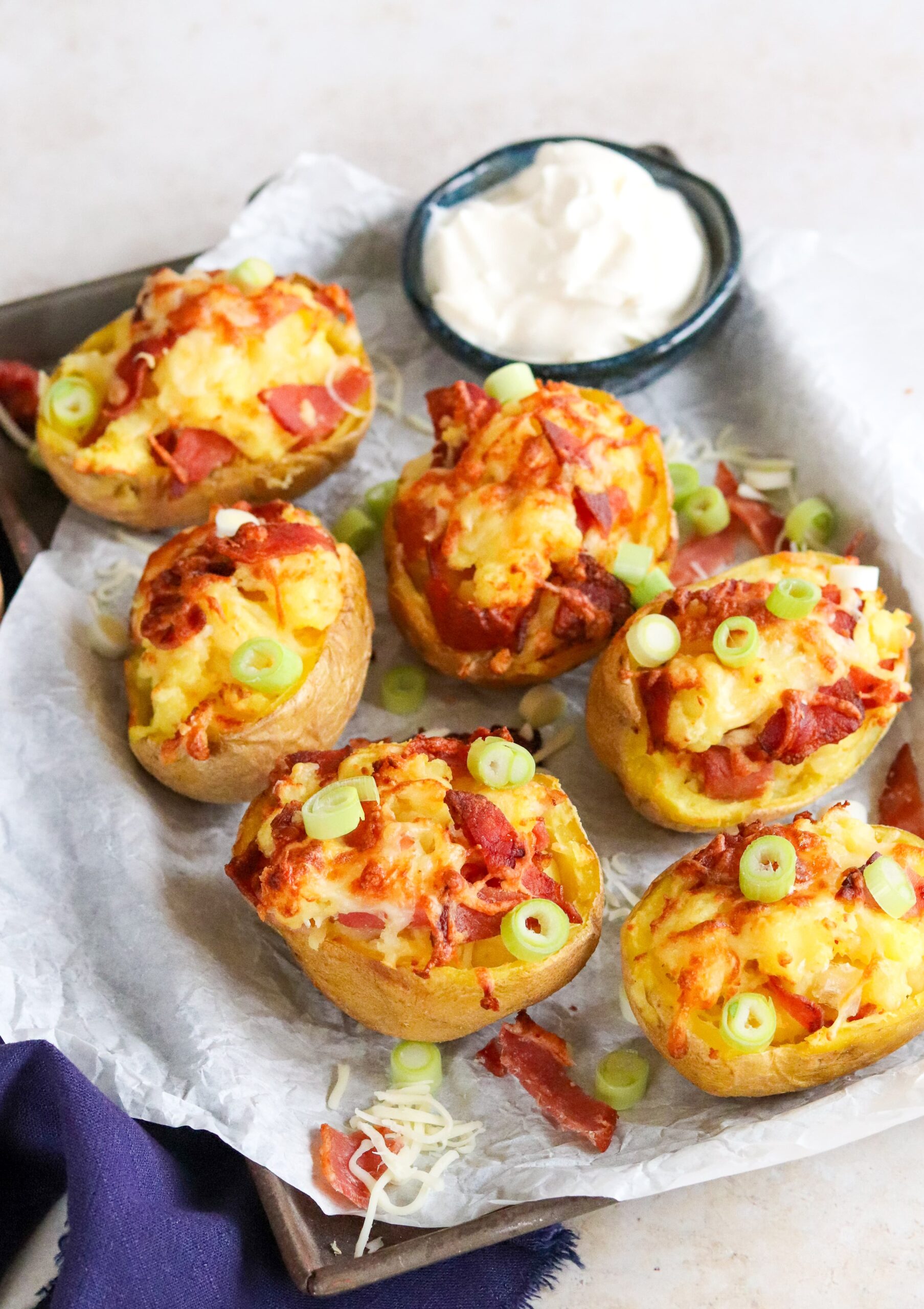 which toppings to use for Air Fryer loaded potato skins
I have chosen the classic combination of bacon and cheese for my loaded potato skins as aside from being delicious, it is probably the most popular toppings found in restaurants.
Cheese
I like to use a combination of cheddar and mozzarella. The cheddar provides the flavour and the mozzarella provides the excellent stringy cheese pull we all love.
You could use all cheddar or mozzarella if you prefer, or any other cheese that melts well.
When it comes to mozzarella, I wouldn't recommend using fresh in this instance. Although I don't often recommend pre grated mozzarella, for this recipe it really does work the best as it doesn't have as much moisture.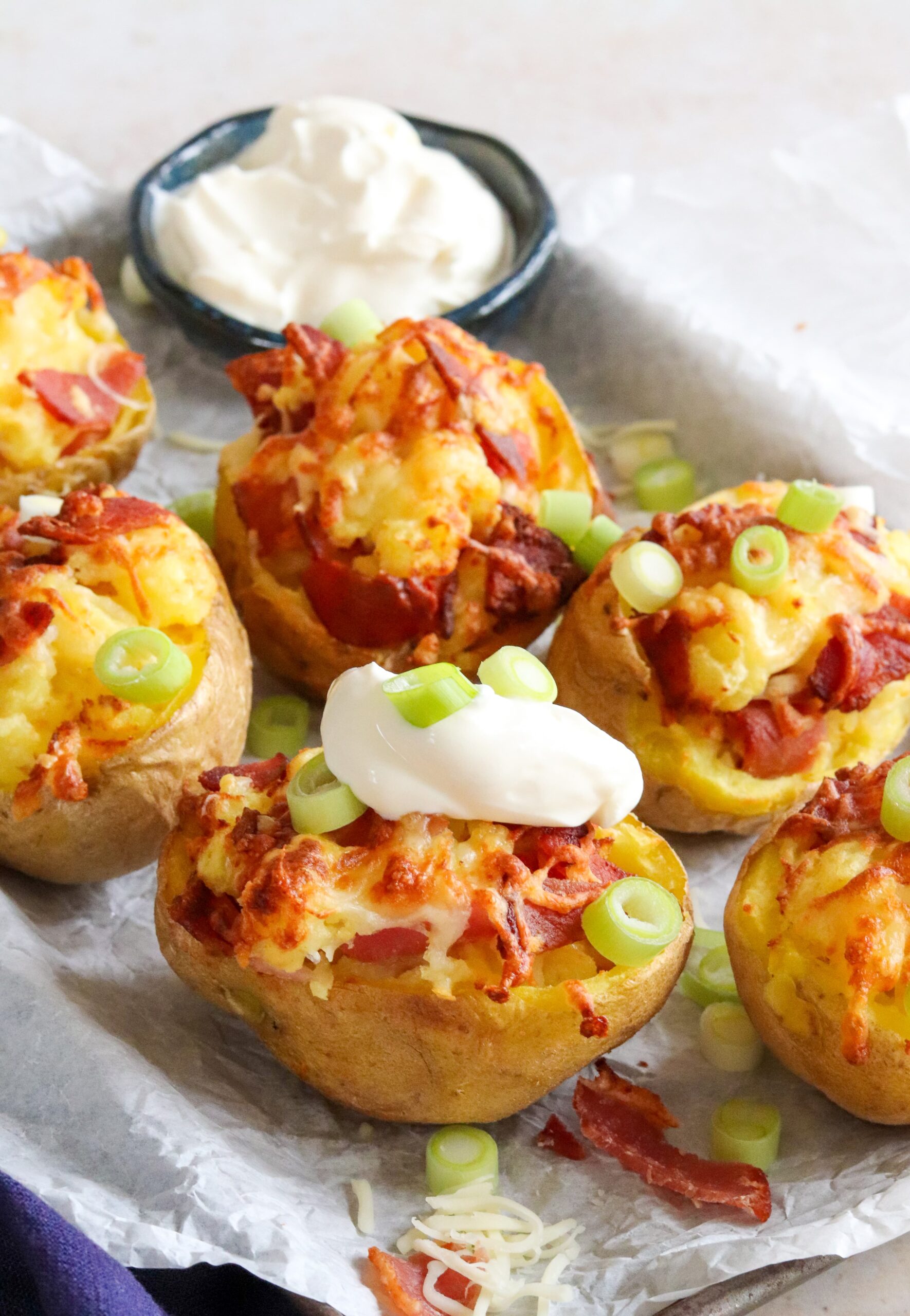 Bacon
My preference is smoked bacon, but you can obviously use unsmoked if you like. Whether you use back, streaky or medallions is also up to you. You could also use bacon lardons.
If you don't eat pork, you can use turkey, beef or meat free bacon.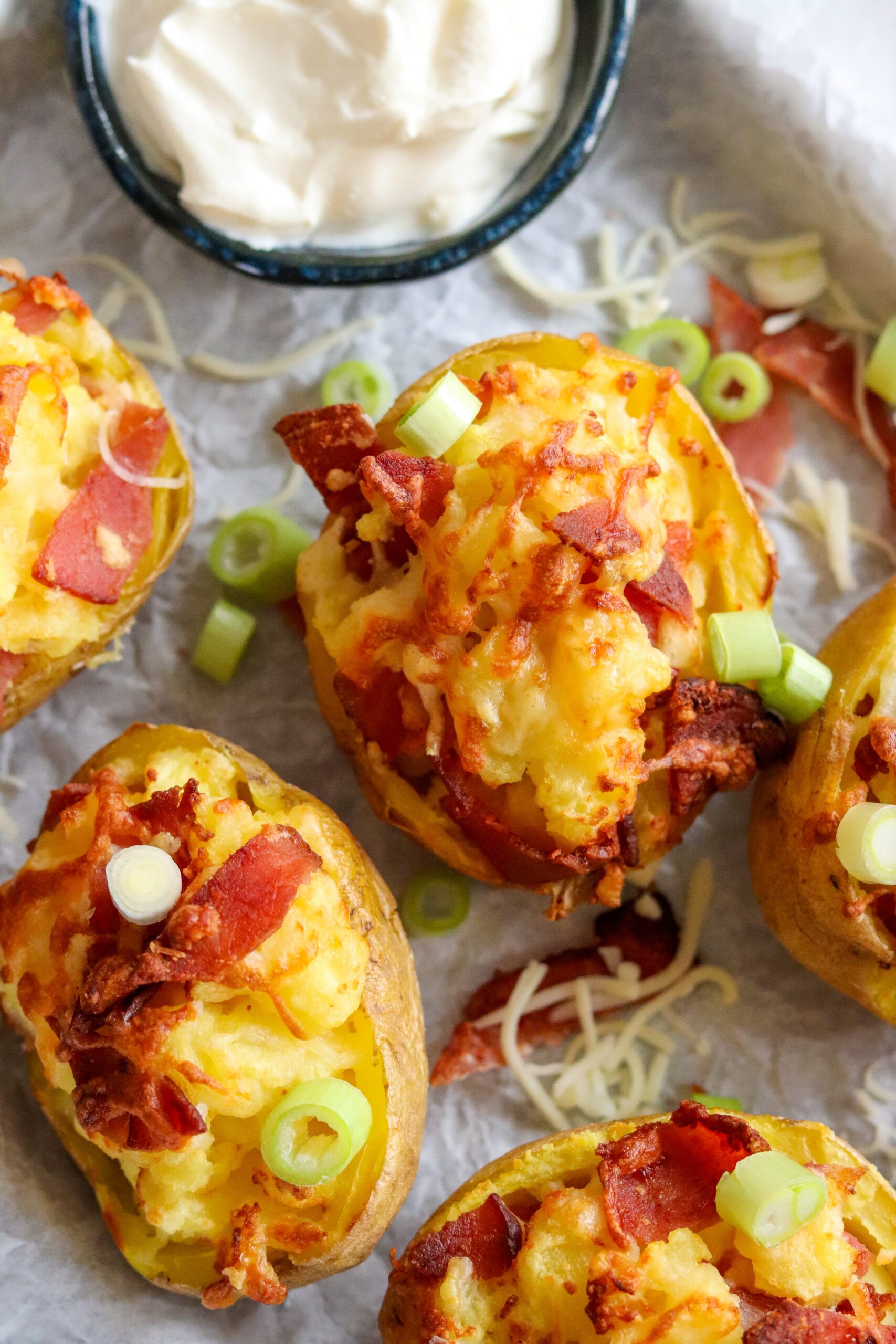 other topping ideas
You can add so many different toppings to loaded potato skins. Vegetables like mushrooms and peppers would work really well. You can air fry both of these which makes them great options.
Onions would be another tasty addition. You could sauté some onions and add these to the potato mix or alternatively you could add some sliced spring onions for some crunch.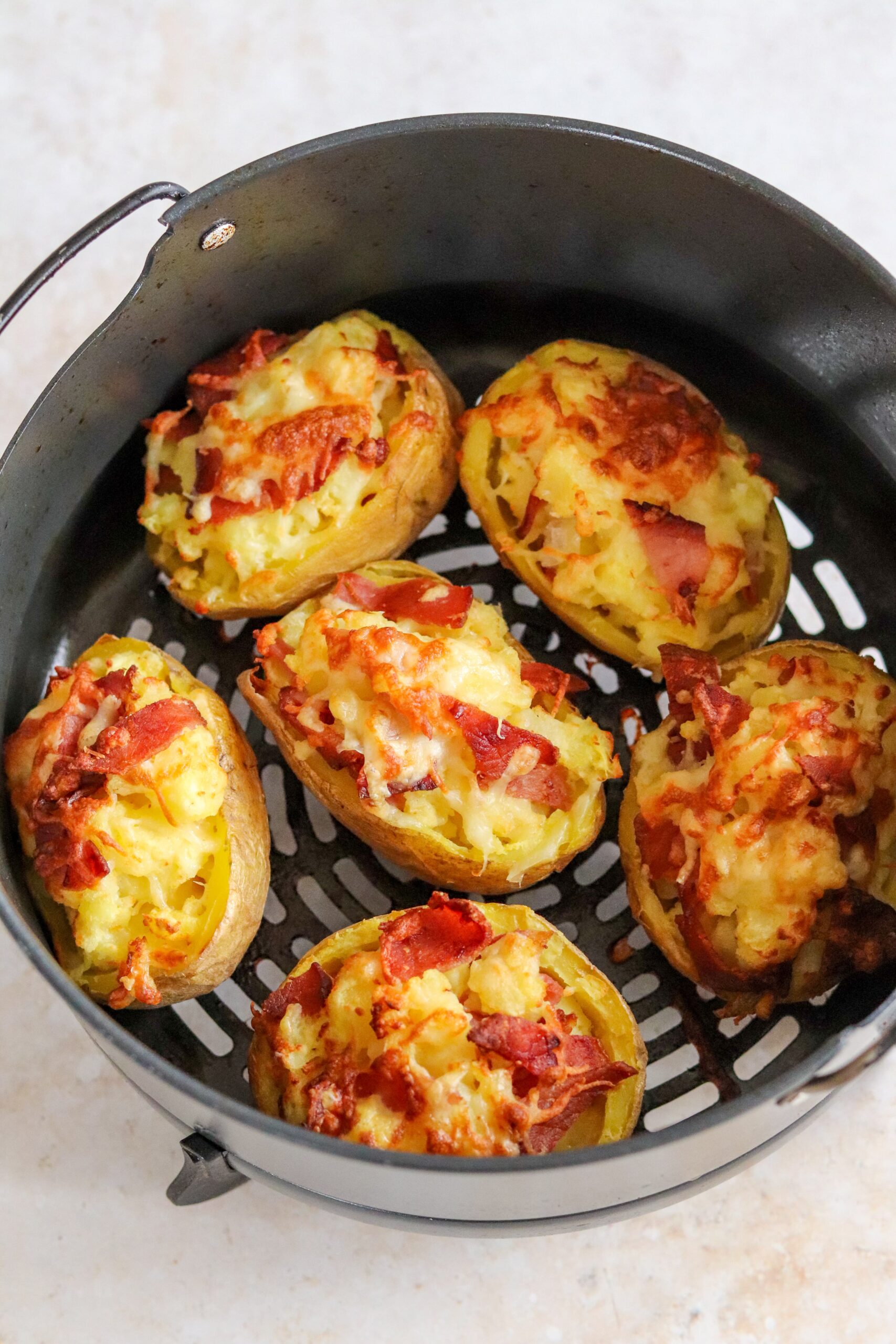 do you need to preheat an air fryer?
That depends on your air fryer, some require preheating whilst others don't. I have a Ninja 7-in-1 multicooker and I have never preheated mine.
If your air fryer does require preheating, check the bacon a few minutes sooner than the recipe states. If your air fryer is warm, food is likely to cook a few minutes faster.
You shouldn't need to preheat your air fryer again before cooking the potato skins because it should still be warm enough. However if you do need to, check the potato skins a few minutes earlier than the recipe states.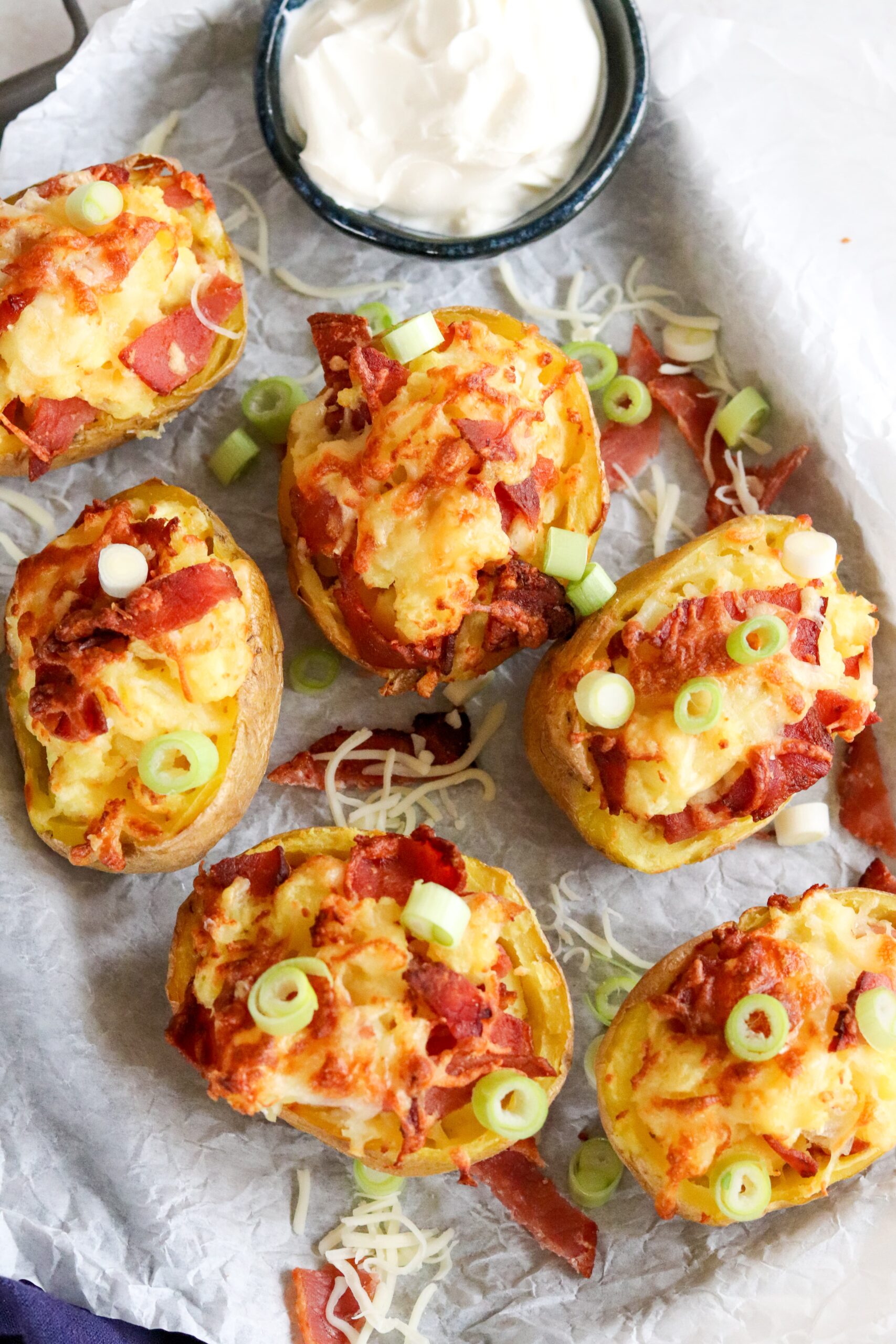 can you use an air fryer liner?
Air fryer liners are a great time saving addition because they are usually easier to wash than the basket of your air fryer.
Most reusable air fryer liners are silicone and although they are handy to have, I wouldn't recommend using them for all recipes.

As air frying bacon can create a bit of a mess in the drip tray, you could cook the bacon using a liner although it may take a couple more minutes to crisp up.
I wouldn't necessarily use a liner for cooking the actual potato skins as these make very little mess and will crisp up better without one.
I've written a whole post on whether you should use an air fryer liner, check it out for more information.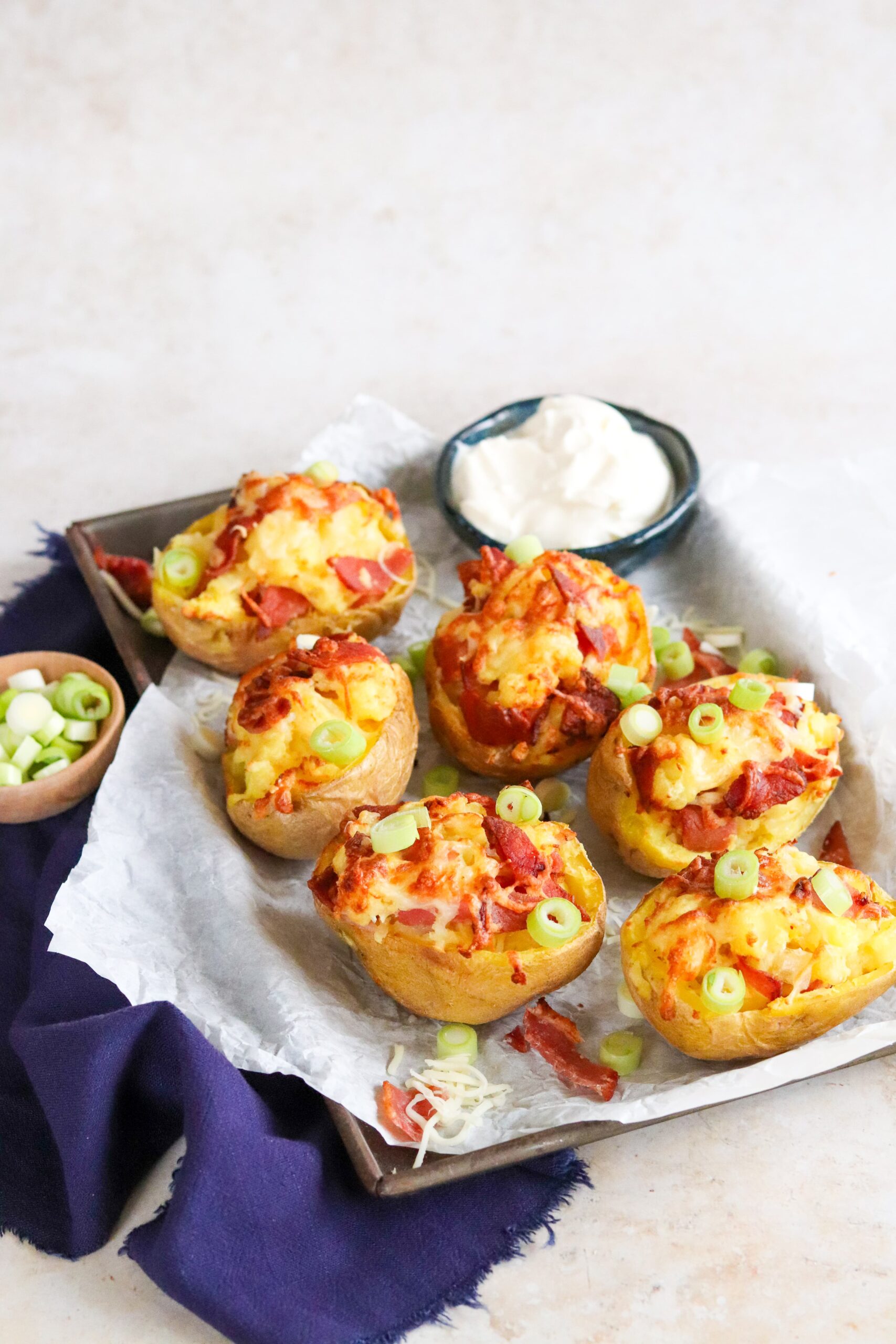 how to store & reheat the potato skins
You can prepare these air fryer loaded potato skins in advance so they are all assembled and store them in the fridge until you are ready to air fry. They should keep well covered in the fridge for eight hours or so.
Once they are cooked, store any leftovers in the fridge for up to two days. They can be eaten cold, but I prefer to reheat them.
Just add them to your air fryer and cook for 8 minutes or until they are completely heated through.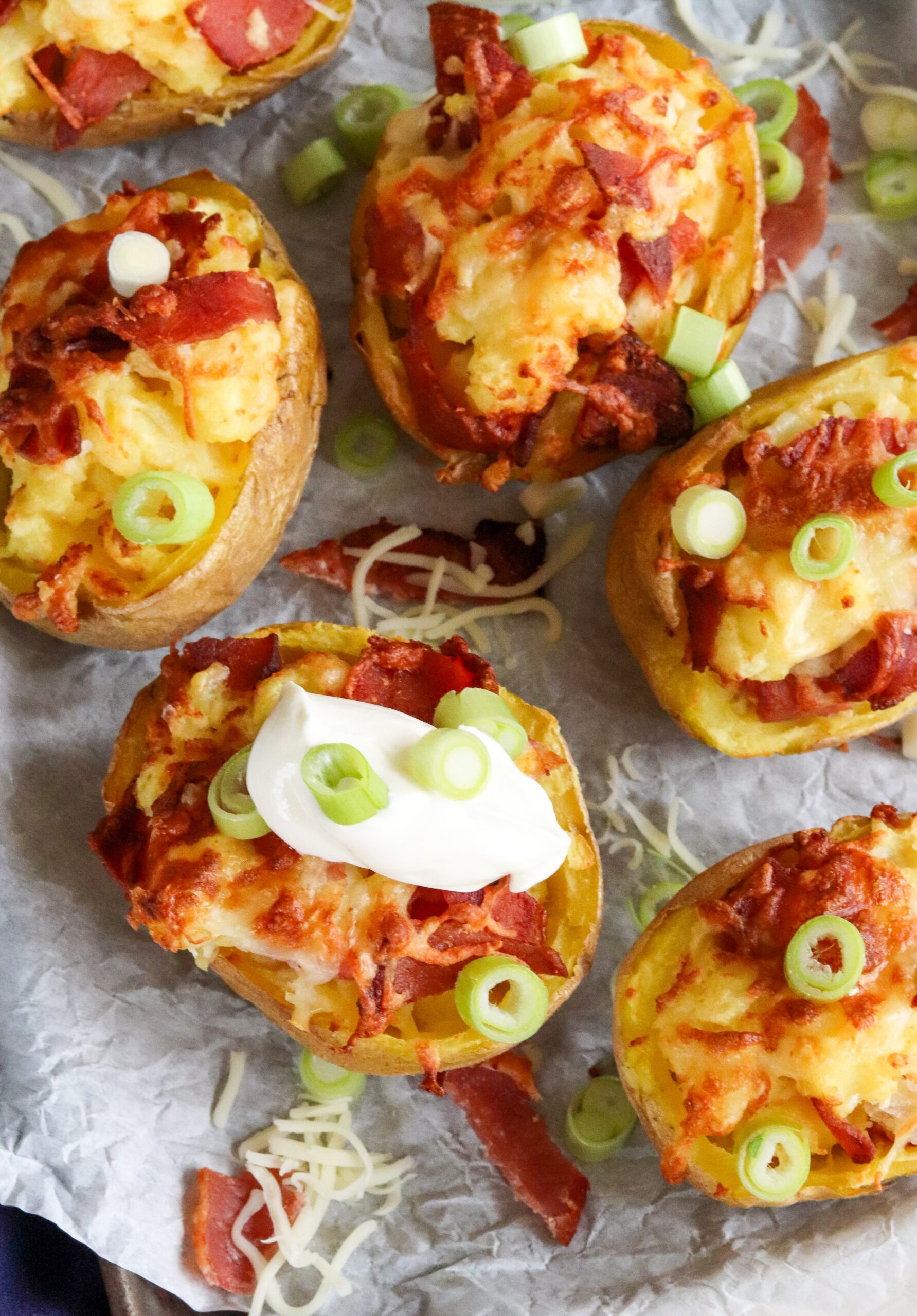 how to serve AIr fryer loaded potato skins
These potato skins make a great appetiser served with a dollop of sour cream and a sprinkling of spring onions. I would recommend one to two potato skins per person.
You could also serve them as a main course. Coleslaw or a salad like my Stilton, Apple & Walnut Salad would be a great accompaniment.
These potato skins would also be a great addition to a buffet alongside some Air Fryer Sausage Rolls and Honey & Mustard Cocktail Sausages.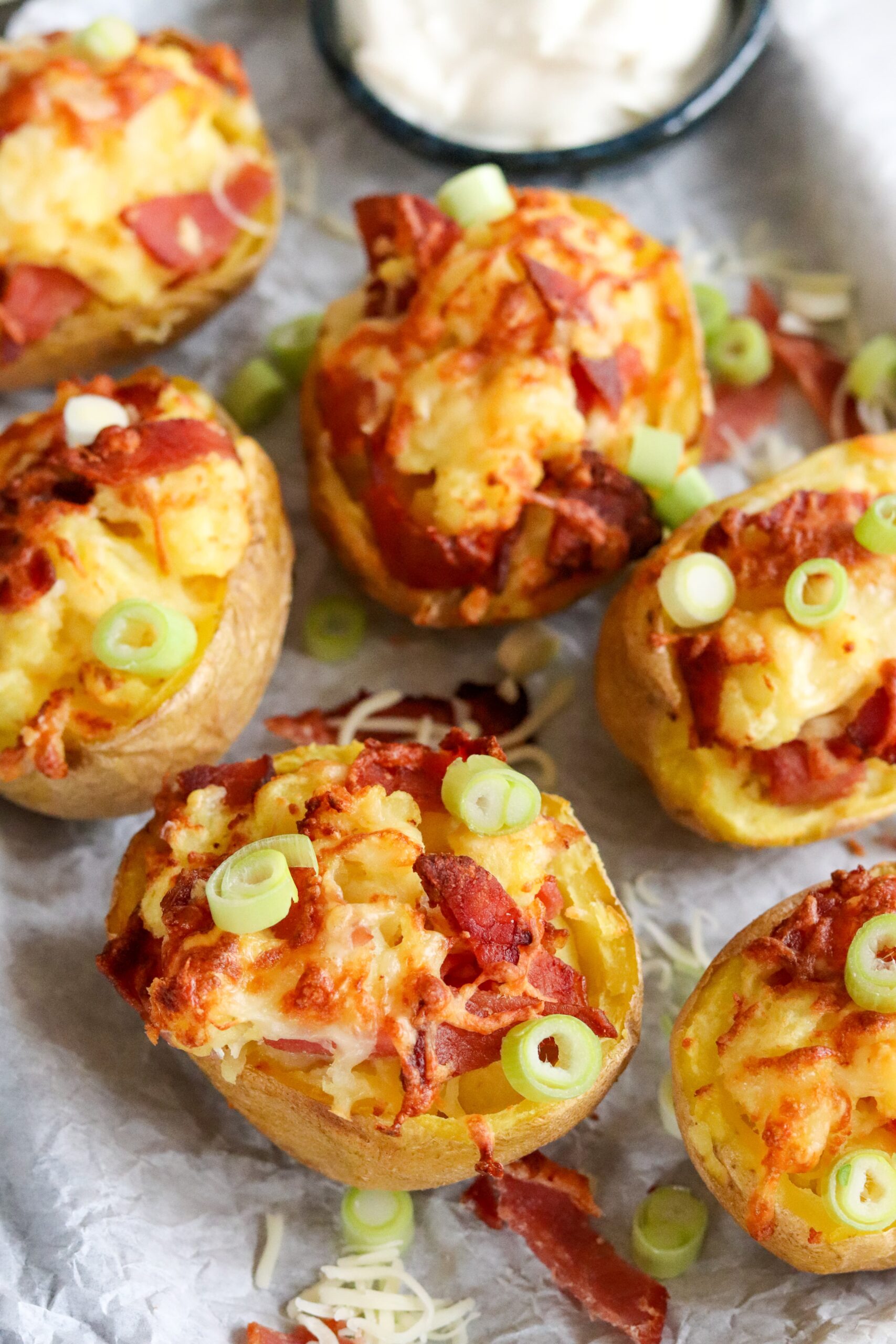 Other recipes you might like
Pin for later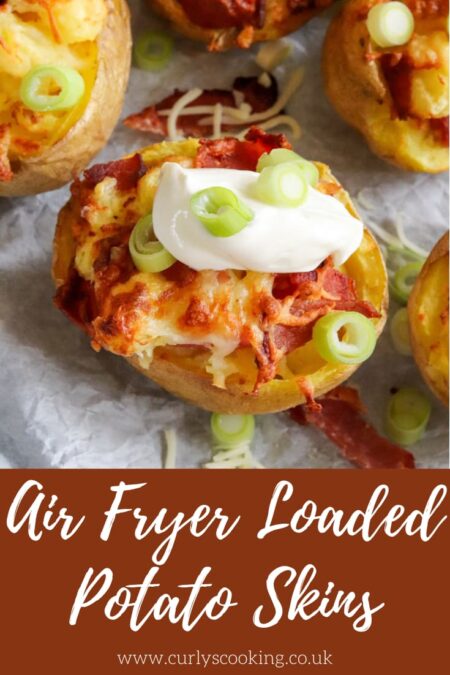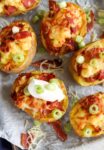 Air Fryer Loaded Potato Skins
Stuffed with potato, cheese and bacon – what's not to love about these Air Fryer Loaded Potato Skins?! Simple to make and super delicious, they make a great appetizer, addition to a buffet or game day snack.
Ingredients
3

medium

potatoes

approx 200g each

4

rashers

bacon

50

g

cheddar

grated

50

g

mozerella

grated

1

tsp

sea salt
Instructions
Preheat your air fryer if needed

Prick 3 medium potatoes and cook in the microwave for 10 minutes

Cook 4 rashers of bacon in your air fryer at 190°C for 8-10 minutes. Once cooked, cut into small pieces and set aside

Once the potatoes are cooked, leave them to cool in the fridge for 15 minutes

When the potatoes have cooled enough to handle, cut each potato in half. Scoop out the middle of the potatoes into a bowl making sure you leave a small border

Add 45g cheddar, 45g mozzarella, the bacon and 1 tsp sea salt to the bowl with the potato. Mix gently to prevent the potato from clumping together

Scoop the potato mixture back into the skins – you might need to press it down slightly to fit it all in

Sprinkle the top of each potato skin with the remaining 5g cheddar and 5g mozzarella

Place the potato skins in your air fryer and cook at 180°C for 10 minutes
Recipe Notes
Make sure your potatoes are cool enough to handle before scooping out the middle. Putting them in the fridge to cool more quickly can help.
If your air fryer requires preheating, check the potato skins a couple of minutes before the recipe states.
Nutritional information is given as a guide only and my vary.
Nutrition Facts
Air Fryer Loaded Potato Skins
Amount Per Serving
Calories 190
Calories from Fat 153
% Daily Value*
Fat 17g26%
Cholesterol 36mg12%
Sodium 1078mg47%
Potassium 71mg2%
Carbohydrates 1g0%
Protein 8g16%
Vitamin A 178IU4%
Calcium 120mg12%
Iron 0.2mg1%
* Percent Daily Values are based on a 2000 calorie diet.