These Air Fryer Roasted Vegetables are really simple to make and easily customisable. They make a delicious accompaniment to so many different meals.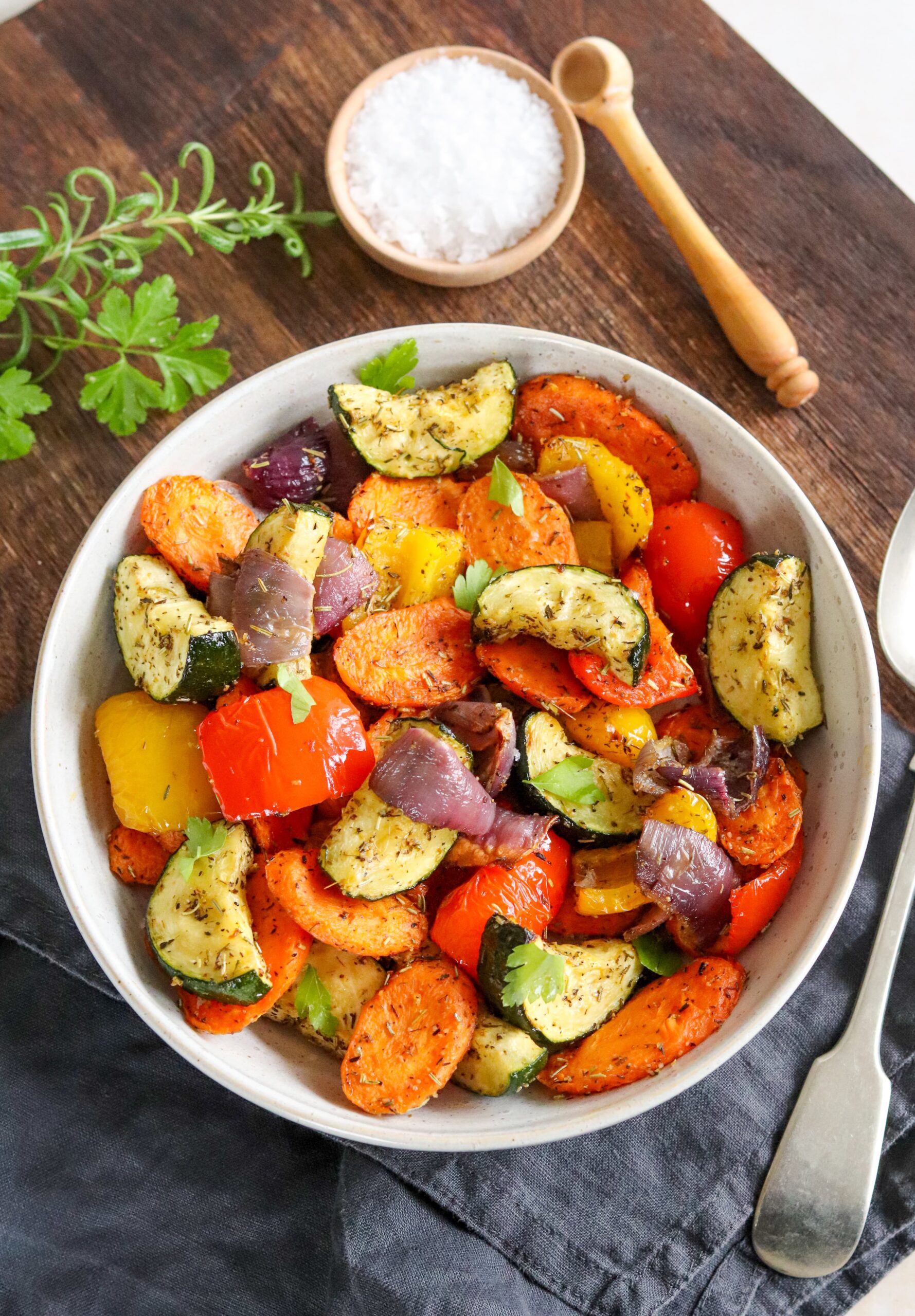 WHY USE AN AIR FRYER AND NOT AN OVEN?
Air fryers cook food quicker than a standard convection oven which is great for saving energy and pennies but also for busy families that want to be able to cook food quickly.
Another advantage is that air fryers are smaller than ovens and grills so you're not heating up a full-sized oven and instead a smaller air fryer. This means you're using less energy because you're heating up a smaller appliance as well as cooking the food faster.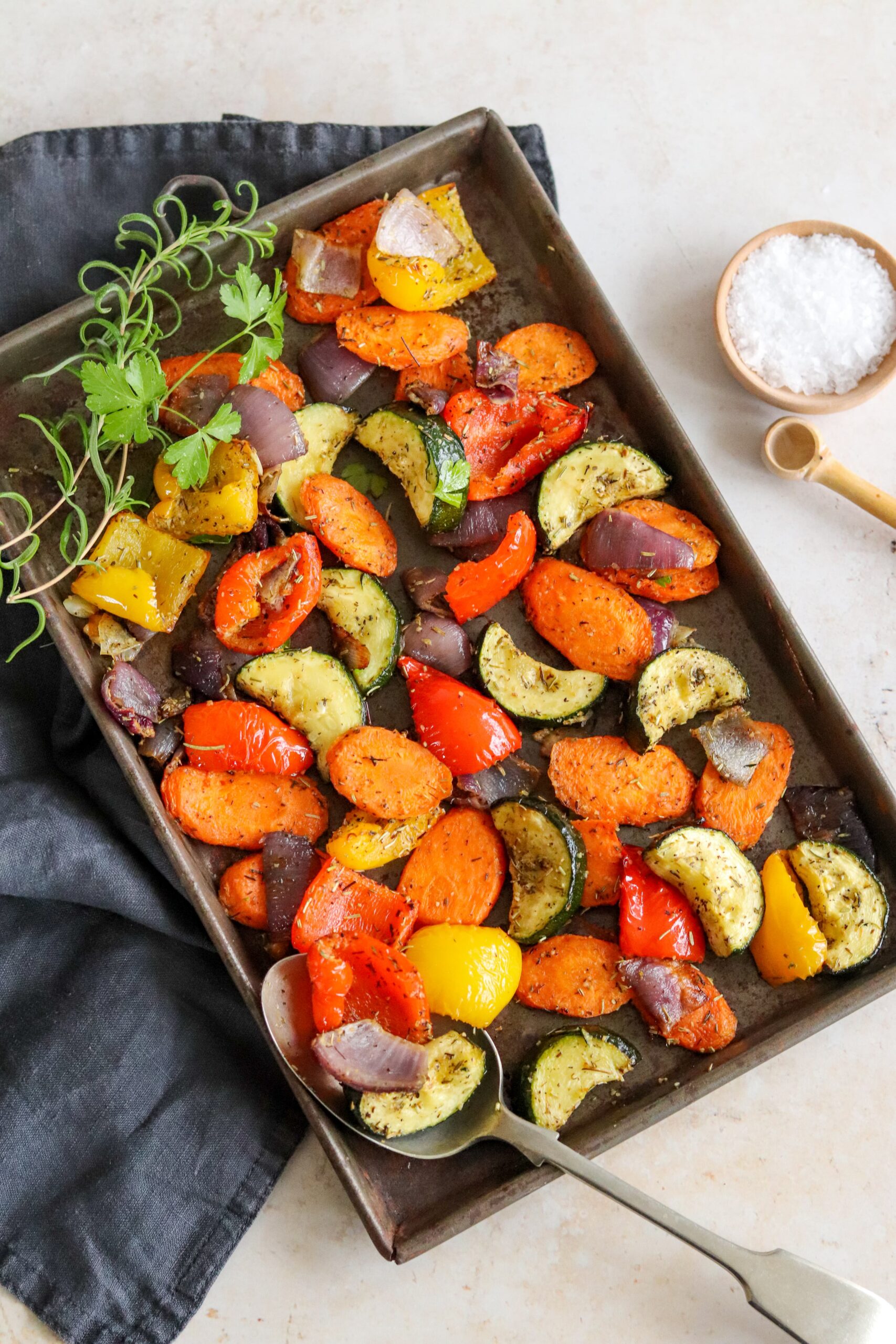 which vegetables to use
One of the great things about this recipe is it is very customisable. I usually use carrot, courgette, pepper and onion but you can use so many different vegetables.
You can keep it simple and use a couple of vegetables or use lots of different ones. I personally like to use roasted vegetables as a great way to use up whatever vegetables I have that need using up.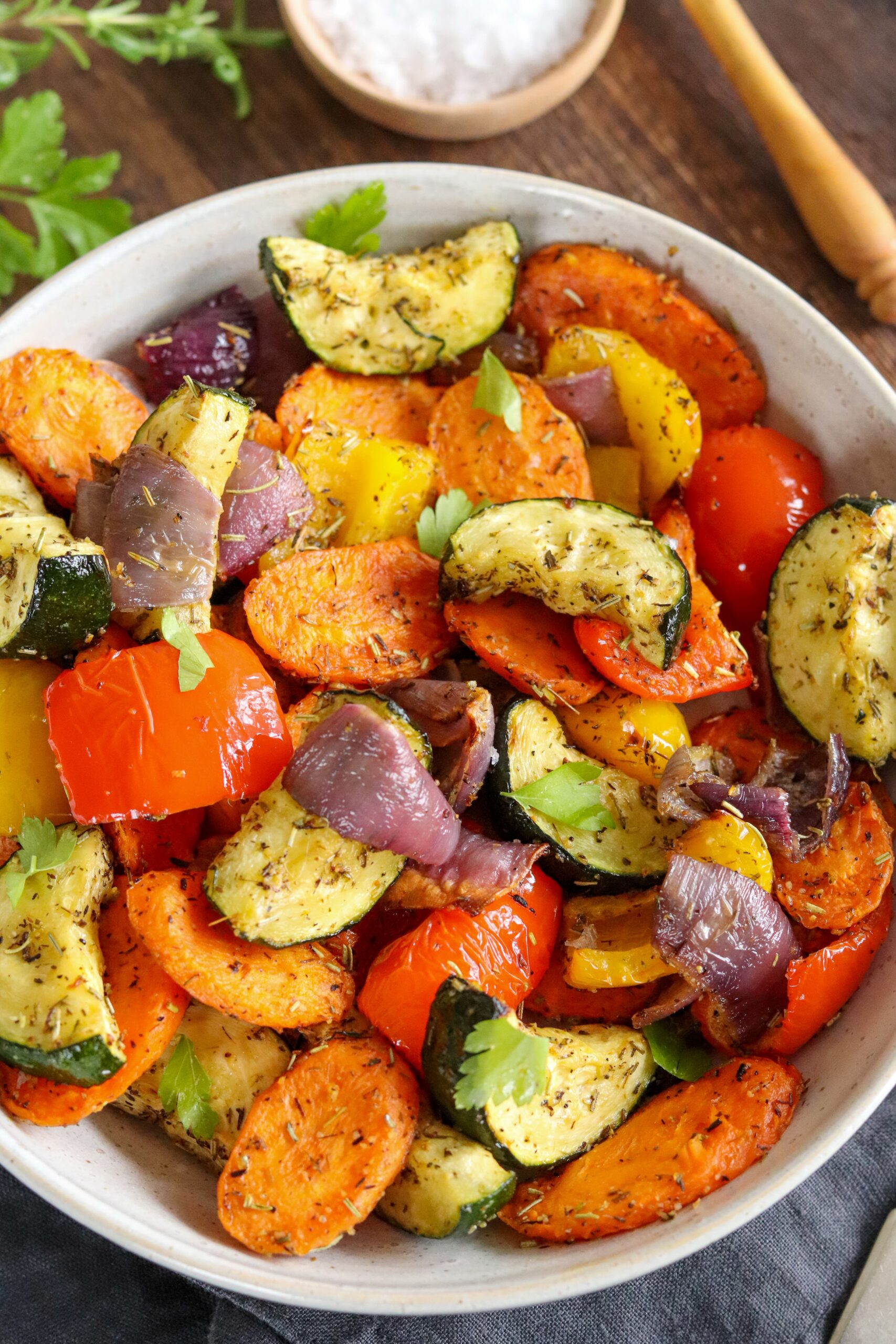 Vegetables that aren't at their peak freshness really benefit from being roasted. This is also why the quantities are quite vague in the recipe. It really is very adaptable to what you have on hand.
Parsnips, butternut squash, sweet potatoes, celeriac and mushrooms would all be tasty options to include.
I personally wouldn't add broccoli to this recipe because it cooks far quicker than the other vegetables. Instead I would try my Air Fryer Parmesan Tenderstem Broccoli.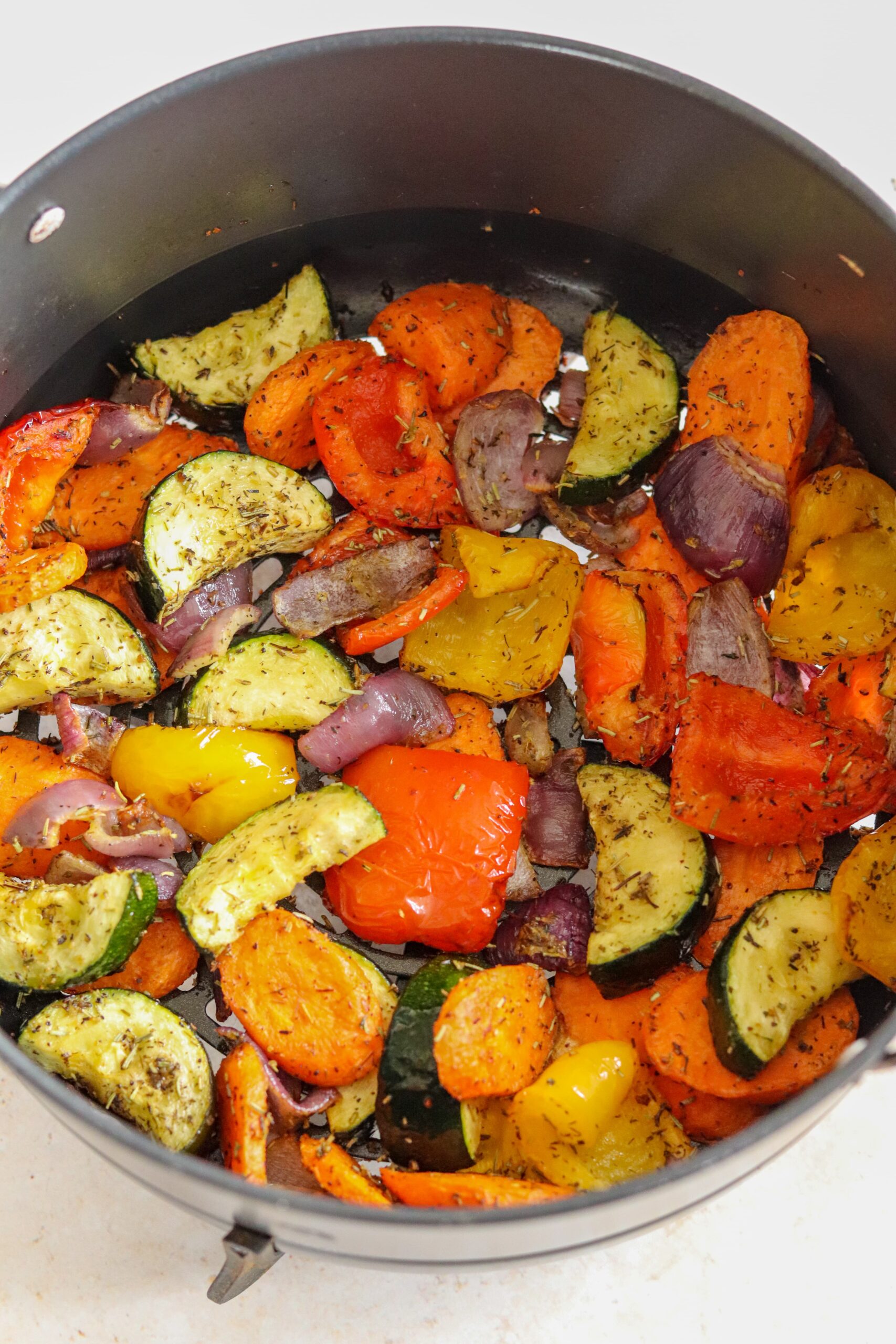 How to cut the vegetables
The only thing to keep in mind when making these air fryer roasted vegetables is how long different vegetables take to cook.
A piece of carrot is going to take longer to cook then a slice of courgette for example. Therefore you need to cut the vegetables to reflect this.
Still using the carrot and courgette as an example; I cut the carrots into smaller, thinner slices because they take longer to cook. And then the courgettes cook quicker so I cut them into larger chunks.
Don't cut anything that cooks relatively quickly too small because the vegetables shrink as they air fry. I cut onions bigger than I think I want them because they always surprise me how much they shrink.
With regards to shapes, you can cut the vegetables in chunks or slices, whichever you fancy.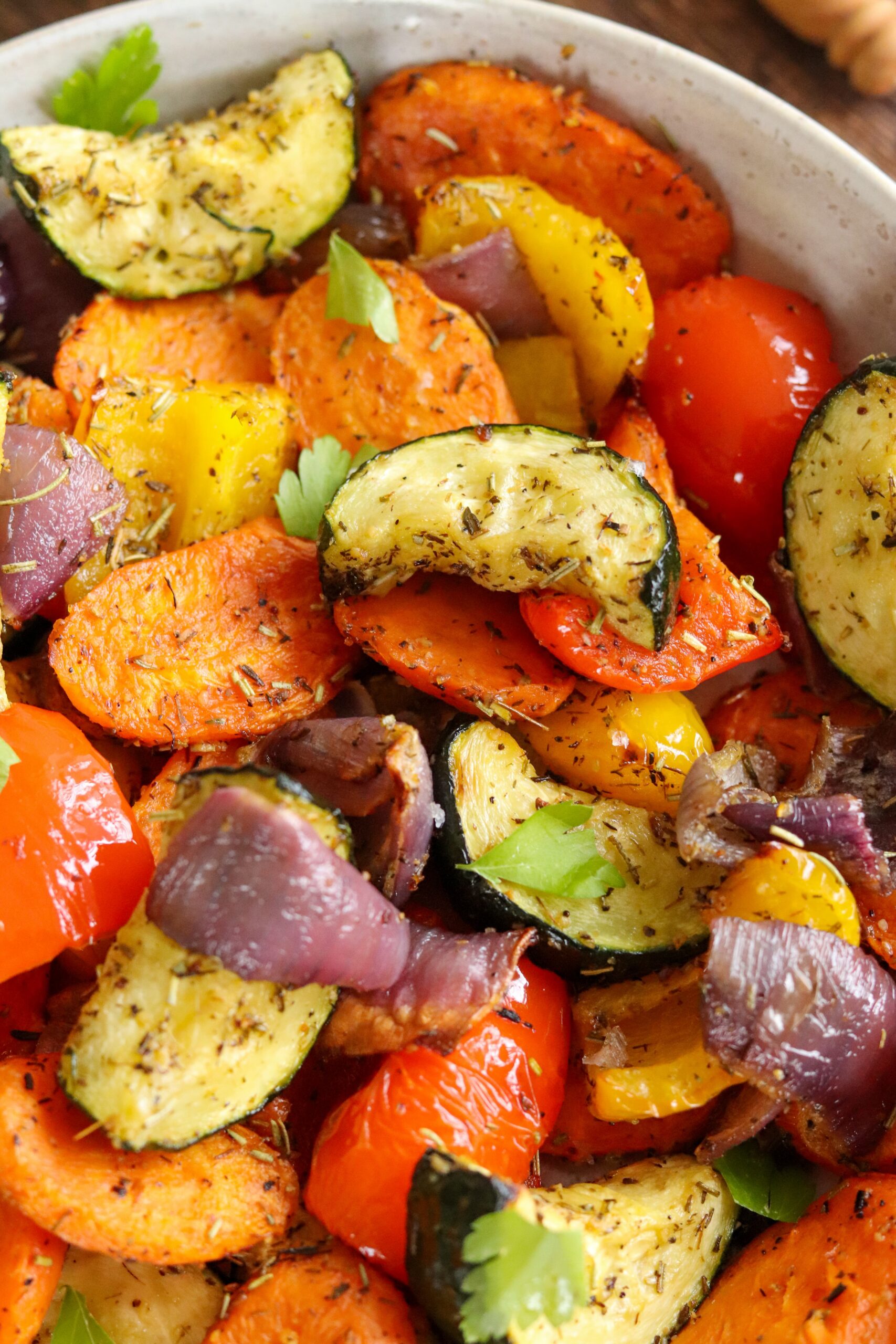 which herbs & garlic to use
Usually I keep the flavours of my air fryer recipes really simple. But I splashed out and added some dried herbs and garlic granules to these roasted vegetables.
I like to use dried rosemary and thyme because I think they work really well with the vegetables. Dried herbs are really convenient because they're always in the cupboard but you could definitely use fresh herbs instead.
Dried herbs tend to be stronger than fresh herbs so you need to use less. If you are using fresh herbs I would use more than in the recipe below.
The same applies to garlic granules, they're convenient and quicker than peeling garlic. But you can definitely use fresh garlic instead.
If you are using fresh herbs and garlic, I would recommend adding them half way through the cooking time so they don't risk burning.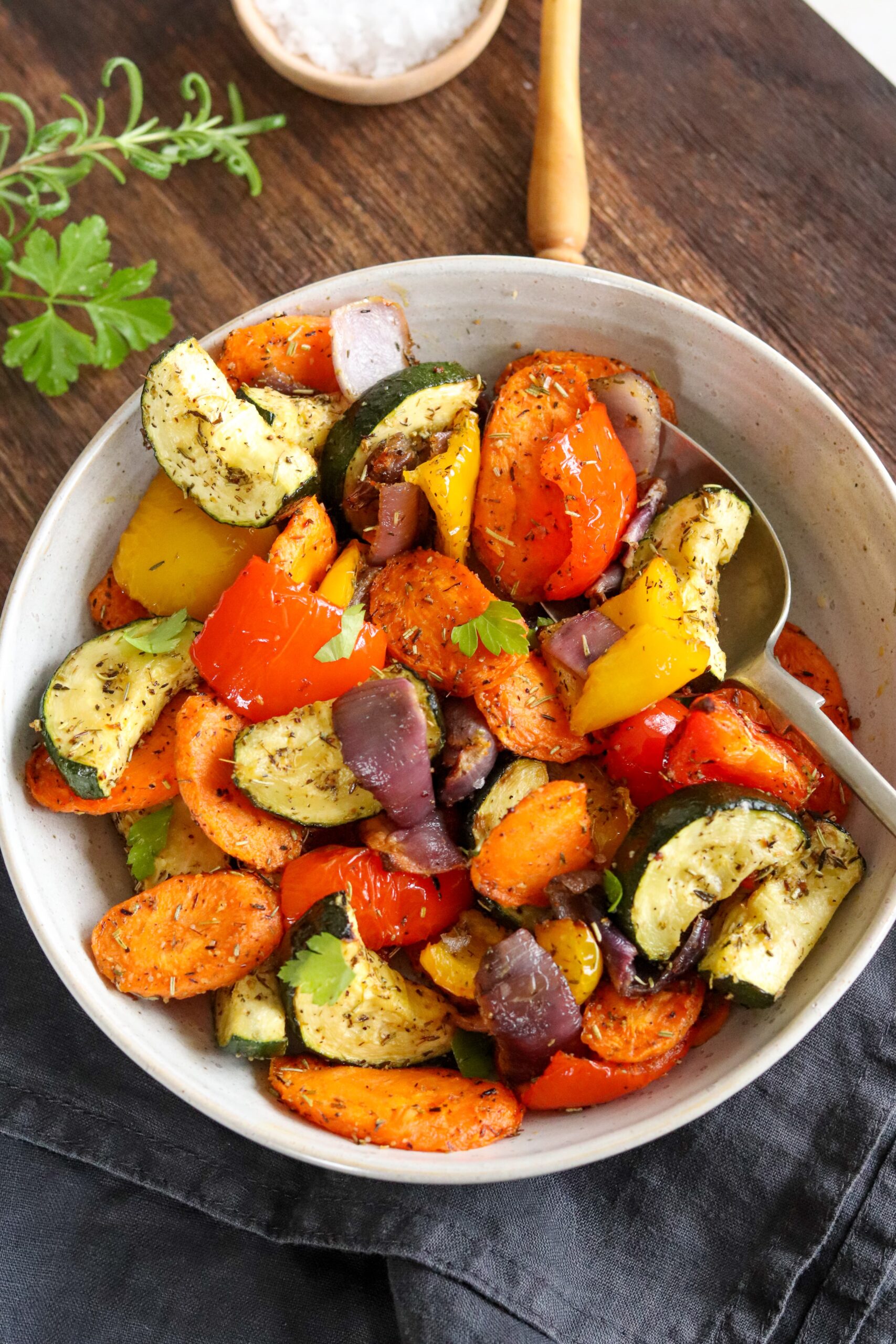 adding different flavours to the vegetables
These air fryer roasted vegetables are a great base for adding additional flavours. They are also delicious as they are just with some salt, pepper and oil.
You can switch up the herbs to whatever you think will go with the vegetables you're cooking.
Spice blends such as ras el hanout, za'atar and baharat would all work really well with the vegetables.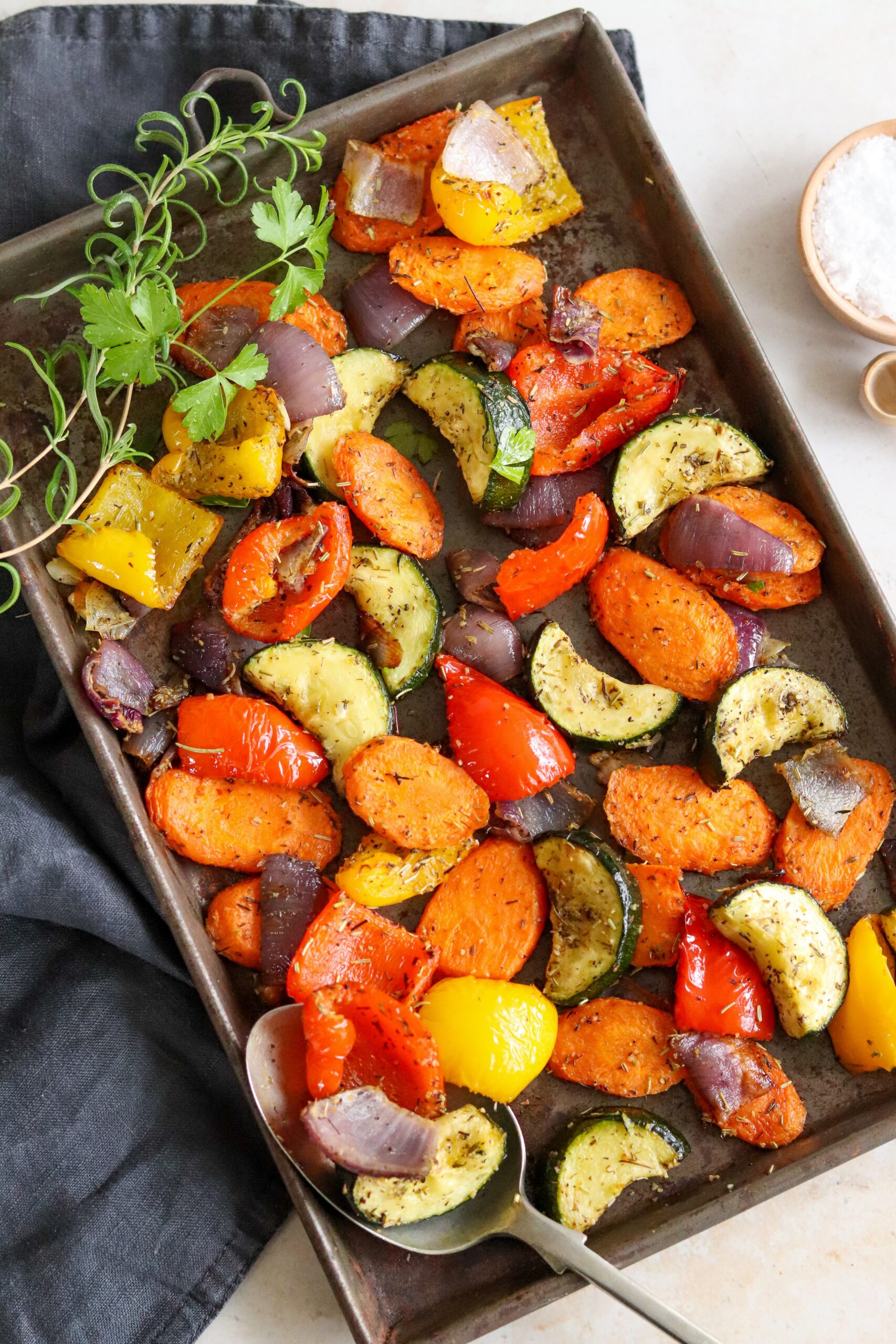 do you need to preheat an air fryer?
That depends on your air fryer, some require preheating whilst others don't. I have a Ninja 7-in-1 multicooker and I have never preheated mine.
If your air fryer does require preheating, check the vegetables a few minutes sooner than the recipe states. If your air fryer is warm, food is likely to cook a few minutes faster.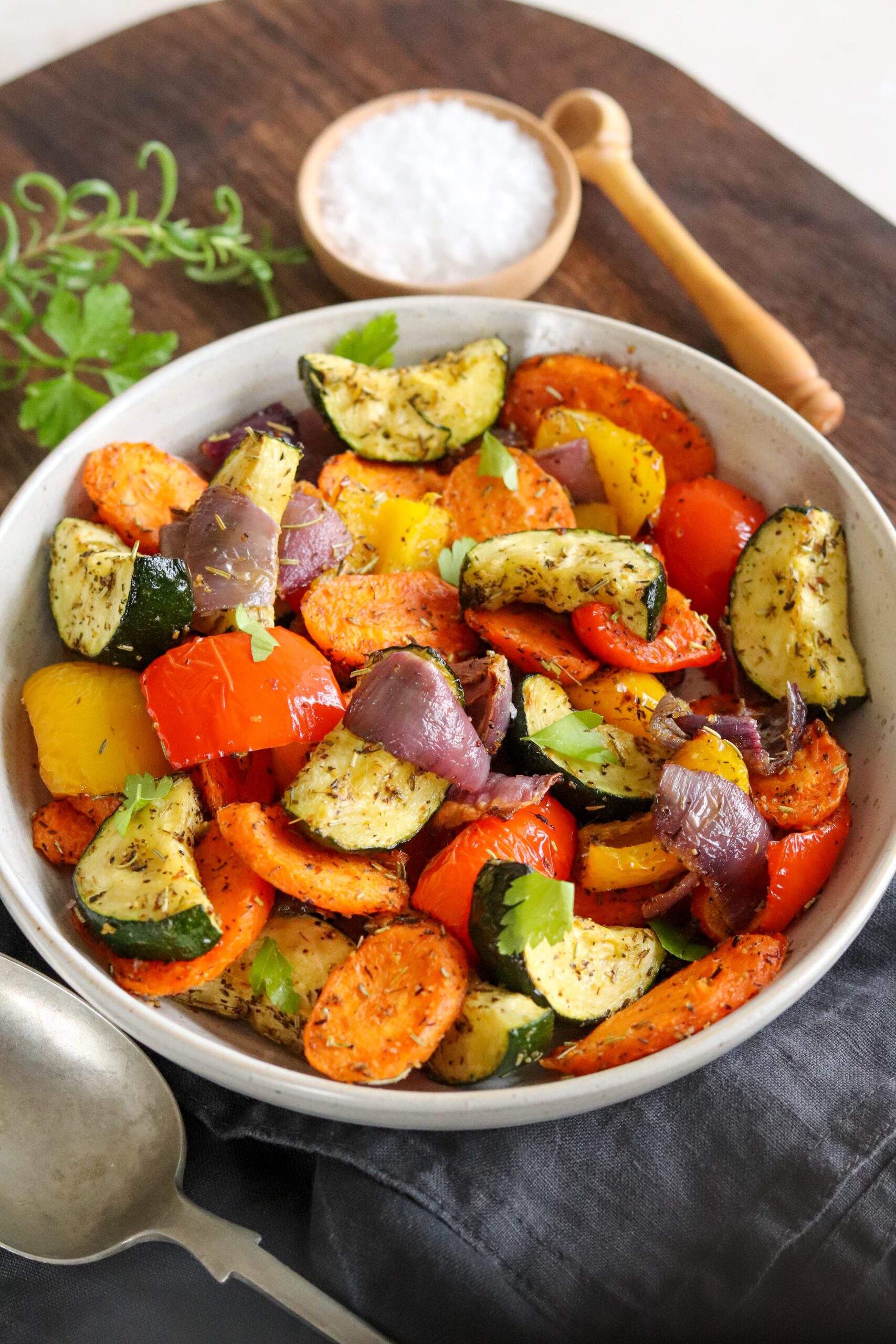 can you use an air fryer liner?
Air fryer liners are a great time saving addition because they are usually easier to wash than the basket of your air fryer.
Most reusable air fryer liners are silicone and although they are handy to have, I wouldn't recommend using them for all recipes.
You could use a liner for these roasted vegetables to make the clean up easier, however it isn't essential. The vegetables don't tend to stick to the air fryer easily.
I've written a whole post on whether you should use an air fryer liner, check it out for more information.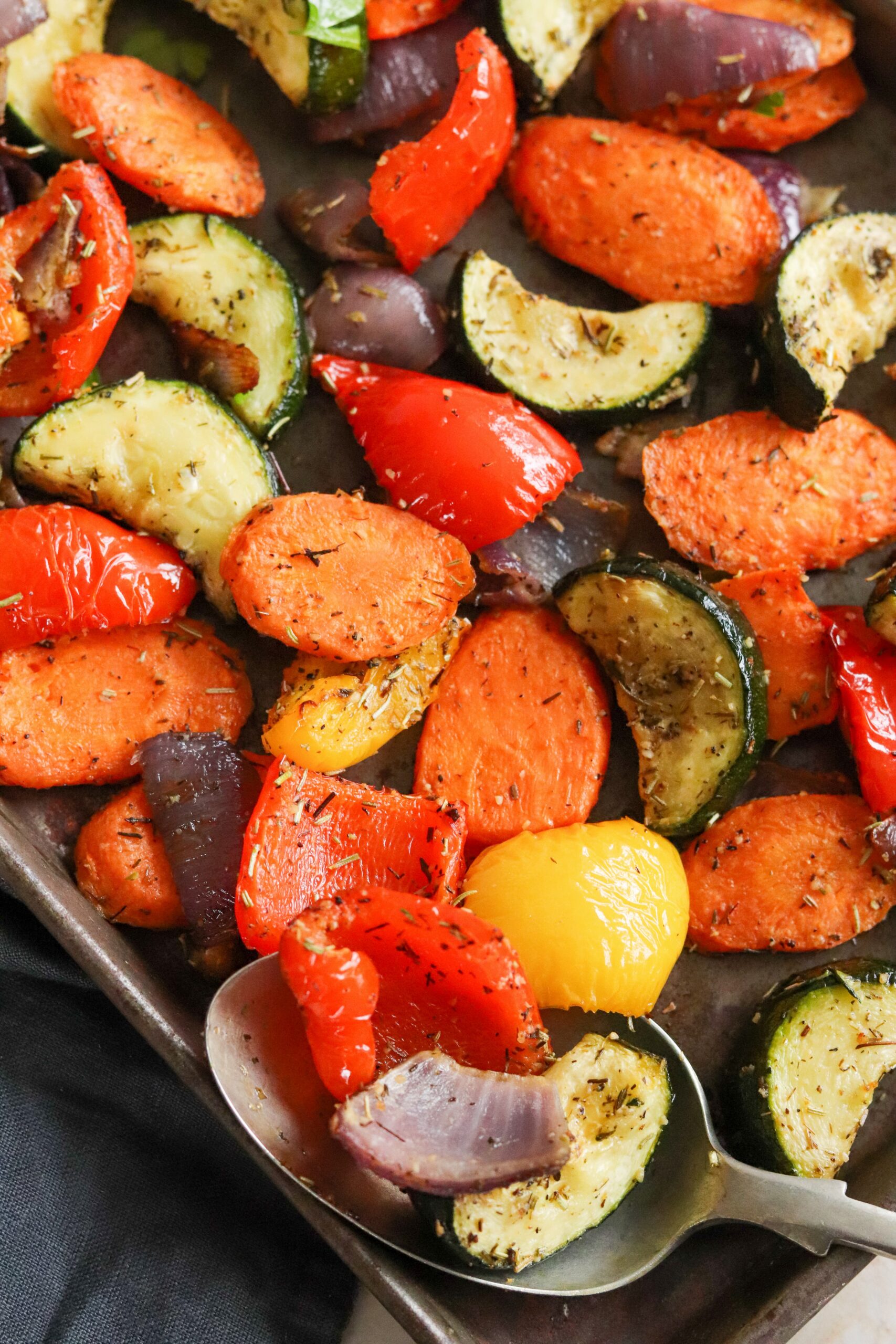 how to serve air fryer roasted vegetables
These vegetables are a great accompaniment to so many different meals. Roasting vegetables are a great way to change them up a little from how you would usually serve them.
One of my favourite ways to serve these vegetables are with a roast chicken and baby potatoes. It's lighter than a traditional roast dinner which makes it perfect for the summer months.
They also make a great addition to a barbeque, whether you are serving burgers or chicken. I prefer to cook the vegetables in the air fryer rather than the barbeque because they cook more evenly.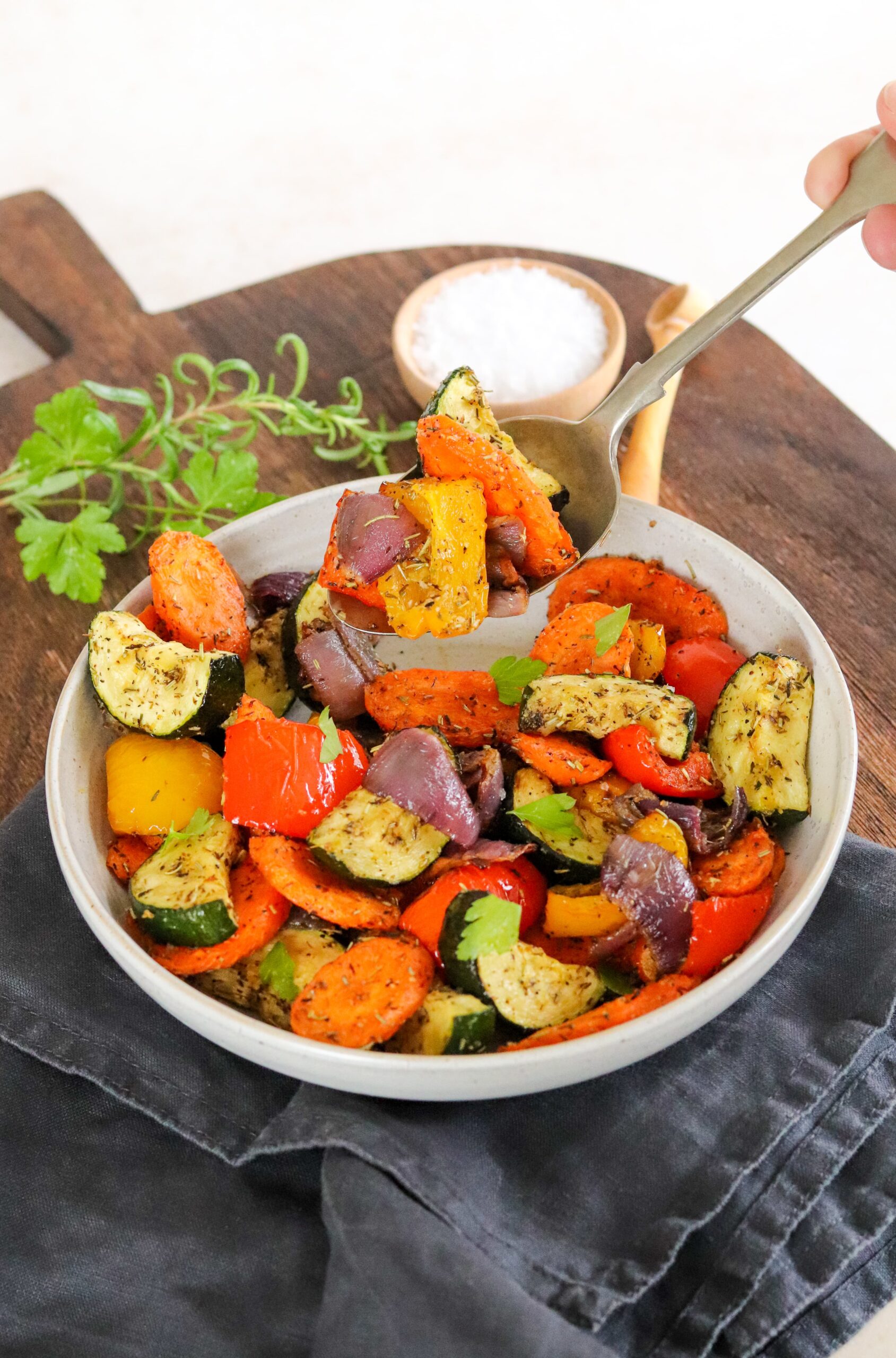 other recipes you might like
pin for later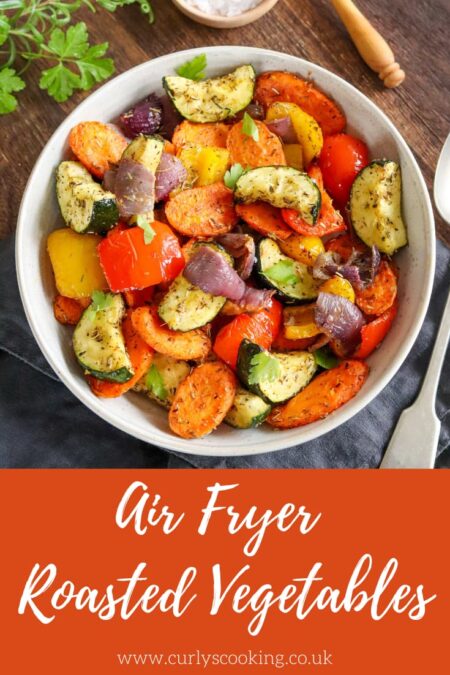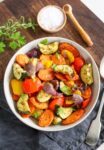 Air Fryer Roasted Vegetables
These Air Fryer Roasted Vegetables are really simple to make and easily customisable. They make a delicious accompaniment to so many different meals.
Ingredients
1

carrot

1

courgette

1

pepper

(½ red, ½ yellow)

1

small

red onion

1

tbsp

olive oil

½

tsp

sea salt

½

tsp

dried rosemary

½

tsp

dried thyme

½

tsp

garlic granules

pinch

black pepper
Instructions
Preheat your air fryer if required

Cut 1 carrot, 1 courgette, 1 pepper and 1 small red onion into similar sized pieces and add to a bowl

Drizzle over 1 tbsp olive oil, ½ tsp sea salt, ½ tsp dried rosemary, ½ tsp dried thyme, ½ tsp garlic granules and a pinch of black pepper. Toss to coat all the vegetables in the oil and herbs

Add the vegetables to your air fryer basket

Cook at 200°C for 15-20 minutes. If you don't use carrots, or prefer the vegetables to be less 'roasted', cook for 15 minutes
Recipe Notes
Nutritional information is given as a guide only and may vary.
Nutrition Facts
Air Fryer Roasted Vegetables
Amount Per Serving
Calories 64
Calories from Fat 36
% Daily Value*
Fat 4g6%
Sodium 307mg13%
Potassium 275mg8%
Carbohydrates 7g2%
Protein 1g2%
Vitamin A 2761IU55%
Vitamin C 36mg44%
Calcium 25mg3%
Iron 1mg6%
* Percent Daily Values are based on a 2000 calorie diet.