These Air Fryer New Potatoes are a really simple and delicious way to elevate the humble new potato. Once you have air fried them I doubt you will simply boil your new potatoes again.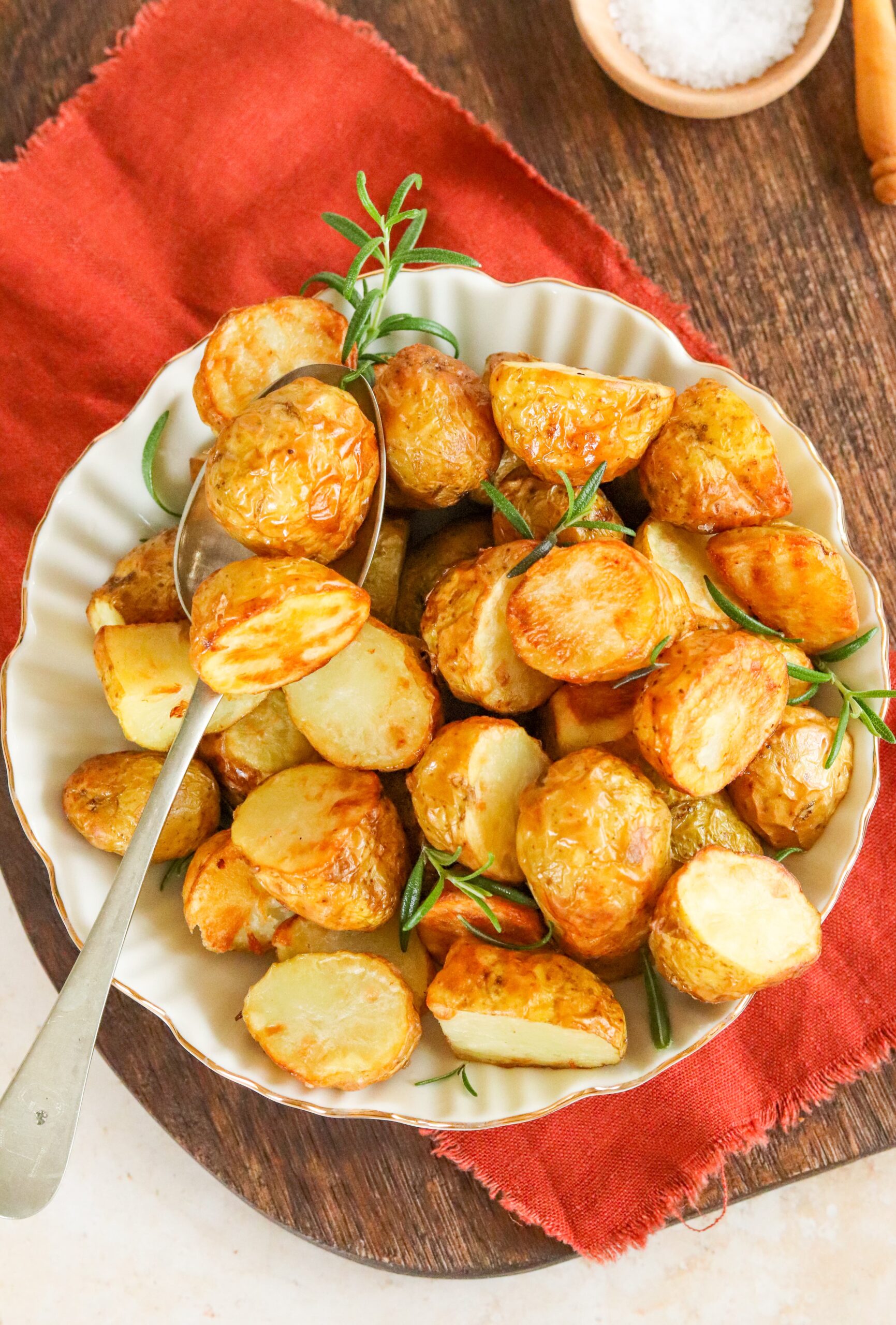 WHY USE AN AIR FRYER AND NOT AN OVEN?
Air fryers cook food quicker than a standard convection oven which is great for saving energy and pennies but also for busy families that want to be able to cook food quickly.
Another advantage is that air fryers are smaller than ovens and grills so you're not heating up a full-sized oven and instead a smaller air fryer. This means you're using less energy because you're heating up a smaller appliance as well as cooking the food faster.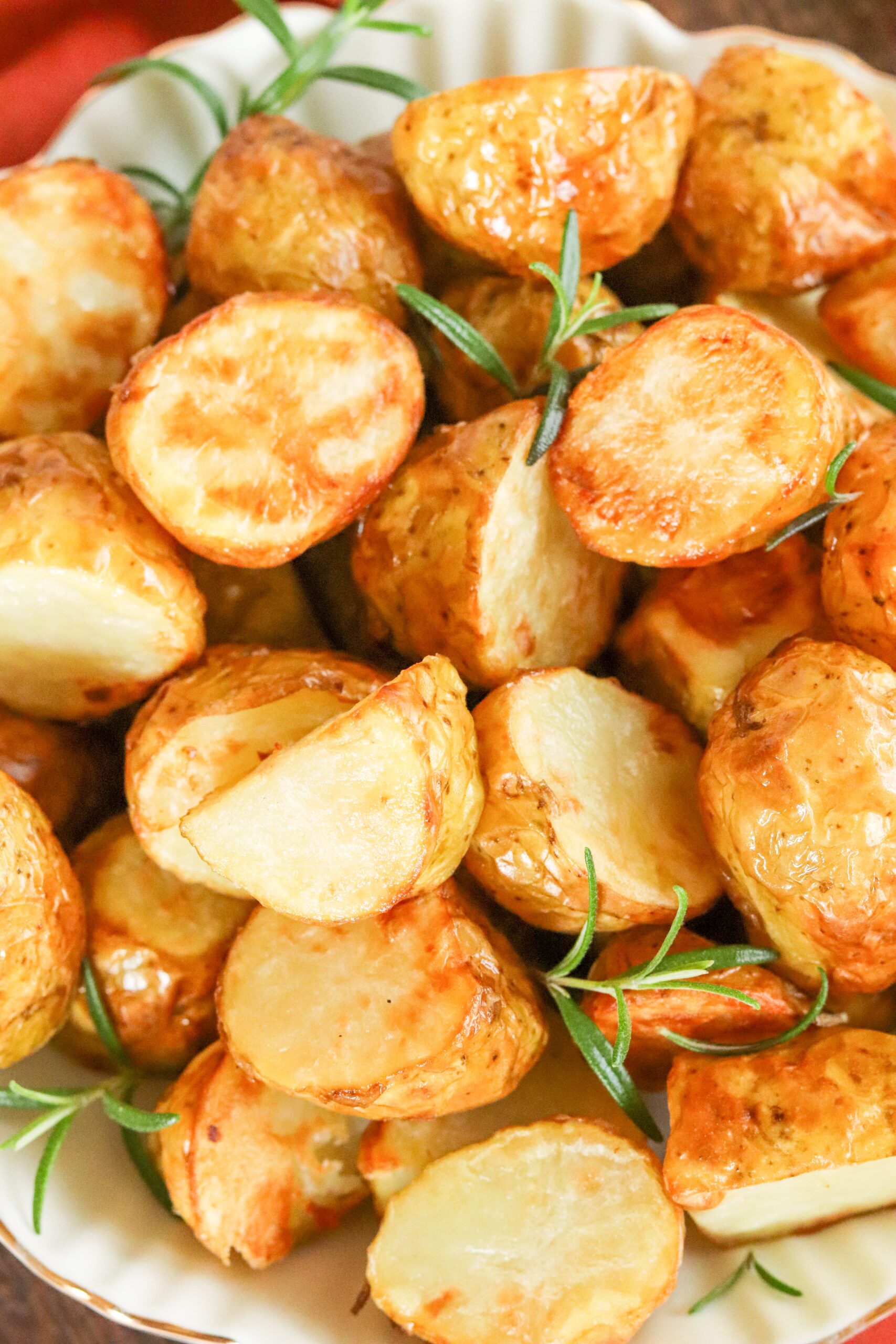 Which potatoes are best to use for air fryer new potatoes?
New potatoes are any variety of potatoes that have been harvested while they are young, before they have reached their full size.
They are usually sold under a few names rather than specifically their variety. Look out for salad and baby potatoes as well as new potatoes. Any would work for this recipe.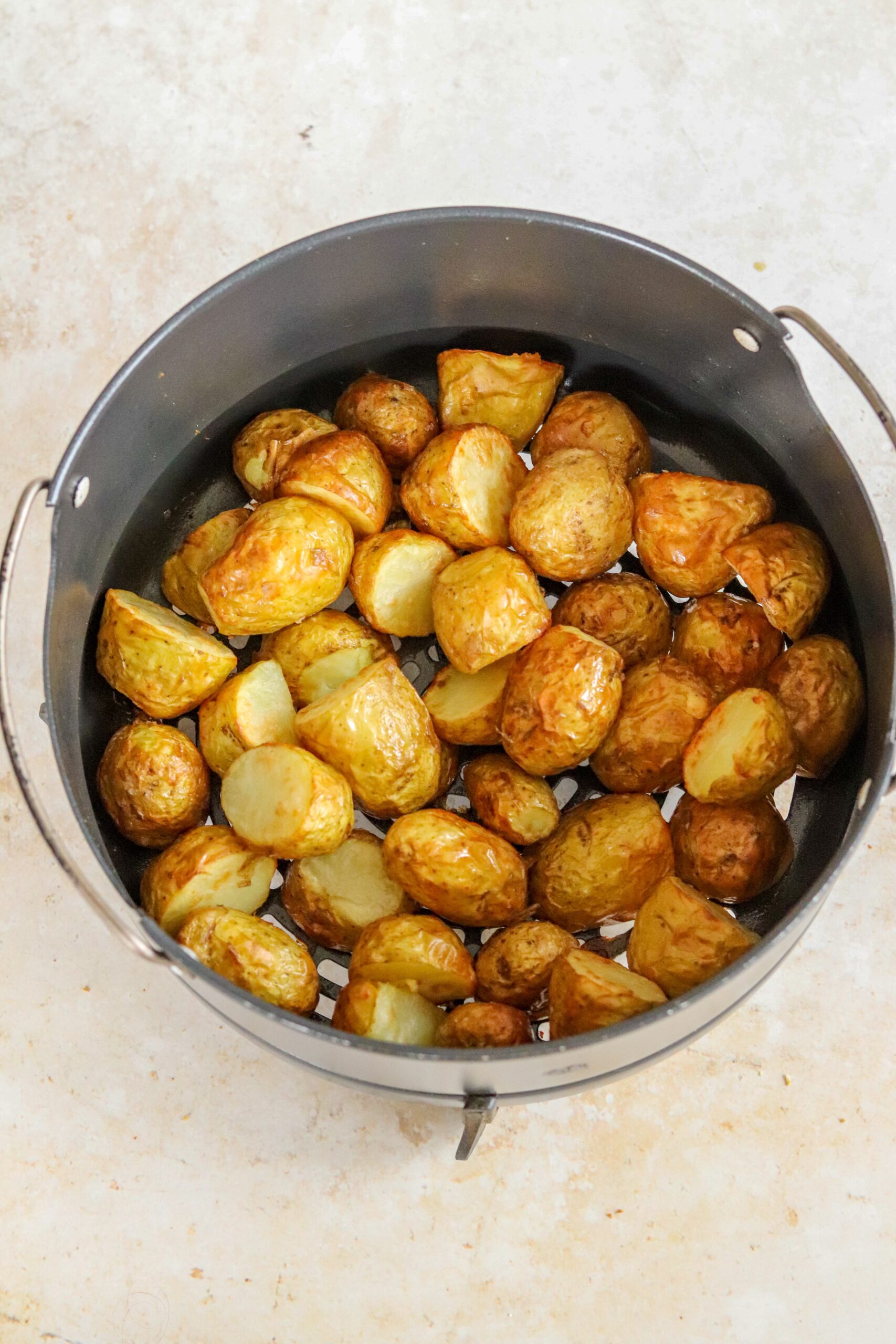 Here are some types of new potatoes that would work well for these Air Fryer New Potatoes:
Jersey Royals – some of the most well known new potatoes in the UK. They are a unique potato with a subtle nutty flavour grown on the Island of Jersey in the English Channel.
Charlotte – these are another popular new potato in the UK often used for making potato salad
Anya – another nutty flavoured potato with a longer, more knobbly appearance
Baby – this is a generic name given to small new potatoes. As the name suggests these are quite small so you may decide to leave them whole
Salad – another generic term for new potatoes. Charlotte potatoes are often labelled as salad potatoes
Fingerling – these are varieties of potatoes more commonly found in the US. They are longer and knobbly similar to Anya potatoes
Depending on which variety of potato you use, you might decide to cut the potatoes into smaller pieces, or not cut them at all. Use your own judgement.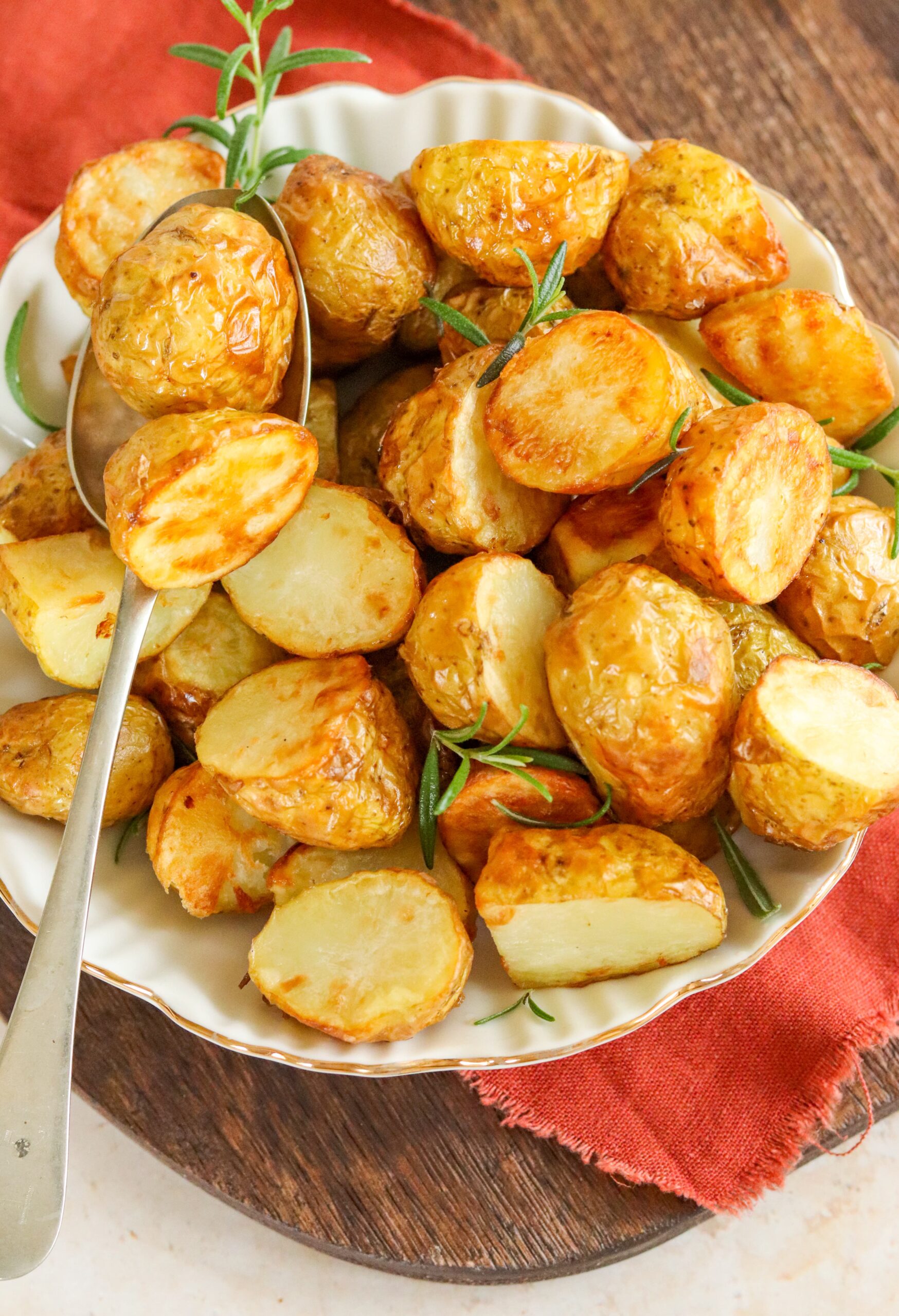 Adding extRa flavours to your potatoes
I have deliberately kept the flavours really simple for these new potatoes. This was deliberate so you can eat them with almost any meal without having to worry if the flavours would clash.
You could absolutely add different flavours depending on what you were serving them with. This is a great way to add variety to the potatoes.
Some of my favourite flavour options are:
Garlic
Paprika
Peri peri seasoning
Chinese salt & pepper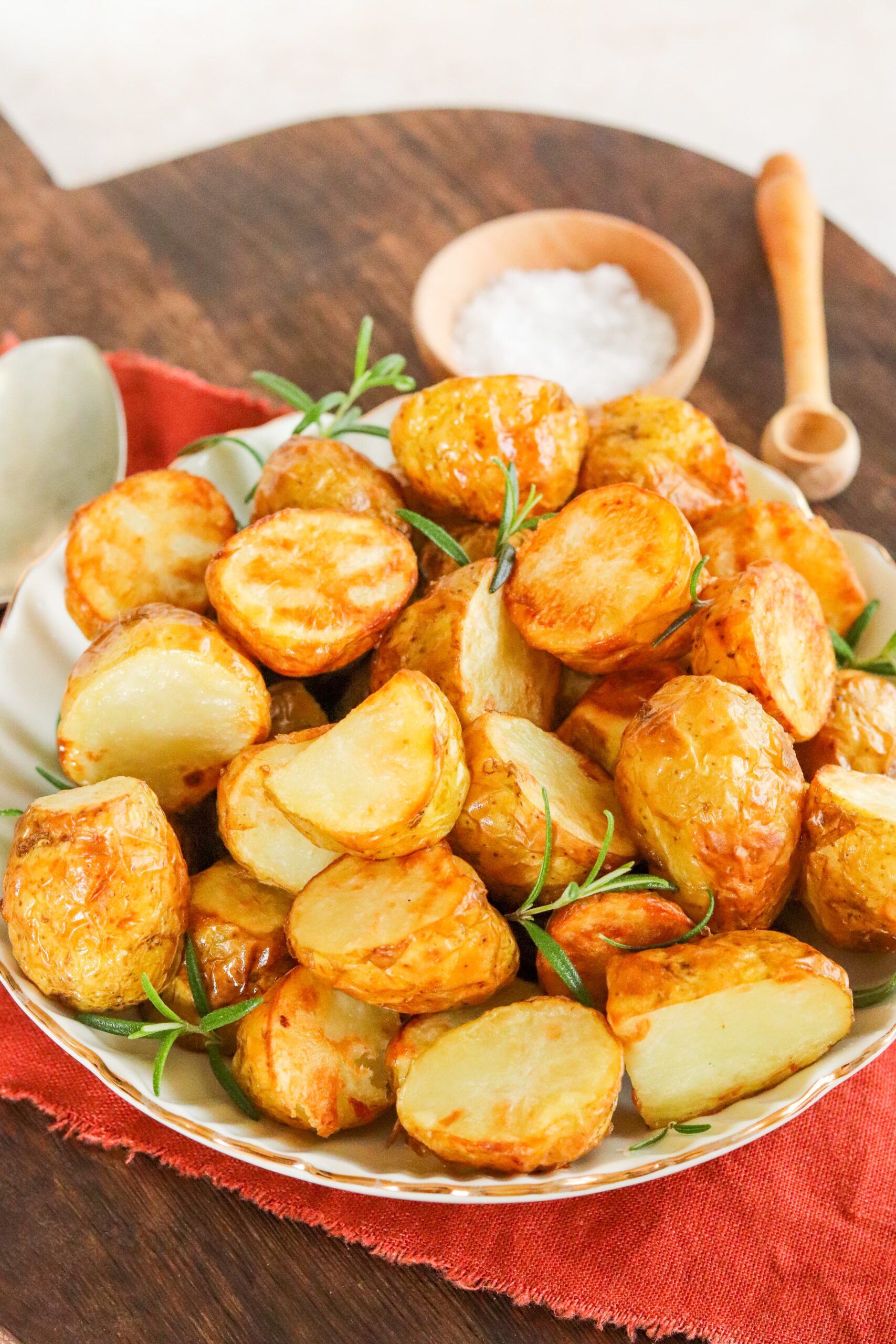 Do you need to parboil the potatoes?
Apart from when I'm making my air fryer roast potatoes, I don't see the need to par boil potatoes before cooking them in the air fryer.
Parboiling is an extra step that I don't like to do unless it is necessary and makes a distinguishable improvement to the finished dish.
You could absolutely par boil your new potatoes if you want to. Just be careful that you don't cook them too much because you don't want them to start breaking up and becoming mushy.
If you do par boil them, you will need to adjust the air frying time.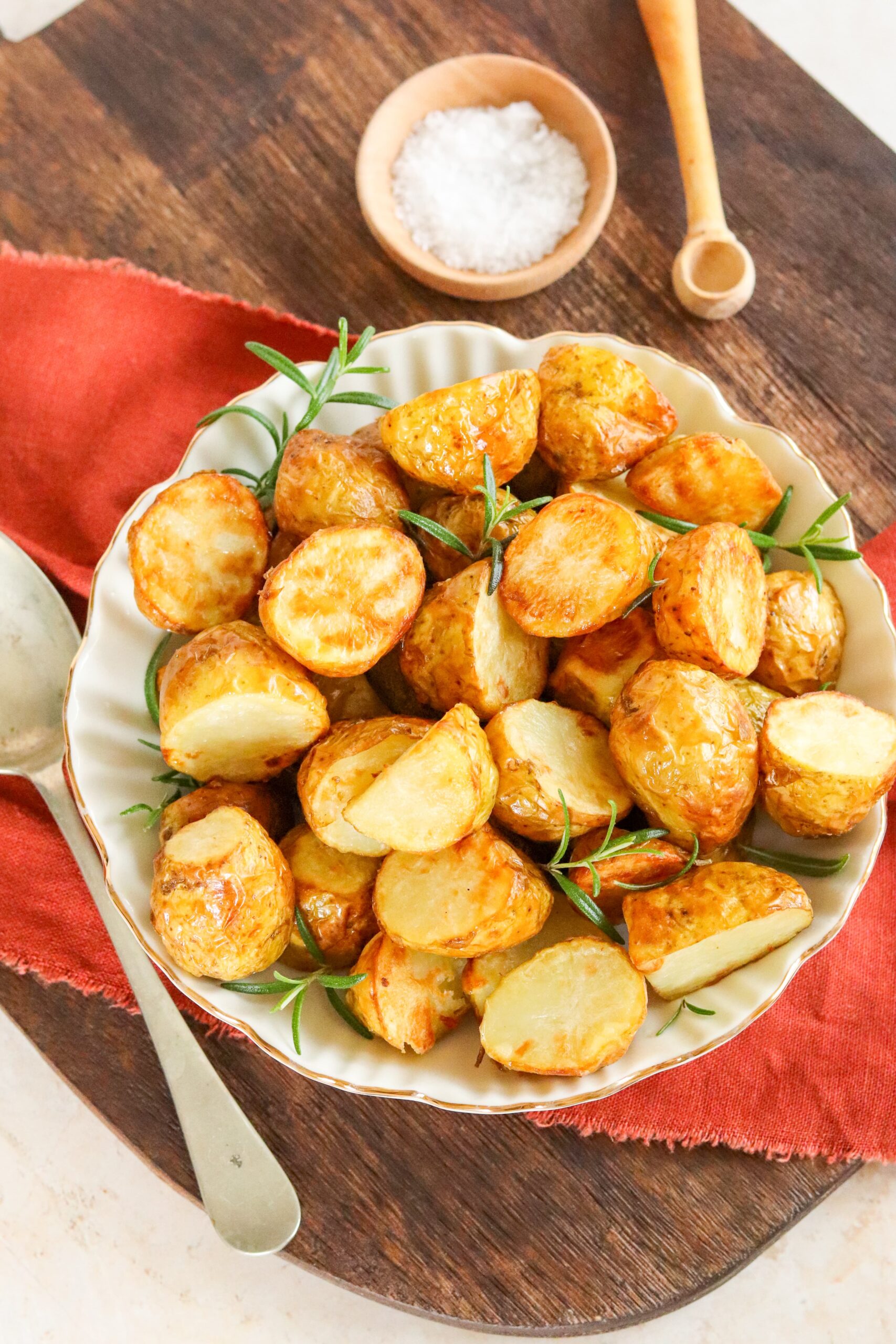 do you need to preheat an air fryer?
That depends on your air fryer, some require preheating whilst others don't. I have a Ninja 7-in-1 multicooker and I have never preheated mine.
If your air fryer does require preheating, check the potatoes a few minutes sooner than the recipe states. If your air fryer is warm, food is likely to cook a few minutes faster.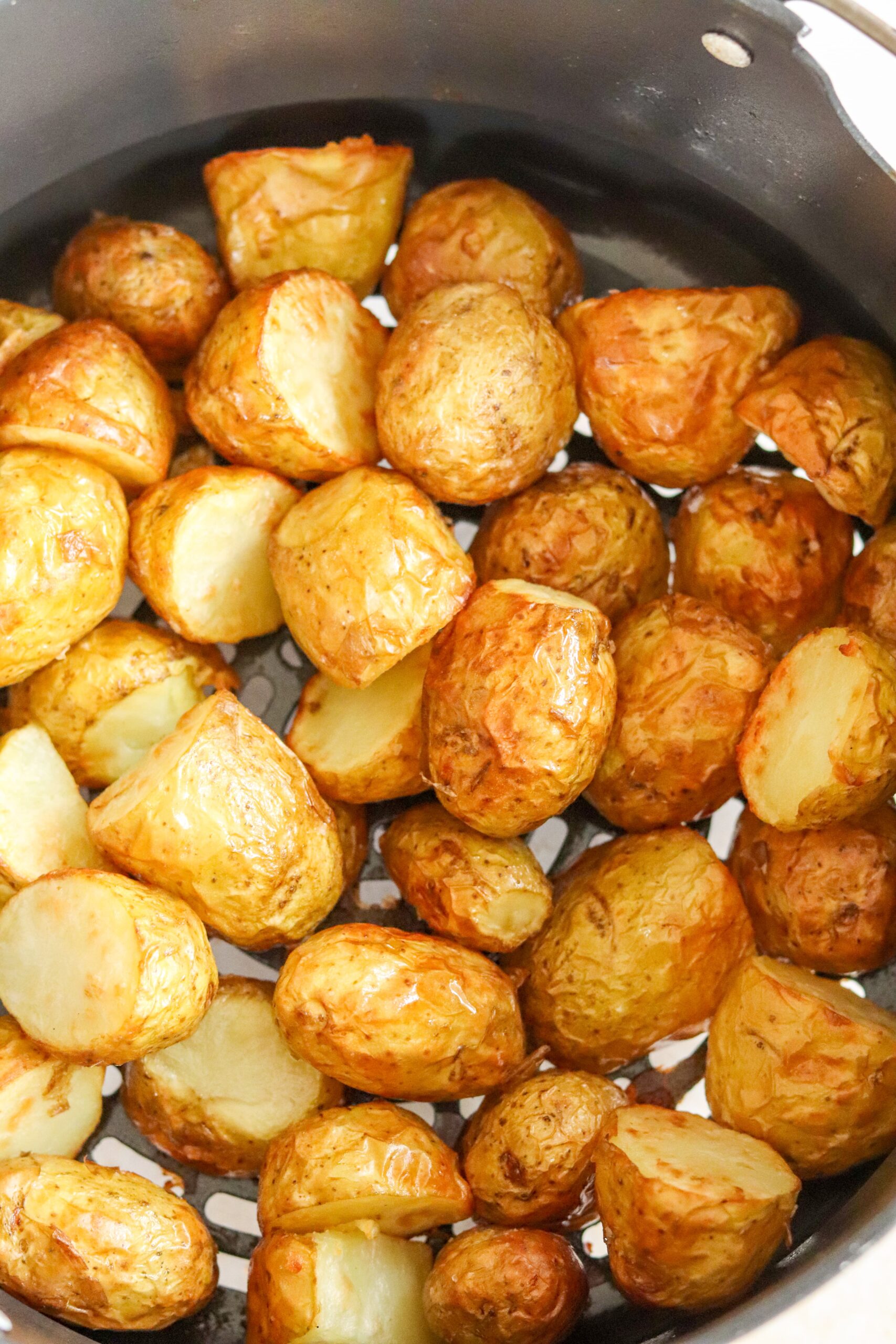 can you use an air fryer liner?
Air fryer liners are a great time saving addition because they are usually easier to wash than the basket of your air fryer.
Most reusable air fryer liners are silicone and although they are handy to have, I wouldn't recommend using them for all recipes.
These new potatoes would take longer to crisp up if you use a liner but you could use one if you really wanted.
I've written a whole post on whether you should use an air fryer liner, check it out for more information.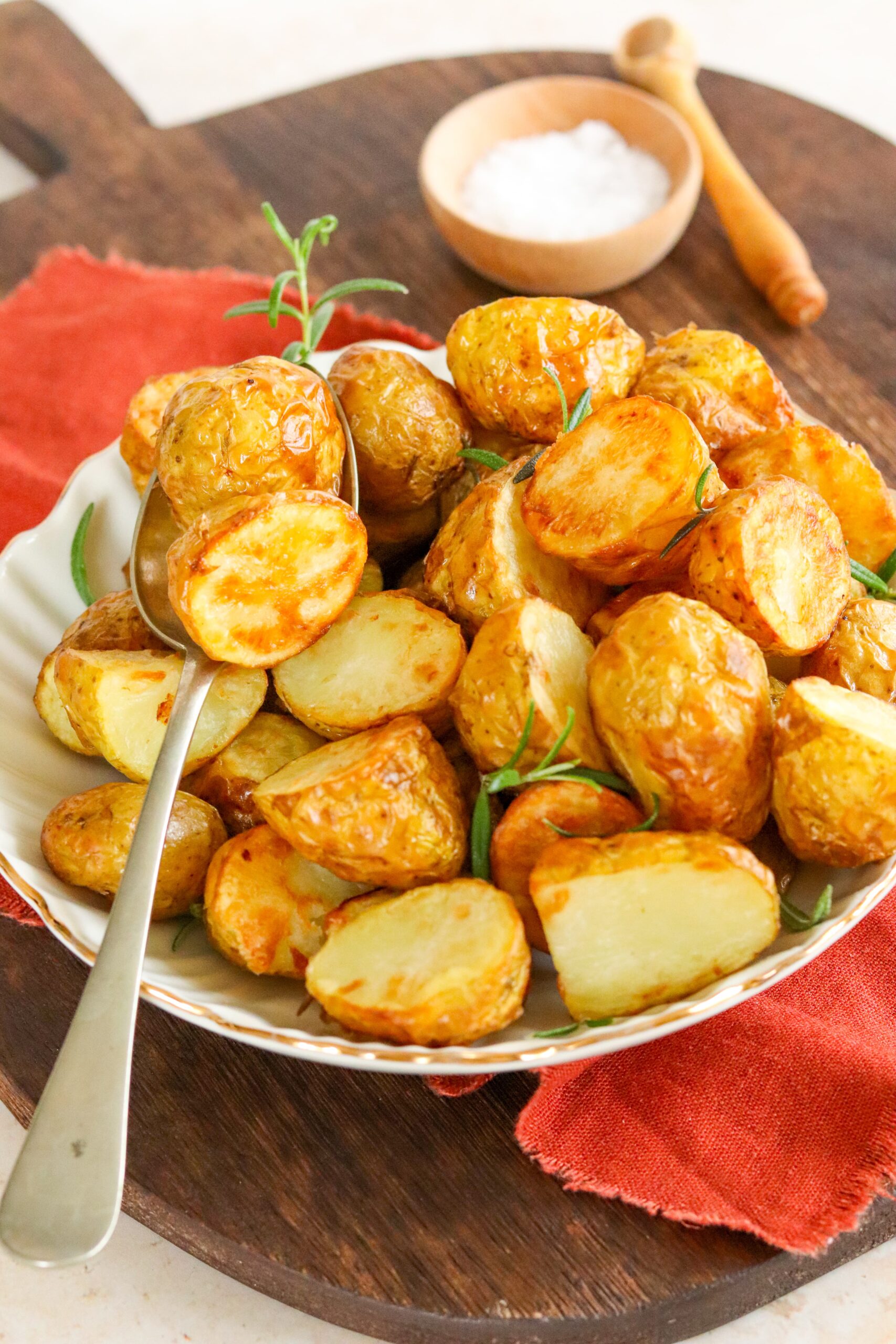 How to serve air fryer new Potatoes
As I said previously, I intentionally kept these potatoes simple in flavours so they will make the perfect side dish for most meals.
These potatoes are my go-to way of serving potatoes as part of a barbeque; unless I am serving potato salad of course. I have never been a fan of plain boiled new potatoes and have always preferred them cooked this way.
Give me these delicious air fryer new potatoes alongside some garlic & lime chicken and Mexican street corn salad and I will be very happy indeed.
While we're talking about barbeques, these potatoes would be great served with a bacon cheese burger, turkey burger or halloumi burger.
They also make a great alternative to roast potatoes served alongside a roast chicken or honey glazed ham.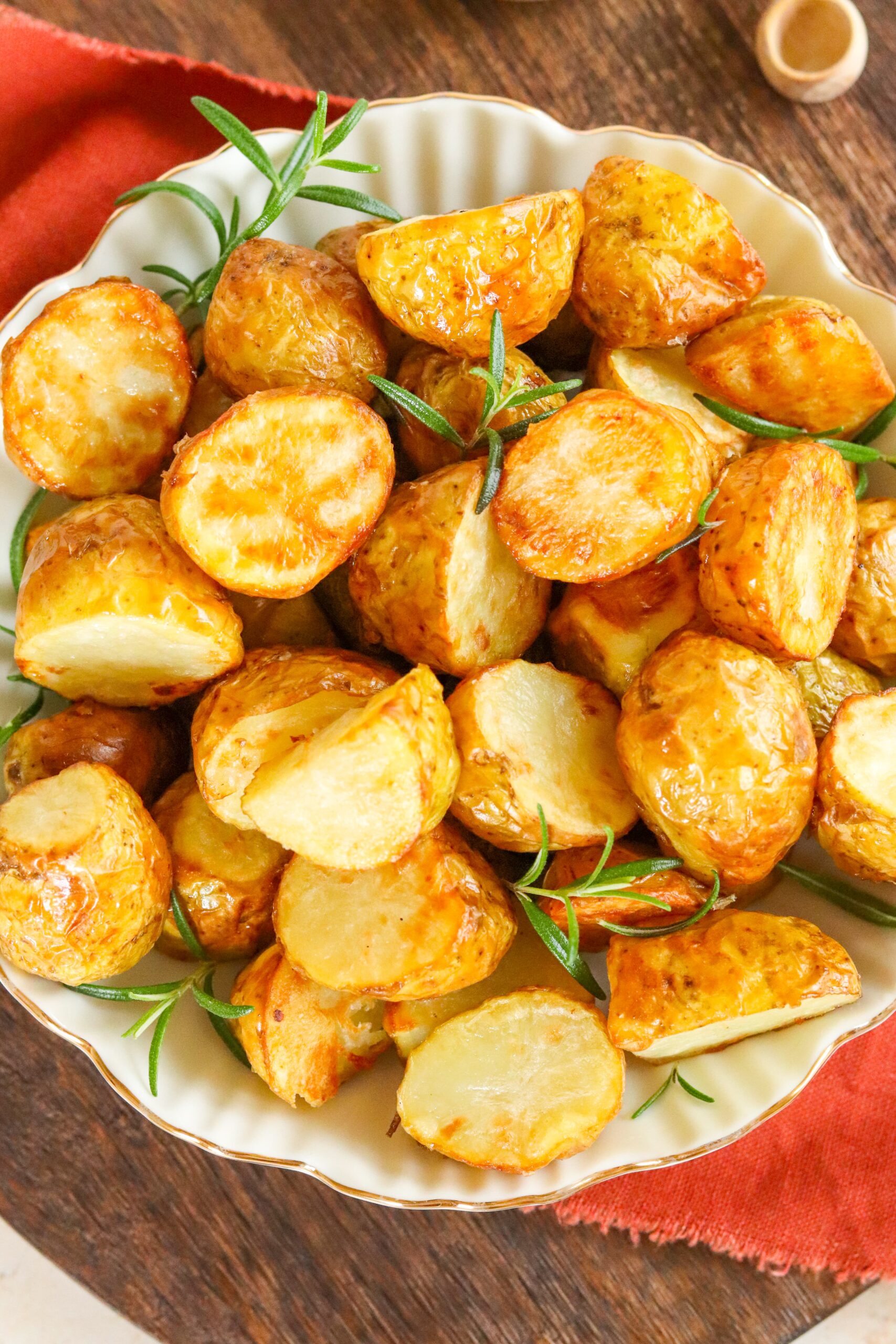 how to store & reheat new potatoes
If you have any leftover potatoes, they will keep in an airtight container for 2 days.
You can absolutely eat any leftover potatoes cold. I prefer them to come slightly up to room temperature rather than fridge cold however.
These potatoes also reheat really well. You can add them back to your air fryer for 3-4 minutes until they have heated through.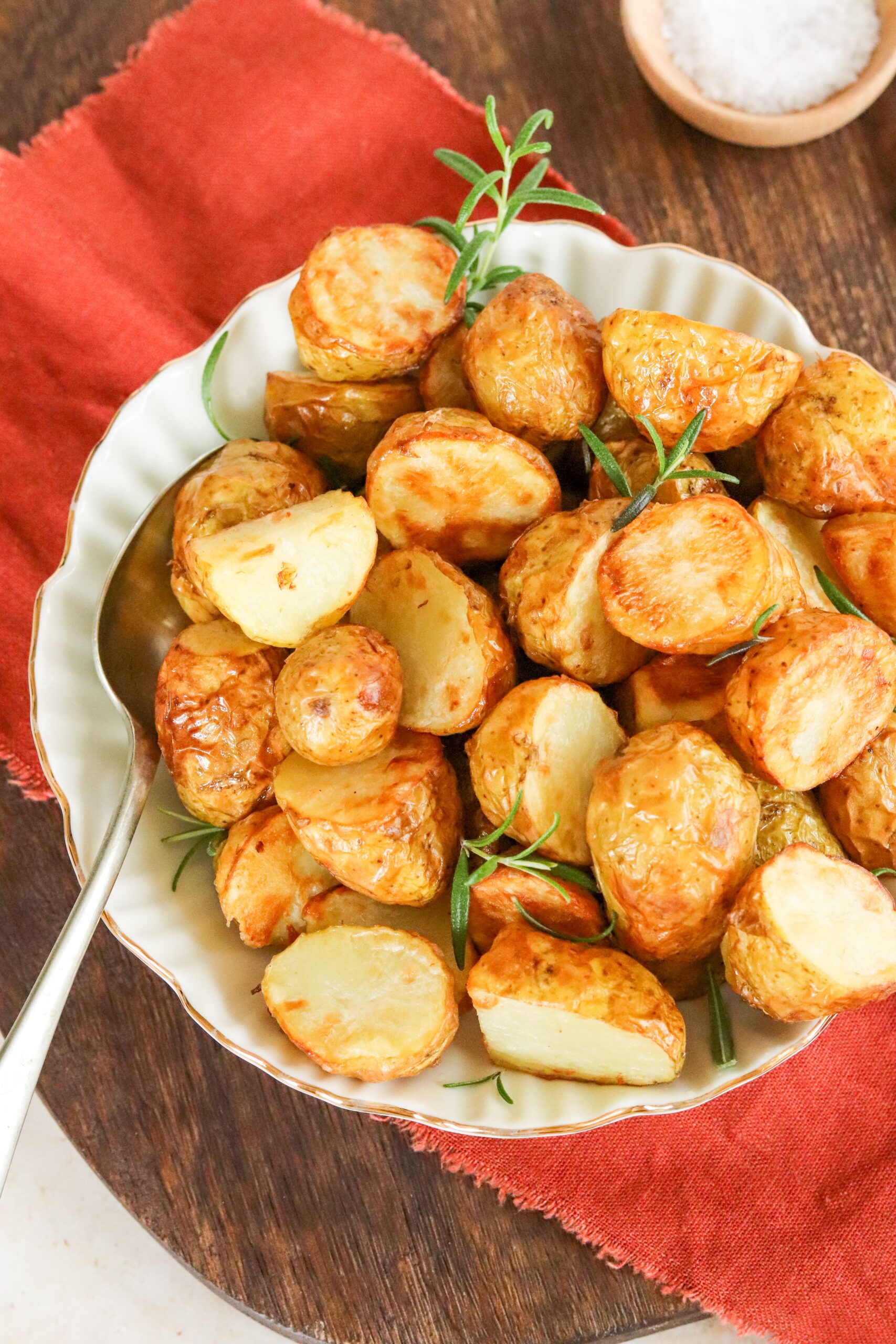 Other recipes you might like
Pin for later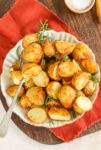 Air Fryer New Potatoes
These Air Fryer New Potatoes are a really simple and delicious way to elevate the humble new potato. Once you have air fried them I doubt you will simply boil your new potatoes again.
Ingredients
500

g

new potatoes

1

tbsp

sunflower oil

1

tsp

sea salt
Instructions
Preheat your air fryer if required

Cut 500g new potatoes in half and add to a bowl

Drizzle over 1 tbsp sunflower oil and 1 tsp sea salt. Stir until the potatoes are evenly coated

Add the potatoes to your air fryer basket. Cook at 190°C for 20 minutes turning them half way
Recipe Notes
If you are using table salt, you will want to use less than stated in the recipe.
Depending on the size of your potatoes you may need to cut them into quarters, or if they are very small you might not want to cut them at all.
Nutritional information is given as a guide only and may vary.
Nutrition Facts
Air Fryer New Potatoes
Amount Per Serving
Calories 254
Calories from Fat 63
% Daily Value*
Fat 7g11%
Sodium 1178mg51%
Potassium 1053mg30%
Carbohydrates 44g15%
Protein 5g10%
Vitamin A 5IU0%
Vitamin C 49mg59%
Calcium 31mg3%
Iron 2mg11%
* Percent Daily Values are based on a 2000 calorie diet.