Potatoes are absolutely perfect to cook in your air fryer and there are so many different recipes to try. This collection of Air Fryer Potato Recipes has something for everyone whether you are a novice or air fryer master.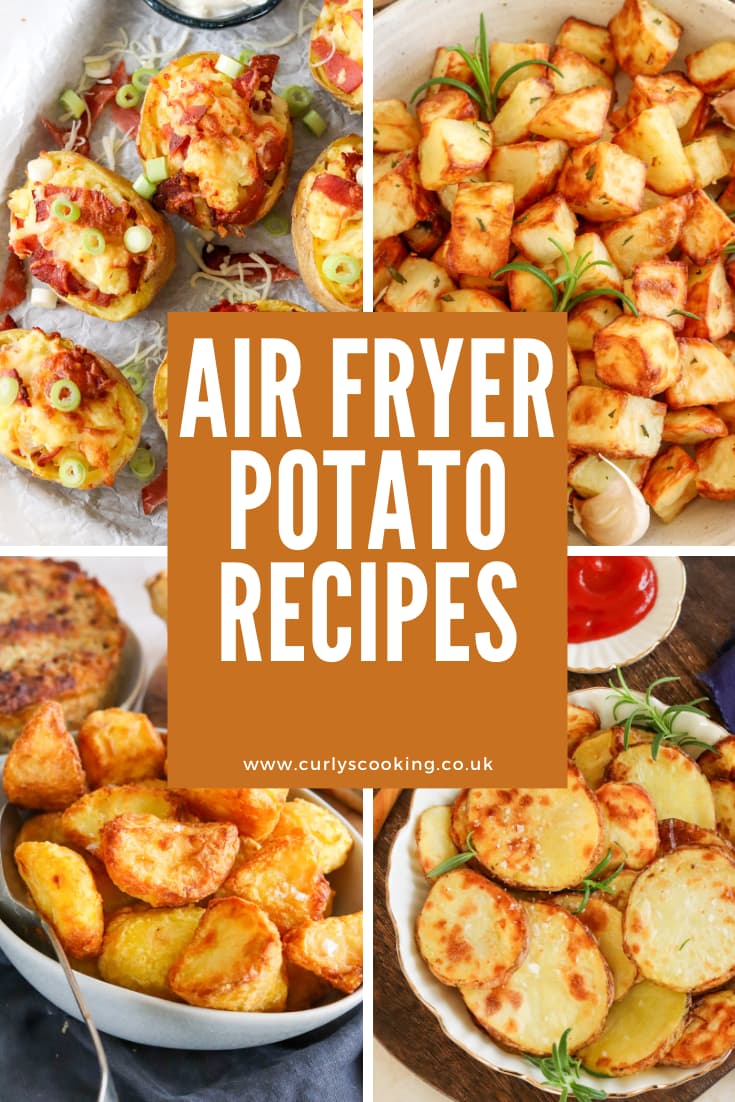 Who doesn't love potatoes?!
The humble potato is an inexpensive and very versatile vegetable. The beauty of them is that the number of ways you can serve them is so vast you will never get bored.
Within this collection there really is something for everyone. There are recipes for how to cook shop bought chips in your air fryer, but also more fancy hasselback potatoes from scratch.
Potatoes make the perfect side dish, but they can also be the main event too. And of course I have recipes for that!
Air fryer potatoes as a side dish
These recipes are a fantastic way to make a delicious potato side dishe to compliment a huge variety of different meals.
I have deliberately kept these recipes simple in flavour so they can be served with most meals. You can of course add any flavourings you like – get creative!
Air fryer Potatoes as the main event
Potatoes don't have to just be a side dish, they can take centre stage and be the main event in a meal. These air fryer potato recipes make a delicious meal in themselves but also as part of a buffet or party spread.
elevate your air fryer potatoes
These recipes will help you make the most of your air fryer potatoes. The seasonings will take the flavour of your potatoes to the next level.
Like I said previously, I have kept most of my air fryer potato recipes simple in flavour so you can adapt them and add suitable flavours depending on what you are serving them with.
do you need a liner when air fryer potatoes?
Some dishes really benefit from using an air fryer liner, however for most I think it is personal preference. For potatoes, I don't think an air fryer liner is needed at all. However you can definitely use one if you prefer.
If you would like more information, check out Should I use an air fryer liner? Everything you need to know.