This Easy Ranch Dip is not only incredibly delicious, but super simple to make; especially as I don't use buttermilk. Once you've made this homemade ranch, you'll never buy it from the shop again!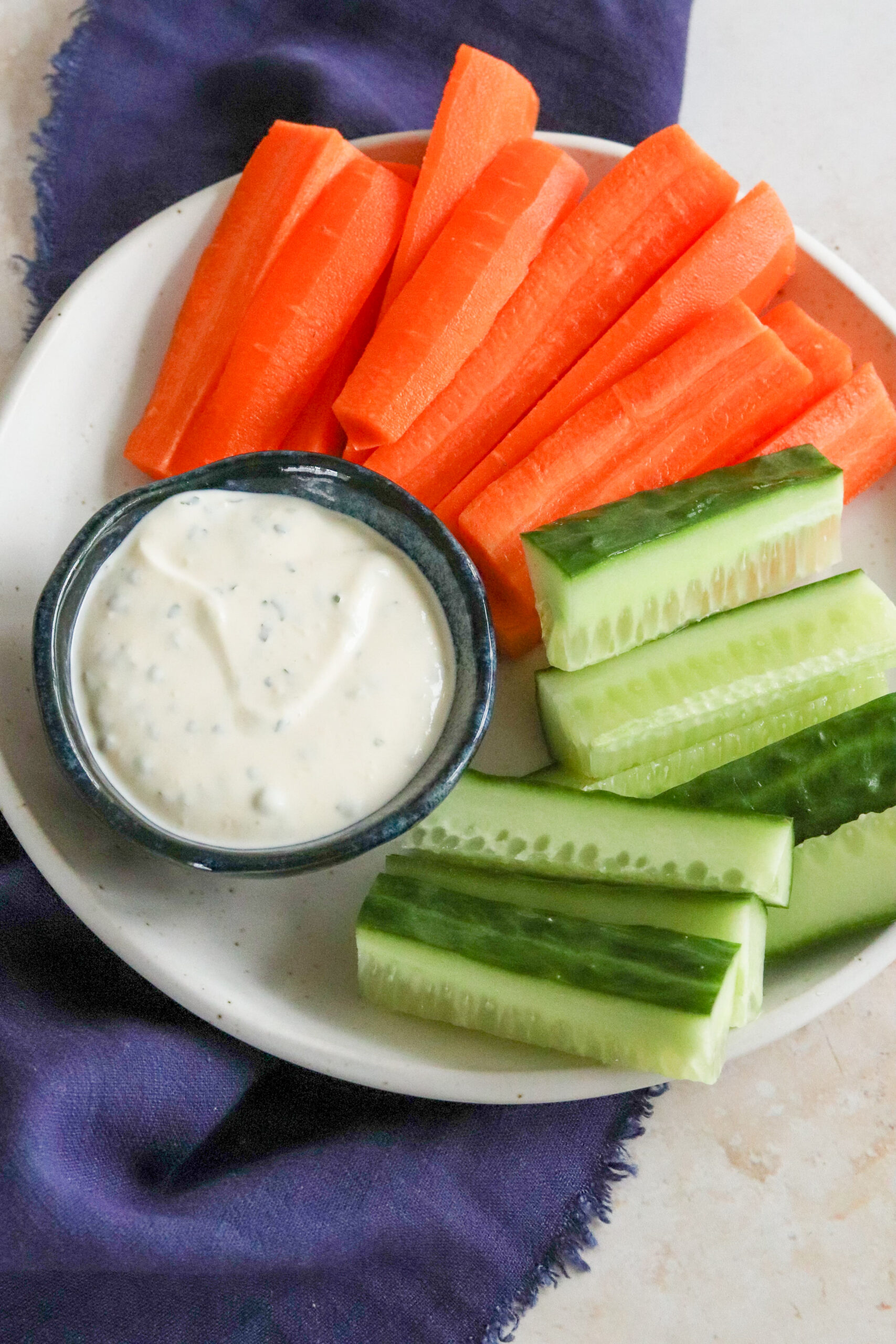 why make your own easy ranch dip?
Here in the UK, ranch isn't as easily available as it is in the US. Some large supermarkets may sell one option, but the variety really isn't there.
Ranch is available to buy online, but it tends to be quite pricey because it is usually imported from America. With all of this in mind, it is definitely easier – and tastier to make your own.
When you make your own ranch, you can tweak it to your own personal taste. It also means you know exactly what is in it so there are no preservatives.
I am a firm believer that once you have made this ranch dip, you will never buy a shop bought bottle again!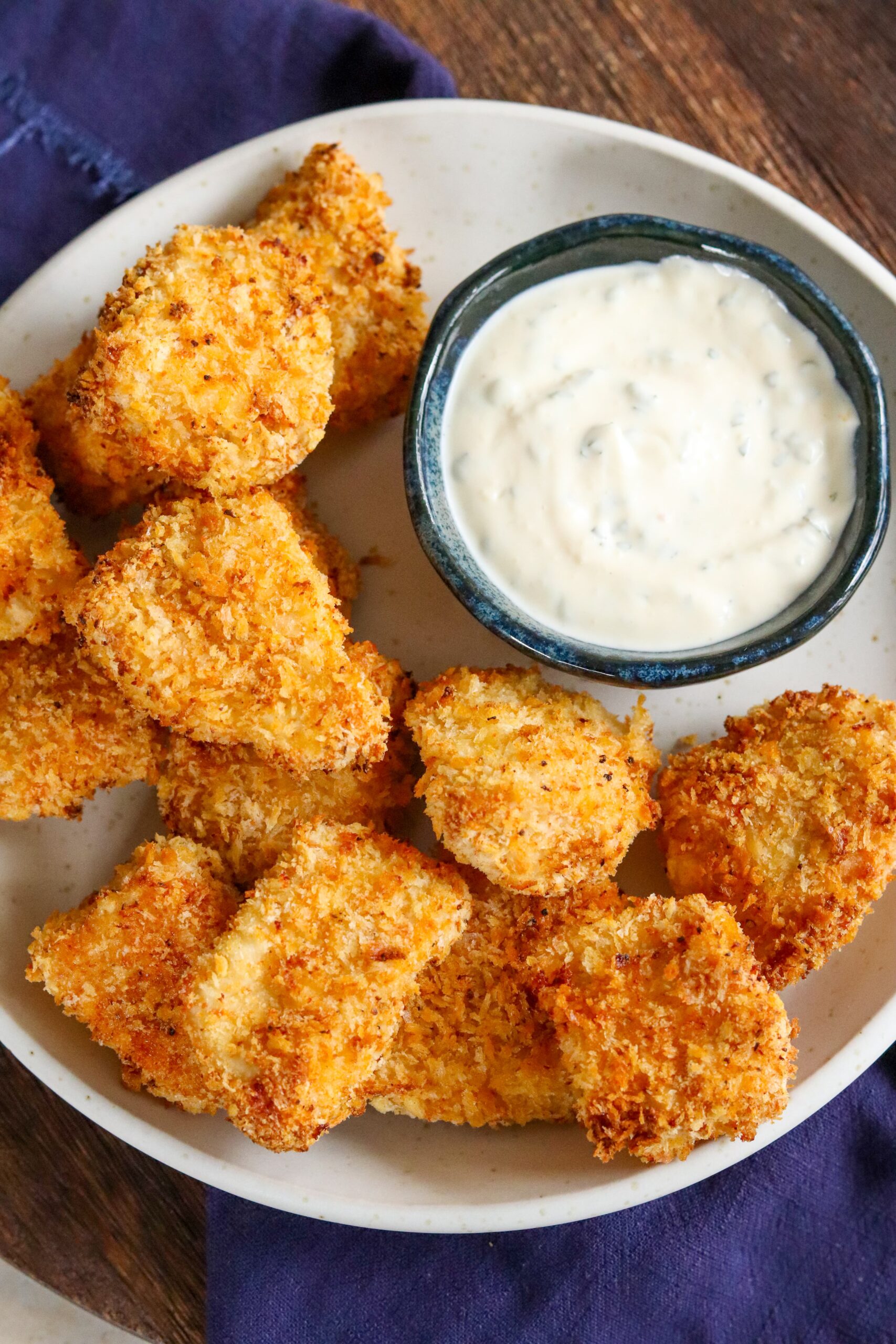 ranch without buttermilk
The majority of ranch recipes use buttermilk as this is what is traditionally used. Buttermilk is essentially just milk with acidity. In my recipe I use milk and vinegar so I don't see the need to also use buttermilk.
I also didn't want to use buttermilk because it isn't as easily accessible as the other ingredients used. Although it is becoming easier to find, it is still usually only found in large supermarkets.
Sour cream, milk and the rest of the ingredients in my ranch dip should be easily found in any supermarket.
You definitely won't be able to tell that anything is missing from the traditional recipe when you taste how delicious this is!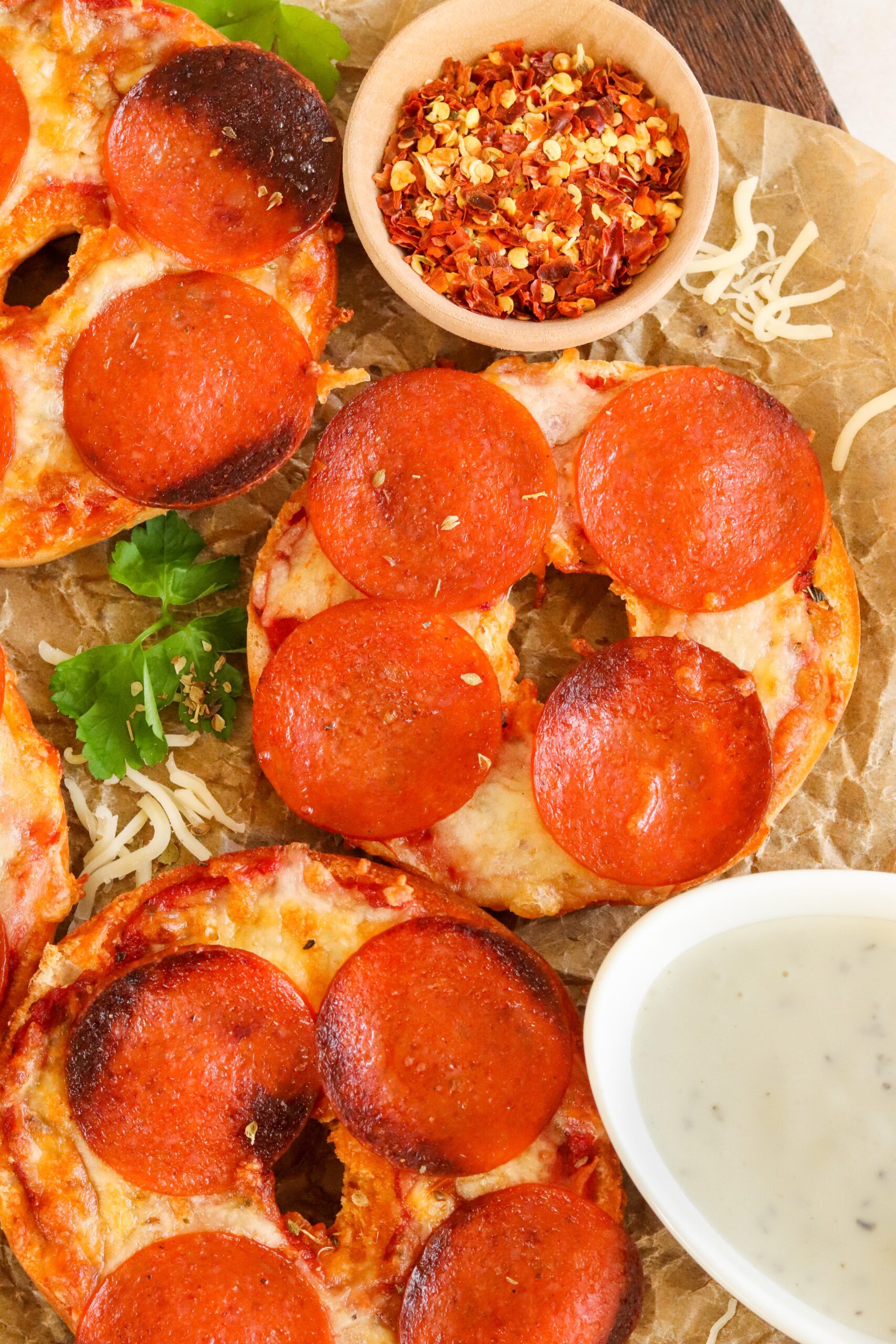 using dried or fresh herbs
I like to use dried herbs in my ranch because I always have them in the cupboard. This makes is so easy to make whenever I want without having to make sure I have fresh herbs.
You can of course use fresh parsley and chives if you prefer. Dried herbs tend to have a stronger flavour so if you decide to use fresh herbs you might want to increase the quanties used.
Dill is a popular addition to classic ranch, however I'm really not a fan. Obviously you can add this to yours if you like it. I would add the same amount as the parsley and chives in the recipe below.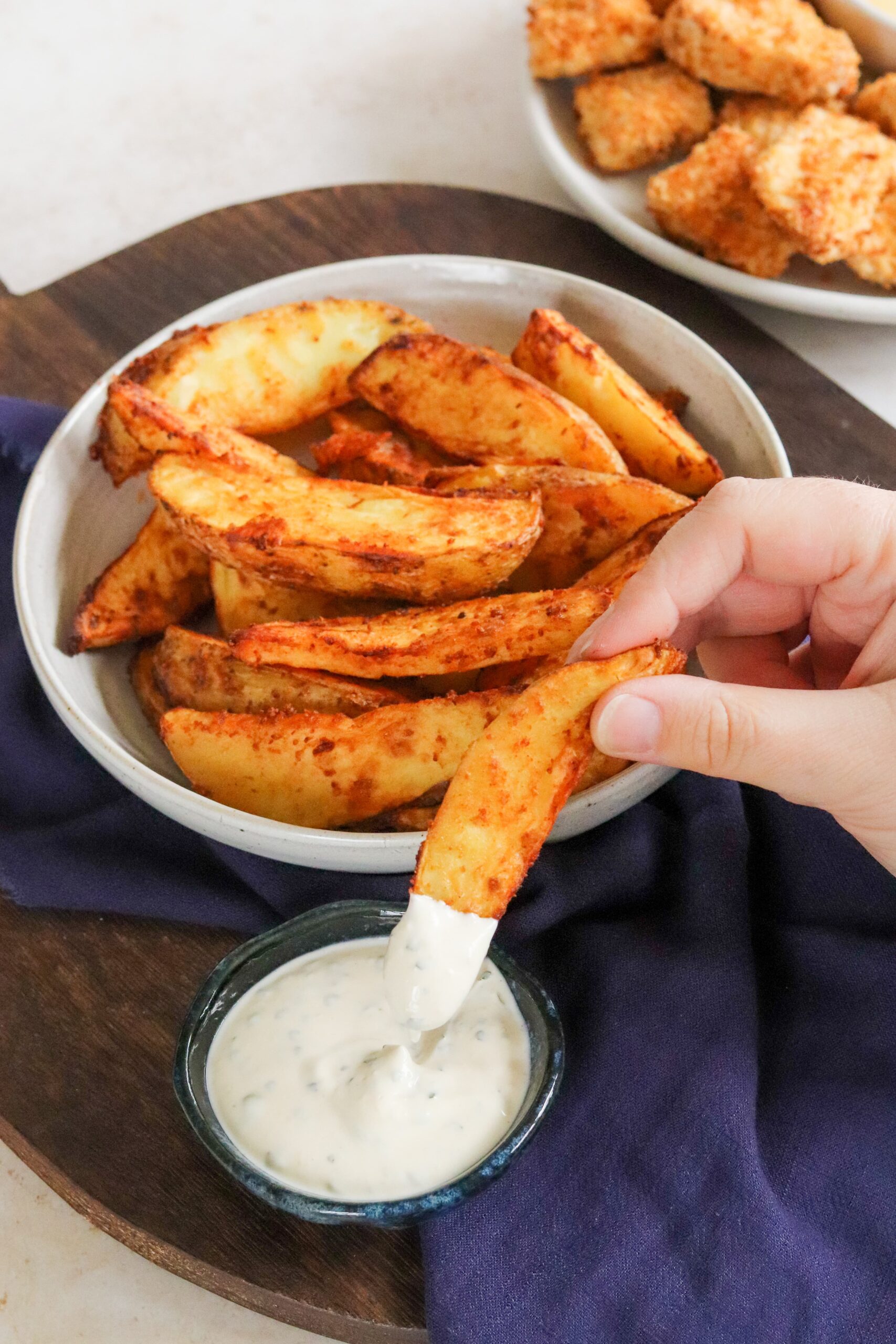 which garlic is best to use?
You may have noticed a theme here, but I like to use garlic granules because I always have them in my cupboard. They are also so incredibly easy to add to recipes.
Fresh garlic would also be delicious in this ranch dip. Bear in mind that fresh garlic has a stronger flavour so go easy with how much you add. You don't want the garlic to be too overpowering.
If you are using fresh garlic, mince it as finely as you can. No one wants a chunk of fresh garlic in their ranch.
If you want to use jarred garlic, I would recommend using minced garlic rather than chopped garlic so it combines with the dip more easily.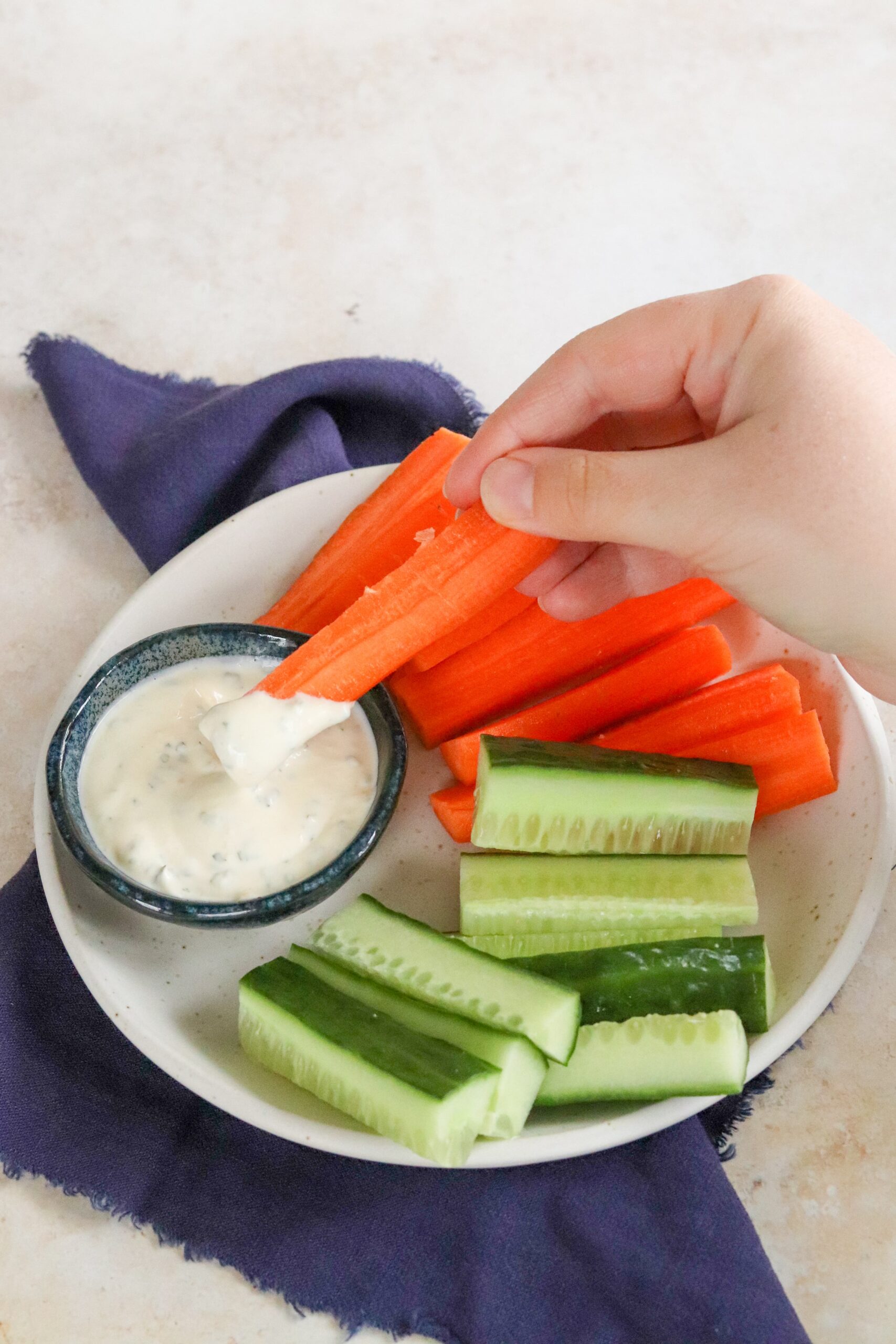 Leave your ranch dip to rest
This may seem a little unusual, but it really is best to let the ranch rest in the fridge before serving it.
Leaving the ranch dip to rest in the fridge allows it to thicken and for all of the flavours to develop. It also helps the herbs to soften if you are using dried herbs.
It doesn't have to be for hours, even thirty minutes in the fridge will be beneficial. But if you can leave it for an hour or two that's great.
Once your ranch has chilled in the fridge, you may want to add a splash more milk depending on the consistency you are looking for.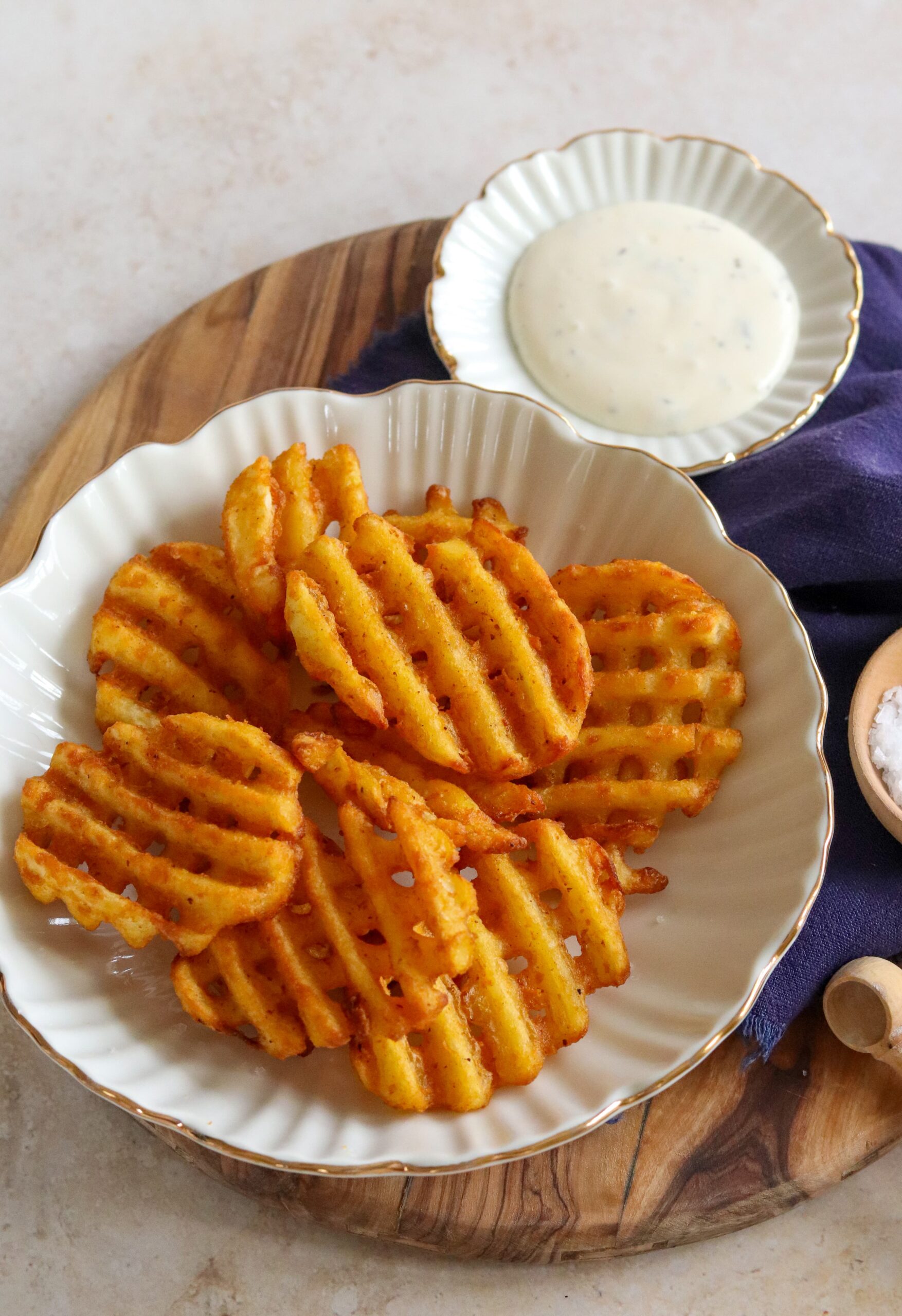 turn your dip into a dressing
I consider this recipe to be a dip because it has a thicker consistency. However it is really easy to make a ranch dressing.
It is as simple as adding more milk to the ranch to make it a thinner dressing. I would go for the approach of adding a small amount at a time until you have reached your desired consistency.
Although the ranch will thicken when you chill it, it is always easier to add more milk to make it thinner than to try and thicken it up slightly.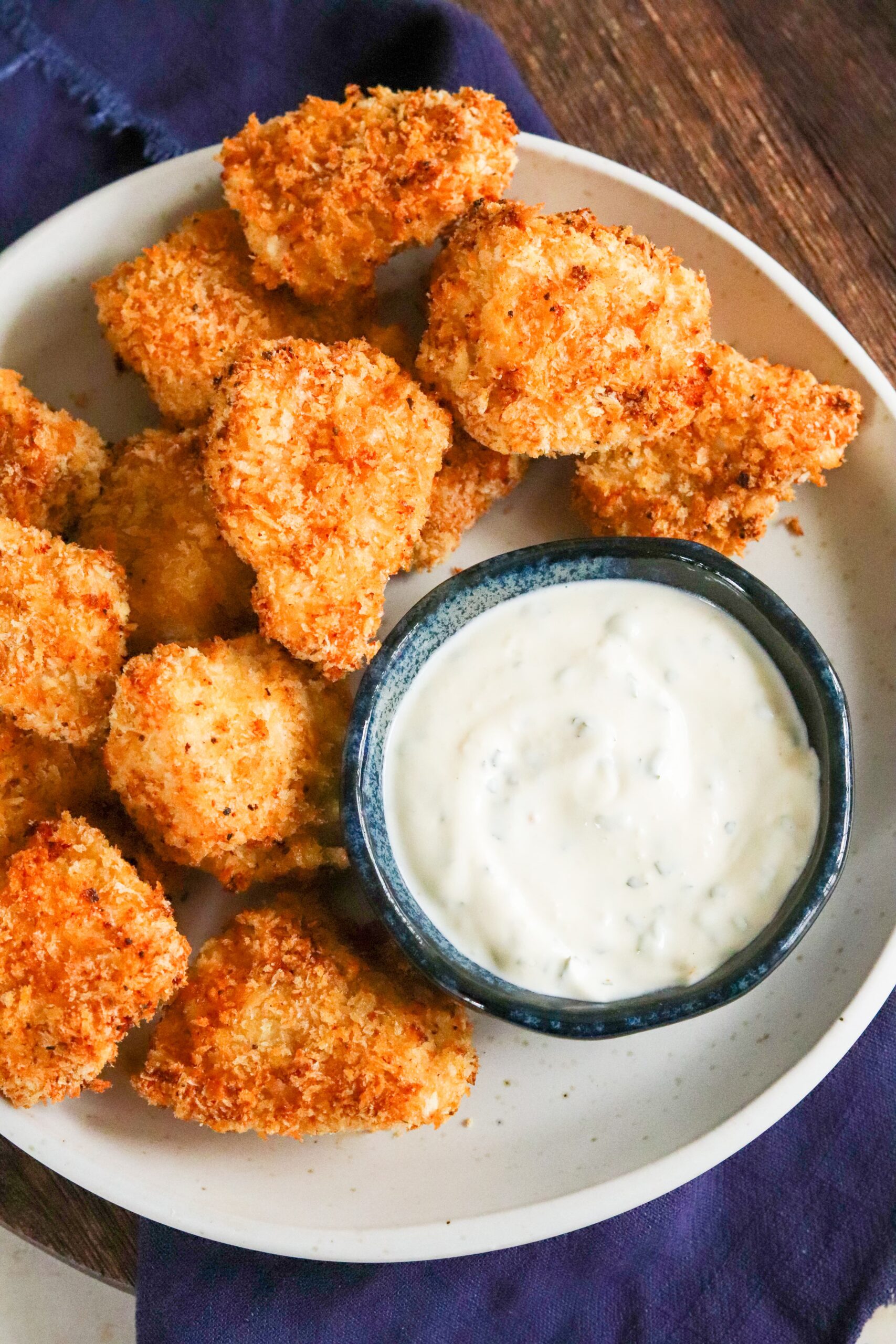 how long will ranch keep for?
Ranch dip needs to be kept in an airtight container in the fridge. If stored correctly it will keep for up to two weeks.
If you notice any changes in it's colour and smell then it is time to throw it away and start again.
The recipe is easy to scale up or down if you want to make a bigger or smaller batch.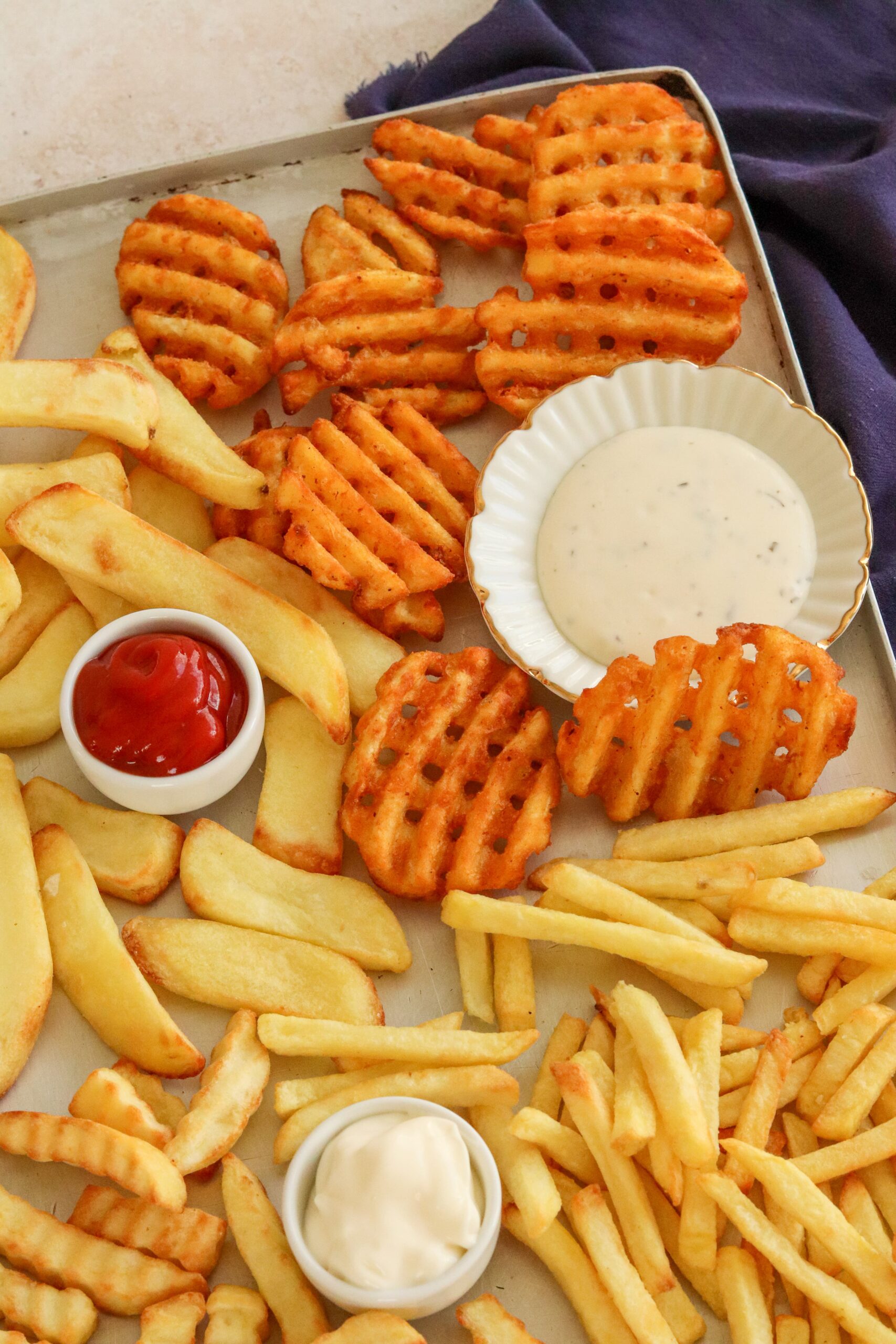 what to serve this easy ranch dip with
The possibilities really are endless. I think I find a new way each week that I like to eat it.
One of the most popular ways of eating it is as a dressing over salad. Make it slightly thinner and drizzle it over my chicken & bacon salad for a delicious meal.
I now can't eat pizza without ranch so I always serve it with my air fryer pizza fries and pizza bagels. It is so incredibly delicious!
It is also delicious with loaded potato skins or simply just chips. To be honest I'd dip any form of potato into this ranch dip!
Chicken nuggets are also made to be dipped into ranch. I'm a die hard ketchup fan but ranch dip really gives it a run for it's money!
I also like to dip vegetables into this ranch as the most delicious snack. It makes me feel like I'm being healthy even though the vegetables are just a way for me to shovel the ranch into my mouth faster!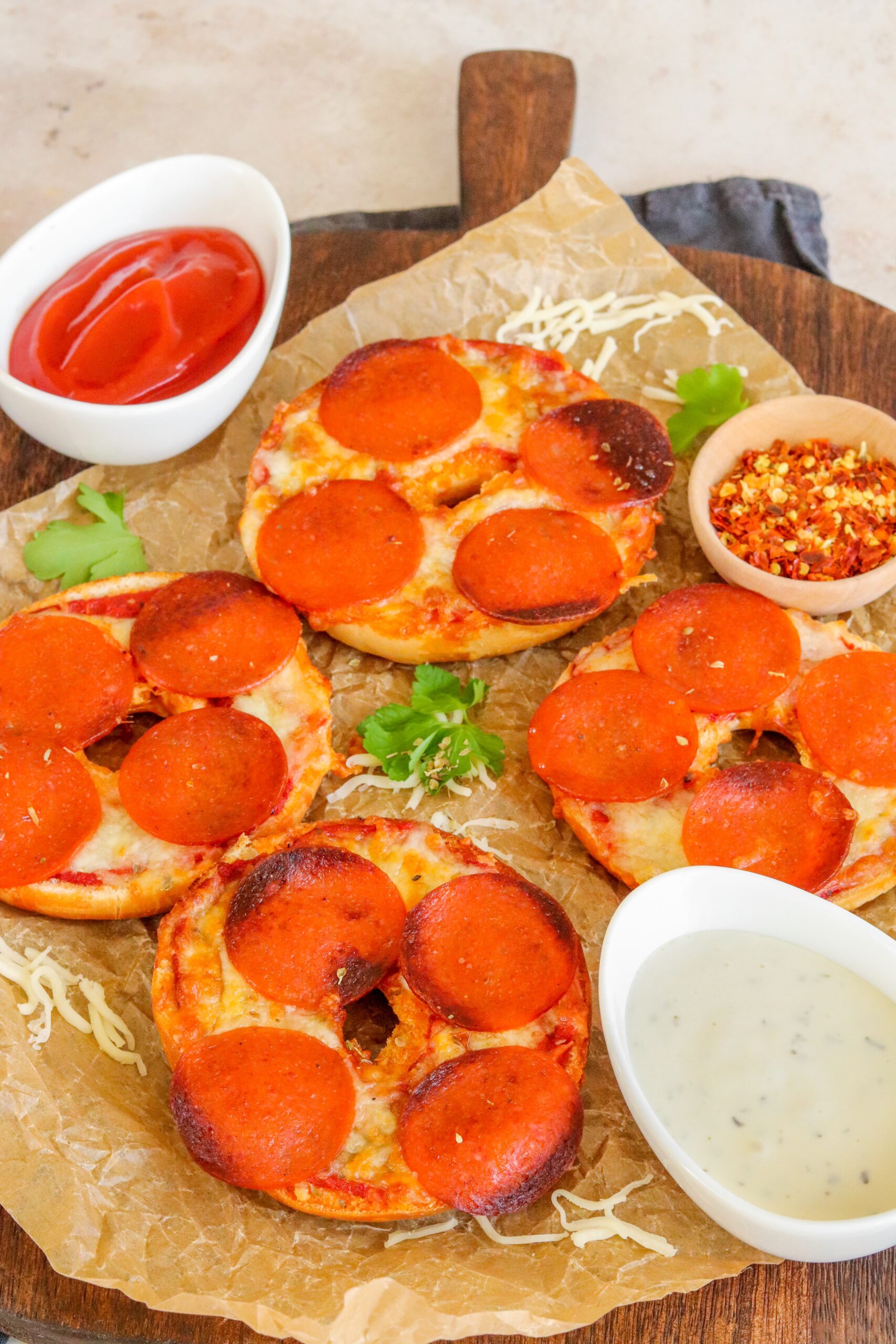 Other recipes you might like
Pin for later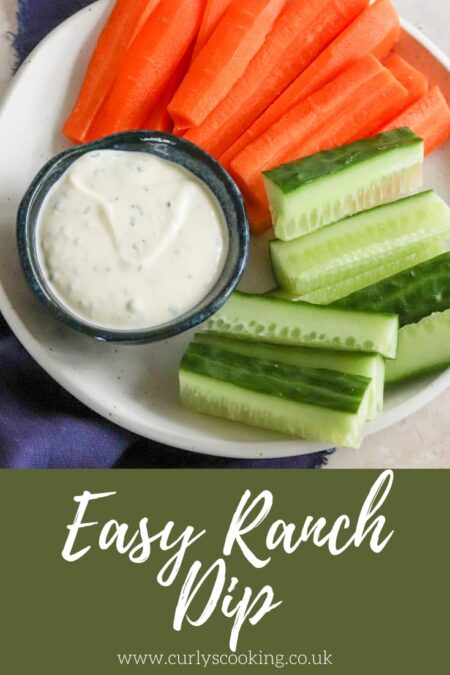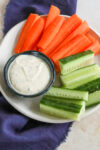 Easy Ranch Dip
This Easy Ranch Dip is not only incredibly delicious, but super simple to make; especially as I don't use buttermilk. Once you've made this homemade ranch, you'll never buy it from the shop again!
Total Time
1
hour
5
minutes
Ingredients
120

g

full fat mayonnaise

120

g

full fat sour cream

1

tbsp

white wine vinegar

1½

tsp

dried parsley

1½

tsp

dried chives

1

tsp

garlic granules

½

tsp

sea salt

pinch

white pepper

1

tbsp

semi skimmed milk
Instructions
Add 120g full fat mayo, 120g full fat sour cream, 1 tbsp white wine vinegar, 1½ tsp dried parsley, 1½ tsp dried chives, 1 tsp garlic granules, ½ tsp sea salt and a pinch of white pepper to a bowl

Stir until fully combined and then add 1 tbsp semi skimmed milk. Add more if you want a thinner consistency

Refrigerate for at least 30 minutes before serving. Add a little more milk if it has become too thick
Recipe Notes
Leave the ranch dip to rest in the fridge for at least 30 minutes. 1-2 hours is best.
The ranch will thicken as it chills, add more milk as needed. Add more milk if you want a thinner consistency.
Keep in an airtight container for up to 2 weeks.
Nutritional information is given as a guide only and may vary.
Nutrition Facts
Easy Ranch Dip
Amount Per Serving (1 tbsp)
Calories 70
% Daily Value*
Fat 0.04g0%
Polyunsaturated Fat 0.01g
Monounsaturated Fat 0.01g
Cholesterol 0.1mg0%
Sodium 74mg3%
Potassium 18mg1%
Carbohydrates 0.5g0%
Protein 0.2g0%
Vitamin A 317IU6%
Vitamin C 3mg4%
Calcium 5mg1%
Iron 0.1mg1%
* Percent Daily Values are based on a 2000 calorie diet.