Once you've made these Homemade Air Fryer Chicken Nuggets you'll never turn back. Delicious chicken breast coated in crispy seasoned panko breadcrumbs – you'll love them!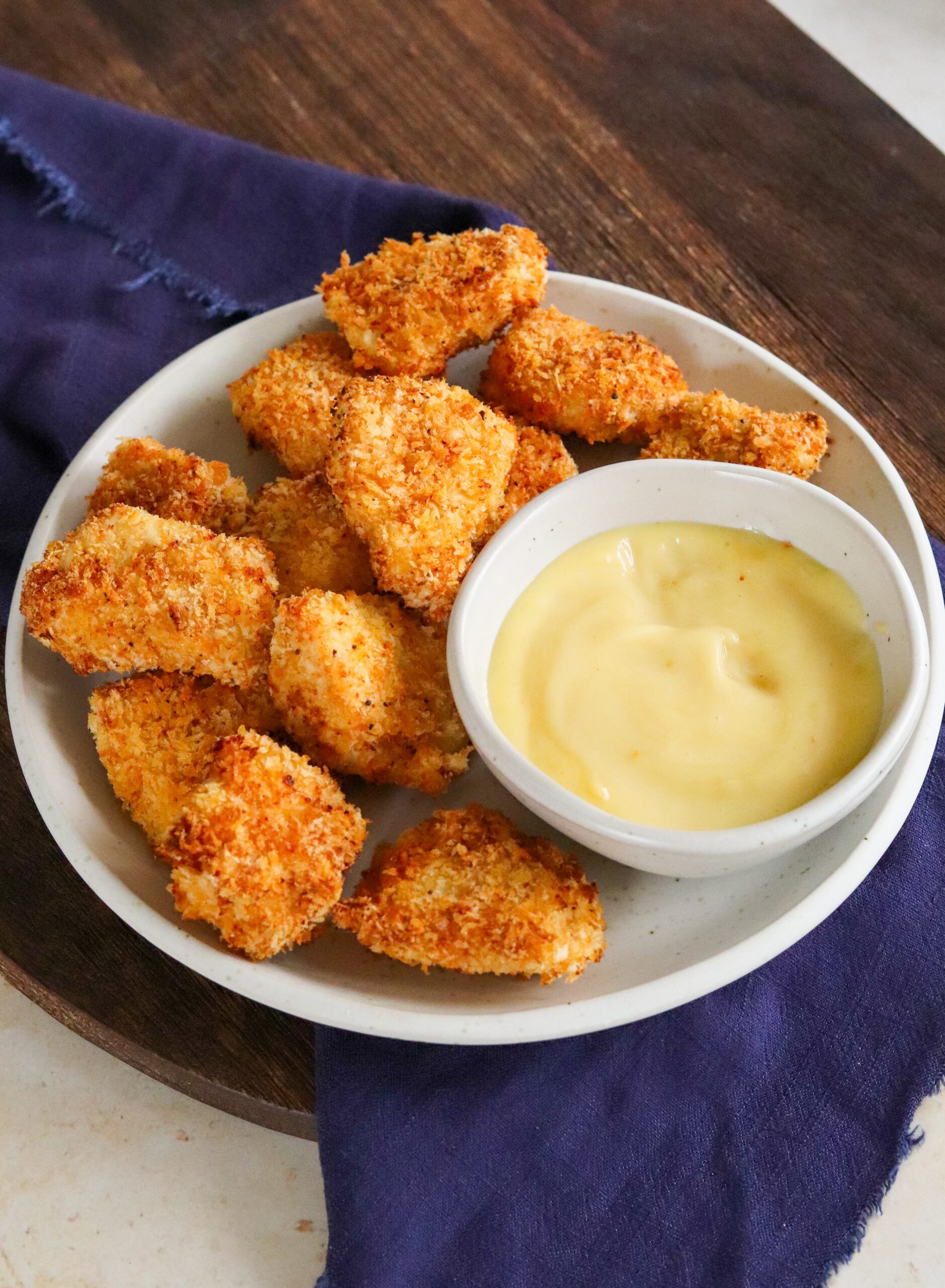 WHY USE AN AIR FRYER AND NOT AN OVEN?
Air fryers cook food quicker than a standard convection oven which is great for saving energy and pennies but also for busy families that want to be able to cook food quickly.
Another advantage is that air fryers are smaller than ovens and grills so you're not heating up a full-sized oven and instead a smaller air fryer. This means you're using less energy because you're heating up a smaller appliance as well as cooking the food faster.
You can cook these chicken nuggets in an oven if you don't have an air fryer. Cook them for 15-20 mins until crisp.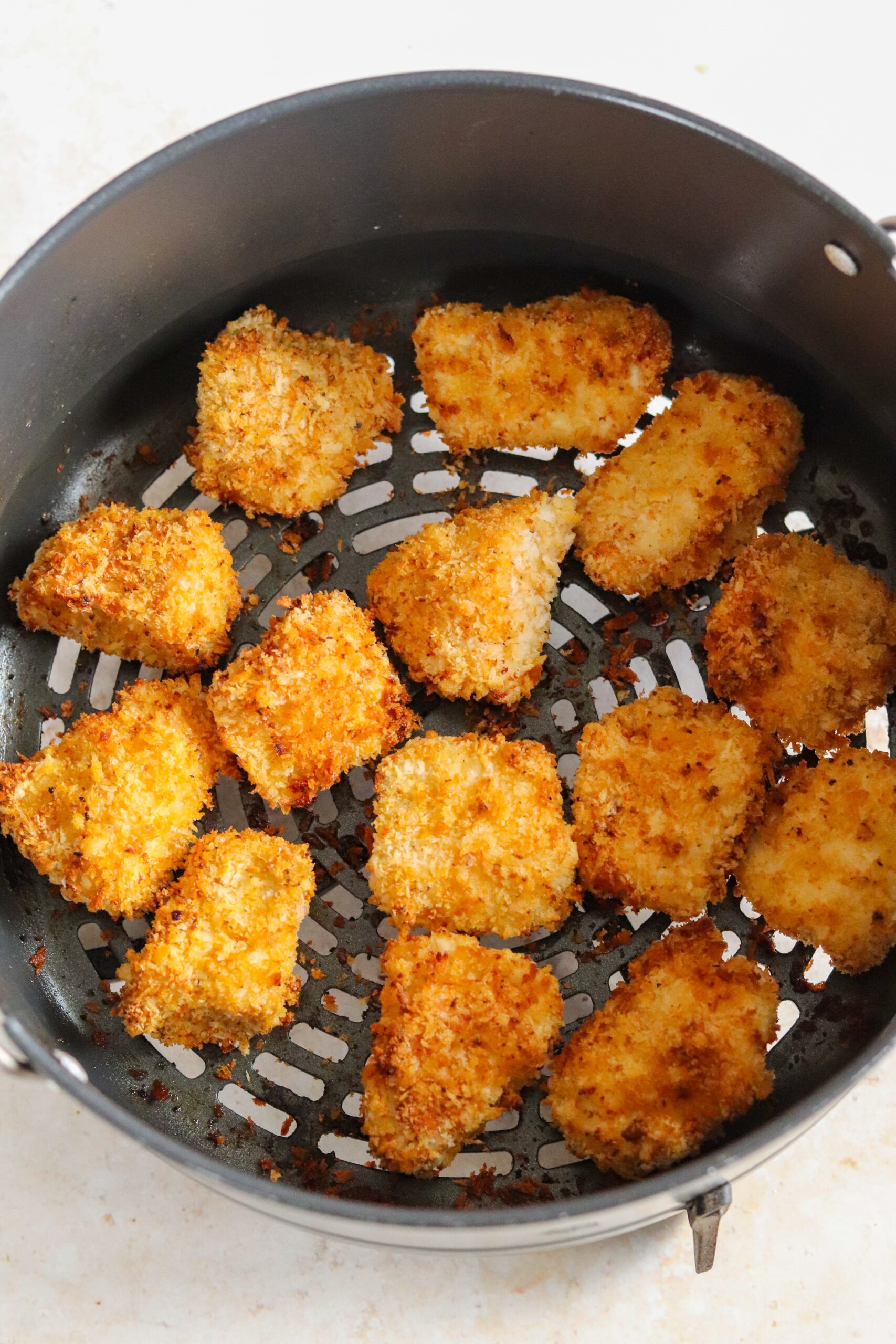 Homemade chicken nuggets are better than shop bought nuggets
If you know me it won't come as a huge surprise that I am fussy when it comes to food. Chicken nuggets have always been a particular issue for me.
Some shop bought chicken nuggets use chopped and shaped chicken which has always been not to my taste. Even when they use 100% chicken breast, they aren't always to my taste.
So a great way to solve this is to make my own chicken nuggets. These are the tastiest chicken nuggets I have tried and I'm confident you will love them too!
Just don't blame me when your family love them so much they'll be upset if you ever serve shop bought chicken nuggets again!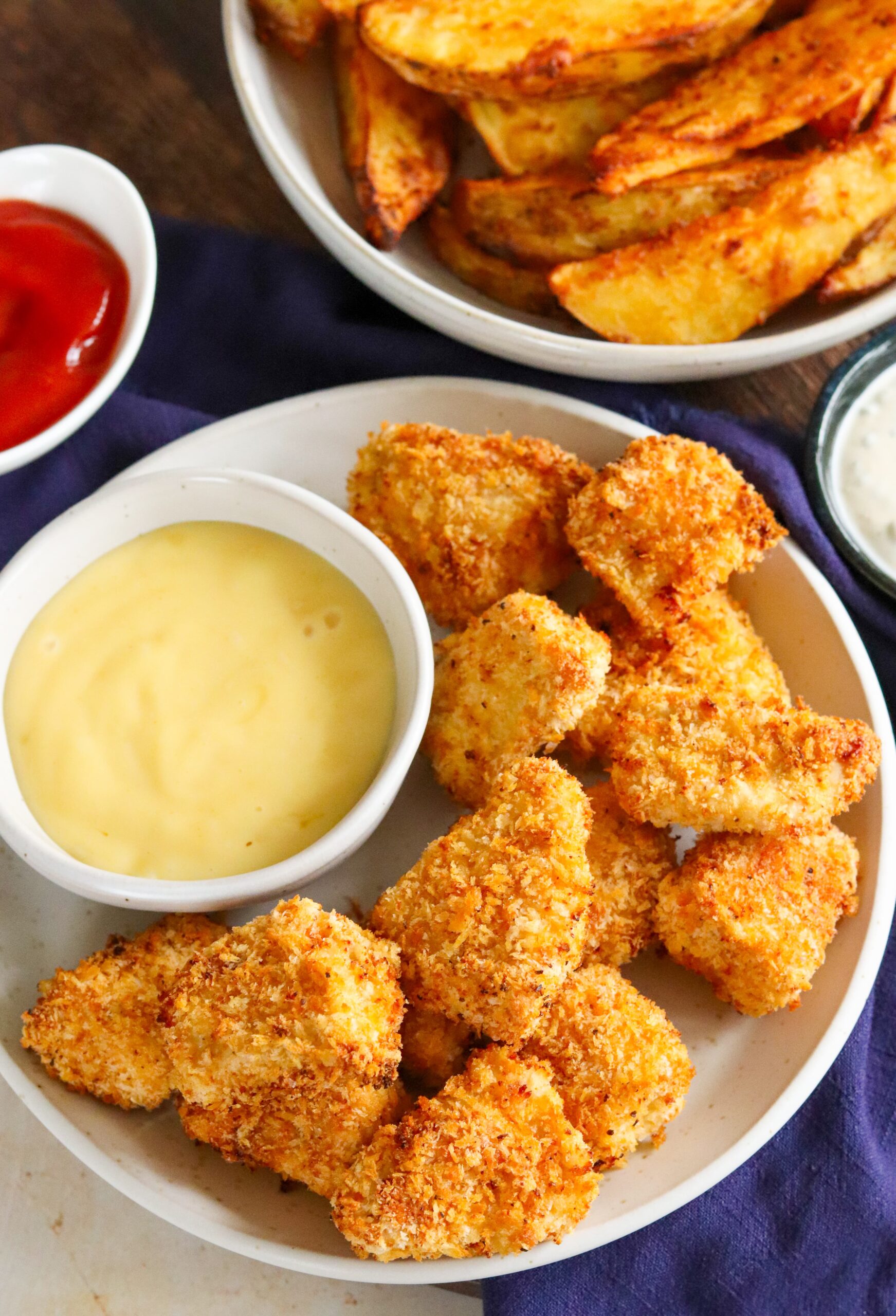 which chicken is best to use?
Although I love chicken thighs, I do think breasts are best to use when making chicken nuggets. Chicken breasts are sometimes not as juicy as thighs, however because these nuggets are so quick to cook this isn't an issue.
You can of course use thighs if you prefer.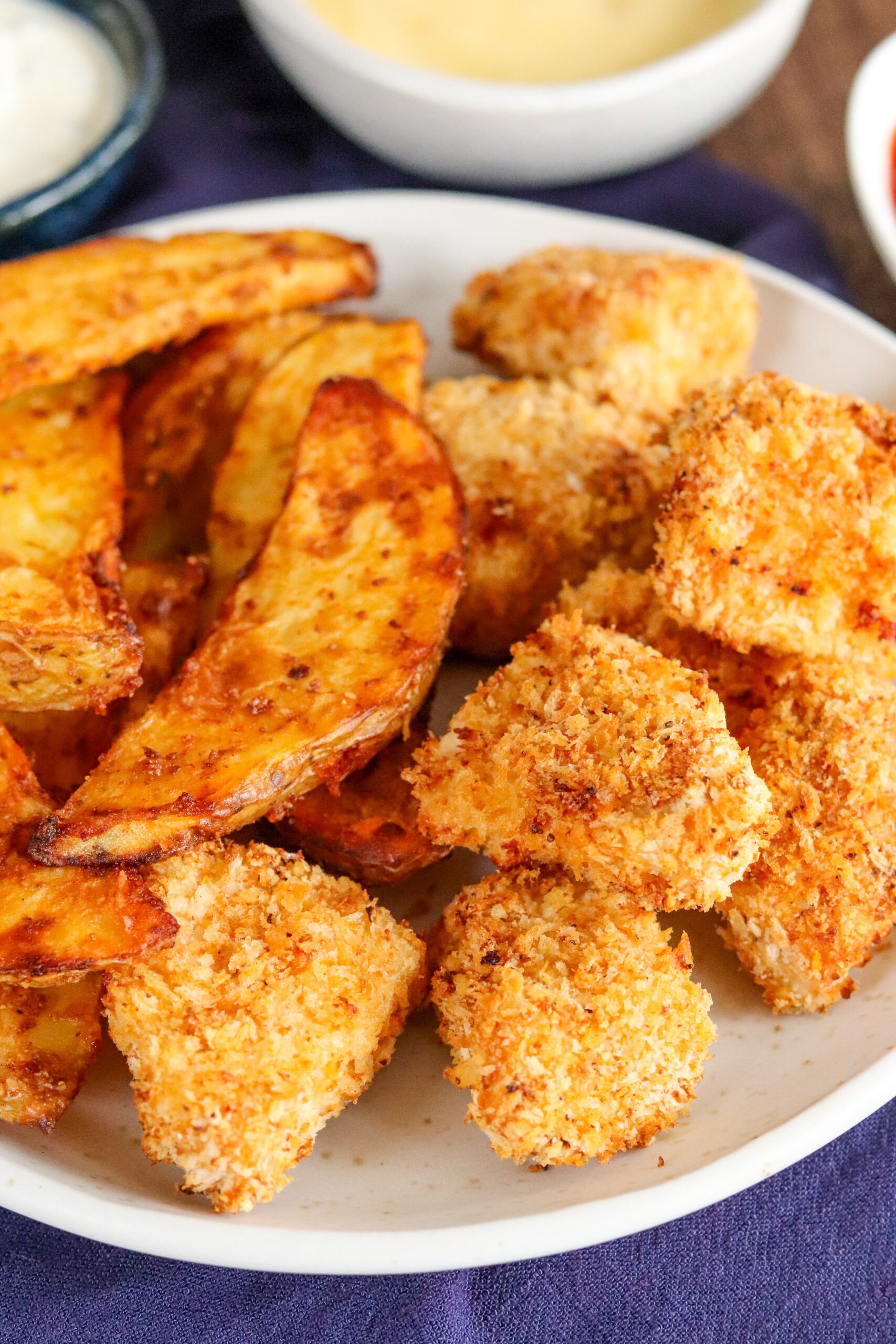 which breadcrumbs to use
I recommend using panko breadcrumbs for these homemade air fryer chicken nuggets.
Panko are Japanese breadcrumbs that are dried into large flakes. These large flakes mean they don't clump together like other breadcrumbs meaning they stay crispier.
You can buy panko breadcrumbs in most large supermarkets. You should be able to find them alongside standard breadcrumbs but if not, check the Asian section or the world food aisle.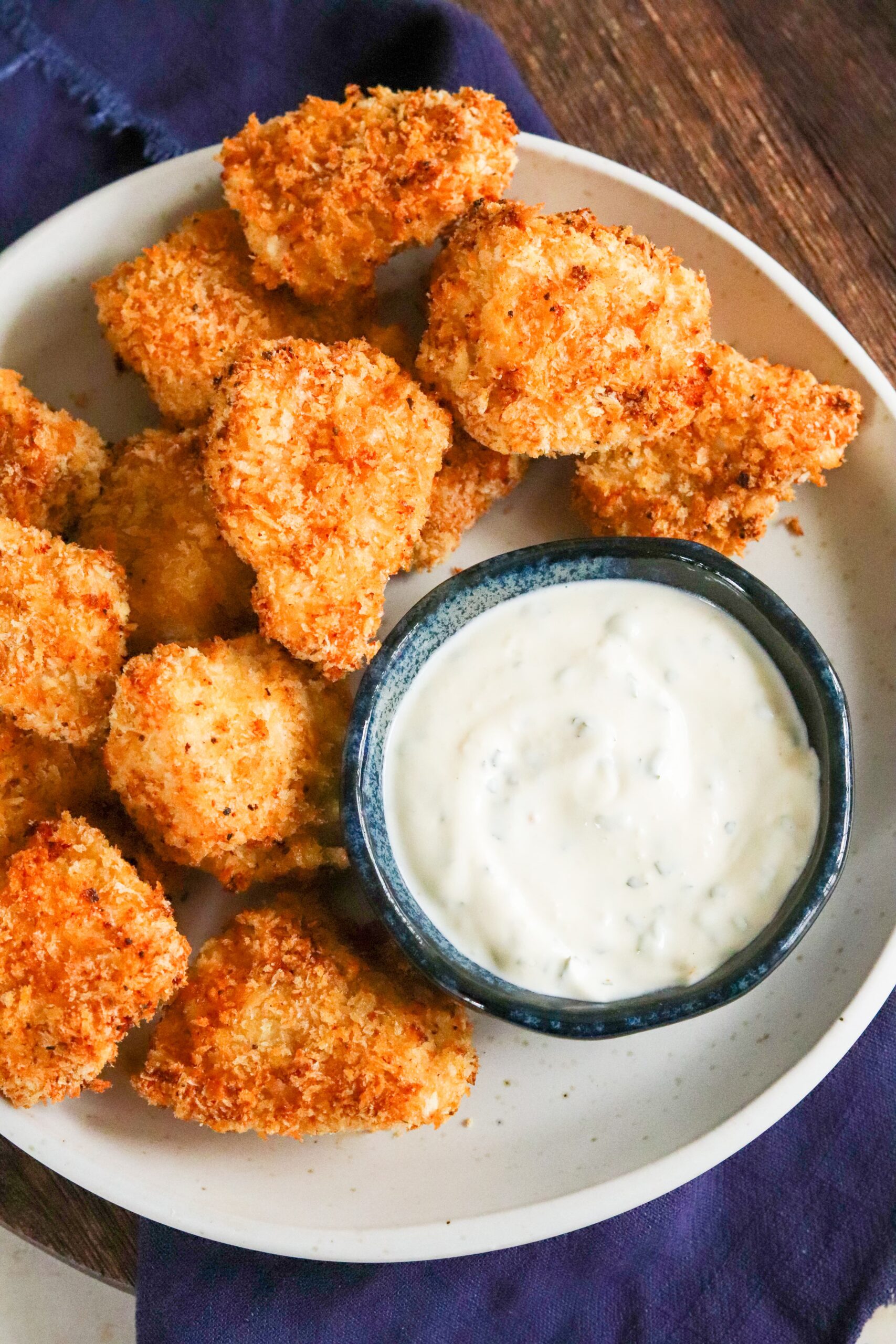 If you don't want to use panko breadcrumbs you can use white or golden breadcrumbs. Personally, I don't think these would be as good. They have a much finer texture which wouldn't give the same crunch.
Instead of using shop bought breadcrumbs I would recommend making your own breadcrumbs if you don't want to use panko.
To make these nuggets gluten free, look out for gluten free panko breadcrumbs. If you can't find any, use whichever gluten free breadcrumbs you can buy or alternatively make your own.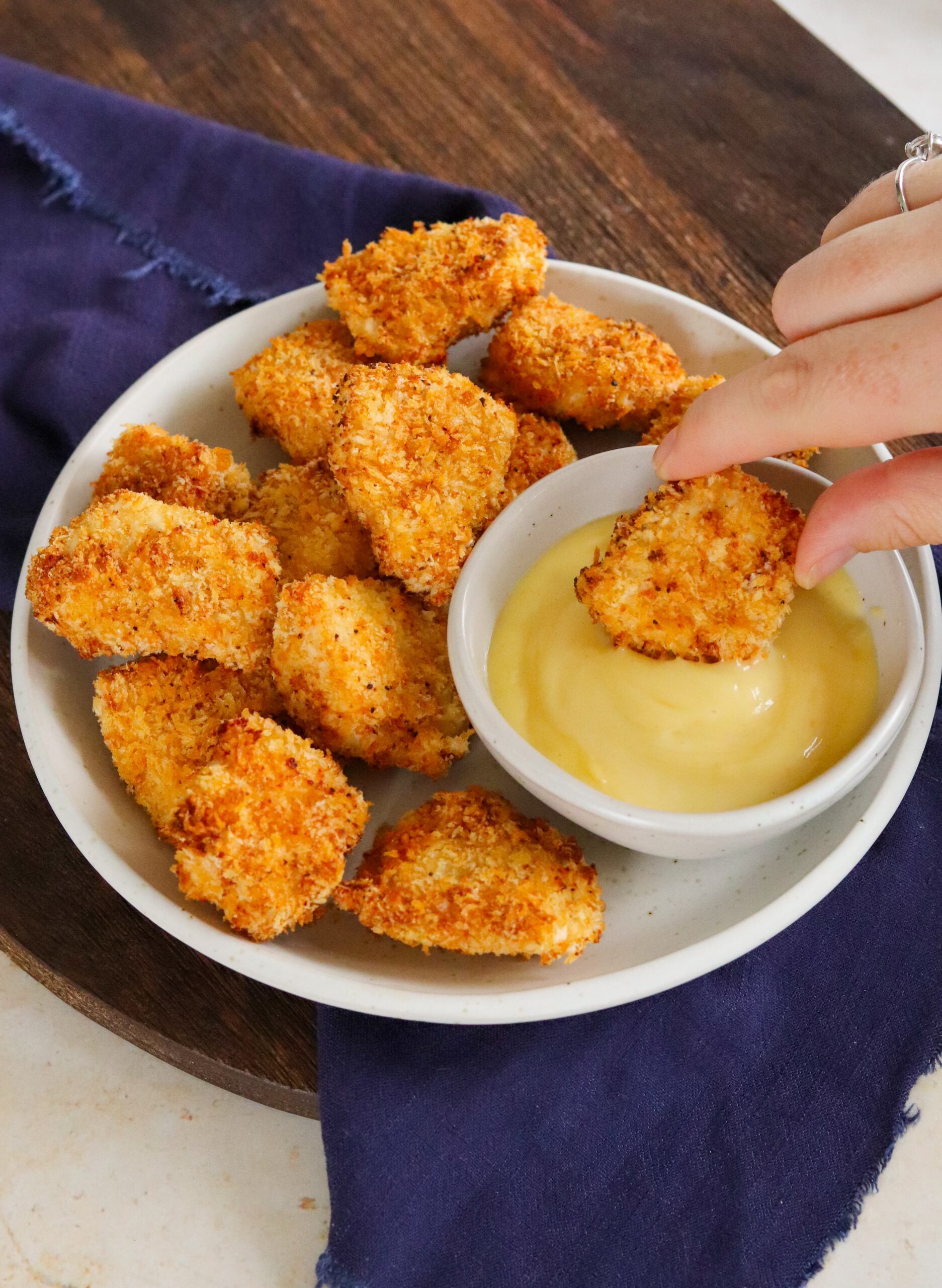 how big to make chicken nuggets
This is personal preference. I like to cut my chicken into roughly 3cm chunks. I probably wouldn't recommend going too much smaller than this, but you could make them bigger.
You can make these homemade chicken nuggets as big as you like, but remember they will take longer to cook the larger they are.
If you are in any doubt whether the chicken nuggets are cooked, you can cut into one and check the chicken is completely white throughout. Alternatively you could use a thermometer to check the internal temperature is 75°C.
You could also very easily make chicken tenders rather than nuggets using the same method.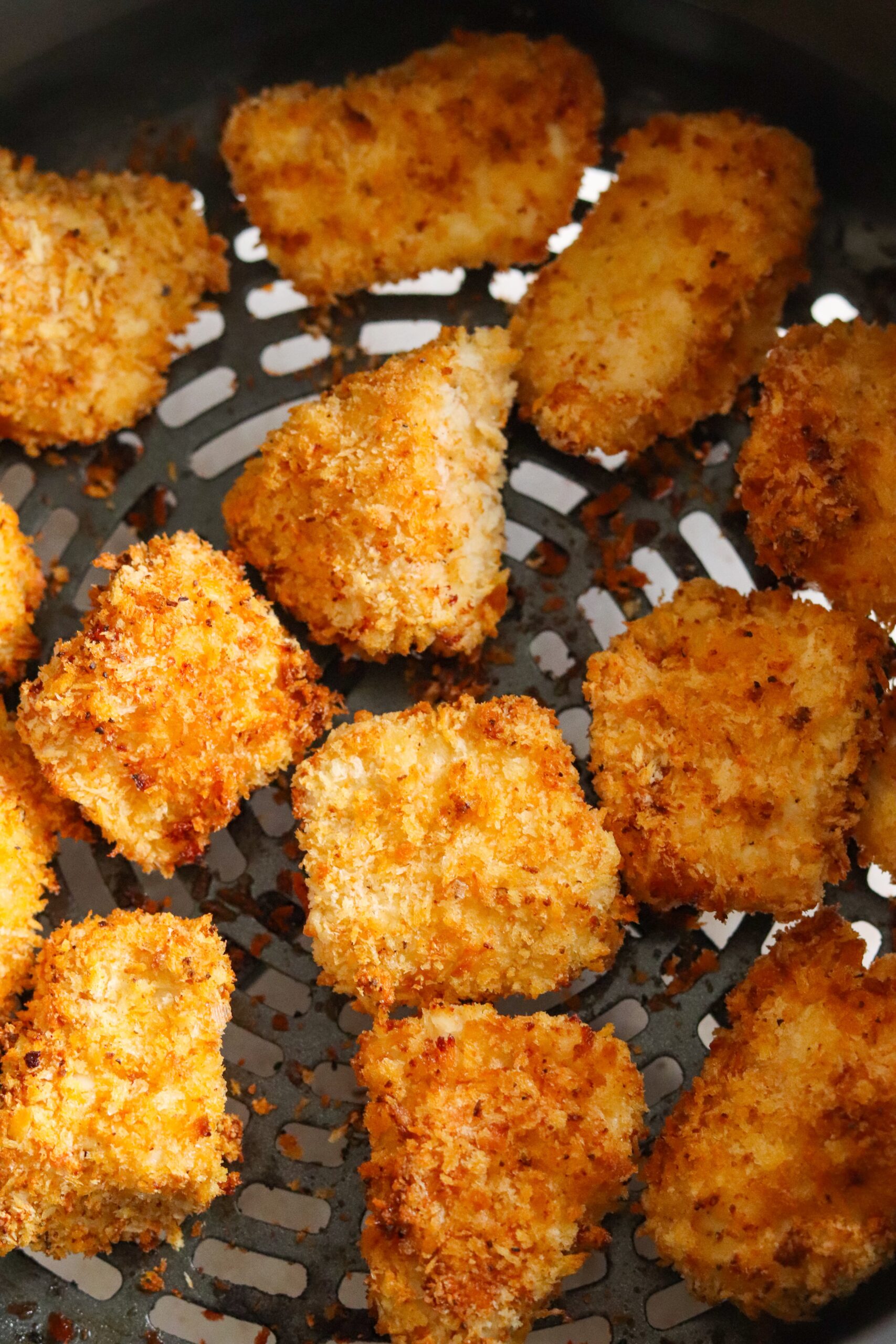 do you need to preheat an air fryer?
That depends on your air fryer, some require preheating whilst others don't. I have a Ninja Foodi 7-in-1 multicooker and a Ninja Foodi Flexdrawer and I have never preheated either.
If your air fryer does require preheating, check the chicken nuggets a few minutes sooner than the recipe states. If your air fryer is warm, food is likely to cook a few minutes faster.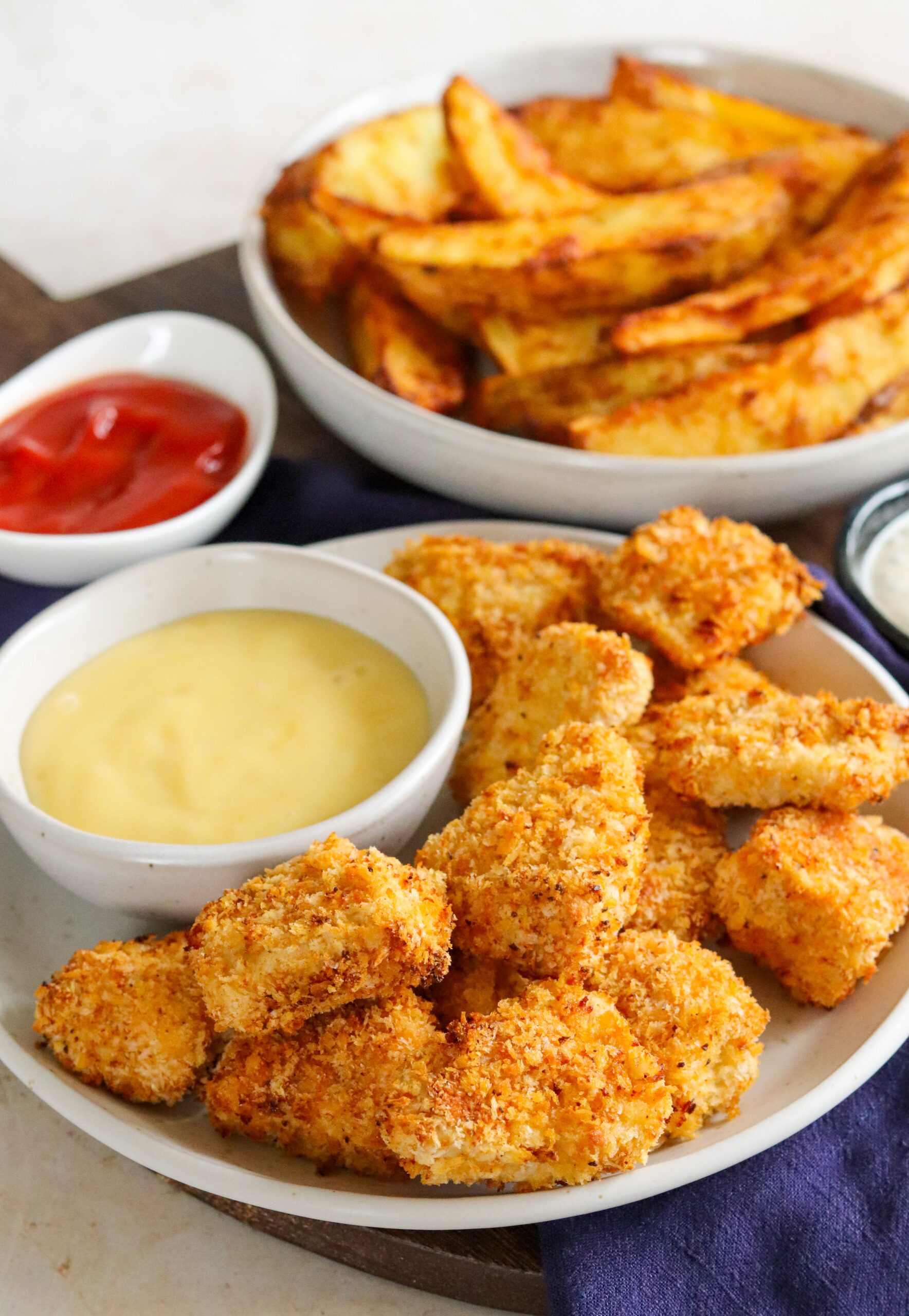 Can you freeze homemade chicken nuggets?
Absolutely, they freeze really well. Make them as per the recipe and when they're cold, add them to a container or bag and freeze them for up to three months.
They are then super easy to reheat, you don't even have to defrost them. Just put them in the air fryer for 7-8 minutes until hot all the way through.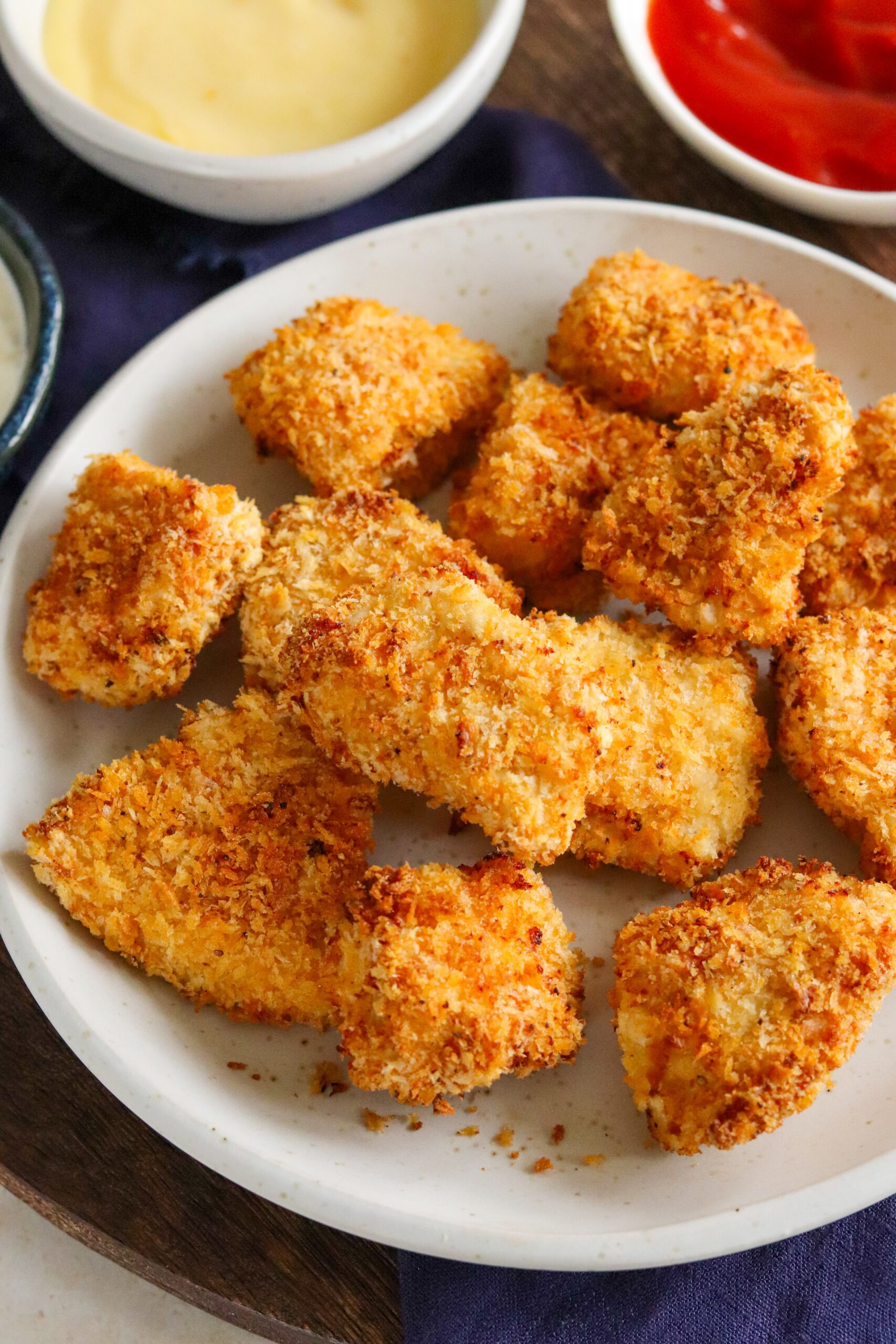 can you use an air fryer liner?
Air fryer liners are a great time saving addition because they are usually easier to wash than the basket of your air fryer.
Most reusable air fryer liners are silicone and although they are handy to have, I wouldn't recommend using them for all recipes.
I wouldn't recommend using an air fryer liner when cooking chicken nuggets. You want them to be as crisp as possible and a liner would just get in the way of this.
They would take longer to get to the level of crispness wanted and you could risk the chicken becoming a little dry.
I've written a whole post on whether you should use an air fryer liner, check it out for more information.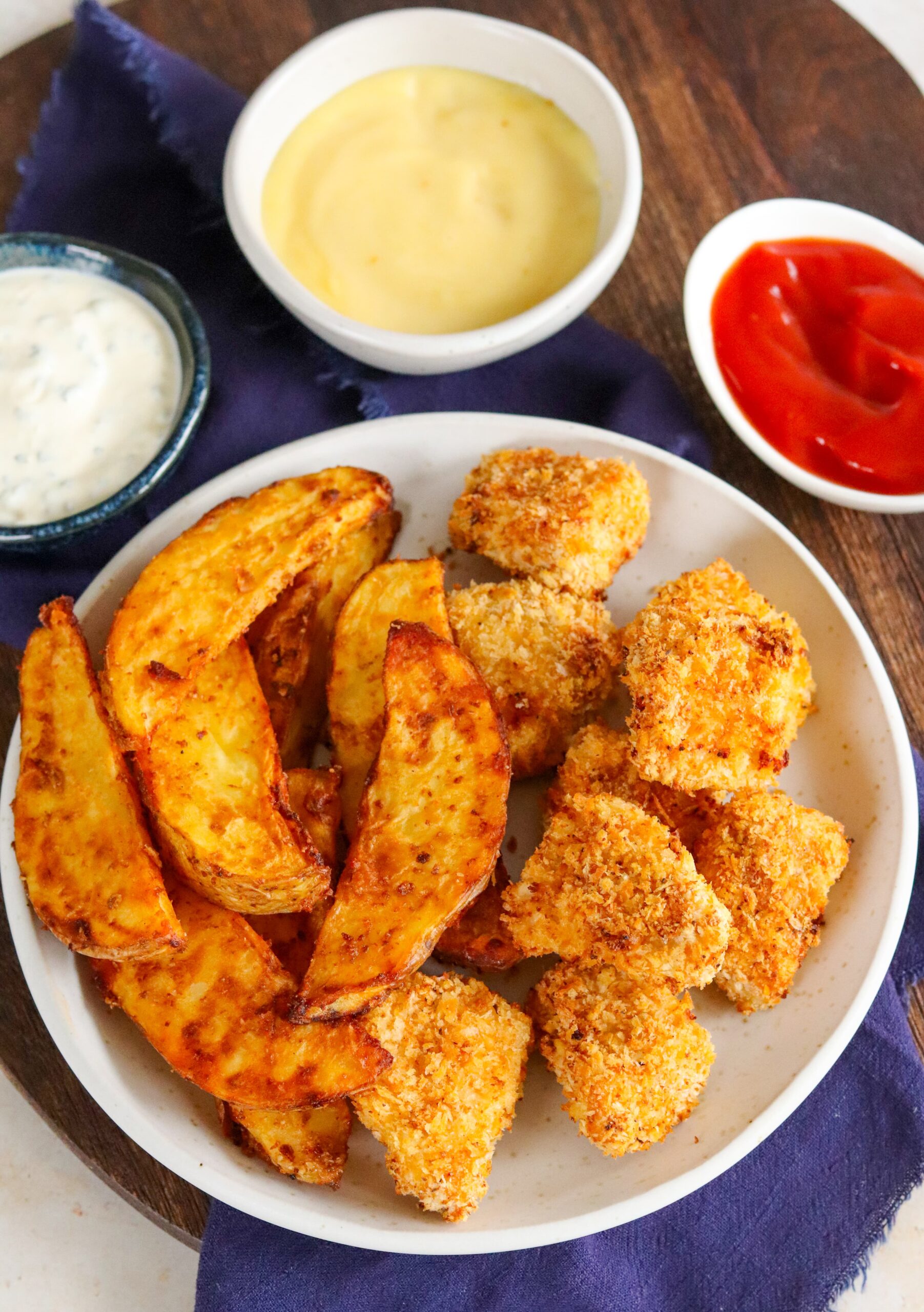 How to serve air fryer chicken nuggets
Chicken nuggets are screaming out to be served with chips or wedges. If you're making your own chicken nuggets I think it is worth making your own chips too, but you can of course cook frozen chips.
I think it would be almost criminal to not serve ranch or honey mustard mayo with these chicken nuggets. Nuggets are meant to be dipped into sauce and both of these sauces are delicious.
Corn on the cob or coleslaw would be delicious sides alongside these chicken nuggets. But if you're not looking for a vegetable, you could always add some garlic bread.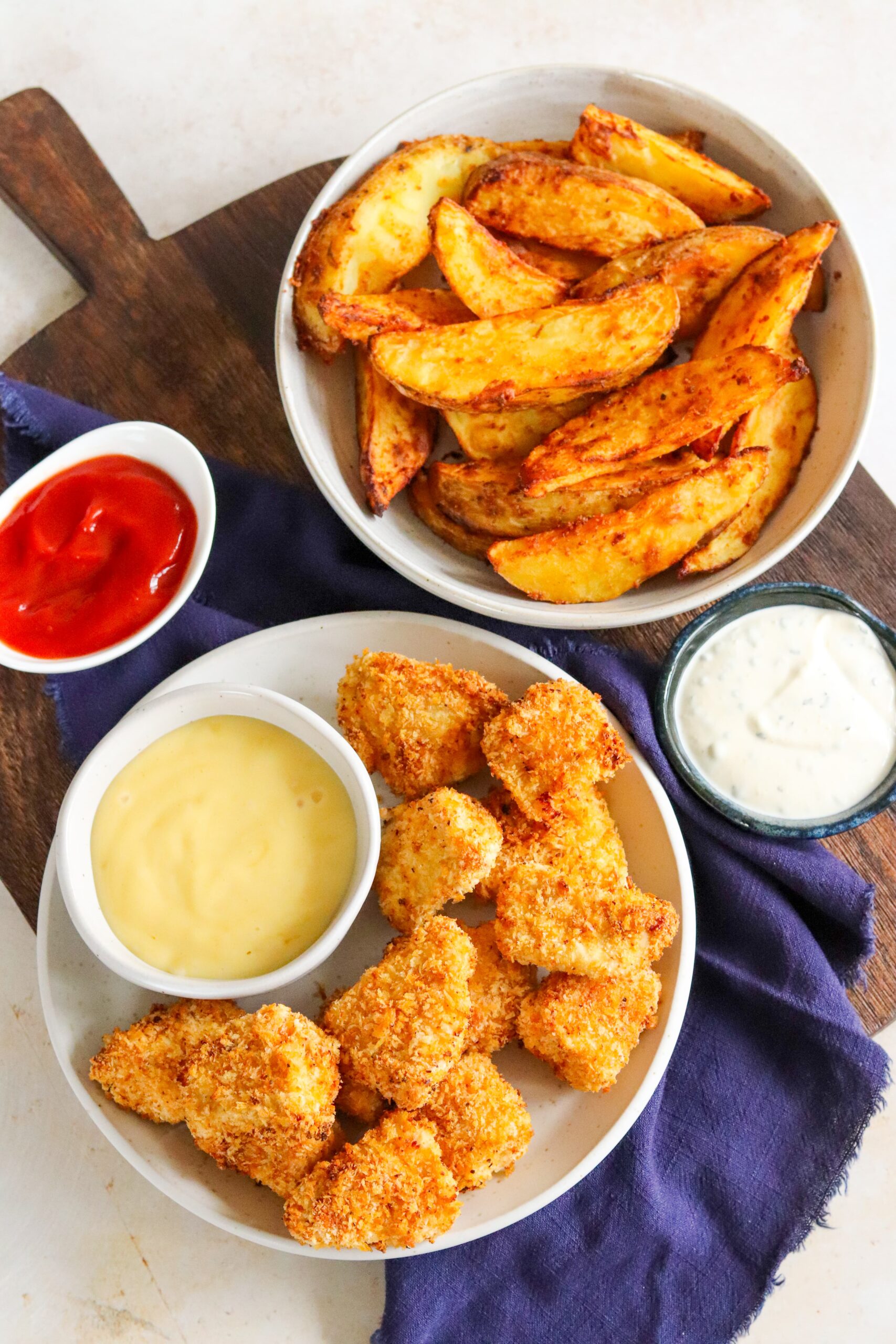 other recipes you might like
Pin for later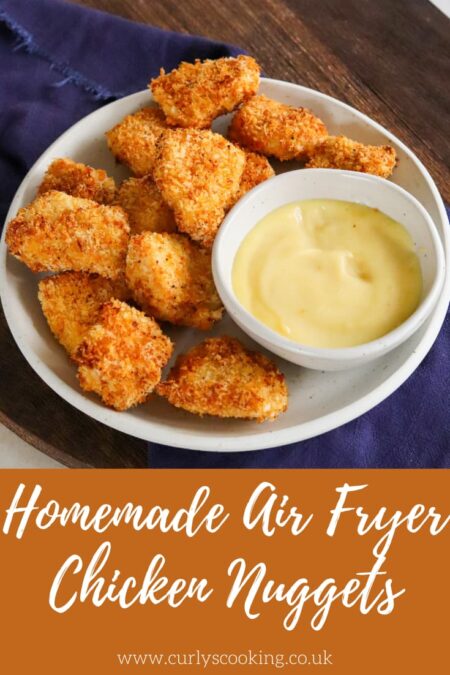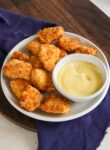 Homemade Air Fryer Chicken Nuggets
Once you've made these Homemade Air Fryer Chicken Nuggets you'll never turn back. Delicious chicken breast coated in crispy seasoned panko breadcrumbs – you'll love them!
Ingredients
600

g

chicken breast

⅛

tsp

salt

pinch

black pepper

1

egg
For the coating
65

g

panko breadcrumbs

1

tsp

sea salt

1

tsp

garlic granules

¼

tsp

paprika

⅛

tsp

black pepper
Instructions
Preheat your air fryer if required

Cut 600g chicken breasts into roughly 3cm cubes and add to a bowl along with ⅛ tsp salt and a pinch of pepper

In a shallow dish add 65g panko breadcrumbs, 1 tsp sea salt, 1 tsp garlic granules, ¼ tsp paprika and ⅛ tsp black pepper. Stir to combine

In another shallow dish whisk 1 egg

Dip each cube of chicken into the beaten egg making sure it is completely coated

After dipping the chicken pieces in egg, toss them into the panko breadcrumbs until they are completely covered

Add the nuggets to your air fryer basket making sure you leave a little room between each. Depending on the size of your air fryer you may need to cook the nuggets in a few batches

Cook the chicken nuggets at 190°C for 10-12 minutes
Recipe Notes
If your air fryer requires preheating, check the chicken nuggets a couple of minutes before the recipe states.
Nutritional information is given as a guide only and may vary.
Nutrition Facts
Homemade Air Fryer Chicken Nuggets
Amount Per Serving
Calories 254
Calories from Fat 54
% Daily Value*
Fat 6g9%
Cholesterol 137mg46%
Sodium 963mg42%
Potassium 615mg18%
Carbohydrates 12g4%
Protein 36g72%
Vitamin A 166IU3%
Vitamin C 2mg2%
Calcium 45mg5%
Iron 2mg11%
* Percent Daily Values are based on a 2000 calorie diet.