Looking for the easiest and most delicious way to cook chicken wings? Look no further! These Air Fryer Chicken Wings are simply flavoured with the tastiest, crisp skin. You'll be air frying all of your wings once you've tried this recipe!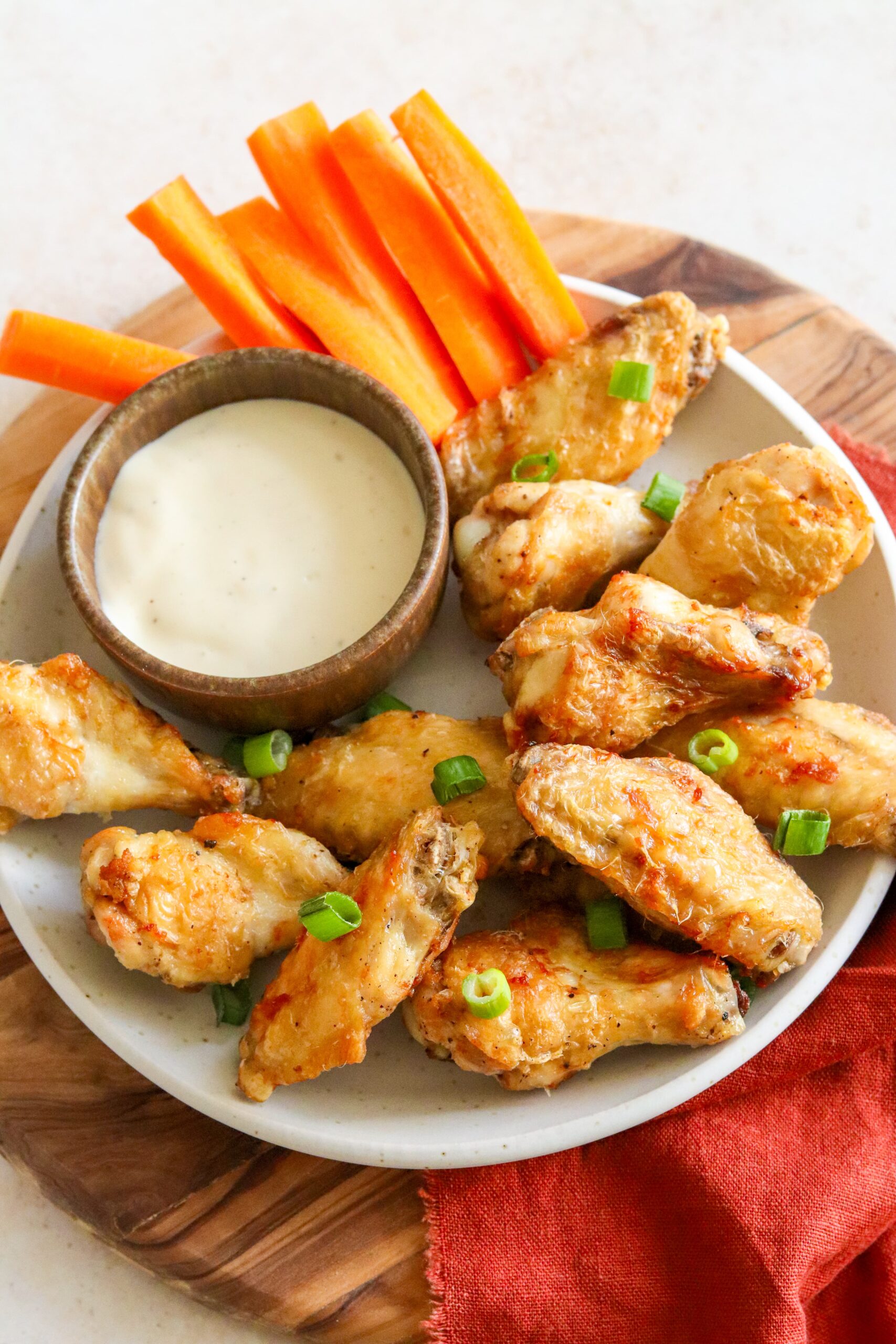 Why cook chicken wings in the air fryer?
Chicken wings are something that need to be crispy in my opinion. Cooking them on the BBQ is a great way to get them deliciously crisp, but this isn't an option to everyone year round.
Cooking chicken wings in the oven does result in tasty wings, but they tend to take a while and always seem to lack something. Deep frying wings will provide the crisp skin, but isn't most people's go-to cooking preference.
That's where air fryer chicken wings come in! They're quick to cook and have the most perfectly crisp skin which is everything you need from a wing.
Once you have air fried chicken wings I highly doubt you will cook them another way!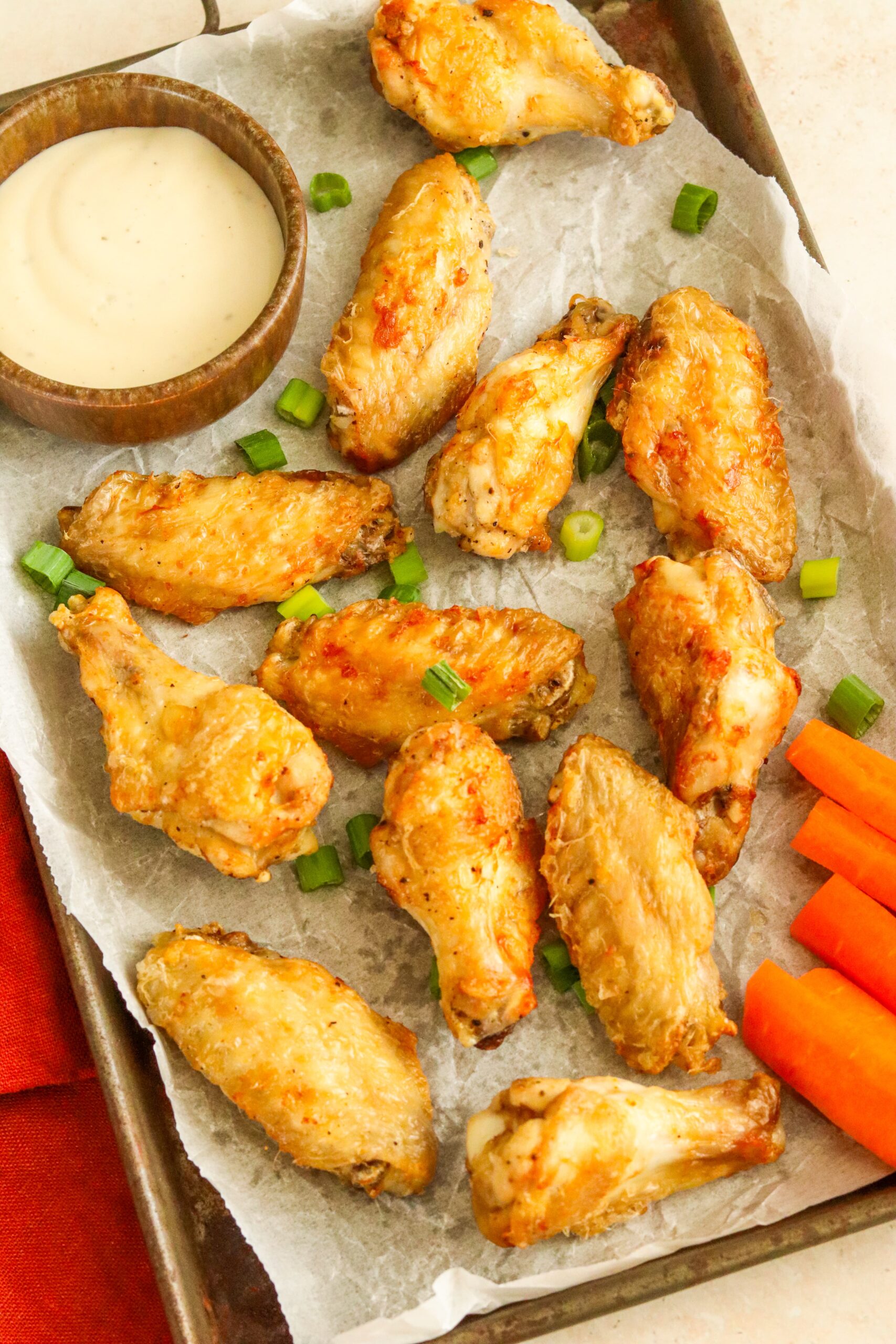 how to prepare chicken wings
Depending on where you buy your chicken wings from they will either already have the tips removed or come with them intact.
If they still have the wing tips, use a sharp knife to cut through the joint at the end of the wing tip. You can either save these to make chicken stock with or put them in the compost.
The next stage depends on personal preference. You can absolutely cook the chicken wings with the drums and flats still connected.
Personally, I like to cut through the joint that connects them to separate the drum from the flat. If you choose to do this, check over where you cut and remove any small loose pieces of bone.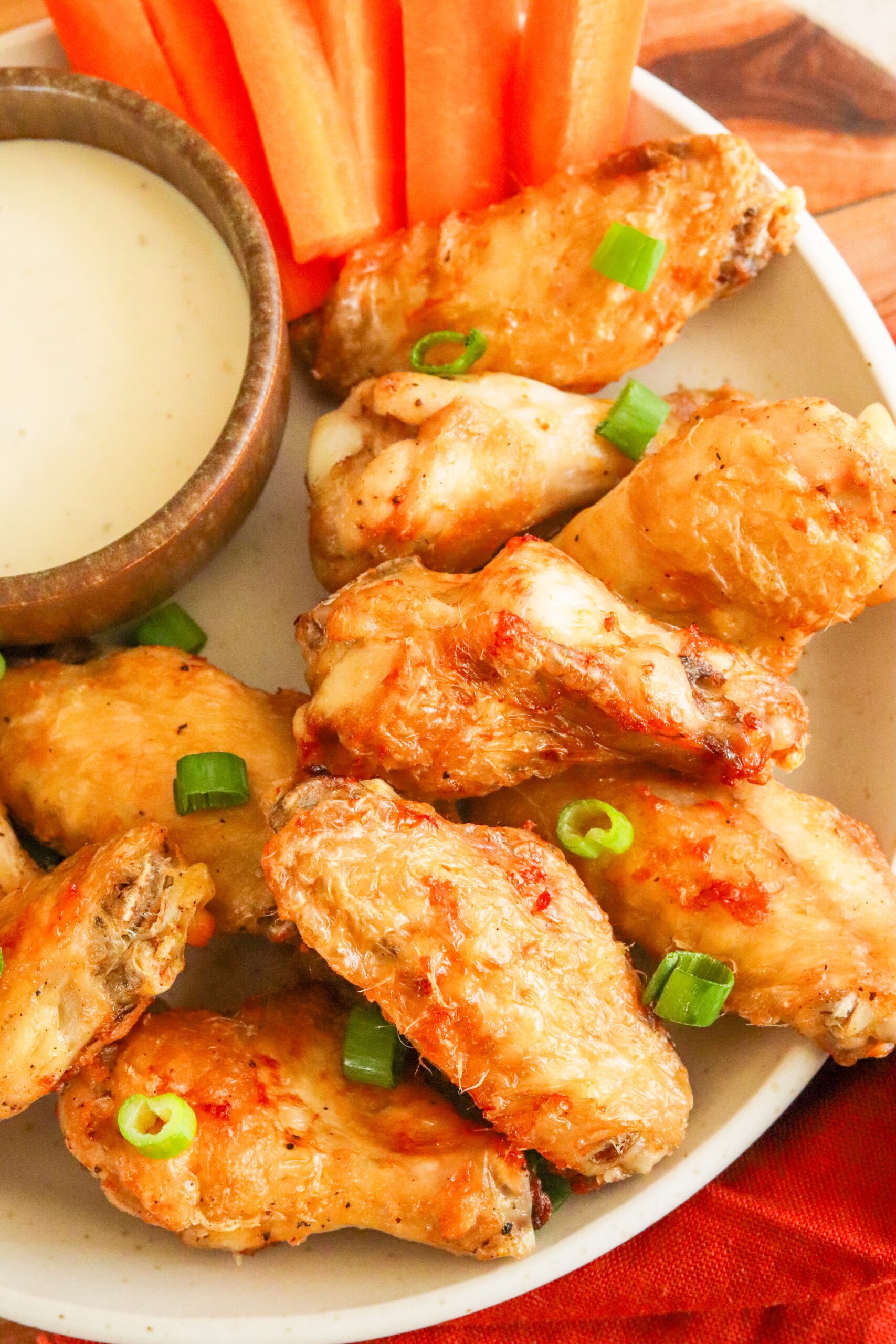 how long do chicken wings take to air fry?
Chicken wings can vary in size which also means the cooking time can vary. Unless your chicken wings are huge, they will be cooked in 10 – 11 minutes.
The additional cooking time is to get the wings to your chosen level of crispness.
It is also important to note that if you load up your air fryer basket with a lot of chicken wings, they will take longer to cook because the air won't be able to circulate as well.
I prefer to cook batches of fewer chicken wings at a time so they crisp up nicely. Once they are all cooked, I will then add them all to the basket for them to reheat through for a few minutes.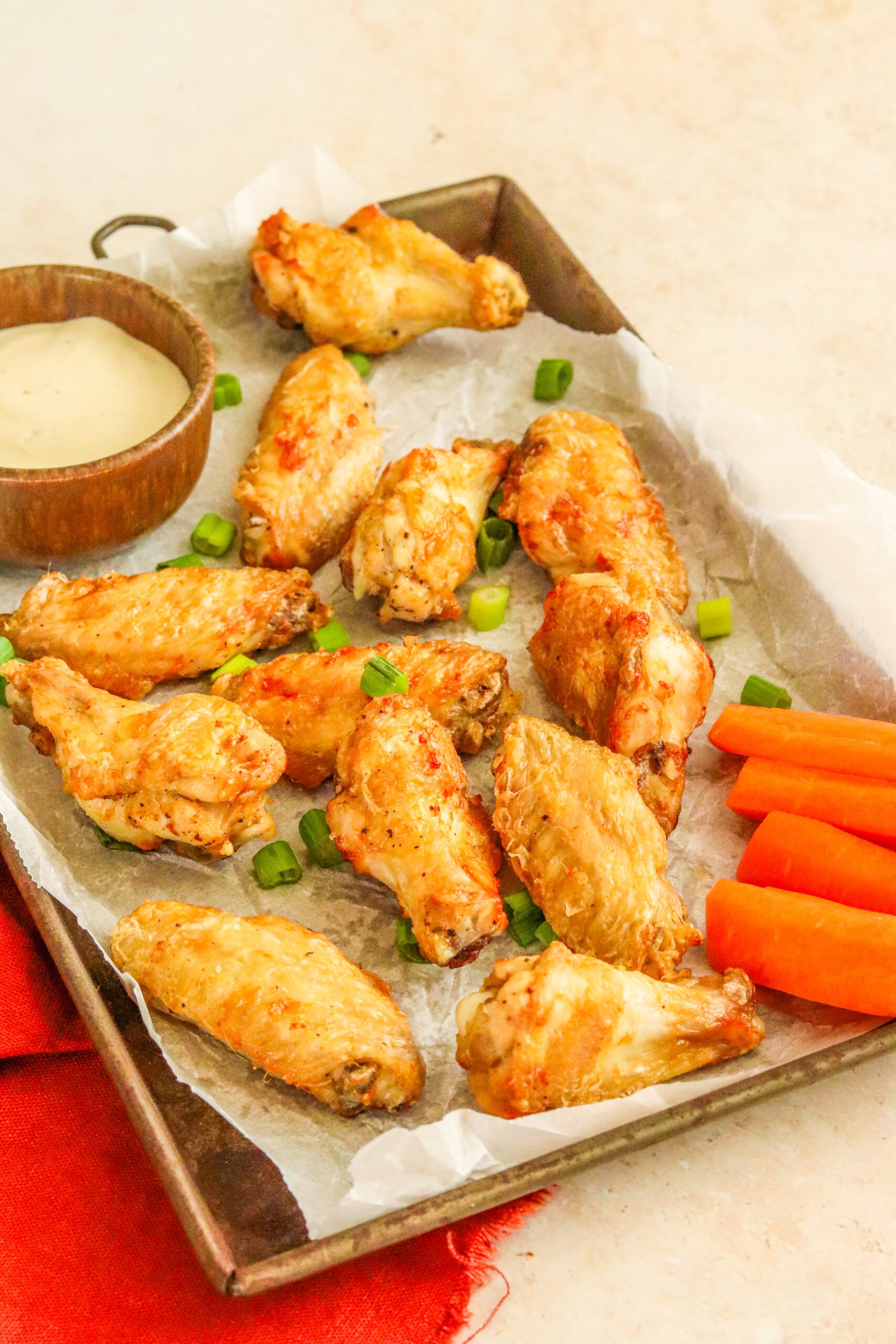 how to get the crispiest air fryer chicken wings
Wings tend to vary slightly depending on where you buy them from. Sometimes they can be a little damp and other times I haven't found this to be the case.
If you think yours could benefit from drying slightly, use paper towels to remove some of the excess moisture. Although this step isn't essential, it will help your wings get crisp quicker.
Turning the wings half way though the cooking time will help ensure they cook evenly. Although the oil coating them should prevent them from sticking, I also like to turn them using a spatula as a precaution.
As I have mentioned previously, your wings will be cooked through in 10-11 minutes. After this point, cook them for as long as it takes to get them to your preferred crispness.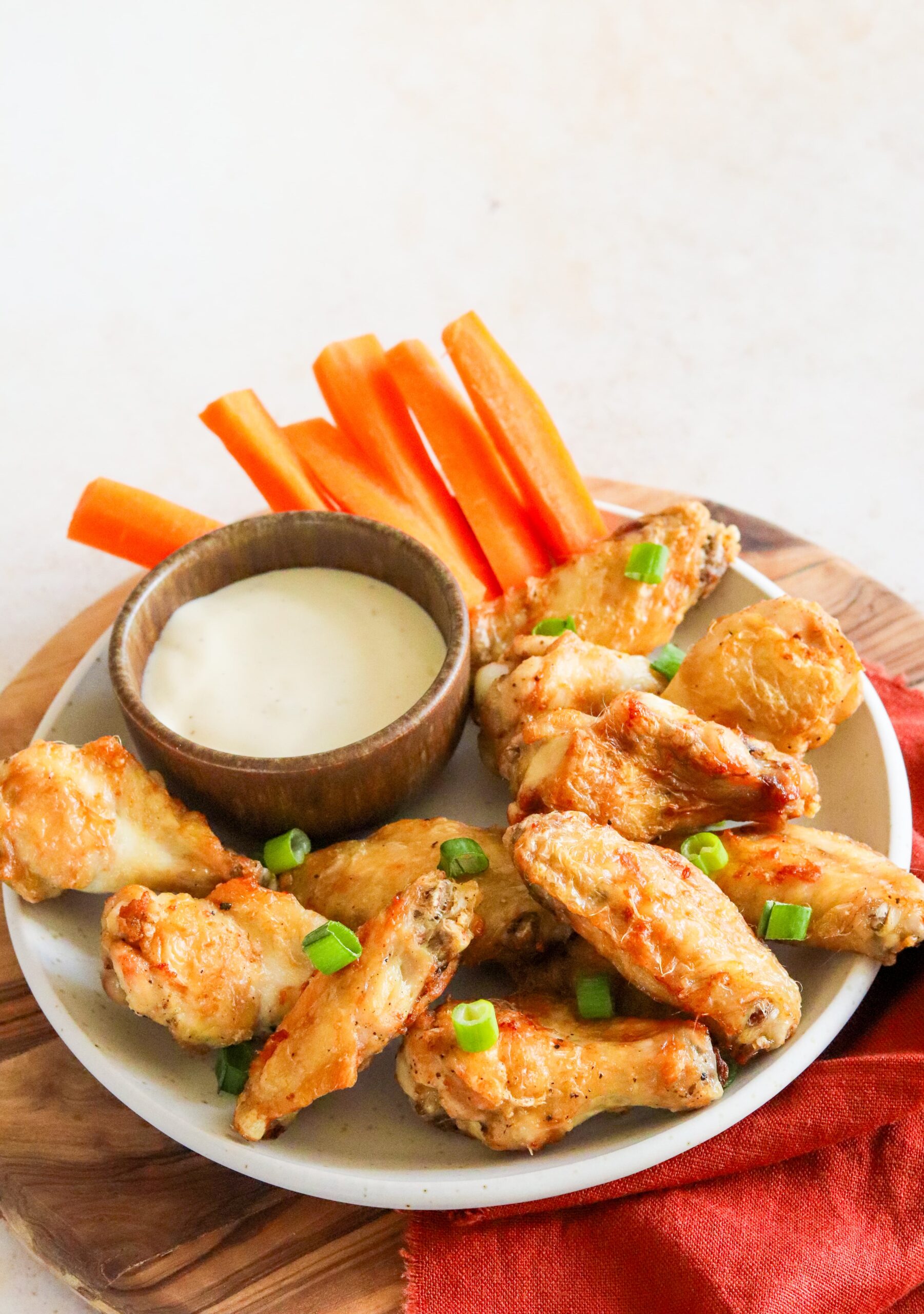 Adding additional flavours to your wings
I have deliberately kept the flavours of these air fryer chicken wings simple with just some salt and pepper. This is a great, simple recipe that you can adapt to add sauces or seasonings to.
If you are looking for different ideas, here are some to try:
Chinese salt & pepper
Gochujang honey sauce
Herby potato seasoning
Garlic Parmesan
Cajun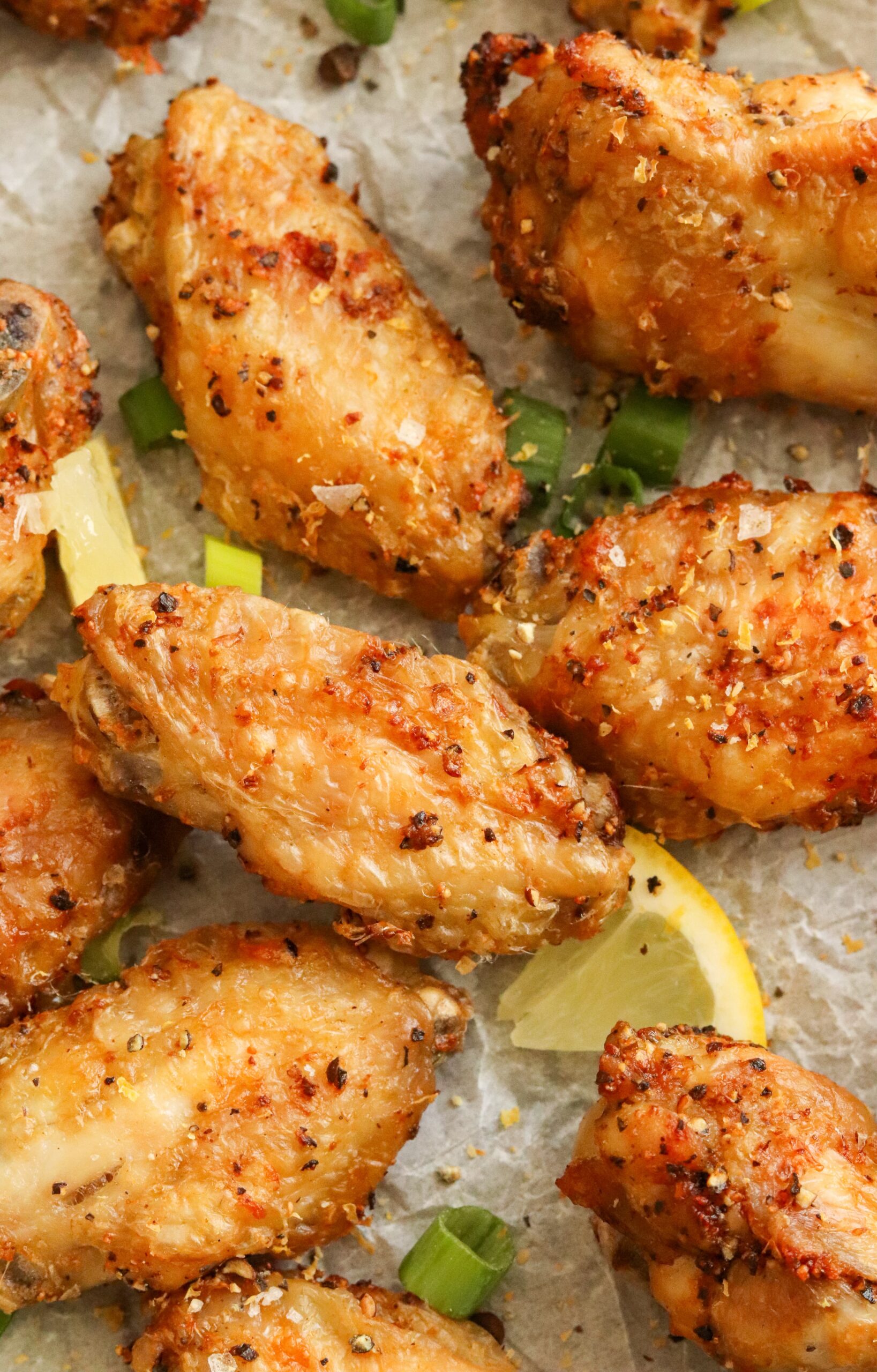 do you need to preheat an air fryer?
That depends on your air fryer, some require preheating whilst others don't. I have a Ninja Foodi 7-in-1 multicooker and a Ninja Foodi Flexdrawer and I have never preheated either.
If your air fryer does require preheating, check the chicken wings a few minutes sooner than the recipe states. If your air fryer is warm, food is likely to cook a few minutes faster.
Also if you are cooking wings in batches, the wings will cook quicker when the air fryer is already warm. So check any additional batches a few minutes earlier as they are likely to cook slightly quicker.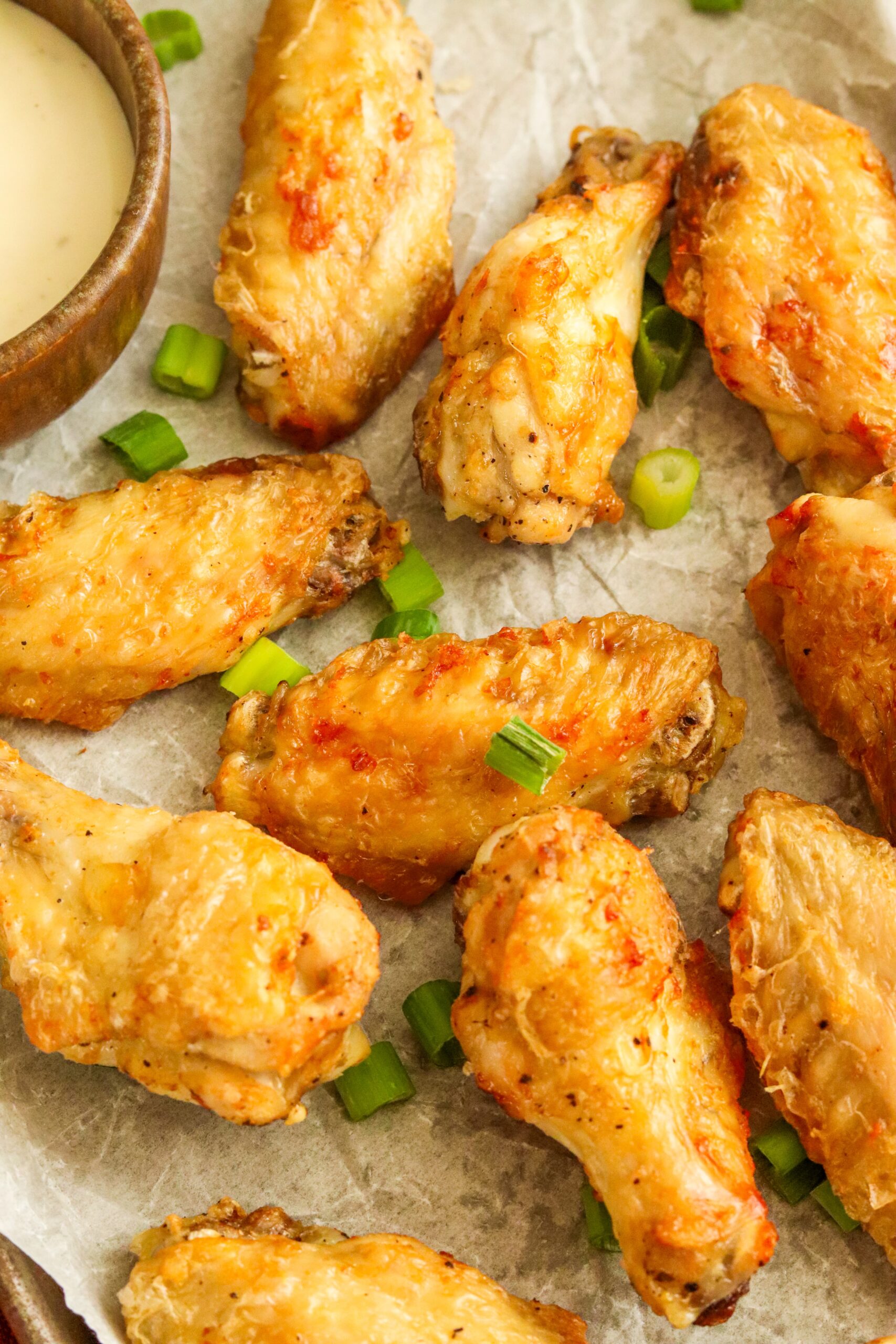 can you use an air fryer liner?
Air fryer liners are a great time saving addition because they are usually easier to wash than the basket of your air fryer.
Most reusable air fryer liners are silicone and although they are handy to have, I wouldn't recommend using them for all recipes.
I wouldn't recommend using an air fryer liner when cooking chicken wings. You want them to be as crisp as possible and a liner would just get in the way of this.
They would take longer to get to the level of crispness wanted and you could risk the chicken becoming a little dry.
I've written a whole post on whether you should use an air fryer liner, check it out for more information.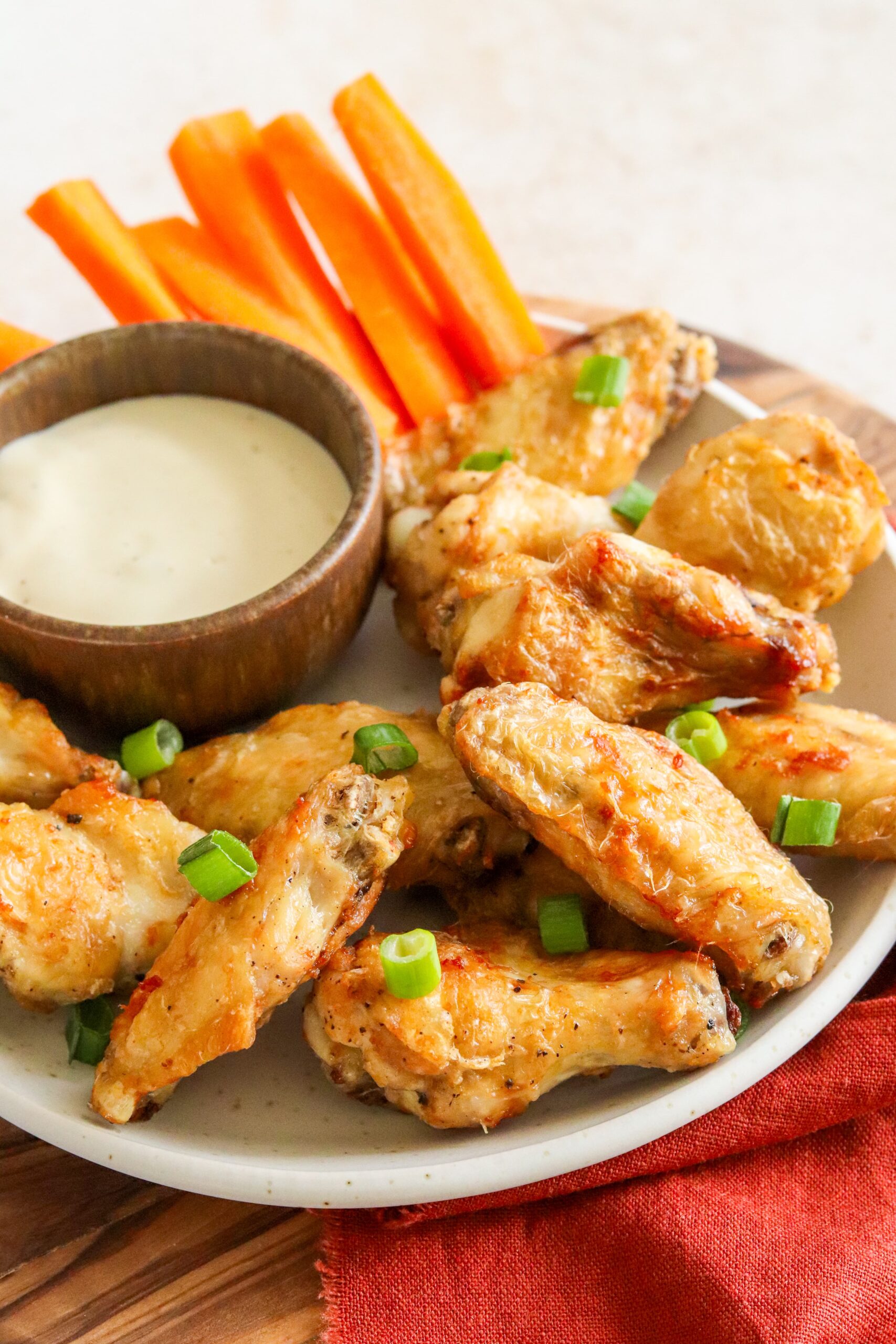 how many chicken wings can you cook at once?
This depends on the size of your air fryer basket. I have two air fryers and it goes without saying that I can cook less wings in my 3.7L air fryer than my 10.4L air fryer.
However big your air fryer is, just make sure that you don't over crowd it and try to cook too many wings at once.
It isn't the end of the world if you overcrowd your basket, but the wings will take longer to cook and possibly won't have the same even crispness than if you'd cooked fewer wings.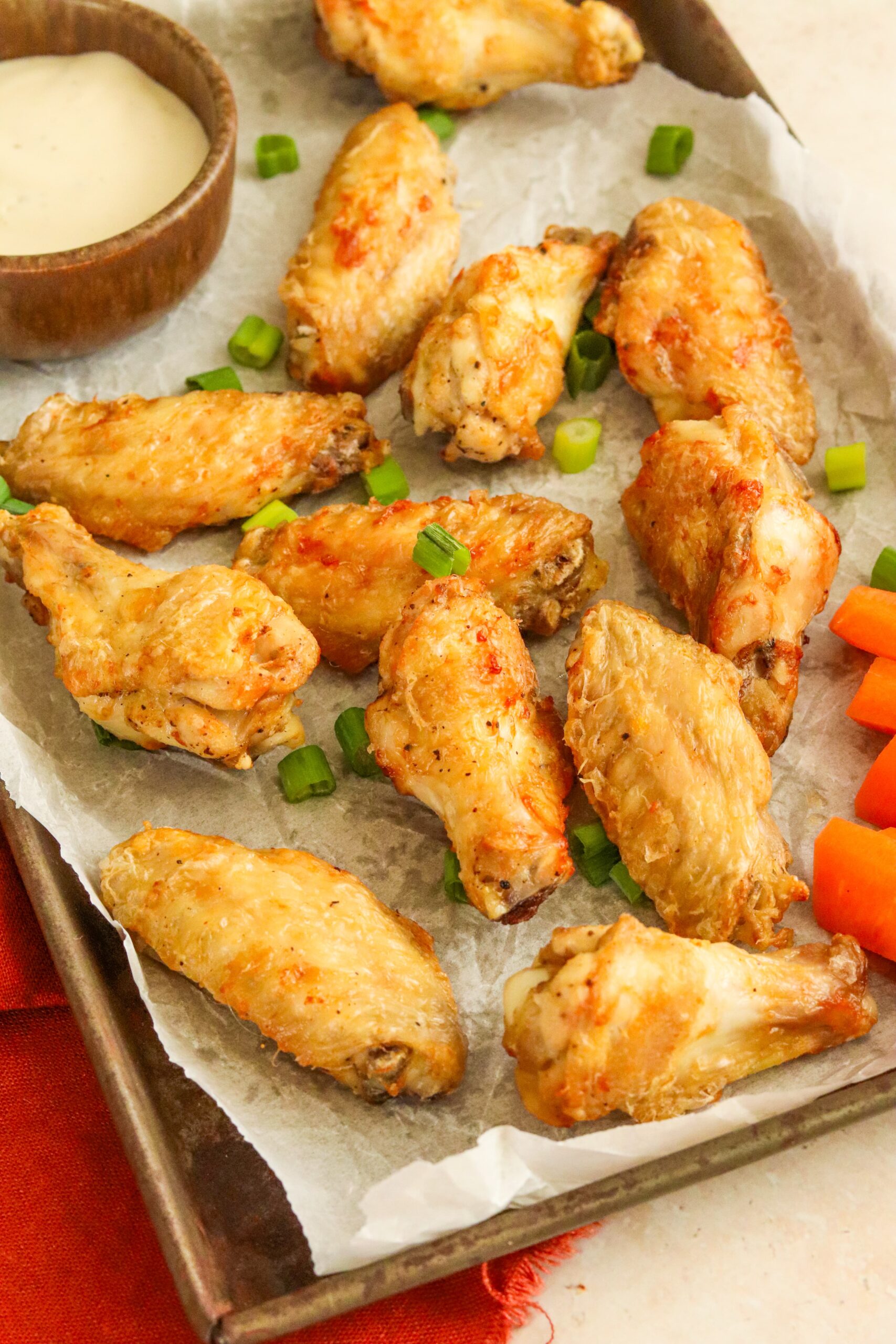 How long do Air fryer chicken wings keep for?
Once cooked, you can keep these chicken wings in an air tight container in the fridge for up to three days.
If you want to reheat them, add them back to your air fryer. They should be piping hot after 5 minutes and nicely crisp again.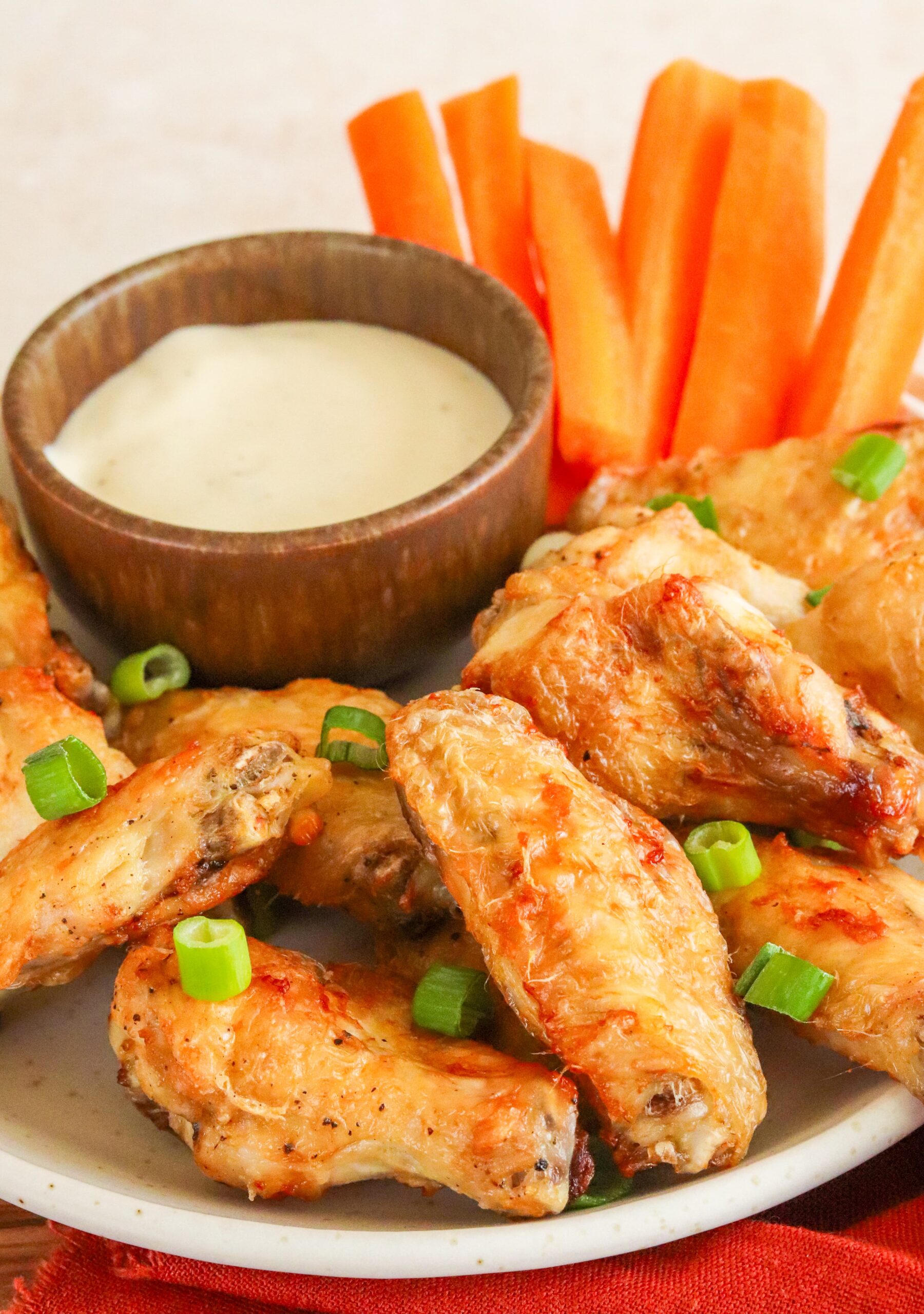 How to serve air fryer chicken wings
Wings can be served in all sorts of ways; as a starter or main and also as part of a buffet for a party or gathering. You can easily scale up this recipe if you're catering for more people.
I think wings are perfect dipped in ranch or honey mustard mayo, so those are essentials for me.
When it comes to sides, any of my air fryer potato recipes would be great accompaniments. If you want something a little bit indulgent my cheese & bacon loaded fries or loaded tater tots would be great.
Air fryer corn on the cob and garlic bread would also be really tasty with these wings. If you wanted to keep the sides a little fresher, you could make my coleslaw, potato salad or Greek style salad.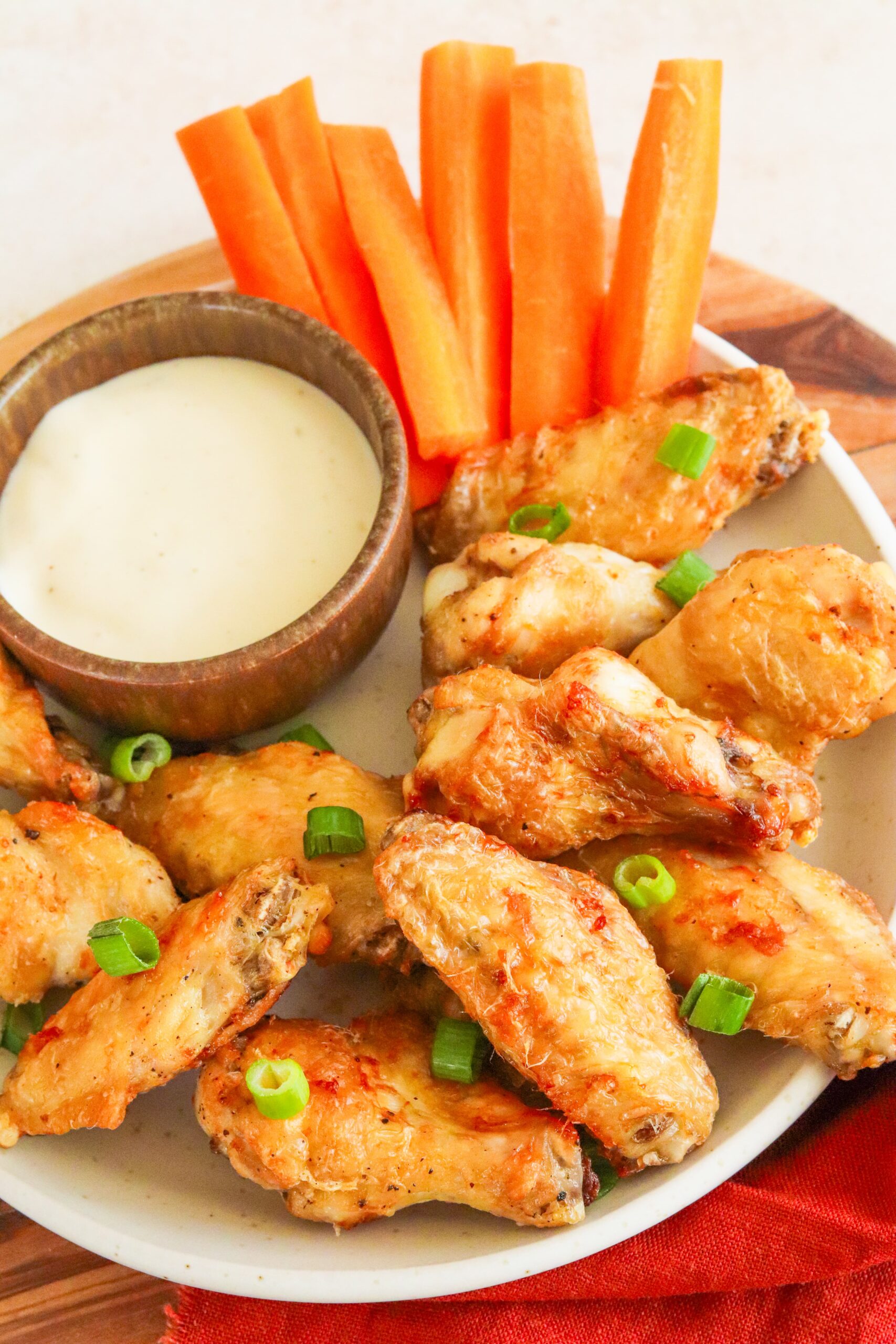 other recipes you might like
Pin for later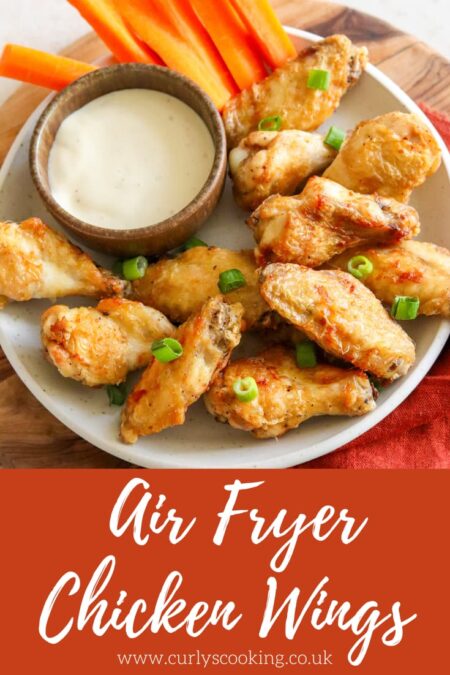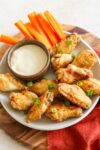 Air Fryer Chicken Wings
Looking for the easiest and most delicious way to cook chicken wings? Look no further! These Air Fryer Chicken Wings are simply flavoured with the tastiest, crisp skin. You'll be air frying all of your wings once you've tried this recipe!
Ingredients
500

g

chicken wings

(approx 6-7 whole wings)

1

tsp

sunflower oil

½

tsp

sea salt

pinch

black pepper
Instructions
Remove the wing tips from 500g chicken wings if they haven't already been removed

Separate each double wing into flats and drums by carefully cutting through the joint. Check over each wing for any loose pieces of bone and remove

Preheat your air fryer if required

Add the wings to a bowl along with 1 tsp sunflower oil, ½ tsp sea salt and a pinch of pepper. Toss until the wings are evenly coated

Place the chicken wings in your air fryer making sure you allow space for the air to circulate. You may need to cook the wings in batches depending on the size of your air fryer

Air fry the wings at 200°C for 12-15 minutes. Depending on their size they will be cooked after 10-11 minutes so cook for longer to get them as crisp as you like
Recipe Notes
If you want to cook more chicken wings, cook them in batches and then add them all back to the air fryer to reheat.
Nutritional information is given as a guide only and may vary.
Nutrition Facts
Air Fryer Chicken Wings
Amount Per Serving
Calories 257
Calories from Fat 171
% Daily Value*
Fat 19g29%
Cholesterol 83mg28%
Sodium 660mg29%
Potassium 169mg5%
Protein 20g40%
Vitamin A 159IU3%
Vitamin C 1mg1%
Calcium 13mg1%
Iron 1mg6%
* Percent Daily Values are based on a 2000 calorie diet.